Speaking of Flashbacks, it's a CONTENT DUMP on the WWE Network, as they added a massive amount of Mid-South Wrestling from 81-84 yesterday, PLUS NXT from 2012!  Holy crap!  I have stuff to review again!
Previously on the Flashback… http://blogofdoom.com/index.php/2017/04/06/wrestling-observer-flashback-10-05-92/
Finally, some GOOD news for the beleaguered WWF, with a successful European tour!
– The tour of Europe ended up being another huge success, grossing millions of dollars and doing record numbers of merchandise due to being virgin territory. The shows were reportedly being used as tests for "old time wrestling" as a new status quo at house shows, with every match ending in a clean pinfall.
– In particular, Flair's main events were put on at the end of the night instead of before the intermission, with Flair working 30:00 matches against Randy Savage and Bret Hart and winning clean every night, as opposed to the 8:00 screwjobs he would do in the US.  And given that the arenas were all sold out and filled with crazed fans, the quality of the shows was higher in general as everyone was pumped to go out and perform for them.
– That being said, even "higher" quality was still pretty crappy, with many of the fans in attendance complaining about the terrible shows until Flair saved it at the end.  And in general, Bret Hart was the most popular babyface every night.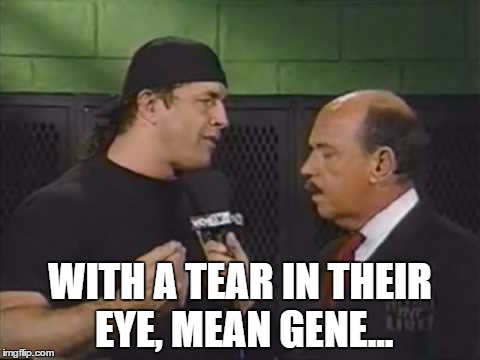 – Yeah, we know.
– Animal and Crush debuted as the new version of the Legion of Doom, and people accepted Crush as the new guy in the team without a problem.
– Meanwhile, Prime Time Wrestling continues to set new lows for ratings, doing another 1.8 against weaker competition.
– Over to WCW, where Scott Steiner was playing subtle heel in his TV title win over Ricky Steamboat (which airs 10/16) as well as a tag match where he turned on Marcus Bagwell and walked out on him.  (Man, the dynamic of THAT team would sure change drastically in 6 years.) 
– Bill Watts reportedly assured Scott that he wasn't turning him heel, and it was just something to spice up the TV a little bit. Regardless, any long-term plans are useless because his contract expires in a month or two anyway.  This is actually leading to a bad place, because the Steiners had a major blowup with Watts over their contract negotiations this past week, and it's apparent that Bill give him the TV title to make him easier to deal with. This is going to blow up in his face because if Rick & Scott leave, then suddenly the TV champion is off to the WWF and they have to get him to drop the title somehow.  (Spoiler:  That's exactly the problem they ran into, and they never did get that title off him.) 
– Kerry Von Erich received his sentence after all on 10/1, getting a 10 year suspended sentence, 10 years of probation and $6000 in fines.  (Now as long as he doesn't forge any MORE prescriptions this year, he'll be fine.)
– The PWF-G shoot-wrestling group ended up doing a HUGE walkup business for their Tokyo Dome show, drawing 40,000 people (25,000 paid) to see Takada beating kickboxing champion Maurice Smith in the main event. (Maurice was also a future UFC heavyweight champion as well.)
– Jun Akiyama is only two matches into his pro career and he's already being hailed as a future champion, working like a five-year veteran and being compared to Hiro Hase at the same point in his career.
– Just what Japan needed, ANOTHER wrestling promotion.  This new one is going to be funded by Great Sasuke's father, and will be called "Michinoku Pro".
– Even though the Moondogs were thought to be gone from the USWA due to running out of guys, they found Larry Latham again and brought him back in as Spot, and the result was the team regaining the tag titles from Lawler & Jarrett yet again.  With Jeff Jarrett on tour with the WWF, Junkyard Dog took his place, and Moondog manager Richard Lee has taken to calling him "Junkyard DUD".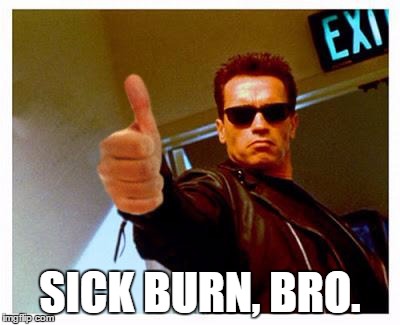 – Eddie Gilbert has no-showed on USWA yet again and is gone, taking the entire "hostile takeover" angle left over from the GWF invasion with him.
– Over to GWF, as 10/2 was "interference and foreign object night" at the Sportatorium, filled to the brim with 800 people, all freebies.  Oh, speaking of which, it's time for another…
– Making his GWF debut (and I believe debut, period) was rookie Big John Hawk, who beat Dusty Wolfe in a squash match and then made a save for Steve Simpson in the main event when John Tatum tried to lay him out with a metal bar.  (I can only assume that he was hazed mercilessly in the dressing room, and perhaps someone tried to rape him in the showers as well, because that would certainly explain the miserable human being that he became.) 
– In Oregon, a rather ironic twist has seen the boxing & wrestling commission on the verge of being shut down due to the death of Don Owen's promotion. With no wrestling shows and no WWF, there's no money for the commission and no reason for it to exist.
– Lance Cassidy (Steve Armstrong) suffered a shoulder injury after his first night of WWF tapings and had to miss the second one.  (He stuck around as an underneath guy for a few months, at least.) 
– As noted earlier in the issue, Jeff Jarrett was working all the house shows for the WWF this week.  Most fans didn't know him or care about him at all.  (The more things change…) 
– Hawk is still trying to get his release.  Still no luck yet.
– Wrestlemania IX will no longer be at MSG.
– Matt Borne worked the second set of tapings as a jobber to Crush, so don't look for him to get any kind of a push.  (Really makes him look like a clown.) 
– Oh, they're doing some kind of TV tapings in Saskatchewan next week, both in Regina and Saskatoon.  (Like anything would ever happen here.) 
– The Halloween Havoc card is a complete mess now, changing constantly.  Rick Rude is now booked to work two matches, one against Chono for the NWA World title and one against Nikita Koloff for the US title.  Scott Steiner may or may not defend the TV title against Ricky Steamboat or Steve Austin.
– Butch Reed's spot in the Simmons feud has been filled by Tony Atlas, so you can all rest easy now.
– Tom Brandi is coming into WCW as "Johnny Gunn", to be a partner for Tom Zenk.  Chris Benoit is also getting work on the 10/27 TV tapings. And "some guy with an auto racer gimmick" got a try-out, but Dave isn't sure who he is.  (Holy shit!  WCW could have had SPARKY PLUGG 3 years before the WWF did! Can you imagine how different wrestling would have been had they signed Bob Holly after that tryout?) 
– They're already running an angle where Barry Windham is going to turn heel on Dustin Rhodes, despite just winning the tag titles a few weeks back.
– Bill Watts was trying really hard to get Austin & Pillman into a regular tag team position, but Austin vetoed the idea hardcore.  (Aw, come on, Steve, he's your future bestest buddy!) 
– TBS did in fact pay out $180,000 to get rid of Jimmy Garvin, which Dave takes as a sign that they'll be keeping WCW around after all.  Rumors had been circulating that Watts was the absolute last ditch effort to save the company and they'd be dropped by 1993, but if they're willing to spend that much cash instead of just letting the company die, Dave notes, then they're probably safe.
– WCW's latest idea for sweeps:  A "King of Cable" tournament.
– And finally, a couple of notable requests from the reader pages:
"Brian Heffron of 2908 Sunset Ave., Atlantic City, NJ 08401 is looking for Observers with the Memphis results of 7/22/91 and is also interested in getting tape lists.
Brian Hildebrand of 3800 Mt. Troy Rd., Pittsburgh, PA 15212 is looking for a tape of the Country Music awards that aired on 9/30."
Hopefully they found some tapes.