Previously on the Flashback… http://blogofdoom.com/index.php/2017/03/31/wrestling-observer-flashback-09-28-92/
Back to the Observers again!  Hopefully I can remember how to meme.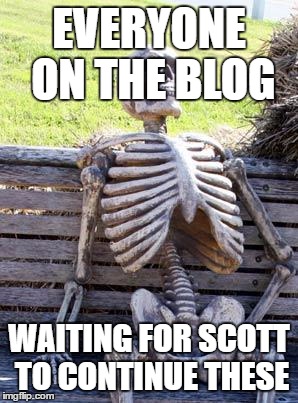 That feels a bit harsh.
– Rick Steiner suffered a pretty serious pec tear in Japan on 9/23, in a tag match against Hase & Sasaki.  Basically he'll be out until after the Steiners' contract expires, so it's doubtful he'll ever return to WCW.  (Well, not EVER.)  Ironically, Bill Watts pulled all medical insurance just before the injury occurred, which means that if they had signed a new contract when it was offered, Rick would have had to pay for his own surgery and recovery time.
– Ratings for wrestling hit all-time lows this week, with average rating between both shows hitting a 1.68, and WWF's house show attendance pretty much bottoming out, with no shows breaking 3000 people all week.  In particular, Ultimate Warrior v. Kamala was a crowd-killer.  Also, Prime Time Wrestling is just getting destroyed on Monday nights and is down to a 1.8 this week.  (Perhaps it's time to revamp the show a bit?) 
– Famous San Francisco promoter Roy Shire passed away this week, after suffering a heart attack on 9/16 and dying 10 days later in the hospital. Also, Roy Heffernan of the Fabulous Kangaroos died on 9/24 at the age of 67.
– New Japan had a big show at the Yokohama Arena on 9/24, but the thing I'm cherry-picking here is the main event, which was Masa Chono defending the NWA World title against Steve Austin.  How's this for irony:  About 5:00 into the match, Austin tried a tombstone piledriver on Chono, but fucked up the bump and Chono's head hit the mat at a bad angle, legitimately injuring him and jamming his neck.
– The FMW show at the baseball stadium on 9/19 drew somewhere between 25,000 and 27,000 paid (or in WWE language, a sellout of 55,000, breaking the stadium attendance record!) although fans were mostly of the casual variety and had a pretty tepid reaction to most things.  Bull Nakano, who was taking part in an interpromotional tag match that stole the show, grabbed the mic after the match and said "If you want more action like that, come to the All Japan Women shows!"
– The Fujiwara PWF group has the Tokyo Dome booked for 10/4, and Dave has heard that they're either close to a sellout with 25,000 tickets sold, or else they've only sold 7000 tickets and are about to become the biggest disaster in Dome history.  (That's…uh…quite the range of information.) 
– (In the results section, it should be noted that David Heath is now going as a singles wrestler called "Lestat the Vampire", which is both staggeringly unoriginal and yet I suppose somewhat prescient of the success of the movie.  Anyway, he quickly changed his name to "Vampire Warrior" and then won PWI's Rookie of the Year award for 1993.  I guess the first six years of his career didn't count or something.)
– Antonio Inoki had been hinting at a match against George Foreman at the Tokyo Dome on 1/4, but…no.  Just no.
– There's still no official signing of Hulk Hogan yet, but supposedly New Japan has agreed to almost all of his terms and he'll debut at the 1/4 Dome show.  Hogan is claiming that he suffered a serious neck injury two months back, similar to the one that crippled Paul Orndorff, and his immediate career isn't known.
– New Japan also met with Sid, but there's zero talk about bringing him in.
– Takada won the UWFI World title from Gary Albright in Osaka on 9/21, which sets up a title defense against the comeback kid, Koji Kitao, on 10/23 at Budokan.  It will, however, be a non-title match because Kitao's gimmick is now that he's not a fake pro wrestler, and thus has no interest in winning a fake pro wrestling title.
– Global Wrestling lost their local station in Dallas, in favor of the much more highly-rated paid programming that's replacing them.  Dave thinks that normally this would be a disaster, but when you're drawing 100 people a night, how much worse can it get anyway?
– Figurehead Global commissioner Joe Castellini was suddenly written out of the show in style, with his character getting indicted by a grand jury for racketeering, embezzlement, and gambling.  (Hopefully the government won't pick on any more wrestling promoters.) 
– Global North American champion Rod Price has a devastating new finish:  A golf ball to the head.
– Kerry Von Erich was supposed to be sentenced for forging prescriptions, but the court session mysteriously ended without a sentence.  Dave isn't sure what the deal is.
– Kendall Windham is now running a video dating service.  (I feel like there's a punchline in there somewhere.) 
– Samu & Fatu debuted at the most recent WWF TV tapings, and will be called The Head Shrinkers now instead of the Head Hunters.
– Paul Diamond is now Maximillian Moon (aka the Comet Kid, aka Maximillion Moves) as Dave thinks he's in a contest with Jack Victory to see who can have the most names.
– Lou Albano is supposed to come in as a babyface manager for the Nasty Boys when they turn, but he doesn't want to go on the road full-time.  (Damn, that would have been a PERFECT combination, actually.) 
– In the latest scandal to hit the WWF, a local herpetological society started a letter writing campaign trying to keep Jake Roberts from using snakes in his act, so Titan caved and announced that Jake will no longer be allowed to bring the snakes with him.  (That had to be someone's idea of a rib.) 
– Anyway, speaking of Jake's current promotion, WCW is entering desperation booking again due to the ratings, so the TV tapings will be filled with shock title changes and people turning back and forth in an effort to boost the numbers.  For example, new singles wrestler Scott Steiner will be challenging Rick Steamboat for the TV title at the next tapings, HINT HINT.
– The heel side of WCW is so depleted right now that Cactus Jack was ordered back into the ring despite a badly torn groin, to team with Jake Roberts for house shows.  (Jake Roberts and Cactus Jack is a hell of a team, you have to admit that.) 
– Jim Ross was saying on his hotline that Paul E. Dangerously would be brought back right away, managing Steve Austin & Brian Pillman as a tag team.  Dave just doesn't see Austin & Pillman being put together as a team.
– And finally, more details on the new contracts:
1) Upon signing, the company owns the rights to the wrestlers ring name and likeness in perpetuity (in other words, forever);
2) The company can give the wrestler 30 days notice to relocate (in other words, with 30 days written notice, the company has the right to get the wrestler to move;
3) The company has the right to book the wrestler to a third party–in other words the company can assign the wrestler to work for another promotion anywhere in the world;
4) The top dollar figure as stipulated in the contract is $750 per night. Another $250 per night is listed as a performance incentive bonus, so only the $750 per night is guaranteed;
5) It is specifically spelled out that in the case of injury, even life threatening injury suffered on the job, that the wrestler is signing away legal recourse against the company in regard to lost wages or paying medical bills.
6) Do not taunt Happy Fun Ball.
– Needless to say, morale is not great in WCW at the moment.