Previously on the Flashback… http://blogofdoom.com/index.php/2017/03/25/wrestling-observer-flashback-09-08-92/
Newsflash:  Sucks to be in WCW right now.  More on that after the break!
– So things are tense in WCW right now.  Like, Donald Trump trying to pass a healthcare bill kind of tense.  So to recap, WCW was bleeding red ink for four years, and they brought in Bill Watts to stop the bleeding.  They're not even expecting an increase in revenue, because it won't happen, but the goal is to cut expenditures as much as possible.  And of course, every little tightening of the belt in one area is going to affect someone negatively in another area.  Oh, and there's rumors that Watts is getting a bonus on every cut he makes.  Oh, and he hired his son as a pushed wrestler.  And then Brian Pillman walks into his office.  (Yes!  YES!  YES!  This story!) 
– Earlier this year, Pillman signed a new two year deal under Kip Frey, who was a big booster of the light heavyweight division.  And then Pillman had the best matches in the company as a part of that for weeks on end.  And the program could go on for months or even years in both the US and Japan. Pillman was supposed to be paid $425,000 over two years and a series of incentives that could add up to another $70,000 a year.  Kip saw Pillman as a major player in the future, whether as a heel or babyface, and Pillman gave up a sizeable offer from the WWF to sign the deal.  And then Watts came in.  Pillman started doing one job after another, losing to the likes of Greg Valentine on house show openers night after night.  He was suddenly the highest paid curtain jerker in the business.  And then they turned him heel on the Clash with no buildup and no storyline behind it.
– Next, Watts asked him to give up all his incentive bonuses.  You know, the guy who wanted to cut guaranteed deals and do nothing BUT incentive bonuses, was now asking Pillman to give his up.  Watts' feeling was that he could use someone else in Pillman's position and not have to pay incentives, so it's the right move for business.  Even though they're still paying him $200,000 a year to open house shows.  So Watts offered him a choice:  Give up his incentives and receive a big push, or get jobbed into oblivion until his contract expired.  Pretty much everyone felt like Pillman should tell Watts to shove it up his ass, but Dave doesn't know how the "negotiations" turned out yet.
– Next up on Bill's hitlist is Rick Rude, who has a contract that expires in 1995 and makes even more money.  Watts offered him a lump sum cash payment right now to give up his big fat deal, tear up the contract and guaranteed income and health care, and work for $1000 a night instead.  And no guaranteed number of dates.  Plus he would have to relocate his home base to another territory if asked by WCW, as long as they were paying him his $1000.  In contrast to Pillman, Rude reportedly wasn't threatened or blackmailed, just offered a new deal.  However, everyone backstage was FURIOUS about the way Rude was treated, so Dave suspects there's something bigger up with it, and it's apparently such a touchy subject that no one will talk about it.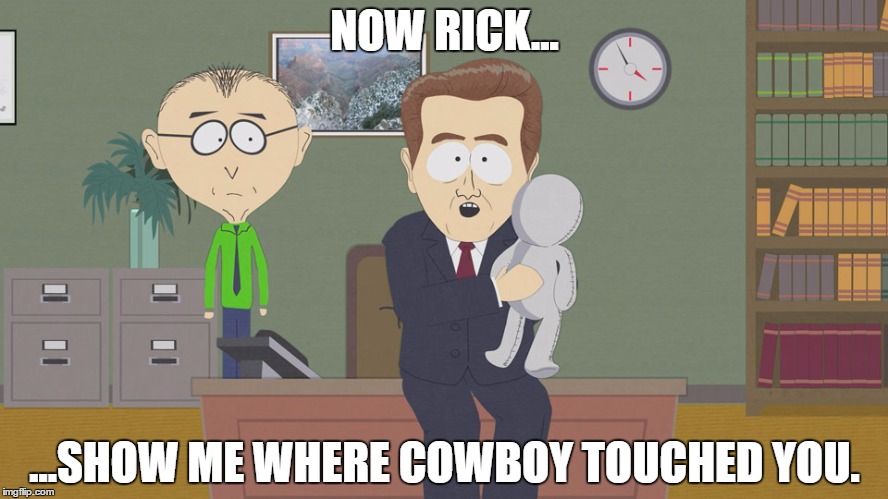 – Barry Windham was asked to retire and work in the office starting in January, since he was talking about retirement anyway.  (He probably should have.)  Windham would be paid out the remainder of his deal over 20 years.  (Uh oh, watch out for wrestling promoters bearing gifts of 20 year contracts!) 
– So finally, we learn Pillman's fate:  He told Bill Watts to shove it up his ass.  And then all week he was doing opening match jobs to Brad Armstrong so that Watts could make an example out of him.  And that's why it sucks to be in WCW right now.
– In Mexico, the whole AAA v. the Union thing was sorted out by federal arbitration and everyone is back at work.
– "Love Machine" Art Barr and Eddie Guerrero are expected to jump to AAA by the end of the month.
– Has Dave mentioned lately how great Rey Mysterio Jr. is?  Because he is.
– Union vice-president Ice Killer apparently has a hilarious gimmick, where he wears a hockey outfit and uses a hockey stick as an illegal weapon.  It would make a great WWF gimmick, says Dave.
– Thanks a lot, Dave.
– Also, three weeks ago Dave saw JWP wrestler Boirshoi Kid, who wrestles in a clown costume, and noted that it's a good thing Vince McMahon or Antonio Pena didn't see it. Well, now Pena is bringing in a guy in a clown costume.  (Good thing Vince would never stoop to that!) 
– Andre the Giant will be brought into All Japan for the 20th anniversary tour for the promotion, which has Dave kind of terrified.  (It would be Andre's final appearance in the ring, as it turned out.) 
– Hachiro Tanaka, the money guy behind SWS and WAR and a bunch of other groups, is reportedly tired of losing money in the wrestling business and wants out, according to the Takano brothers.  He apparently gave WAR $1.5 million as a startup amount and NOW got $480,000, and once they've blown through that, he's done.
– The next NOW tour features the debut of Skull Von Krus, who later went onto great fame as Big Vito, the guy who wrestled in a dress.
– The 9/14 show in Memphis is being advertised as "Pro Wrestling Illustrated Night" because they're taping the show for a video release sponsored by the magazine.  Dave is pretty sure they're just lying about it.
– Dave thinks it's hilarious that Eddie Marlin is talking up the "great talent" that they're getting from WWF and WCW, like Sgt. Slaughter who Vince doesn't want around anymore so he gets pushed to the top in Memphis.  Or Tracy Smothers, who got fired from WCW after months as a TV jobber and is now half of the tag champions there.
– It's the Bad Local Actors show in Global now!  Skandor Akbar brought in a "lawyer" to file suit against the GWF for not letting him put up the Iraqi flag in the Sportatorium, and when the guy threatened to put the company out of business the smart-ass regulars in the front row all popped big.
– Heel commissioner Joe Castellini was supposed to ban Akbar for throwing fire at Butch Reed the previous week, but Reed quit.  So to bury him further, Catellini declared that his experts analyzed the tapes and determined that Reed was in fact incredibly drunk, and the fire was caused by his breath igniting Akbar's cigar and it was a miracle that Akbar was still alive as a result.
– Majority stockholder Grey Pierson actually fired his partner, Wayne Whitworth, after a backstage argument with Joe Castellini.
– Kerry Von Erich's sentencing has been postponed to 9/28.
– This week in Kevin Von Erich stupidity:  He arrived two hours late for an autograph session and a local paper in St. Louis interviewed him about it and asked what was up with that?  Kevin's response, after explaining that he was working with a group called "Feed the Children":  "Oh man, it's a great group. I don't care if you hate my guts or whatever. They're fighting some disease that, I told you I can't get political. But if we can't take care of the little kids, who will? The homosexuals? "The homosexuals are in charge of the media. They'll run you down if you oppose them. The people I talk to are America. But if you don't dance to their tunes, you don't get on television. It burns me up. Radical groups in San Francisco are telling you the whole country's like that. Well, it ain't. They all keep doing it and dying, and they call us ignorant."
– God forbid anyone call him ignorant.
– "Summer Slam" (sic) will feature Warrior & Savage v. Ramon & Flair, plus Bossman v. Nailz in a "nightstick on a pole" match.  Dave is kind of surprised that they're going back to Cleveland because the house shows there have been pretty shitty as of late.
– Wrestlemania IX will be at Madison Square Garden, so get your tickets now!
– Dave saw the Flair title change on Prime Time and gave it ***1/4.
– Crush and Animal will be forming the New Legion of Doom on the European tour.  Hawk is now talking about being free from the slavery of Titan's contract and able to work wherever he chooses.
– Bob Backlund has apparently signed for real and will be getting a push.
– Bruce Prichard has come crawling back and will work backstage as JJ DIllon's assistant.
– Ted Dibiase & IRS will be broken up in the not-too-distant future.  (By which he means "a year from now when Dibiase retires", I guess.) 
– Bill Watts has started to walk back the top rope rule, announcing that it'll be rescinded for the upcoming light-heavyweight tournament and for any matches in that division.  (Too bad he couldn't actually follow through with the tournament!) 
– Tex Sallinger, who is "in reality the son of Ron Slinker", got a tryout on 9/9 and didn't look impressive.  (According to Wikipedia, Dennis Knight is actually his step-son, but that's close enough I guess.) 
– Erik Watts & Shane Douglas start as a tag team on 9/23.  (BWHAHAHAHAHAHAHAHA)
– And finally, in a totally minor note, future RSPW tape guy Joe Avolio (he of the awesome JoMosh compilations) shills his wares in this week's reader pages.  I always think it's cool when I see names I know in there.