Previously on the Flashback… http://blogofdoom.com/index.php/2017/03/14/wrestling-observer-flashback-07-13-92/
Big Brother Canada is BACK, plus I've got Lucha Underground to binge and rant on via Netflix now, so my weeks are PACKED. But for you, the little people, I can still find time for an Observer Flashback.
Time to bash the Bash…
– Big Van Vader made some history at the Great American Bash PPV, becoming the first wrestler to win World titles in four countries on 7/12. That would count the IWGP, UWA, CWA and now WCW versions of the World title. He won the belt in a great match on an otherwise crappy show. The crowd for the rest of it could "charitably be described as comatose".
– Hints are already there that Vader is going to transition the title to Ron Simmons, and it'll likely take place on a house show (possibly the Omni) so that Simmons will have the belt by Halloween Havoc. Dave feels like the decision to build the company around Simmons is a risky one, but it'll pay off if it draws money. (Spoiler: It DIDN'T.) The motive on Watts' part is obvious, as he wants to build a new Junkyard Dog for the black audience to rally behind. However, Dog had loads of charisma, and Ron does not. In fact, Bill's already tried to recreate JYD a million times and most of them were notable failures.
– That being said, Dave thinks it's high time SOMEONE became the first black World champion, so it might as well be Simmons. But then don't act like WCW is somehow blazing trails for Martin Luther King unless they start putting people of color in power behind the scenes.
– The NWA World title tournament is a go from 8/6 to 8/12 in Japan, although Vader pulled out for obvious reasons and Simmons also pulled out (which turned out to be due to him being World champion by 8/2), with Terry Taylor and Jim Neidhart being their replacements. Dave has no idea what's up with the Neidhart thing, since he's not signed to any WCW contract and might just be in as a New Japan deal. And more importantly, why would New Japan want him?
– The actual NWA title belt is back in the possession of WCW, after they agreed to pay Ric Flair $28,000 to get it back. They still haven't paid it yet. There's also a second lawsuit pending with WCW suing the WWF for damages to the symbol of the NWA title belt, causing embarrassment for the promotion in the wrestling community.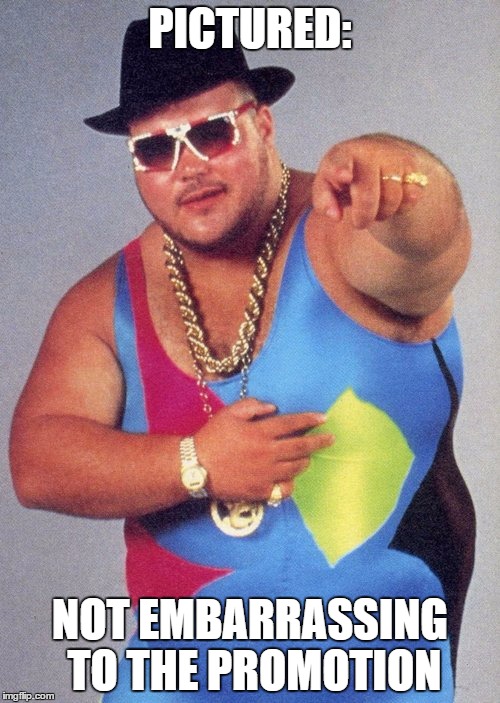 – So the settlement that will shortly follow will reportedly see WWF paying them a small amount of cash ($40,000 or so) and agreeing to never use the fake NWA World title belt again or use any footage that highlights that belt ever again.
(This is the belt in question:
I'm not a legal talking guy, but WCW certainly had a point there.)
– Anyhoo, the NWA title tournament finals take place on 8/12 at Sumo Hall in Japan, despite the odd-looking matchups in the first round, the NWA title still has enough juice in Japan that they'll make a large chunk of cash of this thing. Further, New Japan honcho Seiji Sakaguchi was announced as the new President of the NWA. Jim Herd was the last official holder of that title, but Dave figures he resigned in the middle of a Bill Watts angle.
– Good news and bad news for the Bash, as the show "sold out" the Civic Center in Albany GA to the tune of 8000 people, half of which were freebies, but the buyrate for the show was a dismal 0.3, which makes it the new record-holder for lowest in the history of the Big Two. Dave thinks that this likely shows that we have finally hit rock bottom, since the main event was the only thing marketed and fans were pretty much just buying the show on blind faith. (Silly Dave, WCW could always find a level below rock bottom!) As for the very high comp rate for tickets, it turned into a complete fiasco with 4000 seats available, but something like 8000 free tickets distributed to make sure the arena was full. Well, pretty much everyone who got a free ticket actually did show up, resulting in WCW making the local news for making people line up for hours and then turning away thousands of people because they didn't have any more seats available. (Not only is card subject to change, but tickets are as well.)
– Dave's thoughts overall: The new direction, filled with matwork and HOLDS, is jarring, but at least it's a direction and it's totally different than the WWF, he'll give them that. Unfortunately, the reaction from the crowd and fanbase was pretty much a unanimous…
1. Rick Steamboat & Nikita Koloff beat Jushin Liger & Brian Pillman in 19:25 when Steamboat reversed a flying bodypress for the pin. Nowhere near what you'd expect with these guys. And Nikita Koloff. Nikita didn't ruin the match, but he was pretty bad, and the rest were just turned down to 2 or 3 from their usual 11. ***1/4
2. Hiroshi Hase & Shinya Hashimoto beat The Freebirds in 9:16 when Hase pinned Garvin with a Northern Lights suplex. Hashimoto was replacing Akira Nogami, who was out with an eye injury. Dave thinks he was just trying to get SWS tickets. (See, because they were owned by an eye exam company.) Match sucked worse than that joke. *1/4
3. Dustin Rhodes & Barry Windham beat Rick Rude & Steve Austin when Rhodes clotheslined Austin to prevent a piledriver and pinned him. Paul E is in the doghouse so he wasn't there, and the fans didn't react to this match at all. *1/2
4. Steve Williams & Terry Gordy beat Steamboat & Koloff in 21:39 when Williams pinned Steamboat with a powerslam. One of the dullest matches that Dave has ever seen. The amateur stuff was fine, but way too long, and there's a reason why wrestling promoters in the 19th century stopped promoting wrestling as "real". Crowd still didn't care. DUD
5. Rhodes & Windham beat Hasimoto & Hase in 14:55 when Windham pinned Hase with a lariat. Again, not bad, but too long and boring and not what the US crowd wanted. **
6. Vader pinned Sting in 17:17 to win the WCW World title and finally wake up the crowd. Sting and Vader beat the hell out of each other in a hot match all the way, ending with Sting missing the Stinger splash and hitting the post, which set up a powerbomb to end it. ****
7. Gordy & Williams beat Rhodes & Windham in 21:01 to win the NWA World tag titles. Barry Windham got the hot tag and it "sounded like two fans popped". And then the MVC just cut him off again anyway. Rhodes got the hot tag and THREE fans popped. And then Williams just pinned Rhodes with a clotheslines to win it. 3/4*
– Hulk Hogan finally signed on the dotted line with New Japan, and will start on the 9/23 show in Yokohama for his $100,000 per show. This is only for a few shows, because New Japan is making so much money that they don't need to overpay someone like him anyway. Hogan's people deny all of this and say he hasn't signed anything with anyone, despite the WWF being really really REALLY in need of someone like Hogan on top right now and trying desperately to get him back. Dave thinks the odds of Hogan appearing for New Japan, especially considering their close relationship with WCW, are pretty slim at this point.
– Sources within 20/20 contacted Dave and let him know that they wanted to replay the 1985 episode where John Stossell got slapped by Dr. D, but wanted to make sure that the story was still valid and nothing had changed in the wrestling business since 1985. (Well, maybe if you're Bill Watts…)
– Tenryu's new WAR promotion has some kind of big money deal with the WWF, because they're advertising huge WWF names for their upcoming show on 9/15. The WWF title will apparently be defended, and Ultimate Warrior will probably be champion by then.
– Ricky Morton won the USWA title from Eddie Gilbert on 7/13, but then got handcuffed to the ropes and was forced to watch his father (who, according to Dave, was a ref in Memphis "for about 100 years") get beaten up and destroyed by Gilbert.
– A jobber who works for both WCW and SMW was told by the WCW side that he'd no longer be booked if he continued working for Cornette.
– John Tatum, in his new role as booker for Global , gave away 500 tickets at a local Hooters, resulting in a 725 person house at the Sportatorium. And then the show was so bad that less than 200 were left by the end.
– Part of the problem was that he hired local actors to play the part of the new heel commissioner and his entourage, but none of them had any connection to wrestling and didn't understand what they were being asked to do.
– Dave actually does correct himself from last week's Buddy Rogers obit, noting that it was BUCK Rogers who inspired the name.
– The WWF finally returned to the Meadowlands on 7/18 and drew a staggering 13,000 people to see Warrior v. Shango, which puts the final nail in the coffin of WCW's hopes of ever being allowed to run there again.
– Dave is amused that Vince has taken to the REALLY old school con of saying guys like British Bulldog got their physiques from ICOPRO, which is a con that existed in bodybuilding long before Vince ever got involved. That's pretty much how the bodybuilding business works, though, notes Dave.
– Berzeker returned, and it turns out he just jammed his shoulder and took a couple of weeks off.
– El Gigante has in fact signed and will start in January.
– In a minor note from AAA: "Making his TV debut on that show, which was taped 7/10 in Veracruz, was Rey Misterio Jr., a 17-year-old from Los Angeles who worked locally as Colibri who gained a big rep as a local flyer starting out at age 14 and probably at less than 130 pounds as well."
– To WCW, where morale is really, really, really low right now, for obvious reasons. And two new rules! Guys are forbidden contact with people on a list given by management, and you have to stay in the building until the main event is over.
– Also in the misery-making category, management is openly jobbing out guys with big contracts and trying to replace them with the "Dick Slaters and Barbarians" of the world, which means that Pillman, Zenk, the Freebirds and Marcus Bagwell are all screwed. Terry Taylor was already fired and is finished when his contract ends next month.
– TV ratings are just…ugh.
– And finally, talk of bringing in Bam Bam Bigelow to give the Steiners something to do once Gordy & Williams leave for Japan again. (I'm sure his signing with the other guys was totally a coincidence.)