Previously on the Flashback… http://blogofdoom.com/index.php/2017/03/13/wrestling-observer-flashback-07-06-92/
DO YOU LOVE THE OMNI YET?  YOU GODDAMN BETTER OR BILL WATTS WILL COME TO YOUR HOUSE AND PUT HIS BOOT DOWN YOUR THROAT, DAMMIT!
Or so it seems like.
– Bill Watts continued with "Operation: Push The Omni Harder Than Any Wrestler" by doing a big show on 7/5 with tons of hype and two title changes.  Brad Armstrong beat Scotty Flamingo to win the Lightheavyweight title, and Gordy & Williams won the WCW tag titles from Steiner Brothers.  (Not to pick on poor Brad, because it wasn't his fault, but he killed that title DEAD and ended up retiring it in September.  I mean, why even take it off Pillman if the best you can do is BRAD ARMSTRONG?) 
– Now, this is all well and good, but they spent the entire WCW TV show pushing the Omni card, and you might notice that there's a PPV coming up on 7/12 which got zero attention on that show.  This, notes Dave, is STUPID.  The Omni show, which only a tiny percentage of the TV audience could even attend, only drew 2500 people even with all the added hype, whereas PPV is a multi-million dollar industry.  (Just another reason why Watts was so hopelessly out of date.) 
– Basically, Dave notes, they'd have to increase house shows a RIDICULOUS amount of money over the course of the year to even come close to the money they can make by slightly increasing PPV buys.  It's just not financially feasible to even bother worrying about boosting house shows if it's at the expense of PPV.  (Look at Eric Bischoff:  Came in, signed Hogan, made a shitload of money on ONE PPV and justified his whole contract just like that.  Bill Watts has since claimed that WCW told him to cut costs and keep losses to a minimum, but if he understood PPV he could have made up the yearly deficit with those three PPV disasters by boosting the buyrate even 0.1% instead of flushing money down the toilet to placate the Omni.) 
– Oh hey, remember how Bob Backlund turned down the WWF offer last week?  Well, he debuted on 7/1 at a house show in White Plains, NY after all.  Turns out he was lying to everyone when he said that.  Unfortunately, no one at the shows even knew who he was and he got no reaction.  Dave speculates that Bob knows he's at the end of the line at 42 years of age (ARE YOU KIDDING ME?!  Backlund was the same age then as I am now?)  and Vince needs someone clearly drug-free and scandal-free as a "squeaky-clean" babyface.
– AAA drew a HUGE crowd to a basketball gym in LA, with a sellout of 6500 people, which is crazy for a promotion that has no real media presence in the country outside of Galavision.  This would be one of the biggest indy crowds in US history and it actually beat both WWF and WCW's last LA shows.  Dave thinks that if they can get their shit together and run monthly, they're sitting on a goldmine.
– In a funny note on the show, many of the spots were put together as a deliberate middle finger to Bill Watts, including one six-man where they deliberately set out to break all of the "10 Commandments" laid out by Watts in WCW in one match.
– The NWA World title tournament, set for sometime in August in Japan, has gone through some changes before it even gets started, with the Steiners pulling out and grumbling from Japanese fans that Sting isn't even part of it.  At the moment that 16-man field is: Barry Windham, Ron Simmons (who might end up as Terry Taylor), Rick Rude, Big Van Vader, Arn Anderson, Steve Austin, Super Strong Machine, Kensuke Sasaki, Bam Bam Bigelow, Tony Halme, Scott Norton, Hiro Hase, Masa Chono, Keiji Muto, Shinya Hashimoto and David Taylor.  (Pretty damn good lineup even without Sting.) 
– Another death this week, with Stan "Plowboy" Frazier passing away on 7/1 at the age of 54 after months of kidney problems.  He was most famous for playing Uncle Elmer in the WWF as a part of the Hillbillies.
– Lou Thesz sent Dave a copy of the manuscript for "Hooker" and Dave is like…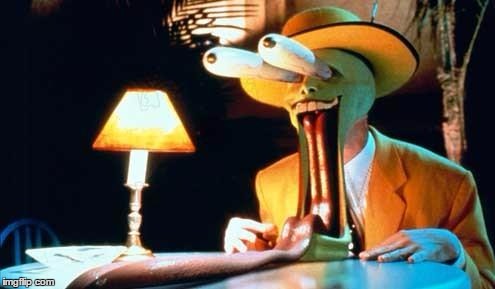 …or words thereabouts.  Dave doesn't know if it has a publisher yet, but if so, you should buy it.  (So get this:  The book is now a MAJOR rarity, running for upwards of $200 – $300 Canadian on Amazon, but the Kindle version is only $10!  I literally bought a copy tonight after looking it up.  Here's a preview from Amazon…)
– To Mexico, where Konnan's visa problems were worked out and he'll start full-time with AAA next week.  And then he starts full-time with the WWF two weeks after that.
– Art "Love Machine" Barr will be jumping from EMLL to AAA right away, although Eddie Guerrero, the younger brother of Chavo Guerrero, turned down an offer to switch sides because he wants to stay with his brother.
– Haku, who is working EMLL as a part of a talent exchange with the former SWS in Japan, has already scared the SHIT out of all the luchadors and has caused the unprecedented move of people actually requesting not to work with him because he's too stiff and won't sell for the little guys.
– Onita and Tiger Singh had their big showdown in the jungle (drawing zero fans, Dave notes), which featured Onita bleeding due to the butt-end of Singhs' sabre, and then getting wrapped in barbed wire and bleeding from all available body parts before Singh put him away with a cobra claw in 7:03.  And then the Sheik showed up on the island and threw fire at him.  Dave thinks the whole thing sounds like a "Mark Madden parody".
– Tenryu's new WAR promotion starts on 7/14 at Korakuen Hall, with Tenryu on top of course.
– Naoki Sano, who was thought to be jumping to the new NOW promotion, is in fact going to UWFI in something of a shocking swerve.
– The USWA drew their biggest gate of the year, as Lawler & Jarrett finally won the tag titles from the Moondogs in a cage match, with Jackie Fargo as referee.  Even so, it was still only 1800 people.
– Max Andrews finally sued over the "Global invasion" and this is legit and not fake.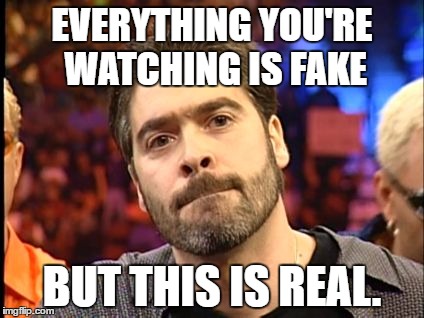 No, like ACTUAL real.  Andrews brought legal action for essentially defaming his promotion on TV, and he's got a point.  So the whole thing was dropped FAST and it's done.  (Of course, soon an even more awesome invasion angle would plague Memphis…)
– Stay tuned!
– Buddy Landel is wasting no time no-showing SMW dates.
– John Tatum, who was bounced out of his own "Big D" promotion in Texas, took over as booker for Global from Skandor Akbar and things are picking up a bit again.  Crowds are still terrible, though.  Gary Hart is still hanging around as a babyface manager because he's in with whoever the mysterious money mark is.
– Dave is already taking shots at Vince Russo, mocking the quality of his radio show in comparison to former partner John Arezzi.
– To WCW, where Mr. Hughes is indeed turning babyface thanks to EXPLODING SUNGLASSES OF DOOM, but thankfully the blond hair gimmick has been dropped.
– It appears that Brian Pillman, Tom Zenk and the Freebirds are all on the short end of Bill Watts' graces and may be in some trouble career-wise.  Ricky Morton was sent away for six months to remove the stench of failure from fans' minds, and he's working Memphis in the meantime.
– Bill Watts continues to go crazy, and has now banned heels and babyfaces flying together on the same flight.  (OH COME ON NOW.)  So now they have to take alternating flights, although the official reason is that they don't want a situation where the plane goes down and no one's left to wrestle.  Dave notes that the billion-to-one odds of that ever happening are now a billion-to-two.  Whew.
– Van Hammer may be fired, maybe not, no one cares.
– Shane Douglas is sniffing around for a job again.
– Larry Zbyszko is done with wrestling and will be moved into a commentary role now.
– The WWF is still insisting that the Wembley Stadium sold out on the first day completely, although Wade Keller actually called the box office to check and they say it's 70,000 tickets sold and you can buy $22 balcony seats if you'd like.  (I mean, shit, 70,000 tickets sold would be amazing even TODAY without even needing to lie about it.) 
– El Gigante might be coming into the WWF.
– Murray Hodgson fired, or quit from, lawyer Ed Nusbaum, so Vince's counter-suit appears to have sunk his Battleship.
– Meanwhile, Rita Chatterton, the female ref was accusing Vince of raping her, was dropped by her lawyer because it turns out that the statute of limitations ran out long ago so the lawsuit was going nowhere.
– Berzerker has mysteriously disappeared.
– And finally, there was a small protest march before the Poughkeepsie house show on 7/2 relating to the various sex and drug scandals.  Thankfully, most of the bad press and lawsuits seem to have blown over, so it's clearly smooth sailing for Vince McMahon from here on out!
–