Previously on the Flashback… http://blogofdoom.com/index.php/2017/03/12/wrestling-observer-flashback-06-29-92/
I finally watched "The Revenant" on Sunday and Leo was well deserving of his Oscar, but someone please tell me there's a YouTube video where someone overlaid JR going "STOP THE DAMN MATCH" during the bear scene?  Because I sure as hell was just about yelling it at the TV myself.
And although not quite as dramatic as a bear mauling this week, it's still a sad start to the Flashback this week, with a notable death…
– Buddy Rogers, real name Herman Rohde, died at age 71 this week after suffering two strokes in ten days.  He was described as "the picture of health" up until he suffered a mild stroke on 6/12, and then a major one on 6/22 that left him blind and paralyzed before lapsing into a coma and dying on 6/26.
– Buddy's list of accomplishments:  First WWWF champion, first blond heel with "serious" heat, first "hardcore" heel champion (as opposed to someone like Thesz, who was a rough babyface), first one to popularize the figure-four leglock, and generally pioneered many aspects of working that are still used today.  Biggest box office draw from 48-63.  First of the great workers by "modern" standards.  Directly led to the creation of Ray Stevens and Ric Flair's respective characters.  In fact, Flair pretty much lifted most of the Nature Boy character and in-ring mannerisms from him wholesale.
– Although Rogers was considered an asshole to work with during his prime, he severely mellowed out in his later years, to the point where his image became that of a nice and respected old-timer after the 1963 heart attack that mostly ended his career.  In fact he was trying to become only the second person to wrestle in seven different decades by facing Buddy Landel on a Joel Goodhart show in Philly, but the promotion folded days before the match and never happened.
– Although he started as Dutch Rhode in 1939, he took the name "Buddy Rogers" from a 40s sci-fi character and took "Nature Boy" from a pop song.  (Um, I think Dave was thinking of "Buck Rogers" with that one.) 
– Buddy was a mega-heel for the NWA and then won the World title from Pat O'Connor in Chicago, drawing 38,000 fans on 06/30/61 to set a record that lasted until the WWF Shea Stadium show broke it.  They also did a rematch where Rogers retained two months later, drawing another 30,000 people.
– Lou Thesz actually feuded with Rogers in real life for decades, because Buddy once made a "smart aleck remark" about Lou's mentor Strangler Lewis at the beginning of their careers.  (Now that's someone who knows how to hold a grudge.)  They eventually mended fences late in their lives.  (Probably bonded over how much they hated the current business direction.) 
– Buddy story #1:  During his reign as NWA champion in 1962, Buddy was in a dressing room with Karl Gotch and Bill Miller (two legendary tough guys), and they caught him and smashed his hand, causing him to miss several title defenses.  Gotch had challenged Buddy to a fight and Buddy decided to walk, resulting in Miller slamming the door on his hand on the way out.  (Buddy was not known for his friendly relationship with his fellow wrestlers.) 
– Buddy story #2: Buddy had a title defense against Killer Kowalski in November of 62 and broke his ankle in the first minute, allowing Kowalski to "win the title" with a pinfall because Buddy couldn't compete in the second or third falls.  The NWA had to come up with a rule that the title could only change hands in 2/3 falls matches (since Kowalski wasn't supposed to win) and since Kowalski only won a single fall, he wasn't champion.  So when it was time for Buddy to drop the title for real to Lou Thesz (which made for some interesting dynamics leading up to the match, of course) the people backing Rogers made sure it was a one-fall match, and then turned that very rule against the NWA to claim that Buddy was still champion.  And those people were of course Vince McMahon Sr. and Toots Mondt, who formed the WWWF as a result.
– It's bad to worse for WCW and the reign of Watts, as Beach Blast did by far the worst PPV buyrate in history for the company (…up to that point) with a final number of 70,000 buys, or a 0.4%. And the Bash looks to "top" that number in three weeks as well.  And then the Clash, which many already figured to do the worst rating in the history of the show, somehow managed to subvert even those lofty expectations by doing a 2.8 rating, which is a full point below either of the previous shows tied for Worst Clash Rating Ever.  That is like getting into "test pattern" levels of bad ratings.  Dave thinks it's still too early to blame the new regime for this mess.  (Oh, don't worry, there's PLENTY of blame upcoming!) 
– Oh, also, the weekend shows set new lows for cable wrestling ratings, and that includes the WWF shows.
– The WWF continues to insist that Summerslam sold 80,000 tickets in the first day, and also announced several new matches for the show:  Tatanka v. Berzerker, Beverlies v. Disasters, and Repo Man v. Crush.  Dave suspects this card will introduce the new fall programs, and thus "there's always the NBA".
– New Japan ran Budokan Hall on 6/26, featuring a pair of title changes, but the show was not without wackiness.  Since Budokan is traditionally the All Japan headquarters, the Hall was pretty unsympathetic to New Japan running there, and treated them like dicks.  They insisted that the show end by 9:00 sharp, resulting in several matches being dropped from the show.  Chairs could not be used because they were the property of the Hall, brawling outside the ring was prohibited because they didn't want the floor scratched up, and wrestlers weren't allowed to whip each other into the guardrail for the same reason.  (Who was running the Hall, Bill Watts?) 
– New Japan was pissed off at Vader because he makes big money on a guaranteed deal, and blew out his knee on the last tour.  So they sent him home to rest and get ready for the next tour, which Vader interpreted as "Wrestle for WCW on their house show tour", and he blew out his knee AGAIN.
– The Sheik became the world's oldest World champion, beating Onita on the 6/25 FMW show to win their version of the World title in a no-ropes barbed wire death match, at 67 years of age.  He won with the help of Tiger Jeet Singh and his sabre, so this sets up an ISLAND DEATH MATCH between Onita and Singh later on.
– Dave is amused that Tenryu's new Revolution promotion has already changed its name to WAR:  Wrestling and Romance.  He thinks something is lost in the translation there.
– Hey, Herb Abrams is BACK.  He ran TV tapings in Spartanburg, SC, including a guy named Death Row 3260 as a babyface.  The tapings ran four hours and Herb's only TV outlet at the moment is Prime Network in LA.
– Zinger of the week:  Boni Blackstone was bantering with Sam Kent on the wrestling block in Atlanta, and Kent told Boni that she's trying to be like Missy Hyatt, but would have to get some surgery to pull it off.  They went to commercial and returned with Boni all flustered and upset about the insult, and declares that no matter what anyone says, she's not going to have a lobotomy done so she could be like Missy.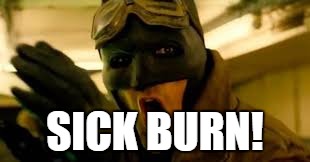 – John Arezzi is having financial troubles and is currently unable to broadcast his radio show, so former partner Vince Russo is trying to buy the time slot out from under him now.  (Well he learned that one from the best.) 
– To the WWF, with TV tapings in Glens Falls that saw tryouts for The Retriever (aka Roadblock) managed by the Genius, and he didn't look good.  Also Ross Greenberg, who didn't look good either.  (Didn't he just end up doing a bunch of TV jobs later?) 
– The Legion of Doom debuted the puppet after all, but the name is now "Rocco" instead of "Freckles", so Vince might as well start counting his money right now.
– Perry Saturn worked the show as a TV jobber named "Peter Watts", with the last name probably a rib on Bill.  (Dave had the name wrong here, it's actually "Peter Motts" and the show is up here)
– Warrior and Savage had a face-to-face interview on the tapings, with Ric Flair coming out and challenging the winner because "I've been beating people who paint their faces for my entire career."  Dave thinks that pretty much gives away who wins at Summerslam since they're not stupid enough to continue running Savage v. Flair after this summer's disaster of a house show run.  (Au contraire!  They are indeed that stupid!) 
– And finally, Paul Roma decided to burn some bridges in the WWF, doing an interview with a newsletter where he claimed that Jim Powers was going to blow the whistle on sexual harassment against him, so they put Roma & Powers together and gave them a push to shut him up.  And then later on Roma got hit on by a "top official" and had he accepted, Power & Glory would have been tag team champions. (Yeah, THAT'S the only reason why P&G never won the titles, RIGHT.)