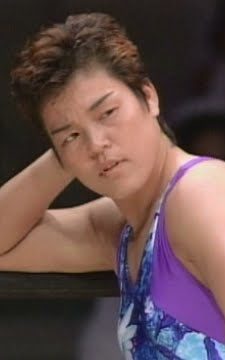 Kandori, looking humorously like a female version of Antonio Inoki. Especially with the Elvis hair.
JOSHI SPOTLIGHT- SHINOBU KANDORI:
Billed Height & Weight: 5'7″ 165 lbs.
Career Length: 1986-today
-Shinobu Kandori, Brock Lesnar before there was a Brock Lesnar (ie. the snide, arrogant, vicious shoot-fighter whose real-life cred is played into their wrestling character) is one of those very few wrestlers that has a match so good that it eclipsed the fact that she's one of the only pro wrestlers to ever shoot on someone in a televised match! Her ***** showdown with Akira Hokuto at AJW Dream Slam in 1993 is heralded as one of the best matches of all time, and has an even shot at being the greatest women's match of all time. And yet nearly all the praise went to Hokuto!
Overall, Kandori has an iffy reputation in joshi circles- people like Mike Lorefice have brushed her off as having been entirely carried to one of the greatest matches of all time- and it's generally accepted that yeah, she was the lesser party there. She's even ignored for holding the World Championships of TWO COMPANIES simultaneously! But I think having seen a bunch of her stuff, and great matches with a variety of opponents, proves that Kandori is in fact HIGHLY underrated and could definitely hang with the top stars. Like, I would say she was the lesser worker in every one of her great matches… but her opponents were people like friggin' Hokuto, Kyoko Inoue & Manami Toyota, y'know? I mean, do we shit on Davey-Boy Smith because "he only had ***** matches with top wrestlers?" No- we certainly don't put him in the Greatest of All Time lists or Mount Rushmores or whatever we classify wrestlers with these days, but he's a well-respected worker!