This post is sponsored by BIG TALL JAPAN, supplier of official big & tall NJPW tees, hoodies, tracksuits, and more in sizes XL through 7XL
Introduction
It's every wrestling fans' favorite time of the year: Quality wrestling interspersed with a lack of sleep and complete disrespect for one's body.  It's G1 Climax season!  My name's Norrissey, and I will use the next 4,000 or so words to explain the importance of New Japan's annual summer classic.  We'll break down each of the wrestlers competing and cover their likelihood to win the entire tournament.  If anyone's considering putting down the ¥999 per month to watch New Japan, this is probably the best time of the year to do so.  Without further ado, let's breakdown the G1 Climax!
Overview
For those unaware of the structure of the G1 Climax, here's a primer: New Japan features 20 Heavyweight wrestlers (usually members of the roster but occasionally outsiders from NOAH or another promotion) and divides them into two blocks: A Block and B Block.  Each wrestler competes against every wrestler in their block once (therefore, in a block of ten wrestlers, each wrester has nine matches).  Wrestlers earn two points for a win, one point for a 30-minute time limit draw, and zero points for a loss.  After all block matches are complete, the wrestler in each block with the most points will compete against his counterpart in a no-time limit match to determine the winner.  If two wrestlers finish on the same number of points, the winner of their respective match wins the tiebreaker.
What's at stake? Well, the winner receives a contract (represented by a Money-in-the-Bank-style briefcase) guaranteeing a match for the IWGP Heavyweight Championship at Wrestle Kingdom 13, THE biggest show of the year.  If the Heavyweight Champion (currently Kenny Omega) happens to win the tournament, it's assumed he can name his challenger for Wrestle Kingdom, although this hasn't happened in the history of the tournament.  After the tournament concludes, the winner has to defend the contract in at least one match leading up to Wrestle Kingdom, which places the contract on par with the other major singles titles in the company.
This is obviously a long, arduous tournament, and people might question whether all matches have consequences over the entire month.  No, not every match will matter to such a large degree, but there will be stuff to pay attention to every evening.  None of the G1 matches will have titles on the line, but if someone defeats a singles champion, it lends credence to that person challenging for that belt down the road.  Kenny Omega won't go through the tournament undefeated, and whomever upsets him will have a valid claim to an IWGP Heavyweight title match at some point.  G1 matches are a prime time to have call backs to previous matches, and they serve as plot development for future shows.  Regardless of your rooting interests, there are few reasons to skip G1 tournament matches.  With all that said, let's cover the competitors in this year's G1.
Wrestler Previews
A Block
Kazuchika Okada – "Rainmaker" (CHAOS)
At only 30 years old, Kazuchika Okada can already lay claim to the title of Best Wrestler in the World, even without currently holding the Heavyweight Title.  A multiple-time champion, Okada already holds the record for the longest consecutive title reign at 720 days, as well as most consecutive title defenses in one reign with 12.  A promising Young Lion, Okada re-debuted with NJPW at Wrestle Kingdom VI and immediately aimed to be the face of the promotion.  He has already experienced legendary feuds with the likes of Hiroshi Tanahashi and Kenny Omega.  However, success has eluded Okada as of late.  At Dominion, Omega bested Okada in a no time-limit, 2-out-of-3 falls match to claim the title.  Distraught, Okada has since gone on a bit of a losing streak, most recently falling to Zack Sabre Jr. in singles action at Strong Style Evolved UK.  The G1 Climax, though, can be known for changing fortunes and re-motivating wrestlers.  A former two-time winner of the tournament (in 2012 and 2014), Okada possesses the stamina and drive to see the tournament to the very end.
Prediction:  Okada and his Big Boy Pants are the overwhelming favorites to win the A Block.  He's been a part of every Wrestle Kingdom title match since 2013, and there's no sign of that streak breaking this year.  After concluding the epic feud with Tanahashi at this year's Wrestling Dontaku, Okada looks to earn back the title after stumbling against Omega.  An Okada appearance in the Finals is the floor.
Hiroshi Tanahashi – "Once in a Century Talent"
While Okada may be the current Ace of the company, no one deserves more credit for carrying New Japan for the last thirteen years than the former Ace, Hiroshi Tanahashi.  A former seven-time (!) Heavyweight Champion, Tanahashi looks to excite the crowd and pull another miraculous performance out of his ass at the G1 Climax.  Tanahashi had Okada's number for several years at Wrestle Kingdom before Okada finally got the upper hand at Wrestle Kingdom 10.  Since that match, Tanahashi has struggled in his attempts to convince his fans that he's still the Ace.  Of course, Tanahashi still appears near the top of the card most nights, but at 41 years old, most recognize that his best days are behind him.  Regardless, he still puts on quality matches when the time calls for it, as the fans chant along: "GO ACE!"
Prediction:  Tanahashi's not expected to win the block, but he stands to have entertaining matches with his block mates. His final three matches will play heavily into deciding the block winner, as he faces EVIL, Michael Elgin, and finally his old nemesis, Kazuchika Okada.  I expect Tana to be near the top while falling short on the final day of the tournament.
Togi Makabe – "Unchained Gorilla"
A longtime stalwart of New Japan, Togi Makabe remains a fan favorite despite his reputation for subpar matches.  A former IWGP Champion in his own right, Makabe remains more popular due to his sweets blog and his cooking show more so than his wrestling.  Recently in a tag team with Great Bash Heel partner Tomoaki Honma, Makabe has made fewer appearances since Honma was on the shelf due to a severe vertebrae injury.  Now that Honma is back, Makabe can get back to what he does best with his partner: hitting the King Kong Knee Drop from the top rope!
Prediction: Makabe's getting up there in years, and his Heavyweight Title run always felt more consolatory than anything else.  There's also a lot of A Block members that can stand to benefit from a win over Makabe, so hopefully he picks up no more than 6 points and then re-enters the tag division with Honma.
Michael Elgin – "Unbreakable"
Big Mike formally debuted with New Japan in early 2016, having impressed in the 2015 G1 Climax.  His personal reputation notwithstanding, Elgin quickly won over Japanese fans due to his agility and brute strength.  Elgin made history at Dominion 2016, as he replaced Hiroshi Tanahashi and defeated Kenny Omega in New Japan's first ever ladder match to win the IWGP Intercontinental Title.  He hasn't pushed through the ceiling to claim the Heavyweight Championship, but he has continued to put on quality matches with the likes of Tetsuya Naito and Cody.  Should his repair his personal reputation, the future for Big Mike in New Japan remains bright.
Prediction:  I don't think Elgin's going to rack up a lot of points during this year's G1.  However, I am confident that his matches will be some of the highlights of the A Block.  A rematch against Okada, for example, has the potential to be one of the matches of the tournament, considering how strong their outing was last year.  Elgin's going to pick up 8 points and look great doing so.
Jay White – "Switchblade" (CHAOS)
One of two debutantes in this year's G1 Climax, Jay White had a rocky start to his main roster career.  Earlier this year, White re-debuted as "Switchblade," a character of such ridiculously generic origin it led to Chuck Taylor dubbing him "Knife Pervert" on Twitter.  Soon after losing to Hiroshi Tanahashi at Wrestle Kingdom, White announced his intentions to join CHAOS, reminding Okada all the while that he should watch his back, as Switchblade was only joining the group for personal gain.  White quickly turned his fortunes around, wresting control of the US Heavyweight title from Kenny Omega in late January.  While he recently lost his title to Juice Robinson in San Francisco, White hopes to make an immediate splash in his first ever G1.
Prediction:  It took White several months to find his groove as a heel, but if his performance in San Francisco is anything to go by, White has the potential for several quality matches during the G1.  I'm especially excited to see his matches against Okada, Minoru Suzuki, and the also-debuting Hangman Page.  Middle of the block for White, but that's not a bad thing in his first year.
YOSHI-HASHI – "Loose Explosion" (CHAOS)
The man Shinsuke Nakamura affectionally dubbed "Tacos" for reasons not quite clear, YOSHI-HASHI comes into G1 Climax 28 as possibly the coldest wrestler on the roster.  There's nothing quite wrong with Tacos; he's more than a competent wrestler and has several years of experience under his belt.  But… his look is bland, his move set is uninspiring, and as the clear CHAOS member who eats the pins, he can't get the fans behind him.  If he's to have a worthwhile G1, YOSHI-HASHI needs to come in and have several inspired performances from the get-go.  Otherwise, at 36 years old, he might find his G1 spot going to someone else next year.
Prediction:  Tacos will live to take falls (hey, at least he has lots of practice here!), and he will certainly anchor the bottom of the A Block.  YOSHI-HASHI doesn't have the greatest of reputations for outstanding singles matches (maybe the Omega G1 match from two years ago is the exception?), but I'm hoping that his luck changes this year.
Bad Luck Fale – "The Underboss" (Bullet Club)
A veteran of the New Japan roster, the former King Fale stands to make his mark as one of the powerhouses of the A Block.  His moniker of The Underboss refers to his long-tenured status as the "Number Two" guy of Bullet Club, always existing as the underling to the likes of Prince Devitt, AJ Styles, or Kenny Omega.  Despite this, Fale always performs well in the G1, and his finisher, the Bad Luck Fall, may be up there as one of the more protected moves in professional wrestling.
Prediction: Fale will have a good showing; he always does.  The Underboss still comes off as a credible giant who can defeat anybody at any time.  In recent weeks, Fale has lost considerable weight and that will help with his stamina throughout the G1.  He won't win the block, but I still expect 10 points and a strong showing from Fale throughout the tournament.
Hangman Page – "Hangman" (Bullet Club)
The other debutante of the G1, Hangman went from a fringe member of Bullet Club to arguably one of the more popular wrestlers on New Japan's roster.  Part of this can be attributed to his performances on Being the Elite, but the Hangman has shown a lot of growth in the last year during his wrestling matches for both New Japan and Ring of Honor. Recently coming up short in his ROH Television Title match against Punishment Martinez, Page hopes to have a good showing at his first G1 tournament.  One match to look forward to is his contest with Bad Luck Fale, as the Underboss's loyalties to his stablemates remains in doubt after the formation of the Firing Squad.
Prediction: Page will probably hang around the bottom of A Block alongside YOSHI-HASHI, but they shouldn't be the ultra-skippable affairs that Page's matches were this time last year.  Page looks to impress and pick up a couple of key wins.  Maybe he gets his win back against Jay White?
EVIL – "King of Darkness" (Los Ingobernables de Japon)
The former Takaaki Watanabe looks to be a dark horse of the A Block under his current moniker, EVIL.  While he didn't win his block last year, he scored several key victories, including a clean win over IWGP Heavyweight Champion Kazuchika Okada.  While he fell short in his title match that October, the two matches served as evidence that New Japan has faith in EVIL to deliver the goods.  Coming off a long Tag Team Title reign with L.I.J. stablemate SANADA, the King of Darkness should produce good to great matches over the coming months.
Prediction:  EVIL, unlike many of his A Block competitors, already has some direction planned following the conclusion of the tournament.  After Chris Jericho defeated Tetsuya Naito to win the Intercontinental Title, the King of Darkness came out to defend his friend and challenge the new champion.   EVIL will probably be in the middle of the block but he has good things lined up for him down the road.
Minoru Suzuki – "King of Pancrese" (Suzuki-Gun)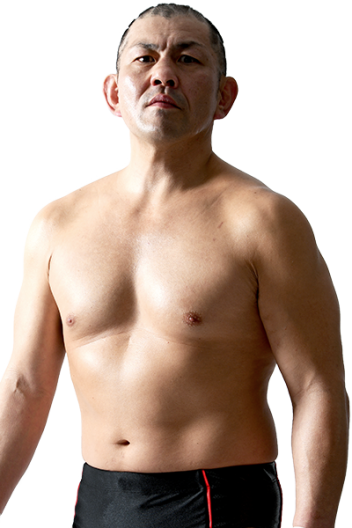 At 50 years old, the former mixed martial artist and legit crazy motherfucker stands tall as the most seasoned veteran of the tournament.  When he's not terrorizing Young Lions or receiving crazy haircuts, Minoru Suzuki can be found wrestling in empty baseball domes or chasing after his opponents on motorbikes.  He's legitimately one of the strangest men in professional wrestling, but his credibility as a tough, no-nonsense bastard can't be ignored.  He's also reportedly one of the nicest guys in wrestling if reports and anecdotes are to be believed.  Minoru's matches should be among the highlights of the A Block nights.
Prediction:  The idea of Suzuki headlining the Tokyo Dome one more time remains a fleeting dream.  In fact, the last time Minoru headlined the Dome, some ignorant jock named Kazuchika Okada came out and spoiled the ending by brazenly challenging Tanahashi for the Heavyweight Title.  Suzuki will have good to great matches and come third or fourth in his block.  Going by their last two matches, I'll be shocked if he doesn't earn the draw against Okada.
B Block
Kenny Omega – "The Best Bout Machine" (Bullet Club/Golden Elite)
IWGP Heavyweight Champion
Long recognized as THE premier wrestling talent of New Japan (alongside Kazuchika Okada), Kenny Omega finally broke through the ceiling and defeated Okada to win the Heavyweight Championship at Dominion last month.  That being said, the wrestling world will all have eyes on Omega as he enters his first G1 Climax as champion.  Who will be able to defeat Omega and prevent him from reaching the finals? Will he even still be champion by the January 4 Tokyo Dome show? What happens when he faces off against his friend and tag team partner, Kota Ibushi?  It'll be an intriguing month for the Heavyweight Champion.
Prediction:  Omega made a splash in his first G1 tournament, defeating Hirooki Goto two years ago to become the first non-Japanese wrestler to win the G1 Finals.  He then made it to the Finals last year before falling to G1 winner Tetsuya Naito.  This year, Omega has re-matches with both of them during the block matches.  I see Omega having a strong performance overall, but ultimately losing at least twice, including to Ibushi on the final day of the block matches.
Juice Robinson – "The Flamboyant"
IWGP US Heavyweight Champion
After escaping the horror that was his NXT run, the former CJ Parker found new life across the Pacific Ocean.  Initially starting as a Young Lion, Juice Robinson now finds himself a singles champion in New Japan.  During his NXT career, Robinson couldn't elicit a reaction to save his life.  Now, the Flamboyant One has crowds going wild with chants of "JUICE-S-A! JUICE-S-A!"  As he heads into his second G1, the new US Heavyweight Champion has a target on his back but looks to take it all in stride.  JUICE!
Prediction:  All the belts found their way to the B Block after all!  As a new heavyweight champion, Juice needs to pick up some strong wins, but the company can create at least two challengers to his belt with crucial wins during the block matches.  Of the B Block, I can see at least two of Tomohiro Ishii, Tama Tonga, or SANADA challenging Juice Robinson over the next few months.  Could he hold on to his title until Wrestle Kingdom?
Hirooki Goto – "Fierce Warrior" (CHAOS)
NEVER Openweight Champion
A long-tenured member of the New Japan roster, Hirooki Goto actually holds the distinction of being a former winner of the tournament, along with Kazuchika Okada, Kenny Omega, Hiroshi Tanahashi and Tetsuya Naito.  Unfortunately for Goto, the title shot for Wrestle Kingdom wasn't a prize when he won the tournament in 2008.  Goto has held the NEVER Openweight Title since Wrestle Kingdom, barring an eight-day spell where Michael Elgin was the champion.  An outsider to make the finals, Goto has proven time and time again that he can bring the best out of his opponents when called upon.  It should be a high-quality tournament for the NEVER Openweight Champion.
Prediction:  Goto's decidedly non-flashy offense and stoic demeanor should produce some reliable performances throughout the month-long tournament.  As is the case with Omega and Robinson, Goto's losses will lead to some future challenges over the coming months.  Tonga or Sabre beating Goto could lead to quality NEVER feuds.
Tomohiro Ishii – "Stone Pitbull" (CHAOS)
STONE PITBULL WILL BITE U AFTER MAKING U DINNER 141!  Tomohiro Ishii remains a curious case study within the New Japan roster.  The man did not reach his peak until after turning 40, and now he's producing some the most-anticipated matches in the entire world.  And yet, NJPW will never pull the trigger on him, preferring him third in the CHAOS pecking order to Okada and Goto.  In some ways, it's entirely understandable.  Ishii stands at 5'7", doesn't have a bodybuilder physique, and doesn't change his demeanor outside of the odd scowl.  Nevertheless, he's still one of the better brawlers the country has to offer, and he WILL have excellent matches over the next month, guaranteed.
Prediction:  Ishii puts on great matches, but he wins as much as he loses in the G1 Climax.  His last four years feature a mean score of 9 points: decidedly average.  He'll be the kind of wrestler that puts on a ****3/4 classic against Tetsuya Naito right after losing in three minutes to Toru Yano after some shenanigans.  He'll be entertaining, regardless.  Speaking of Toru Yano…
Toru Yano – "Sublime Master Thief" (CHAOS)
Toru Yano serves a special purpose during the G1 Climax.  Many wrestlers relish having Yano in their block, and it's not because they're guaranteed a win, but more like they're guaranteed an easy match.  Yano's low-impact, high-comedy style of wrestling results in short, painless matches.  For Yano, it's mostly some or all of the following: un-do the turnbuckle, low blow, roll-up, pin.  His style isn't for everybody, but the Sublime Master Thief will have a large role to play in this year's G1.  Yano! To! Ru!!
¯\_(ツ)_/¯
Prediction:  Who fucking knows.  Yano will spoil some people's brackets, as is tradition.  There's no getting around it.  The one thing that we can be sure of is that his match with Omega will be a spectacle.  Kenny has said before that he wants his Yano match at every G1 to be a tournament highlight, and their third G1 match should continue the trend.
Tama Tonga – "Bad Boy" (Bullet Club/Firing Squad)
Tama Tonga comes into the tournament after the events of G1 Special in San Francisco.  The son of legendary wrestler King Haku/Meng, the Bad Boy has found much of his New Japan success as one half of the Guerrillas of Destiny with his brother, Tanga Loa.  At last week's San Francisco show, the three of them wreaked havoc on the rest of the Bullet Club after a Heavyweight Title match between stablemates Kenny Omega and Cody.  The trio, now dubbed the Firing Squad, hope to use this momentum to propel Tonga to a strong showing in the G1 Climax.  We'll have to wait and see if this shocking angle turns into some key wins for Tonga.
Prediction:  New Japan had already announced that Omega and Tonga were both in the B Block before the angle at the Cow Palace, but now their match has extra weight following the formation of the Firing Squad.  Considering that Omega won their G1 match last year, I can see Tama getting the upset and challenging for the Heavyweight Title at King of Pro Wrestling in October.  This bodes well for Tama Tonga in the overall block standings.
 SANADA – "Cold Skull" (Los Ingobernables de Japon)
Spoilers: It's actually a wig, and not his real hair at all.  In all seriousness, SANADA possesses all the tools to dominate the B Block as he enters his third G1.  Earlier this year, he challenged Kazuchika Okada for the IWGP Heavyweight Title.  Though he came up short, SANADA still impressed fans with his athleticism, move set and stamina.  Now, Cold Skull has an entire month to put on clinic after clinic with the rest of the B Block.  His Moonsault might be the prettiest in the business, and very few have escaped his Dragon Sleeper.  Look for a break-out performance from SANADA this year.
Prediction:  A few losses that will make you scratch your head.  I'm particularly intrigued to see his match with L.I.J. teammate Tetsuya Naito.  SANADA is likely to beat either Goto or Robinson to set up a later title match.
Tetsuya Naito – "El Ingobernable" (Los Ingobernables de Japon)
Last year's tournament winner, the former Stardust Genius managed to make the transition from reviled babyface to beloved heel in just a few short years' time.  Having first won the G1 Climax in 2013, Naito's popularity waned to such a degree that he and Okada lost their main event spot at that year's Wrestle Kingdom.  Naito's charisma and mannerisms ensured no such embarrassment would occur again after winning the tournament in 2017.  Though he failed in his attempt to capture the Heavyweight Title from Okada, Naito successfully accomplished his goal of main-eventing the Tokyo Dome.  Can he be the first New Japan wrestler since Hiroyoshi Tenzan in 2003-04 to go back-to-back and repeat as G1 Climax Champion?
Prediction: Since it appears that EVIL will step up and challenge Chris Jericho whenever he returns with the Intercontinental Title, Naito will need some direction following the G1.  A challenge for Juice's US Heavyweight Title could be an option should Naito win their encounter.  What could also happen, however, is that Naito could beat Omega during the G1 and THEN beat him at King of Pro Wrestling for the Heavyweight Title.  We could then get a Wrestle Kingdom rematch between Naito and Okada for the belt should Okada win the tournament.  Stranger things have happened.
Zach Sabre Jr. – "Submission Specialist" (Suzuki-Gun)
In three weeks, the Technical Wizard from the Isle of Sheppey went from second-rate Suzuki-Gun member to Made F'n Man in New Japan Pro Wrestling.  Sabre went on a tear during the New Japan Cup, submitting Tetsuya Naito, Kota Ibushi, SANADA and Hiroshi Tanahashi to earn the right to challenge Okada for the Heavyweight Title.  Though he came up short, Zack Sabre proved that he belonged among the elite wrestlers in New Japan.  What Zack lacks in muscle mass he more than makes up for it in his ability to tie his opponent up in knots.  It almost looks like the man invents new holds with every match that he wrestles.  Expect this man to put on some classics during the next three weeks.
Prediction:  Sabre will compete in the G1 relying on his technical acumen, his stamina, and his Underlying Hatred of the British Conservative Party.  Of course, because of his decisive wins against them in March, I can see Sabre giving Naito, Ibushi and SANADA all of their wins back.  Nevertheless, should he win, he expects COLD BEER WAITING FOR HIM! I MEAN, WHAT KIND OF A COUNTRY IS THIS!?
Kota Ibushi – "Golden Star" (Golden Elite)
We saved the best for last.  Kota Ibushi remains a favorite among the New Japan fans, but he never gets the push many feel he's owed, likely due to his unwillingness to sign a full-time contract with the company.  He entertains fans in both North America and Japan due to his risky move set and his apparent unwillingness to take care of his neck.  After several years apart, Ibushi and Omega have finally reunited as the Golden Lovers.  However, Ibushi made no secret that he yearns for Kenny's title, sneaking a longing gaze at Omega's belt after the Dominion victory.  Maybe Kenny's win is the inciting incident that drives Kota to finally win the tournament.
Prediction:  With Kenny as champion, if there was ever a time for Ibushi to shine in the G1, this is the year.  Should Ibushi win the block and go to the Finals (likely against Okada), it's the first true coin flip to see who wins in many years.  It gets even more murky if Ibushi beats Omega in their match-up, scheduled for the last day of the block matches.
Final Thoughts
19 shows in 28 days.  All tournament matches on NJPWWorld.com.  All matches with English Commentary.  A distinct lack of Jim Ross.  This is, without a doubt, THE best time of the year to be a fan of professional wrestling.  The G1 Climax promises a steady output of quality wrestling matches, all structured under a format that encourages viewers to follow along and not miss a single match.  Regardless of who wins the tournament, the G1 Climax promises to entertain from Night One onward.  I hope you can keep up with the action!
Enjoy the tournament!  Set your alarms accordingly.