Previously on the Flashback… https://blogofdoom.com/index.php/2018/01/06/wrestling-observer-flashback-05-09-94/
Man, if you thought Wrestle Kingdom 12 drew a big crowd this past week, let me tell you about Onita…
– FMW drew an incredible crowd of 52,000 people to the Kawasaki Baseball Stadium as a part of their fifth anniversary, breaking their previous record of 41,000 people.  Onita faced Tenryu in the main event, vowing to retire if he lost.  Which he did, after Tenryu pinned him with five powerbombs after a bunch of explosions and blood.
– After the show, Onita changed his tune, claiming that he only said he would CONSIDER retirement if he lost, and never actually made a legally binding agreement to retire.  However, the "secret" story behind the result is that Onita now wants to run for the Japanese Senate and follow in the footsteps of Inoki.  Onita actually had to deny the rumors of his political ambitions because it became such a hot topic of conversation leading up to the show.  Officially now, Onita's plan is to retire in one year, with his final match coming in May of 1995 at the stadium again, possibly against Inoki himself.  (Once again, here were are 20 some years later and he's still "retiring".)  Dave thinks that if Onita goes back on his word to retire, it might seriously affect his popularity, since Japan takes that kind of stuff pretty seriously.  Witness how Terry Funk lost all credibility with the fans after un-retiring in 1984.
– Meanwhile, the WWF also ran Tokyo, hitting the Yokohama Arena and only drawing 4000 people, which was the smallest crowd ever for wrestling in that building.  Bret Hart beat Randy Savage in 17:38 to retain the WWF title in the main event.  It was said to be a good show overall.  (Sounds like something that should be on their "Hidden Gems" collections on the Network.) 
(OK, I suppose I did.) 
– Vince McMahon and his team of lawyers are still trying to get the charges dismissed at the pre-trial hearings, although it's increasingly looking like a longshot for that to happen.  If they can't get another delay, the trial is set to begin on 7/5.  However, during the hearings, Sean O'Shea of the prosecution revealed that there is ANOTHER Grand Jury investigation into Titan Sports about something else not related to steroids.
– The proceedings started breaking down into a bit of circus when lawyers squabbled back and forth over unsealing documents related to Hogan's supposed AIDS testing, and when Laura Brevetti demanded that former Vince secretary Emily Fineberg be subject to psychiatric testing in a clear attempt at character assassination.
– In more wackiness, the prosecution is trying to get the contents of a memo from Linda McMahon to Pat Patterson unsealed, since Titan is claiming that it's covered by attorney-client privilege.  Linda used to be a lawyer years back, you see, so Titan is claiming that anything written therein was from the perspective of a legal discussion between a lawyer and her client, not the head of the company tipping off a stooge that a drug raid is about to come down from the federal government.
– Dave notes that if you don't think Vince is concerned about what this is doing to his public image, look no further than the WWF DOES CHARITY WORK messages splashed across episodes of RAW like a PSA.  Like where Roddy Piper is going to "donate his winnings" to a children's hospital after King of the Ring.
– As for Charles Austin's big money payday, WWF's insurance will cover about $10 million of it, and realistically the actual amount he'll get will be reduced in appeals, which will take more than a year to finish up.  So it won't bankrupt the company or anything.
– And now for our latest running gag, it's time for your weekly…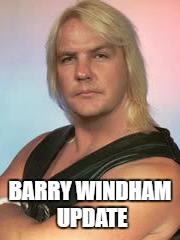 – The rapidly changing relationship between Windham and WCW is back to "off again", as he was pulled from all his scheduled appearances against the Guardian Angel (who is being billed in advertisements as the much less-catchy "The Man Who Represents Law & Order") due to his continuing failure to get medical clearance for his knee.  Several sources have confirmed that Windham won't be on the show.  Sadly, there is currently a shortage of blond 6'7" 300 pound former World champions.  Should things shake down as it's currently headed, they'll pull Terry Funk from his match and use him instead.
– Speaking of blond World champions, Hulk Hogan to WCW is finally a done deal.  He'll make a "surprise" appearance at the Clash, which will set up the Bash PPV on 7/17.  It may actually be a tag team match instead of the hinted Hogan-Flair singles match, and in fact Hogan's rumored 40 house show appearances per year will be more like "zero".  This makes it a bit more difficult to justify the insane contract being handed to him, especially since the perception within the business is that it's probably too late for the Hogan-Flair program to mean anything two years after the fact.  But hey, Dave notes, maybe Hogan will jumpstart WCW to a new level and become the first person to actually move from the WWF and ignite the company.  You never know.  Or maybe he's so expensive that WCW will have their biggest money losing year ever.  (Well, luckily for them, his contract was paid for by a different branch of the Turner empire.) 
– Dave finally got to watch tapes of Pancrase, and the jury is still out on whether it's a work or a shoot.  Having watched Ken Shamrock's stuff, Dave would put it at 90% shoot, but closer to about 60% for the main event stuff.
– Victor Quinones of IWA offered Hayabusa of FMW a huge signing bonus to jump ship, but was turned down.  Hayabusa hasn't been booked since then.
– Eddie Gilbert's campaign for City Clerk of Henderson Country, TN, ended with him finishing in sixth place out of eight candidates.
– Crowds have been picking up at the Sportatorium lately as a result of the Freebird "reunion" with Gordy and Jimmy Garvin, although they're all freebies, so ya know…
– And now, the rumors about Fabulous Moolah's age can be put to rest, because someone sent Dave an arrest warrant from 1958 that listed her age as 32, which means she was born in 1926 and thus all the debate can be put to rest.   (Um…actually it was later revealed that she was born in 1923. Sorry, Dave.) 
– As a followup to last week's haircut match fiasco in AAA where Jerry Estrada showed up in no condition to perform and was suspended for three months as a result, his suspension will end up being nowhere near three months.
– To WCW, where Rick Rude was apparently injured over the weekend, and so was Jerry Sags.  No word on the severity of either injury, as Rude has serious back and neck problems stemming from past injuries.  (I have a pretty good idea of the severity of Rude's injury.  Sags at least made the PPV.) 
– The advance for Slamboree in Philly is said to be "fine."
– They're trying a crazy new strategy for the next set of Disney tapings, where they're going to be using something called "wrestling fans" instead of random park guests prompted to cheer and boo on command.
– Dave still doesn't know who Lady Love from Rude's Japanese matches is.
– The WWF's tour of Japan has thus far been a complete flop.  The WWF guys all tried to wrestle Japan-style, but the crowds that they drew were people who wanted to see the flashy American-style gaga, so it was a big disaster on both sides.
– One of the big problems in the style was that referees in Japan count pins at an even speed for the entire match, whereas WWF refs count slow during the match and then fast for the big finish, in addition to calling for the bell on submissions immediately instead of doing it Japanese style, with big struggles for the ropes.  (Man, THAT has sure changed.  Now it's all based on guys fighting out of submission holds all the time.)  Although Bret Hart isn't considered to be a big star in Japan, his matches with Savage and Bigelow were considered to be great.
– With the only matches announced for King of the Ring's tournament this year being Mabel v. IRS, Razor v. Bigelow and Jeff Jarrett v. 1-2-3 Kid, Dave suspects they'll sneak Lex Luger into the tournament and he'll go all the way to justify his push.
– Jim Neidhart should be coming in by the end of the summer and get a big heel push.  Brian Lee might also be coming in.  (Oh…we'd see Brian Lee by the summer, alright…) 
– Jacques is done as of 6/25.
– Dave is pretty sure that Luna Vachon's disappearance is a suspension and not voluntary.
– And finally, the Razor v. Kwang match from RAW was much better than Dave was led to believe initially.  (Well, they ARE lifelong friends!)