Have you heard about the new t-shirt that's all the rage with the kids this week?  "Austin 26.7 says I just sued your ass!"
Well I laughed at my joke.
– Charles Austin, a jobber who suffered a broken neck after a botched match with Marty Jannetty, won a $26.7 million judgement against the WWF by a Florida court.  It was actually one of the largest judgments awarded in the history of sports, and the wrestling world is kind of in shock about it.
– To recap, Austin teamed up with Lanny Poffo for a squash match against the Rockers in 1990, and was told by Marty beforehand to take the Rocker Dropper by doing a forward roll.  This resulted in him screwing up the face-first bump and breaking his neck.  Bruno Sammartino was so outraged by the injury that he actually became a key witness for the prosecution.
– Although it was initially feared that Austin would be paralyzed as a result of the accident, he has since regained feeling in his arms and legs, and can walk with crutches.  Also, his bladder is out of control and he had to restrict liquids during the trial to keep from peeing himself constantly.
– Not really an appropriate time, Geico guy.
– Austin had asked for $3.8 million, and his lawyer later amended that number to $7 million, and then jury made the unheard of decision to award him six times his requested money.  $4.2 million for medical bills, and $16 million for pain and suffering, plus his wife was awarded $5.5 million for suffering AND even his kids were awarded $500,000 a piece.  The decision is already under appeal, although insurance will cover the WWF portion.  Jannetty will personally have to pay $1.3 million.
– The decision was said to be based on the fact that Austin's story was believable, and the parade of witnesses from Titan all came off as liars who contradicted each other constantly.  (Shocking, I know.) 
– "We thought the award was excessive" was the WWF's comment on the matter, which is the understatement of the century.
– On the subject of unreliable witnesses, Gorilla Monsoon took the stand and claimed that his match with Muhammad Ali in 1976 was a shoot, and that he lifted Ali "eight feet in the air with an airplane spin" and then you didn't see Ali around wrestling anymore.  He also claimed to have personally seen Jannetty do the Rocker Dropper "on hundreds of occasions".  Meanwhile, Killer Kowalski took the stand and talked about the incident in 1964 where he accidentally took Yukon Eric's ear off, and bragged to the jury about not visiting him in the hospital.  Quote the Killer: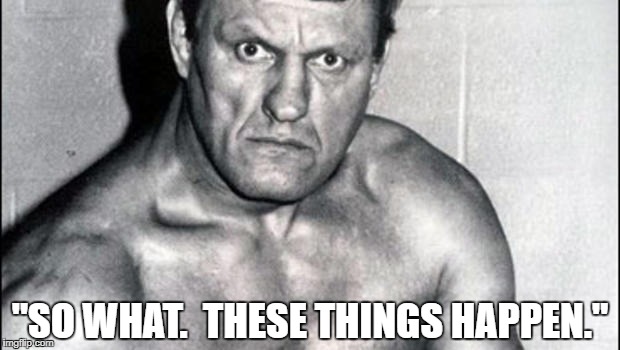 (Maybe Owen Hart should have put THAT on a t-shirt after Summerslam 97?  And to be fair, it's not like he was named "Reasonable" Kowalski.)
– Dave thinks that although that kind of line makes them look badass to wrestling marks in the courtroom waiting to get autographs from their heroes in the 70s, to everyone else in the world it just makes them sound like stupid marks for themselves.
– Dave thinks that this will affect the way they use and booker jobbers in the future, since the current system is basically to find someone with a wrestling school in the area where they tape, and pay students $150 a night to be TV cannon fodder.  The guys all jump at the chance to be exposed on TV and the WWF gets lots of warm bodies, so it's win-win.  That might change now, with more reliance on experienced guys like Scott Taylor or Chris Hamrick.
– To Japan, where Tiger Mask returned for the first time since 1985, at the Fukuoka Dome, for a match with Jushin Liger.  The result of the match was a "nightmare", with Sayama promising before the show to unleash martial arts like Jackie Chan and then showing up overweight and doing mat wrestling for the entirety of a 10:00 draw.  The match was so bad that it appears the rumored Sayama v. Inoki match at the Tokyo Dome will not happen.
– Also at the show, Rick Rude regained the WCW International World title from Sting in a poor match with a top rope kneedrop.  (And once again we must sadly stop and bid farewell to the wrestling career of Rick Rude, as he suffered a back injury in this match and was forced into retirement as a result.)  Shinya Hashimoto also regained the IWGP title from Tatsumi Fujinami, brutally "kicking the crap out of him" in a short match to get the belt back.  The show lasted six hours and sold out the dome, drawing about 53,000 people.
– AAA held TripleMania II at the same time, and it featured one of the most bizarre hair v. hair matches on record.  It was Heavy Metal v. Jerry Estrada, with Heavy Metal booked to win originally.  Then, the week before the show, Metal started missing shows and Pena changed the finish to Estrada winning as punishment for him.  But then during the match, Pena changed his mind again, and had a referee switch the finish during the third fall, which resulted in a bizarre non-finish where a kick was sold as a low blow for a DQ win for Estrada, but then officials went to instant replay and determined that the match continue for a FOURTH fall, which Heavy Metal quickly won.  But then Estrada freaked out about the changed finish and refused the haircut, actually destroying the clippers and storming off.  Estrada got suspended three months for unprofessional conduct as a result.  The match was so bad that the promotion is keeping it off TV.
– To the WWF, where the King of the Ring card is coming together.  Bret Hart will defend the WWF title against Diesel, and Roddy Piper will face Jerry Lawler.  Without Piper, the show would have been a guaranteed lowest buyrate in WWF history.  Dave thinks the whole thing sounds pretty weak.
– By the way, with a $26 million judgement against them, that pretty much eliminates any possibility of Vince matching Hogan's WCW offer, so he should be signing the contract officially this week.
– After last week's nonsense with Akira Maeda threatening the family of Yuko Miyato, a lawsuit was avoided when Maeda made a public apology to him.
– Terry Funk and Sabu had an incredibly violent match for FMW in Nagoya on 5/3, which was followed by the Sheik jumping Funk and jamming a nail into his forehead.
– Jake Roberts showed up in SMW and won the SMW Title from Dirty White Boy on 5/2.  White Boy was wearing an eye patch due to an angle where the eye was injured by Kendo the Samurai (Tim Horner) and they had spent weeks building up how White Boy was sensitive to light and thus unable to wrestle.  Roberts finally goaded him into putting up his title regardless, before Kendo ran out and pulled off the eye patch, and then Roberts used a camera from ringside to flash White Boy's eyes and blind him for the pin.
– The Headshrinkers won the WWF tag title from the Quebecers on 4/26 at the RAW tapings, which resulted in Jacques being dumped by Pierre and Johnny Polo.  Jacques is rumored to be retiring and opening a gym in Montreal.  (Which he did.  For a couple of years.) 
– Luna is still MIA, although she's not suspended.
– Duke Droese is getting no reaction for his squash matches thus far.
– Vince asked the Heavenly Bodies to wear wings on their jackets and have halos over their heads as a part of their gear, but they refused and only had to wear the wings as a compromise.
– Curt Hennig did an interview with a newsletter and said he changed his mind about doing the WWF run because he pretty much has all the money he needs, and Vince won't guarantee money.  So since they wouldn't meet whatever outrageous money demands he made, he decided against working for them.  Most expect him to show up in WCW once his contract expires in November.
– Barry Windham has changed his mind and is already gone from WCW, even though he's planned as the surprise opponent for Flair at Slamboree.  Windham has promised that he could produce a medical release clearing him to wrestle, but then it turned out that he wasn't actually cleared, and WCW didn't want to take any chances from a legal standpoint.
– Larry Zbyszko won the TV title from Steven Regal at Center Stage, although the match won't air until after Slamboree.
– And finally, Haku debuted as Robert Parker's new bodyguard, "Ming".  (I hear he's merciless.)