Happy New Year!  Welcome to the first Observer Flashback of 2018.  Man, I'm getting old.
First up, it's big business for the WWF on the Wrestlemania Revenge tour…
– Early advances for the post-Wrestlemania tour seem to be way up, with the loaded shows paying off in a big way.  Dave thinks this will finally dispel the myth that ticket prices and slow seasons are inescapable deathtraps from which no one can ever draw.   Even with Owen Hart on top!  Even with higher ticket prices, the shows are trending at an average of 6000 per show instead of 4000 in Richfield, for example.  They've also loaded up the shows with gimmicks like picking one fan to be Bret Hart's manager for the night.
– However, even though attendance is good, the reports from the shows are that the wrestling is still shitty.  Interestingly, Diesel has been bringing the IC title to the shows, even though the title change isn't scheduled to air until 4/30.
– Meanwhile, Mr. Perfect quit the promotion, and they buried him on Monday Night RAW, saying that he left due to being afraid of facing Lex Luger.  Crush was announced as his replacement, and Randy Savage made sure to add that Crush was a tougher opponent anyway.  Also quitting were the Steiner Brothers, having been unhappy for months now, and they're just gonna sit out the contract until it expires on 12/15 and work New Japan.  Basically once they had signed their New Japan deal, they were doomed in the WWF.  Also rumored to have left is Luna Vachon, although there's no reason for her departure at the moment.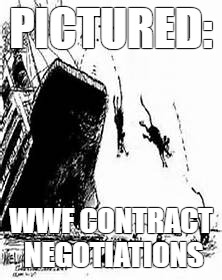 – The bad news for Vince continues, with the government adding two more charges against both Vince and the WWF for possession with intent to distribute.  This specific charge stems from a 2 pound package sent by George Zahorian's office in 1989, addressed to Vince and signed for by his personal secretary.  The intended recipient (named to the Grand Jury but not to the public) is believed to be Hulk Hogan.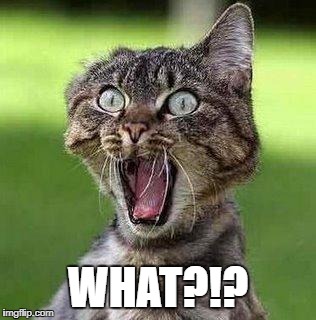 – I know, we're all shocked too.
– If everything shakes down the way the government wants, Vince will be facing 11 years total in federal prison now.
– Speaking of Hogan, a story in the New York Daily News, bastion of journalistic standards that it is, states that the government also charged Vince with ordering Howard Finkel to fraudulently take an HIV test on behalf of the Hulkster.  Dave thinks this one is full of shit, since it's not like any athletic commissions even were testing for HIV in 1990, and Hogan has never been alleged to be HIV positive in the first place, so why would Finkel need to be taking blood tests for him?
– Good news now, as RAW set the all time ratings record on 4/18 with a 3.7, despite a main event of Bret Hart v. Kwang. The lead-in show, "Murder She Wrote", appears to be much of the reason for the success.  Meanwhile, the Hogan hype on WCW's TV shows have actually resulted in ratings going DOWN for the main show.
– Sadly, the Tonya Harding story is dead for good, with her lawyers breaking off all negotiations with All Japan Women.  The supposed offer of "$2 million" from the Japan side actually turned out to be $380,000 for 50 dates over the course of a year.
– Next week is coverage of the Fukuoka Dome show for New Japan, where it's expected that Rick Rude will regain the WCW International title from Sting.  The record for the biggest gate in history doesn't appear to be in any jeopardy of getting broken by this one, especially since TV-Asahi has banned any mentions of Inoki due to his political scandals.  The only build for the main event (Muta v. Inoki) was showing a brief clip of Muta saying "Inoki, I kill you, faggot" on the way to the ring.
– Dave watched the episode of New Japan featuring the Young Lions tournament final, and he feels like Satoshi Kojima is better at this point, but Manabu Nakanishi has more potential.  (Man, that opinion would sure change.) 
– The feud between UWFI and Rings got more silly this week, with Akira Maeda doing a magazine interview about UWFI business handler Yuko Miyato, making remarks about his family and how he'd pretty much kill Miyato if he saw him on the street.  (And you thought Dana White's Twitter feed had some questionable material.) 
– Meanwhile, the new IWA group ran an angle with WING Kanemura getting into a fight with Nakamaki in the streets of Shinjuku as a publicity stunt.  The idea is that Kanemura was the last man standing when W*ING fell apart, and he's mad at everyone else who left to form the IWA.
– Rumored main event for the All Japan Budokan Hall show on 6/3:  Misawa v. Kawada for the Triple Crown, with Stan Hansen v. Steve Williams underneath.
– Moving onto Memphis, a new team called the Eliminators debuted, although they aren't very good.
– Dave is pretty sure that the Thrillseekers have major star potential in either of the big two promotions.
– Jim Ross will likely end up in SMW as Bob Caudle's broadcast partner once the facial muscles heal up enough that he can appear on TV again.
– This week's oddball dream match:  Terry Funk v. Chris Benoit, which took place in New Jersey and was said to be ***1/2 in a double countout finish.
– Although the ECW/WCW agreement seems to be going well, Paul Heyman is said to be against it, so it's doubtful that Tod Gordon will continue on past the initial show with Bobby Eaton & Arn Anderson appearing.
– Former wrestler Darryl Karolet (Nitron, Big Sky) is doing some acting now and appears on the syndicated show "Bandit".
– Scorpio's WCW firing was confirmed to be for drugs, although not steroids.  And now WCW has given surprise drug tests to other members of the roster, and since adhering to the policy for failures would mean huge chunks of the roster would be suspended, they're probably just going to ignore them.
– The Boss is now The Guardian Angel.
– With Dave Sullivan on the shelf, Kevin Sullivan & Cactus Jack will form a team and challenge the Nasty Boys at Slamboree instead.
– The Missy Hyatt segment on "A Current Affair" showed that both sides were basically full of shit, in that Missy claims she wants nothing to do with wrestling any longer, but she's currently working with WWN and looking for employment with other groups as well.  Meanwhile, WCW says there were no future plans for her, but they brought Sherri Martell in as a babyface in a role that would only make sense if Hyatt was still around as a heel manager for the Nasty Boys.  And in fact, once Missy left, they scrapped the taped TV featuring Sherri and repackaged her as "Sensuous Sherri" in a heel role instead.
– Spring Stampede did a 0.53 buyrate, or about 122,000 buys, which is slightly down from the last couple.
– Tom Zenk will be let go when his contract expires, as a cost-cutting move.
– The only ads for Slamboree at the moment list "Rick Rude defends his WCW World title against Vader" as the only match, although Rude isn't actually champion at the moment, and that's not the right title.
– And finally, one last piece of legal news for the WWF, as the trial involved Chuck Austin has begun.  Austin famously broke his neck taking a Rocker Dropper from Marty Jannetty in 1990, and sued for assault, negligence and misrepresentation.  (Yeah, that one went pretty badly for the WWF in the end.)