OK, 2005 posts are FINALLY complete, and I got to see Star Wars, so let's get back to Observing.
– In the top story, the Justice Department dropped one of the charges against Titan Sports.  The government side says it's for "tactical reasons", while the WWF claims that it means they have no case.  (Maybe Vince had a secret connection in the White House?)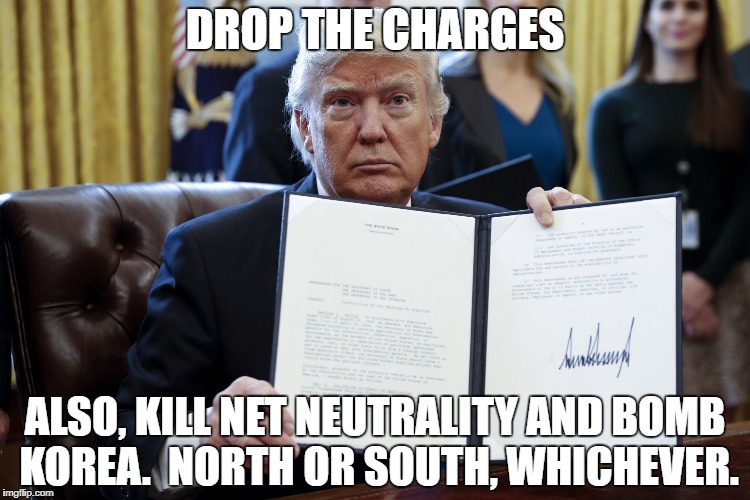 (Maybe not.) 
– We're not actually sure which of the charges against Titan were dropped, but it's either "conspiracy to distribute steroids" or "illegal distribution of steroids", and either way the government is no longer attempting to seize Titan Towers as a part of the proceedings, so it guarantees that the company will stay in the business no matter what happens.  The trial begins on 5/2 in Uniondale, NY.
– A Japanese newspaper is back onto the Tonya Harding "story" again, reporting that a deal has been made for her to appear at the 11/10 Tokyo Dome show.  Allegedly the contract won't be signed until May, but "it was 100 percent that Harding would appear for the one show."  (Maybe they had Scott Steiner doing the math for them.)  The paper is reporting that the deal agreed upon is $2 million for one match.  Dave is like…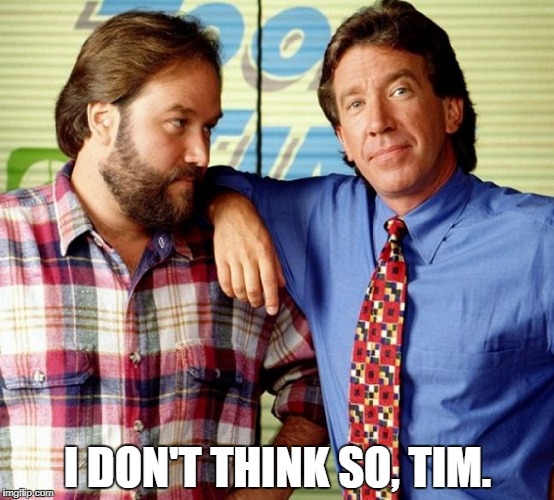 – For sake of reference, the largest ever documented payoff for one match was Hulk Hogan receiving nearly $1 million for Wrestlemania V, after all PPV, merchandising and videotape royalties were figured in years after the fact.  Mostly top guys during the peak of the PPV era received in the range of $150,000.  The largest ever payoff in Japan was again for Hogan, who received $100,000 for the most recent Tokyo Dome appearances.
– And now, once again it's the segment that makes your worthless lives worth living…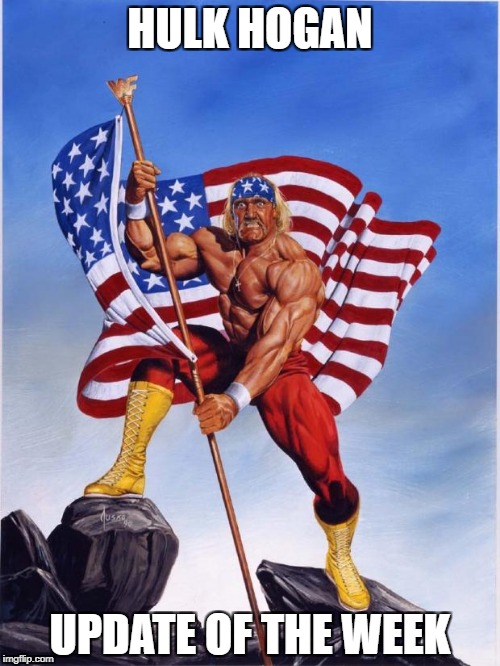 – WCW officials are expecting to come to an agreement with Hogan early this week, and if they can get it done before the PPV there's a strong chance he'll show up there.  Dave is somewhat amazed that WCW would actually start building their company around Hogan before they had a signed agreement, and while the WWF still legally has the right to match whatever offer they make him.  Bischoff actually cancelled a planned business meeting with AAA to fly into Orlando and try to finalize the deal himself.  Even if Hogan agrees to an offer, he can't sign for 21 days because Titan has the right to match for that period of time.  So basically the hope from WCW is that they can offer him so much money and such a huge percentage of the PPV revenue (plus the WCW title) that WWF would be unable to match.  (Now there's WCW logic in a nutshell.) 
– For those keeping track, HBO pretty much laughed off the reports of Hogan starting a wrestling promotion with them and denied any interest in Hogan or wrestling.
– WCW's plan for Slamboree in May has Rude defending the International title against Vader and Flair defending the WCW title against an unnamed member of the Stud Stable, who will be billed as 6'7" blond former World champion, and will likely end up being Barry Windham.
– It looks like Tiger Mask v. Jushin Liger is a go for the Fukuoka Dome on 5/1, although not yet officially announced.  Sayama claims to have lost 40 pounds since March, and this will be a major test for him to see if his star power holds up.  Also, El Gigante appears against Tadao Yasuda, which Dave thinks is someone pulling a rib.
– The neck injury to Misawa is legit from all accounts, since they rearranged all the results of the tournament and put Kobashi over Hansen at the last minute.  It was actually huge news, with Kobashi beating him in 27:00 with two moonsaults, since fans have been waiting years to see it.
– Jumbo Tsuruta returned as a midcard comedy guy, beating Masao Inoue with a back suplex, and it's not expected that he's done as a full time guy and this will be his role from now on.
– Road Warrior Hawk was arrested for assault and disorderly conduct stemming from an incident on 3/10 in St. Paul, MN.  A 19 year old girl claims that Hawk and five other men were harassing them at a movie theater and called the girl, who is black, a very bad name.  Hawk plead not guilty and the hearing is set for the end of the month.
– Atsushi Onita gave Tenryu a videotape of his greatest matches at a press conference on 4/7, so that Tenryu could learn about explosive barbed wire matches.  (What, they didn't have YouTube in 1994?  Barbarians.)  Tenryu instead ripped up the tape in disgust, so Onita got mad and announced that he would retire if Tenryu beat him on the 5/5 dome show.
– The UWFI's advertising strategy is to deride US pro wrestling, putting out a press release that called it "Grown men in Halloween costumes jumping around in a ring pretending to hit one another."  Their product is REAL, you see.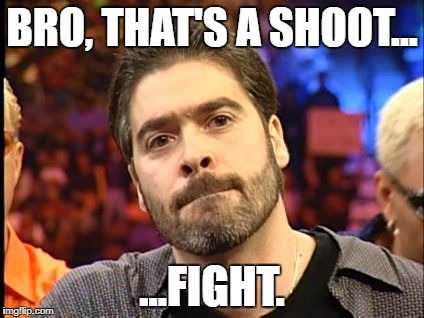 – To the surprise of no one, Eddie Gilbert returned to Memphis on 4/4, but as a babyface this time.
– Mr. Perfect was also scheduled to come in for the weekend, but claimed to have suffered a broken toe in a non-wrestling accident, and he's out.  He should be back in time for his May matches with Lex Luger, however.
– The Spiders debuted on Memphis TV and didn't get over.  (That's the Observer debut for the Headbangers, in case you're wondering.) 
– To SMW, where Tammy Sytch is now threatening to sue Ricky Morton for sexual harassment after he kissed her on TV.  (#MeToo)
– Sid Vicious returned to wrestling for the first time on 4/9 at an indy show in Essex, MD.  Well, that is to say he was SUPPOSED to be there, but no-showed due to "legal problems".  The crowd of 500 didn't care when it was announced that Sid wouldn't be there.  Sid's opponent, Jerry Lawler, also no-showed, so the lucky crowd was treated to Brutus Beefcake v. Kamala as a suitable replacement main event.
– An indy show in Qualkin Beach, BC, had to canceled due to a riot on 4/8.  The crowd was mostly drunk students and when Michelle Starr came out and did his gay gimmick, they threw cans and bottles at him and couldn't be calmed down enough to continue the show.  (I'm friends with Michelle on Facebook these days.  He's a really cool guy.) 
– The team of Love Machine and Eddie Guerrero, playing stereotypical Americans for the Mexican crowds in AAA, are getting a huge push as heels on top.
– Jerry Lawler debuted his new King's Court segment at the WWF TV tapings in Utica on 4/11, including a segment with Nikolai Volkoff that went nowhere.
– The Steiners also returned and won a squash.
– Shawn Michaels moved into his new position as Diesel's manager for the moment, which he appears happy to do until ready to return to the ring again.
– OK, so here's the story on the timing at Wrestlemania:  Bret and Owen went 2:00 long, but Doink & Bigelow went 2:00 short so that wasn't a factor.  Savage and Crush went 90 seconds long, but the women went 3:00 short.  Luger and Yoko were supposed to go 25:00, but only went 15:00, so at that point in the show they should have been 12:00 under overall.  Ramon and Michaels were exactly on time, so the story about the 10-man getting canned because of them is nonsense.  And even so, the 10 man was only scheduled for 6:00 with entrances.  And the segment with the heels arguing over who was captain was taped hours earlier, so that wasn't an improvised bit.  And then Bret and Yoko went short (Dave thanks the gods for that small favor).  Get this:  Yoko was supposed to be booked for 42:00 total on the show!
– Over to WCW, where the status of Brian Pillman and Steve Austin are both "murky".  Pillman is off the bookings after 4/17 and they're far apart at the moment.  Ditto for Austin, as WCW offered both guys a significant pay cut, somewhere in the $50,000 a year ballpark.  With two of the hottest young guys in the promotion getting rewarded for their hard work by a massive pay cut, it's not helping morale for everyone else in the company.  It's hard for WCW to justify that kind of cost-cutting when they're offering the moon to Hulk Hogan.  The company is basically admitting on the hotline at this point that both Austin and Pillman won't be re-signed and will be leaving for the WWF soon.
– Sting will be starring in a remake of "Hercules" that begins filming this summer.  (A wrestler starring as Hercules in a movie?  Like that would ever work.  Also, whatever movie that was supposed to be never panned out.) 
– Barry Darsow was at the TV tapings on 4/5 in Columbus, GA, so he's likely coming in.
– Cactus Jack appears to have changed his mind and will be getting surgery on the ear after all following the PPV.
– And finally, Rick Steamboat went on a radio show and said that he and Flair have a bet to see who will get tired first in their PPV match, so they're gonna be trying to blow each other up.  He also mentioned that his seven year old son has started amateur wrestling.  (I'd call that the Observer debut for Richie Steamboat, but really that was back in 1987 when his birth was announced.  Man, doesn't that make you feel old?)