"A couple of world title changes, a filing of a sexual harassment grievance and a major loser leaves town match headline the news of the past week."
Sounds juicy!  Let's dig in.
– Tatsumi Fujinami won the IWGP title for a fourth time, beating Shinya Hashimoto on 4/4 in Hiroshima in a major surprise.  The match was also surprisingly great, likely a last ditch effort on New Japan's part to turn Fujinami into a legend, which is a level that he hasn't really achieved in the eyes of fans yet. 
– Also, Men on a Mission won the WWF tag titles from the Quebecers on 3/29 in London, and then lost them back on 3/31 in Sheffield.  They were actually acknowledged on US TV, unlike the Rude-Hase switches from last week.  (I'm assuming that Dave gets into the real story on that one next week.) 
– Missy Hyatt filed grievance against WCW, claiming that she was sexually harassed during her five year tenure with the company, and paid less than male announcers with no greater talent than her.  (Geez, talk about a timely news piece these days.)  The potential lawsuit hinges on a photo taken during Starrcade 93, when her boob accidentally fell out and a WCW photographer caught it, getting blown up and hung in the studio for all to witness.  The story is all over mainstream media at the moment, with Howard Stern pointedly noting that she didn't have a problem with it while she was working there, but now that she's fired, she's suddenly claiming harassment.  Most of the mainstream coverage on the subject centers on Missy Hyatt the character, rather than Melissa Hyatt the person, with people like Stern and Rush Limbaugh essentially treating them as the same people and thus dismissing any notion of her actually being wronged.  (#MeToo)  She also claims that she was only paid $75,000 a year, as compared to people like Tony Schiavone, who was paid $175,000 a year. 
– Just as I'm about to call complete bullshit on that last argument, Dave does the work for me, pointing out that Schiavone has far more responsibility and airtime, and really it'd only be fair to compare her salary to someone like Teddy Long.  And even then, Long did a ton of community outreach work on top of his duties.  Basically, Dave notes, she was hired because she looked a certain way, and then put a lot of pressure on herself to maintain that look.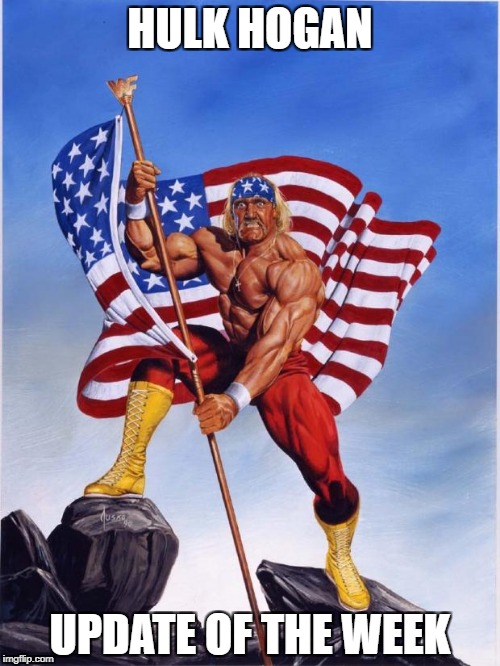 – Hulk Hogan's "Thunder in Paradise" pilot, aired as a TV movie in syndication, actually did tremendous ratings in the major markets, actually destroying RAW head-to-head in New York.  Dave would be surprised to see the numbers stay at that level, but they could fall a long way and still be acceptable.  (Well, they fell even further than that.)  Thus far the show has been savaged by critics, quite fairly, and really exists only as a blatant ripoff of Baywatch.  Hogan is still doing talk shows and teasing a match with Ric Flair.
– Tonya Harding did another interview where she was asked about All Japan Women, and she gave more evasive answers, claiming that she didn't know much about the sport and would have to think about it some more. 
– The Rock & Roll Express beat the Heavenly Bodies in their final blowoff match in SMW on 4/1 in Pikeville, KY, in what was reported as a ****1/2 classic.  The Bodies will tour All Japan and then join the WWF full-time.  There was also a ****1/2 classic between Tracy Smothers and Chris Candido, in a rematch of their ladder match from a couple of weeks back that got completely overshadowed by some other ladder match.
– UWFI taped their second PPV on 4/3 at Osaka Castle Hall, drawing 14,000 people.  The main event, with Vader vs. Hashimikov, won't air in the US due to WCW legal stuff.  Dave relates the story of Hashimikov winning the IWGP title a month after his debut in 1989, beating Vader for it because they wanted him to beat a tough American and Steve Williams refused to job.  "Probably the last vestiges of of the Bill Watts anti-Russian mind control hadn't evaporated yet", notes Dave.  The matches were all notably shorter in an effort to appeal to the casual fanbase who is quickly getting stolen away by the Ultimate Fight shows. 
– Health Update from Dave:  He went in for abdominal surgery and had his appendix removed at the same time (since it nearly killed him a few months before) and his arm is much better now.
– The Fukoka Dome lineup for New Japan will be announced on 4/8, with the main event expected to be Inoki vs. Great Muta, and Satoru Sayama wrestling either Liger or Tiger Mask.  The Japanese papers have been all over Sayama, making fun of him for being so fat as of late.
– New Japan actually failed to sell out again with the start of their "Present Generation v. Past Generation" feud, which is supposed to carry the promotion for the next while, so that's not a great start. 
– Rude's valet in the matches with Hase was named Lady Love, and Dave has no idea who she was.
– W*ING is on the verge of folding, with only four natives left after Motegi jumped ship and rookie Hiroshi Ono broke his back.  Even Victor Quinones is leaving the group and forming his own promotion, IWA, with most of the remaining W*ING talent already having made the decision to leave with him. 
– Clarification from Memphis:  Jerry Lawler is still the booker, but Randy Hales is in charge when Jerry is doing his WWF duties.  Which is basically all the time.
– To hype up a match in Memphis between Lawler and Adam Bomb, they aired a specially edited Adam Bomb squash from Superstars, with Vince McMahon and Lawler on commentary doing reversed heel-face roles. 
– Most people expect Eddie Gilbert to be back in a week after everything has blown over.
– Bruiser Bedlam is getting a monster push in SMW, pinning Bob Armstrong at the house shows over the weekend and then winning the TV title in a complete squash of Mike Furnas. 
– The ridiculous Prince Kharis character was written out of the promotion when he lost a title match to Dirty White Boy after getting hit with his own loaded forearm.
– Terry Gordy finally returned to the ring, in Dallas on 4/1, in what was billed as a "Freebirds Reunion" although Michael Hayes can't wrestle due to back injury and Buddy Roberts wasn't there.  So instead we got Jimmy Garvin, and he looks so different now that people thought it was someone else entirely.  Also, Gordy looked nothing like himself, and there's now fear that the coma caused him some kind of permanent brain damage.  (Unfortunately, that was 100% accurate.) 
– Another clarification:  Sabu didn't refuse to put JT Smith over, he was asked if he would rather put over Smith or Tazmaniac and chose Taz.
– To WCW, where Terra Ryzin v. Tom Zenk is OFF the PPV and being replaced by Johnny B. Badd v. DDP.  (Oh man, I bet HHH held a grudge about THAT one, too.) 
– Cactus Jack may have surgery to get his ear reattached, and would need four months off if so.  (He'll probably just play it by…well, you know.)
– Dave would like to clarify that Steve Keirn and Bobby Eaton will be called BAD Attitude, and not BALD Attitude. 
– The buildup to Flair v. Steamboat has been good, but nothing else in the promotion is particularly interesting at the moment.  However, the lineup for the PPV looks GREAT.  (And it actually DELIVERED, too!) 
– Vince will not be testifying in Jesse Ventura's lawsuit, sending his COMPTROLLER instead.  (I wonder if he comes from Canada, too?) 
– Alex Wright got a tryout at Center Stage after impressing everyone on the German tour, and unsurprisingly looked really green.  Paul Diamond also worked the tapings under a mask as "Hyeeto". 
– To the WWF, where they'll be presented "loaded up" shows on the Wrestlemania Revenge tour, with Bret v. Owen, Razor v. Diesel and Luger v. Perfect as the main matches.  Dave thinks it's kind of a sad statement about the business at the moment that this is what they consider "loaded".
– King of the Ring looks to be Bret v. Yokozuna as a main event.  (How big IS that guy,  I wonder?) 
– The Steiners are back on the books, but not in any kind of major role.
– More clarifications from Dave:  The WWF never actually claimed that Wrestlemania did the highest buyrate of all time.  That was actually said by someone writing the story based on a press conference held by the WWF, but the WWF themselves did not make that particular statement.  Dave apologizes for any confusion.
– And finally, a German magazine listed Bret Hart as the top desirable role model for German youth, which once again proves my theory: