Hey, so the Wrestlemania X flashback was actually one of the most-read I've ever done.  I guess that Bret Hart guy might be a draw after all.  However, even bigger than Wrestlemania, another showdown is brewing…
– With the scheduled trial of Vince McMahon for steroid distribution about to start, Dave runs down the pertinent details of the alleged conspiracy.  Forget about the simple distribution charge, because that's just a matter or whether it happened or it didn't.  The more important charges are the ones involving Vince allegedly using company money to get steroids to Hulk Hogan.  Vince appears to be attempting to use the euphemism "sharing with friends" in place of admitting to distributing drugs, and whether or not that will fly is up to the jury.
– Dave also notes that since everyone involved are inveterate liars, you probably shouldn't take what anyone in the trial says at face value anyway.
– So the facts are that during the years of 1985 to 1991, people used steroids in the WWF and everyone involved readily admits to that.  And once steroid use became a felony, the WWF administered steroid tests and more than half of the company tested positive.  So they can't claim that "they were only using steroids when they were legal."  And steroids were never "legal" in the first place, they were legal for certain medical purposes with a prescription from a doctor under supervision.  Not for building muscles. 
– The main guy was of course Dr. Zahorian, and clearly Vince had knowledge of what he was doing and how he was doing it, although he claims not to. 
– Dave does note that it's a tad hypocritical that the government is going after Vince but completely ignoring the walking endorsement for steroids that is American Gladiators, but that's another story.
– Anyway, we all know this stuff and it's all ancient history, so speaking of ancient, it's time to move ahead to…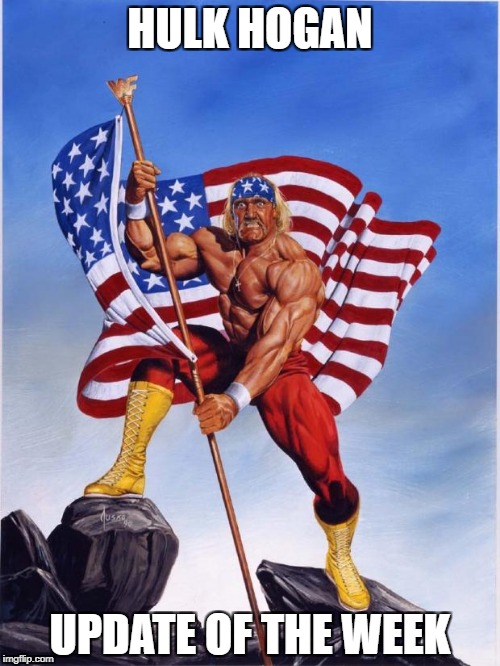 – Hogan's show "Thunder in Paradise" debuts in syndication this week, so he was all over the news, especially since WWOR in New York is going to air the show directly against RAW as competition.  Hulk's current claim is that he'll return to wrestling either with WCW or a mysterious HBO promotion that's offering him $1,000,000 "every time he laces up the boots".  Dave strongly suspects that Hulk is full of shit on the second one.  What'll probably happen is that Hulk will use the fictitious HBO offer to drive up WCW's asking price and then sign when he's legally able.
– For the record, Hogan has now flip-flopped again and is claimed that yes, he did use steroids, but now he claims that it was all under the supervision of a doctor, so it was nice and legal-like.
– All Japan Women drew the second-largest gate in the history of women's wrestling with Wrestling Queendom II on 3/27, drawing 16,500 to Yokohoma Arena with a gate of somewhere between $1 million and $1.5 million.  It was said to be a good show, but somewhat disappointing.  The major storyline for the main event, which saw Akira Hokuto pin Aja Kong in a tag match, is that Hokuto is retiring in two shows but never had the chance to win the World title.  So it's likely that the retirement match will be her challenging Aja for the title.
– Tonya Harding was not at the show, by the way, and couldn't have been there due to conditions of her conviction.  They tried flying out to Portland to meet with her, but couldn't even get a meeting with her representatives.
– Mitsuhara Misawa wrenched his neck taking a rana from Doug Furnas on 3/21, and is out of the annual Champions Carnival tournament as a result, leaving Stan Hansen as pretty much the only choice to win now.  That pretty much killed any fan interest left in the lackluster tournament this year, with star power diminished as it is.  Stan has already won it two years running, although Dave notes that they can salvage the tournament by having Stan lose to Kenta Kobashi in the end for the big upset.  They could also go with Kawada winning in the end, but he already beat Hansen in a big upset the year before so it wouldn't be such a big deal.  (That ended up being the choice they went with.) 
– Dave goes off on a rant about "wrestling media" and how people who are willfully ignoring AAA are ignoring the future, especially since they're breaking into the US via California.  (Something something Donald Trump something something wall…)  Anyway, if you're running a newsletter or wrestling magazine and you're choosing not to cover AAA, GET WITH THE PROGRAM!  (Well, Dave missed the boat on that one, so to speak.  AAA never really did break out of Mexico outside of the one PPV where they had their whole talent base strip-mined by WCW.  They certainly did not change the business in any significant way or become the hottest style in the world, unless you count the lucha-influenced indy style that took over decades later.) 
– As expected, Rick Rude won back the WCW International World Gold Belt from Hase on 3/24 in Kyoto with something described as a "reverse full nelson" in 20:58.  He defends against Sting on 5/1 in Fukuoka, which is likely to be where Sting wins the title.  (And ends Rude's career in the process.  And holy shit, this match is on YouTube!)
(Yeah, I can see where they got "reverse full nelson" out of that.  Ouch.) 
– Satoshi Kojima won the annual Young Lions tournament, beating Manabu Nakanishi in the finals.  (Hard to go wrong either way there.) 
– At the 3/17 FMW show, the finish of Onita v. Pogo saw Pogo wrap up Onita in barbed wire, then choke him over more barbed wire while Goro pulled his throat down with a rope, and then Pogo clotheslined him with barbed wire wrapped around his arm before blowing a giant fireball onto Onita's back, which had previously been cut open with an ax, and then three piledrivers onto a chair for the pin.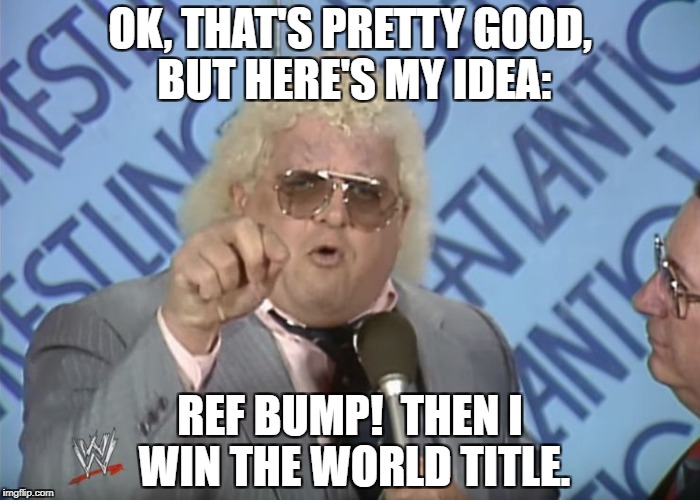 – OK, who's ready for more Eddie Gilbert bullshit in Memphis as his life spirals towards the end we sadly know is coming soon?  Great!  Let's head down there.
– So Jerry Lawler regained the Unified title from Eddie on 3/25 in Missouri after all kinds of nonsense.  First, Lawler was booking, but gave up the job because he's so deep into WWF stuff at the moment.  Randy Hales got the book in his place, but Eddie wanted the job and threw his usual tantrum about it, no-showing Memphis and Louisville that week to prove his point.  So Lawler offered him a deal where he could return to drop the title to Lawler, in exchange for Eddie getting to be Vince's corporate champion on Memphis TV who's chasing Lawler's title so that he can present it to his boss, Vince McMahon.  Eddie agreed to the deal, dropped the title on 3/25 as noted to set up the storyline, and then Lawler fired him because he was lying about the Vince storyline all along and just wanted the title back before Eddie quit.  (Come on, that is like a Vince Russo twist come to life!  Give it up for the King of conning the con man!) 
– Current talk is that Lawler is winning the WWF title in Memphis sometime in May and then dropping it back a week later with Vince helping Bret win.
– With Gilbert gone, Steven Dunn is playing the Vince suck-up role and promising to bring the title to Vince. 
– Shane Douglas won the ECW title from Terry Funk in a wacky WarGames style match on 3/26, suffocating him with a plastic bag for the winning pinfall after everyone else climbed out of the cage. 
– The first ever Jerry Lawler v. Chris Benoit match actually was a thing that happened on 3/26 in New Jersey, and was said to be about **1/2.  The next craziest dream match happens on 4/23, with Benoit facing Terry Funk in the main event.  (Not gonna lie, I thought Benoit might've pulled a miracle with Lawler, but I guess not.) 
– To WCW, where they sent out advertisements for Slamboree with the list of legends appearing.  Only problem is that the date listed is April, not May.
– Cactus Jack is actually mostly fine after having his ear ripped off, and he'll be back at Spring Stampede.  (And having one hell of a match to boot!) 
– Brian Pillman is still way apart on a new deal, although he's staying around to at least fulfil his advertised dates.
– The WWF is hassling WCW over "The Boss" and trying to prevent them from using the police gimmick.  Dave wonders if they're sending letters to Bruce Springsteen as well?
– To pay for Hogan's huge contract as rumored, WCW is asking a bunch of wrestlers to take a 20% pay cut.  That should do wonders for morale, Dave notes.
– To prepare for Great Muta, Steve Austin has been wrestling a series of Japanese stars on TV.  Thus far, it's been Brady Boone under a mask, Paul Diamond under a mask, and Pat Tanaka. 
– Sadly, Steve Keirn and Bobby Eaton will not be the Fabulous Express, but instead Bad Attitude.
– CORRECTION from the Wrestlemania hype last issue:  Turns out that the actual gate from MSG was 18,000 fans paying $960,000, which in fact is nowhere close to the biggest gate ever.  Had they sold out, it might have been, but they were thousands of overpriced tickets short of that goal.  Basically that means WWF comped the shit out of the building, including some of the highest priced tickets. 
– Mr. Perfect returned on the new Heartbreak Hotel segment hosted by Shawn Michaels, getting about 75% cheers from the audience after turning on Lex Luger.  He noted that he doesn't hold grudges, and has forgotten all about Luger knocking him out 392 days ago.  (Sounds like he's been married, AM I RIGHT FELLAS?  Cuz you know, the ladies, they hold grudges and then say they don't.  HIGH FIVE!) 
– It's looking like Diesel will beat Razor Ramon for the IC title at the next tapings to set up a program.
– Perry Saturn got a tryout but the jobber was terrible and the match sucked.  (Geez, hopefully he didn't throw a tantrum and beat the shit out of the guy.) 
– Tapings were said to be really disorganized, for obvious reasons.
– And finally, everyone at the tapings was raving about the work of jobber Chris Hamrick, who did all kinds of crazy lucha stuff and impressed everyone.  (Well, it sure didn't help him get a job.)