So, man, did you guys hear about that Wrestlemania X show?  The one with the weak card and C-level celebrities?  What a flop.  Let's check out the trainwreck right now…
– Shawn Michaels put on one of the greatest performances in the history of the business as the highlight of the greatest PPV in WWF history.  Shawn will be taking a sabbatical for several months, and decided to steal the show on the way out.  The match was so great that it actually overshadowed ANOTHER one of the greatest matches in WWF history, the opener between Bret and Owen Hart.  It also overshadowed Bret winning the World title from Yokozuna in the main event.
– Now, aside from two of the greatest matches in the history of the business happening on the show, it would have been pretty mediocre.  Dave was actually shocked at how many people voted thumbs in the middle or thumbs down for a show with two matches of that quality.  (I'm not shocked, it was the dawn of the internet era and people could bitch about anything.  There's people on the internet who don't even like ME!  Can you even imagine?) 
– Besides the great matches, the show also set a record for largest gate in the history of the US wrestling business (although WWF had bigger gates in Toronto, London and Tokyo), although that was inevitable given the higher ticket prices they've been charging with each Wrestlemania.  Typically, the WWF immediately sent out a press release claiming that the show had done the highest buyrate in PPV history, although this was a slight distortion of the truth in that it actually did the lowest buyrate of any Wrestlemania in history with a 1.7, or 390,000 buys.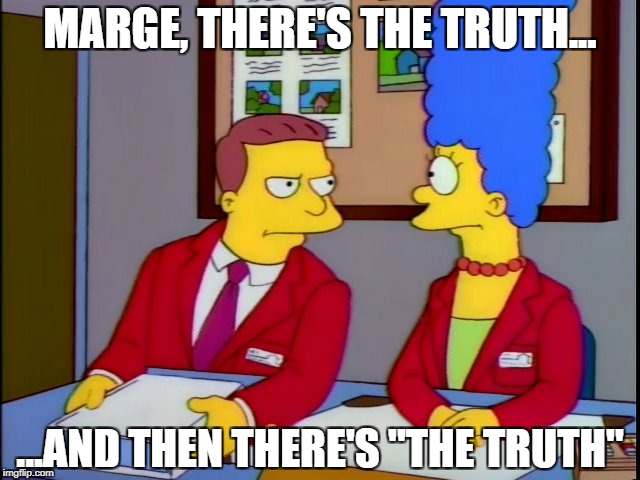 – So did you "ear" the one about Cactus Jack?  (That's all mine, not Dave.)  He was wrestling Vader on 3/16 in Munich and accidentally had his ear ripped off while doing his usual "get his head stuck in the ropes" spot.  Gary Capetta actually put the ear on ice immediately, but it wasn't soon enough to save it.  Besides, Jack worked for another 2:00 and finished the match anyway, and didn't seem to suffer any hearing damage.  He's hopeful of returning in time for Spring Stampede.
– Meanwhile, WCW covered the event in their own company newsletter, reporting that Jack had "done his best Vincent Van Gogh" on the tour and was sent home EAR-ly.  The newsletter also noted that if he had hit the ropes in a different direction, it would be John Wayne Bobbitt all over again.  They closed with a photo of the incident and a caption reading "Cactus Jack's friends can cross ear muffs off their Christmas list for him."    (I feel like Vince would have laughed at that one.) 
– Also on the tour, Vader was wrestling Sting in Hamburg in the finals of the tournament for the WCW European title, and ruptured an eardrum, so he'll be out for a while.  His match on the 4/13 UWFI show is up in the air right now.  Doctors in Europe said he would miss several weeks, while WCW said he would miss zero weeks.  (I feel like there's a bit of a disconnect in communication there.  Also, the "WCW European title"?  Was that actually a thing that happened or did they just forget about it immediately, as they were wont to do?)
– Ron Simmons also suffered a torn bicep on the tour and was sent home, and could be out for up to six months.  (I believe that was the end of him in WCW, in fact.) 
– OK, enough of this, time for the main event!  It's WRESTLEMANIA.
– First up, Little Richard got heat because he sang the national anthem and then left without even signing autographs for the boys backstage.  (Marks.)  Jenny Garth refused to do the skit written for her and was generally acting like she didn't want to be there.   Also, Burt Reynolds is rumored to be an Observer reader.
– Jerry Lawler made his return on commentary, and had four months' worth of material saved up to work with on the show, ending up being funnier than Bobby Heenan would have been in the same role.
0.  The Heavenly Bodies beat the Bushwackers in the dark match in 7:00 when Dr. Tom came off the top on Butch and Del Ray pinned him.  *
1. Owen Hart pinned Bret Hart in 20:26.  They started scientifically, but Bret did a plancha and "hurt" his knee again.  Bret was awesome selling the knee while making his comeback.  Bret tried a victory roll for what seemed like it was going to be the finish, but Owen reversed it for the stunning upset.  The clean pinfall loss made it obvious Bret was walking out with the belt.  The win put Owen solidly on top of the heel ladder, but he'll need a manager to stay there.  ****3/4
2. Bigelow & Luna beat Doink & Dink in 6:09.  This was supposed to be a breather, but Bigelow and Doink decided to work hard and just couldn't follow the opener.  Bam Bam pinned Doink with a headbutt off the top.  *3/4
3. Randy Savage beat Crush in 9:43 in a falls count anywhere match.  Much better than the disasters they've been doing at the house shows.  Dave wonders what happens if you pin the opponent in the ring, given the wacky stips?  Anyway, they had an entertaining match, although Savage failed Boy Scouts, apparently, because his knot didn't hold at the end when he was trying to tie Crush up by his feet.  **3/4
4. Alundra Blayze pinned Leilani Kai to retain the Women's title in 3:23.  No chance of this getting over.  Nobody is buying the Women's division yet.  (Oh, they will!  No, wait, sorry, they won't.  I was just hoping for a witty rejoinder and had nothing.) *1/4
5. MOM beat the Quebecers by countout in 7:45.  Match didn't have much chance of being good, and lived up to that.  Mabel splashed Pierre on the floor for the weak countout finish.  *1/4
6. Yokozuna beat Lex Luger by DQ to retain the WWF title in 14:40, with Mr. Perfect as the surprise guest referee.  On the run sheet before the show, this match was listed as 25:00, and thank god it didn't go that long in reality.  It was one nerve hold after another from Yoko, who is getting too big and has no stamina.  Luger made the comeback after nervehold-a-mania and KO'd him with the forearm, but Perfect screwed him on the count and Lex grabbed him to draw a bullshit DQ.  The finish was a complete screwjob but at least it had a point.  (Yeah, until Perfect flaked on them and left before they could actually do the program!)  1/2*
7.  Earthquake pinned Adam Bomb in 0:35 with the splash.  Finkel was already back to his normal hairstyle the next night in Poughkeepsie, so what was the point?  DUD
8. Razor Ramon beat Shawn Michaels in a ladder match to retain the IC title in 18:47.  Michaels took more great bumps than could be listed.  Dave notes that this match will be remembered for many years.  (And even more DVD releases.)  Also, he predicts that ladder matches will now become the hottest gimmick on the indy scene.  *****
9. Bret Hart pinned Yokozuna to win the WWF title in 10:36 of an anti-climactic match.  The crowd was burned out and the match was nowhere near as good as last year's main event.  **1/4
– Tonya Harding finally commented on the rumored $2 million offer to wrestle for All Japan Women, as she was mobbed by reporters after sentencing on 3/16 and offered a series of "no comment" to every question posed to her, except for the wrestling question.  That one she answered "Get real."  Reportedly the offer still stands regardless.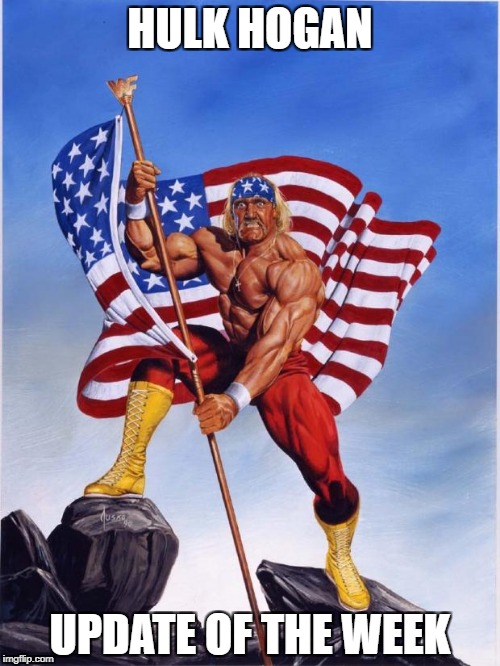 – Hulk still hasn't signed a WCW contract yet, but "Thunder in Paradise" is getting murdered by critics, with TV Guide giving it a 1/10 and saying that Hogan does every scene looking like he swallowed a bottle of kaopectate.  However, he did announce that in a few weeks, he would have an announcement that would "rock the wrestling world."  Hogan's big appearance on WCW Saturday Night drew a 2.8 rating, which is higher than usual, but still beaten by the time Col. Parker had to wear a chicken suit.
– Hiroshi Hase won the WCW International World title from Rick Rude on 3/16 in Tokyo, pinning him with a northern lights suplex in 16:52.  They're having a rematch on 3/24 in Kyoto, where Rude will win the title back and WCW will presumably just ignore the whole thing.  It's actually the first major singles title won by Hase, who is a spectacularly unselfish booker.  (I literally had no idea about this title change and indeed, WCW just pretended it never happened.) 
– WWF's pre-Wrestlemania Fan Fest was a big success, drawing 2200 people at $22 a person.  Vince was very gracious with autographs and photos, although the place was crammed too full and as a make-good, everyone was given free passes to a future WWF show.
– Vince McMahon was back on Memphis TV doing his thing, saying that "Memphians sound like Amphibians" and that Lawler is afraid to show up for the 3/21 show because the Steiner brothers might be there.  (To be fair, Scott terrifies EVERYONE.) 
– To SMW, where the departure of the Heavenly Bodies for the moment has left Jim Cornette managing Bruiser Bedlam (aka Johnny K-9) as his big singles heel.  (In retrospect, I wish he wouldn't have bothered.) 
– In the bad timing department, Tracy Smothers and Chris Candido had a ladder match on SMW TV on Saturday and everyone was raving about it…for one day.  (That match did make a bunch of compilation tapes on the 'net, at least.  But yeah, sucks for them.) 
– Brian Pillman's WCW contract expired, although for the moment he'll finish up leading to the 4/17 PPV.
– WCW really wants into Europe and is talking with Davey Boy Smith about coming back to work exclusive dates overseas for them.
– Tully Blanchard v. Terry Funk at Slamboree in May looks to be happening, although plans to use Bruno have fallen through.
– Alex Wright, the 18 year old son of English great Steve Wright, worked on the WCW tour thanks to the parade of injuries to everyone else, and looked impressive.
– Lou Albano is returning from retirement to the WWF at the next RAW tapings, and will be managing the Headshrinkers to a babyface turn and tag title run.
–  Dave now is sure that the Luger thing was just a swerve, and Vince has finally admitted that the Luger push was a failure.  Dave thinks Lex might been screwed a little, but you have to be able to carry the ball when given, and no one else in history has done so little with such a huge push.  (Well, there's ONE other person, arguably…) 
– The Steiners appear to be done, but are still under contract until December.  Basically they care about nothing but their Japan dates at this point.  Jacques Rougeau did an interview over the weekend taking credit for running them out of the WWF, for what it's worth.
– Stan Lane, Johnny Polo and Shane McMahon will begin training as assistant TV producers, and Shane will get some exposure on TV as an announcer as a result.  (This is actually what led to Polo's departure, as Vince was pushing him hard to become a behind-the-scenes producer and Polo still wanted to wrestle.) 
– Rocko Gibraltar got a job based on his tryout, and will be headed in full-time as a garbageman.
– Pat Patterson and Terry Garvin were at the Killer Kowalski show where Ron Reis debuted, scouting him.
– And finally, the New York Daily News gossip column reported the finishes for Wrestlemania on the day of the show, based on a conversation at a steak house between Luger, Crush and Bret Hart that was overheard.  The finish was reported as Luger winning the title, but Perfect screwing him out of it against Bret Hart to close the show.  So on 3/22, the paper reported that Vince had read that paper and changed the finish as a result to Bret beating Yoko in the finale.  Dave thinks that the finishes reported in the original paper on 3/20 don't make sense in the first place, and Vince would have to be insane to change them based on a gossip column.  (So there you go, that's where this whole legend originated from!  I think the whole thing was proven to be urban legend later on when no one could actually produce a copy of either of these papers, but hopefully Dave keeps following this story.)