I dunno if there's no March 14 issue, but the website skips from March 7 to March 21.
First up, Dave's annoyance with the Nancy Kerrigan story is about to get a lot more pronounced…
– In a story that went mainstream on 3/14 in the US, All Japan Women are claiming that they're going to offer $2 million to Tonya Harding to become a pro wrestler. (Oh yeah! Totally remember that one.) Further Akira Hokuto is already volunteering to train her. Dave thinks it's not a bad idea in theory, although there's been no response from Harding's management team yet.
– First up, the offer on the table is to bring Tonya in for a show on 3/27 and have her sit ringside so she can see what the promotion is all about, and also to garner publicity for having Tonya Harding at ringside for a show. Allegedly the women in the promotion are about as thrilled about the idea as baseball players have been about Michael Jordan. (Most 1994 issue ever!)
– Dave recaps a brief history of pro athletes trying to pro wrestle, and then stops for a REALITY BREAK. None of it is going to happen, and Tonya is getting a lot of money from a variety of sources as it is, without having to travel to a foreign country and learn a new sport for an amount of money that is almost certainly bullshit.
– Whereas that story won't happen, it appears certain that a real dream match WILL, as Antonio Inoki is set to face Satoru Sayama on the 5/1 Fukuoka Dome show, or perhaps the 1/4/95 Tokyo Dome show. Sayama actually threw out a challenge to Inoki on 3/11, and the plan appears to be having him beat Masashi Aoyagi to get his cred back in October, leading to the main event against Inoki in January. The backstory here is that Sayama was one of the whistle-blowers back in 1983, who revealed that Inoki and Shinma were embezzling profits from New Japan and putting them into Inoki's cattle farm in Brazil. Sayama quit the company due to fear of reprisal against him.
– In another dream match, Onita will face Tenryu in the main event of the 5/5 FMW show at Kawasaki Baseball Stadium, in an exploding barbed wire death match.
– Sadly, the trainwreck that is Maeda v. UWFI won't happen after all, since UWFI announced that Maeda had no accepted their invitation to compete in the tournament. Of course, Maeda in fact DID accept the invitation quite publicly, but the company didn't like his conditions, and so just lied and said he didn't accept. This somehow allows Maeda to emerge looking like the sympathetic hero yet again. Dave thinks that the craziest thing is that Takada has no new opponents to face, and Maeda has no new opponents in RINGS, so the two of them would actually sell out the Tokyo Dome together and probably revive both promotions in the process.
– And now, it's time for our newest segment in these…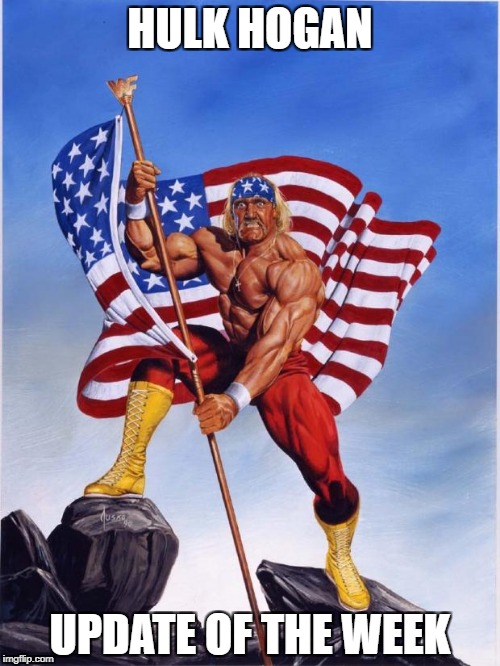 – Still no WCW contract signed as of yet, but WCW is heavily pushing the idea of a Hogan v. Flair dream match. WCW is still confident that it's going to happen, with tentative plans being for them to wrestle at the Great American Bash in July. They're also pre-emptively negotiating with Marvel Comics to get the rights to "Hulk" and "Hulkster" and all the same deals that the WWF made with them. Hogan, however, wants to wait until August and do the first match in Wembley Stadium.
– Wrestlemania X happens on 3/20, and Dave thinks it's not going to do very well on PPV despite the 10 year anniversary gimmick and "celebrities" loaded onto the show. He's heard there's going to be a lot of unexpected surprises for the show to make up for the weak lineup on paper. The rumor mill says that Mr. Perfect and Roddy Piper will return as special referees, with Perfect turning heel on Lex Luger, and that Jerry Lawler will 100% be there. Also, Yokozuna should be ending the show as a babyface, and Luger won't be winning the title. Dave thinks it's pretty hard to believe that they'd do an angle just to swerve a bunch of newsletter readers, but anything is possible. (In all fairness, they were also swerving internet nerds.)
– USWA drew a ridiculously huge crowd for their "Memphis Memories" show on 3/7, with 7934 paid thanks to a ton of old-timers coming back, the biggest crowd since Lawler's title win over Curt Hennig in 1988. Although tickets were only $3, so the gate was just $30,000. Austin Idol returned for the show, despite not wrestling in years, looking exactly the same as he did in the 80s, and working at the same level: Awful.
– SMW held a show in Marietta, GA, which was supposed to show up WCW, and ended up being kind of a flop, even with a bunch of WWF talent on the show. They were hoping to draw 1500 people and only ended up with 800, which still beats WCW's last trip to the Omni, but was a big disappointment. Jim Ross was backstage, still suffering from Bell's Palsy but needing to find work. (Smoky Mountain was basically starting their big descent around this point, with another year left before they shut down.)
– New Japan held a press conference to announce the lineup for the All-Star Junior tournament on 4/16, and surprisingly Sabu won't be there after all. One new name is "Hiyabusa" from Mexico, although Dave doesn't connect him with the FMW young boy he had been raving about previously.
– Ron Reis finally made his pro debut on 3/12 for Killer Kowalski on a show in Brantford, CT. Reis's trainer, Big John Studd, has been loudly telling anyone who would listen that Reis will be the "biggest thing since Andre the Giant."
– Royce Gracie won the Ultimate Fight II PPV on 3/11, which Dave is pretty sure is a shoot, although people are still disputing it. Gracie breezed through the tournament, while Ken Shamrock sat out the show due to a hand injury suffered in training.
– Speaking of injuries, Dave reveals that the missed issue last week is due to an arm injury of his own, as doctors told him to take a few weeks off from typing, but he decided to just take a week off and then fight through it anyway.
– Dave watched All Japan's TV from this week and as crazy as it sounds, Misawa & Kobashi v. Hansen & Baba was an all-time classic that should be considered for Match of the Year. (Unfortunately it would get a TAD overshadowed in next week's issue.)
– Terry Gordy is STILL scheduled to return in May, with tune-up matches in Dallas on 4/1.
– Back to Memphis, where Austin Idol was so over at the reunion show that they made a deal with him to appear at both the Louisville and Nashville shows on the same tour that week. Both houses were immediately boosted to levels not seen in more than a year, and then Idol no-showed both of them.
– With Lawler's legal trouble cleared up, Vince is back on USWA TV as a heel again.
– The Rock N Roll Express began a feud with Brian Lee & Chris Candido in SMW, kicked off with Ricky Morton kissing Tammy Fytch to distract Candido and get the win. Afterwards, Tammy freaked out in an interview, worried that he'd give her "cooties or AIDS". (Talk about the pot calling the kettle a skank.)
– The ECW TV tapings on 3/6 saw Sabu dropping the TV title to Tasmaniac, who immediately lost it to JT Smith. Paul Heyman wanted Sabu to lose it directly to Smith, but Sabu refused, yet apparently was fine with putting Taz over as the interim guy. (How times would change.)
– The Freebirds will reunite in Dallas on 4/1 for the GWF, consisting of Hayes, Gordy and Garvin.
– To the WWF, where they were unable to get Bull Nakano for Wrestlemania, so instead it'll be Leilani Kai stepping in to face Alundra Blayze for the title. (Ah, I had always kind of wondered why the match was such a lame one.)
– Dave Heath was doing TV squash jobs as "The Black Phantom" while dressed in his former Black Hearts gear because he's mad at former partner Tom Nash (who still wrestles as the Black Heart) for making comments about Luna in a newsletter. (Wrestling is a WEIRD business.)
– Headshrinker Fatu was injured by Mabel when he landed wrong (get used to hearing THAT a lot), so the WWF used Tonga Kid, Fatu's twin brother, as a replacement on the West Coast tour. They won all the matches against the Smoking Gunns, because Vince's usual philosophy of "putting wrestlers in their place" by having them do jobs in their hometown has been replaced by the traditional approach of letting them win. (Yeah, don't get used to that.)
– Marty Jannetty was officially fired, by the way, which Dave notes is the fourth time and only trails Iron Sheik for the all-time record.
– Dave thinks that the Wrestlemania card "totally blows" but there should be enough surprises to keep things interesting.
– To WCW, where they're listing a 0.67 buyrate for Superbrawl, which would make the show a success. Cable companies were initially listing a 0.5 buyrate, which would be not very successful, but Dave believes the sources in WCW. (For what it's worth, everyone seems to now accept the lower number as truth.)
– Jesse Ventura's case against the WWF goes to court on 3/21, with Jesse claiming that he deserves a cut of videotape royalties because his voice was used on them so extensively. (Well, we certainly know how THAT lawsuit went.)
– WCW wrestlers are grumbling because they've been asked to take pay cuts, but guys like Bobby Heenan and Jesse Ventura get huge contracts. (That's because they're actual STARS, dumbshits)
– Rumor killer: Elizabeth was not at the Orlando tapings and is not coming into WCW.
– Rick Rude has heat with Sting and is refusing to drop the WCW International World title to him, which was the original plan.
– And finally, Dave clarifies that he's learned Rio Lord of the Jungle is not in fact Jungle Jim Steele, and there are in fact two different people dressed as Fred Flintstone doing a terrible Ultimate Warrior impression. (Have I mentioned that wrestling is a weird business?)