And now, the moment we've all been waiting for, as we're about to hit another legit new era in professional wrestling, one of the delineation points where you say "Yeah, things are about to change forever." 
Of course, I can only be speaking about SUPERBRAWL IV.
And, you know, that other thing.
– All the evidence is now firmly pointing to Hulk Hogan joining WCW for a feud with Ric Flair on PPV, and if he doesn't show up after they spent the entire SuperBrawl show pretty much saying "Hulk Hogan is coming to WCW" then there's a lot of people who are going to look stupid. 
– While Dave would like to stress again that NOTHING HAS BEEN SIGNED, and no deal has been made…a deal has pretty much been made.  Hulk will be coming in for the July show against Flair, and maybe do some house shows during the summer against him.  In fact, the New York Daily News printed a rumor on their gossip page that Hogan would be receiving a per-PPV figure in the ballpark of…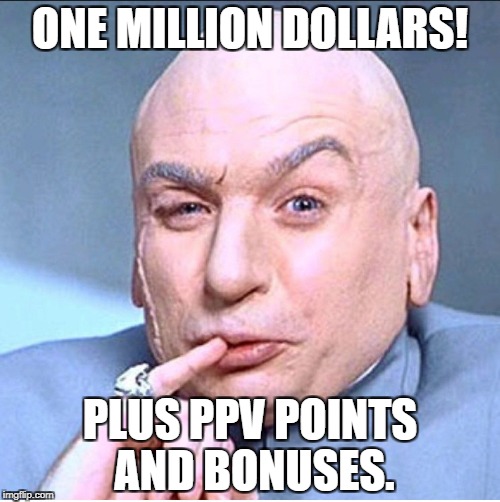 – Dave thinks that's pretty much baloney leaked by Hogan, since WCW PPV shows only gross $1 million to begin with, and in order to justify that kind of money, Bash at the Beach would have to immediately do double the buyrate of the biggest WCW show in history.  (By comparison, their highest buyrate ever to that point was a 1.5 for Bash '89, and the 93 shows topped out at 0.50 or so with Starrcade '93.  BATB ended up doing a 1.0, which was in fact double the buys of the biggest show in 1993, so Hogan wasn't completely out to lunch asking for that kind of money.  Royal Rumble 94 was a 0.9 buyrate, and Wrestlemania did a 1.7, so even a huge number for WCW was still chump change by WWF standards.) 
– Anyway, Dave thinks that if it happens, Hogan has to put over Flair at the beginning of the program, because otherwise people will just lose interest immediately and it'll fizzle out like the WWF program did. 
– To Japan, where the UWFI made a bold grandstand challenge with the announcement of their summer tournament to crown the world's best "real" wrestler, listing a 16 man tournament with a grand prize of 100,000,000 Yen, or approximately…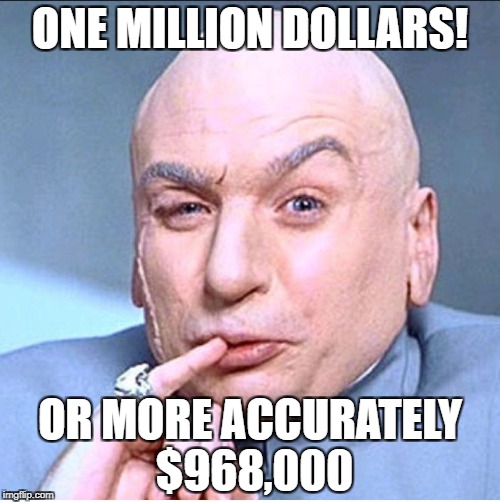 – So the gag is that they challenged all current World champions to compete in their tournament, and invitations have been sent to Tenryu, Maeda, Misawa, Hashimoto and Funaki, and they were sure to mention that if any of them could win the grueling tournament, they would totally get the very real briefcase full of prize money.  No foolin'. 
– Tenryu and Hashimoto actually did answer the challenge, with Tenryu politely declining due to scheduling conflicts with his own promotion, while Hashimoto said he totally would, guys, but they didn't contact New Japan first, so he's out.  But he totally would have.  Misawa of course ignored the whole thing.  The entire "challenge" is actually a broadside at Maeda in particular for his previous challenge to the UWFI guys, because they know he'll never accept an actual shootfighting challenge, despite all his big talk last week about challenging the real shootfighters to a real shootfight.
– In yet another bizarre twist in the Jerry Lawler case (who knew this thing had so many layers!?  I seriously always thought it was just "Lawler gets falsely accused, charges are dropped and forgotten.") the guy who initially went to the police with the accusations against Lawler, John Segevan, was himself arrested for rape on 2/15.  Turns out that two weeks after he framed Lawler, he himself raped a 15 year old Louisville girl.  From the start, Lawler has blamed Segevan for concocting the entire scheme against him, and if he did rape a girl two weeks after accusing Lawler of the same thing, Dave is pretty sure he must be the dumbest person alive. 
– Speaking of dumb, WCW Superbrawl IV happened, and it was a typical show from them with a terrible undercard and then hot main event.  The show itself drew a full 7600 house, with 4200 paid, so that's good enough for celebration from the WCW head office.  The show had a gimmick where you could get four free tickets in exchange for a handgun, which resulted in 290 guns and 1000 free tickets as a result.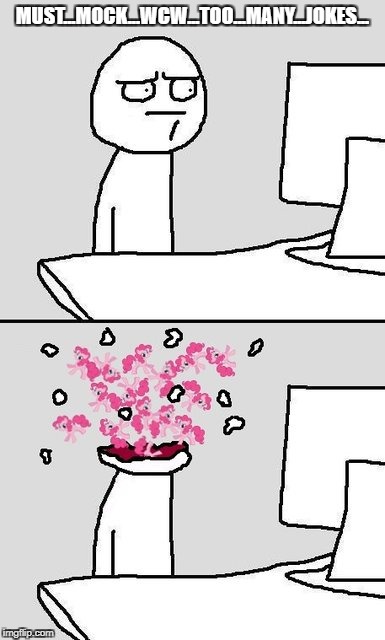 (Sorry, I froze, I was like Vince being handed Flair v. Hogan on a silver platter there with that kind of setup and I just couldn't narrow it down to one snarky remark about trading in handguns for WCW tickets.  I mean, we can go in SO MANY DIRECTIONS WITH IT, like "But what if fans needed to kill themselves after watching the Equalizer?" but really I think we've all heard enough about guns in public places for one lifetime anyway.) 
– Anyway, buyrate for the show is trending at 0.45, or nothing special, which was to be expected since they didn't advertise the main event until a week before the show.  Dave gives props to Bobby Heenan for making the first 90 minutes interesting to listen to, despite them being "taped for medical science as a cure for insomnia". Basically timing issues were a major problem as well, with the Jimmy Garvin angle running long and Regal v. Anderson also taking up too much time, resulting in the six-man getting cut by nearly 10 minutes and Flair v. Vader also going short. 
– The show started with an angle where Michael Hayes was in a wheelchair (although he was legitimately injured, it wasn't THAT bad, and he was actually working without a contract for one night on the way out) and brought out Jimmy Garvin as his assistant.  Nick Bockwinkel ordered Garvin to face Badd instead, and Garvin claimed he was a retired pilot and didn't have his gear, so Bockwinkel threatened to suspend both of them if they didn't get ready in 45 minutes.  Dave is like "How can you suspend someone who already quit?" but that's WCW for you.
1. Harlem Heat beat Thunder & Lightning in 9:47 when Kane pinned "one of the Ken Dolls" after reversing a cradle.  Both teams were missing spots like crazy.  DUD
2. Jungle Jim Steele pinned the Equalizer in 6:31 with a Thesz Press.  Dave notes that "Steele does a bad Ultimate Warrior gimmick."  (Well, I mean, a year from now, that would LITERALLY be a true statement!)  -**1/2
3. Terry Taylor pinned DDP in 11:45 when Page missed a charge and got rolled up.  It was OK until Page used a sleeper that "only worked on the TV audience".  Taylor was great but it didn't make a difference.  1/2*  (That was Taylor's last appearance on PPV, for those playing along at home who, like myself, get depressed watching entire careers come and go within the span of these things.  Where it's always apparent that someone should have got a bigger chance and done better things, but they just never did and then one day they just run out of chances and quietly leave.  Anyway, Taylor did house show and occasional TV jobs, but nothing of note ever again.)
4.  Johnny B. Badd pinned Jimmy Garvin in 10:48 with a sunset flip.  Dave notes that Garvin's work ethic remains the same in retirement as it did when he was active.  Garvin laid out Badd afterwards with a jawbreaker that was called "The 911", and the implication appears to be that he'll be sticking around and getting the push.  Which makes as much sense as anything else this company does.  DUD  (No, in fact Garvin messed around in GWF for a few months instead, and then went right back into retirement again, for good this time.) 
5. Steve Regal pinned Arn Anderson to retain the WCW TV title in 27:32 by using the umbrella.  Way too long.  (No s---.)  1/2* 
6. The Nasty Boys were DQ'd against Maxx Payne & Cactus Jack in 12:37 and so retain the titles.  Dave thinks it was more of a car wreck than an actual match.  (You ain't seen nothin' yet, Dave!)  The solution to the Missy firing?  The announcers said she was "at the Mayo Clinic, having her gums repaired."  Jack was typically psychotic here, smashing his own head into the concrete and ending up with internal bleeding.  Knobs also took a bad suplex from Payne, but "only" dislocated his shoulder.  Since Knobs had to get out of the match immediately, they rushed to the finish with Sags hitting Payne with the guitar for the DQ.  ***
7. Sting & Pillman & Rhodes beat Rude & Austin & Orndorff in the Thundercage in 14:35 when Pillman got pressed onto Austin and pinned him.  Austin was the best on the entire show and the match was excellent. Rude slammed the door on Sting's head to set up their match next month.  ****1/4
8. Ric Flair beat Vader when special ref The Boss stopped the match at 11:32. Pretty disappointing on a lot of levels, although the intensity and heat was excellent.  Camera work was terrible, missing a lot of big stuff and focusing on The Boss instead, and the finish saw Flair putting Vader in the figure-four, with Boss calling for the bell even though Vader never submitted.  ***1/2
– The long (long!) awaited TV taping for Jim Crockett's WWN is scheduled for the Manhattan Center on 2/28, featuring Hawk v. Nailz, Funk v. Sabu and Public Enemy v. Badd Company.  Paul Heyman will be booking, and the undercard guys will be largely ECW.  (It did actually happen, and in fact was the first ever wrestling show taped in HD, but I have no idea who owns the tapes now or why WWE doesn't put them on the Network.) 
– Terry Gordy is officially missing the Champion Carnival tournament in All Japan this year, which shows you how rough of shape he actually is in. 
– New Japan will hold the annual Young Lions tournament on 3/4, featuring Satoshi Kojima, Shinjiro Otani, Manabu Nakanishi, Yuji Nagata, Tatsuhito Takaiwa and Tokimitsu Ishizawa (aka Kendo Kashin.  So, you know, a bunch of nobodies, basically.) 
– With Earthquake back in the WWF, Mr. Hughes will be taking his place in WAR.  (Well that's a bit of a downgrade.) 
– For those continuing to keep track, Eddie Gilbert beat Jerry Lawler to win the Unified title in the match where he put his own car up as a prize.  However, Lawler got Gilbert to then put his own mother's car up in a rematch, which Lawler won, so Gilbert went to the parking lot and smashed in the windshield with a tire iron so that Lawler couldn't have it.  (I can see the logic.) 
– Terry Funk will be returning to challenge Lawler soon, although that's not definite.
– Despite all of Missy Hyatt's claims of retirement, she's coming in to feud with ex-husband Eddie Gilbert soon as well.
– Dave notes that a series of angles on a New Jersey indy show (which featured the first ever Sabu v. Benoit match) set up Jerry Lawler v. Chris Benoit on 3/26, "which isn't exactly playing toward either man's strengths as a worker."  (Either that match would be the GREATEST THING EVER or a complete trainwreck of catastrophic proportions and I don't think there would be any middle ground.  I MUST SEE IT.) 
– Sandy Barr is officially done in Oregon now as a promoter, as he not only lost his license but a commission ruled that if he tries to promote again, state police can actually shut down the show and arrest everyone involved.  (Too bad he wasn't promoting Heroes of Wrestling.) 
– Paul Heyman is trying to convince Tod Gordon to join the new World Wrestling Network with Jim Crockett so they can pool their resources, but Gordon wants to go it alone with ECW and not join any other organization.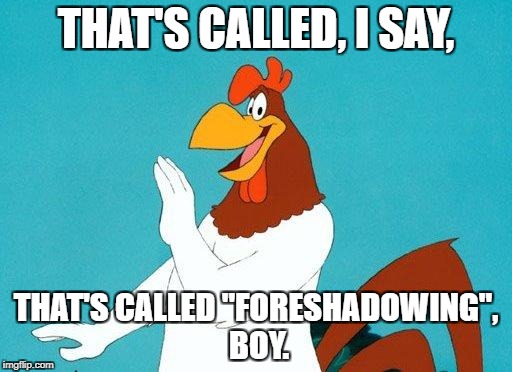 (I would like to reiterate that the Foghorn Leghorn memes are by far my favorites, mostly because I mentally read them in his voice while I'm writing them.) 
– Buddy Landel is working as youth pastor for "The Church With A Vision" in Virginia.  (I wonder how many chances God gives you if you no-show on him?) 
– To WCW, where Dave Sullivan will be "Evad" due to dyslexia.  Dave notes that he wasn't aware dyslexia also caused you to blow all the spots in your matches, too.
– TBS is scheduling a special six-hour show this week, which will feature the 89 Flair-Steamboat matches in preparation for Spring Stampede.  (The WCW All-Nighter!  Check out THIS playlist:
Sting vs. Ric Flair (c) for the NWA World Title – 4/4/88
Arn Anderson & Larry Zbyzsko (c) vs. Dustin Rhodes & ??? for the Tag Titles – 11/17/91
Ric Flair vs. Lex Luger – 9/13/90
Steve Austin & Brian Pillman vs. Ricky Steamboat & Shane Douglas – 1/13/93
Ric Flair vs. Ricky Steamboat in 2 out of 3 Falls – 4/2/89
Steve Austin vs. Brian Pillman – 11/10/93
Cactus Jack vs. Van Hammer in Falls count anywhere – 1/21/92
Road Warriors vs. Samoan Swat Team – 9/12/89
Great Muta & Terry Funk vs. Ric Flair & Sting in Thunderdome cage match – 10/28/89
Ric Flair & Barry Windham vs. Midnight Express – 12/6/88
I Quit: Ric Flair vs. Terry Funk – 11/15/89
Like, HOLY CRAP.)
– Sid Vicious was brought up with the WCW head brass and unanimously denied from returning.
– Speaking of screw-ups, Marty Jannetty was fired by the WWF for a record-setting fifth time after "problems on the European tour".  Sparky Plugg was supposed to take his place on the tag title match on RAW, but 1-2-3 Kid volunteered at the last minute and got the spot instead. 
– Dave throws SHADE on New Kids, calling Donnie Wahlberg a "celebrity" in quotes and noting that NKOTB nose-dived faster than any hot band in history.  (Well, now they're doing OK for themselves again.) 
– The Randy Savage-Yoko match for the 2/28 RAW was actually recycled from the 1/31 tapings in Bushkill PA.
– Dave was amused by the ring announcer at a WWF house show in Winnipeg announcing Kwang as "Wang".
– Ted Dibiase still hasn't undergone neck surgery and is looking to sign a deal as an announcer instead.
– And finally, WCW managed to get the Chicago arena management to hand out fliers to fans at a WWF house show there on 2/18, advertising that you could get tickets to WCW Spring Stampede at the box office.  Unfortunately, they couldn't even get that right, as the box office was closed at the time that they were handing out the fliers.  (Sad trombone…)