Well, ECW got the cover story last week, so it's only fair that Smoky Mountain gets it THIS week…
– SMW held their "Sunday Bloody Sunday" show at the Knoxville Coliseum this past week, setting a new record with 3950 people and a $31,000 gate.  Dave notes that they "smoked" their old record of 2780 fans in the same building from a year previous.  (He made sure to put it in quotes so we'd appreciate the wordplay.) 
– The main event of the show saw the Bullet beat Terry Funk in a wild ***1/2 death match, with Dory Funk Jr. getting involved on behalf of his brother, in a match where Bullet would have had to unmask and crawl across the ring to kiss Jim Cornette's feet and then leave SMW forever.  Dave notes that Terry did the first, and likely last, moonsault of his career during the match.  (Oh how wrong he was!)  In the other half of the double main event, Dirty White Boy regained the SMW title from Brian Lee in a chain match, with manager Ron Wright miraculously walking to the ring before hitting Lee with a loaded boot to a huge pop.
– WCW did another set of Orlando tapings from 2/7 to 2/10, although they didn't give away the results of any title changes this time around.  It was also far more disorganized and featured a disgruntled crew, since Dusty Rhodes was apparently the booker again only a few weeks after being fired for the millionth time.  The highlights were as follows…
– Ricky Steamboat will now be challenging Flair for the WCW World title at Spring Stampede in a face v. face match.  Rude will defend the WCW International World title against Sting, Austin will defend the US title against Muta now, and Dustin Rhodes will face someone called "Bunkhouse Buck", who will be played by Jimmy Golden and getting a push since Robert Fuller is on the booking committee.  Also, young Terra Rizing will debut on PPV against Tom Zenk.
– Slamboree will feature Rude facing Vader in a heel v. heel match, Austin v. Johnny B. Badd, and Regal defending the TV title against Larry Zbyszko for some reason.
– Sherri Martell was supposed to start as the babyface manager of the Sullivan Brothers (Kevin and "Evad"), acting as the foil to Missy Hyatt.  However, MIssy was fired two days before the tapings for going over Bischoff's head and trying to renegotiate her contract with Bob Dhue.  She's going to New York next to take up acting lessons, and unless she can get a gig with the WWF, she's out of the wrestling business.  (Well, aside from ECW, but I don't count that as wrestling, as you all know.)  This will make the tag title match at SuperBrawl awkward because they have weeks of stuff taped with Missy as manager of the Nasties already, and she won't be at that show or any other live show from then on.
– In a payoff years in the making, Sting was finally the first WCW wrestler to appear on the Arsenio Hall Show after years of trying to get someone on.  They promptly announced him as the "WWF World heavyweight champion."
– Although they were not at the tapings, Bobby Eaton & Steve Keirn are being put together in a tag team, which Dave swears he is not making up, called "The Fabulous Express."  (This was later vetoed by Dusty Rhodes, who commented that he thought it sounded too much like "a pizza delivery place."  Although it's not like Bad Attitude was much better.) 
– With Davey Boy gone, Frank Andersson was used as the European star of note on the tapings, winning several squashes over jobbers with suplexes, although it's unclear if those matches will even air anywhere but overseas.   Also, because WCW, Andersson threw out his back doing all the suplexes and was too injured to do the final night of tapings.
– Also taped were a series of "dream matches", picked by the Dream himself, such as Ric Flair v. Steven Regal in "Marquis de Queensbury rules" matches, or tuxedo street fights between Steve Austin and Johnny B. Badd.
– The company also handed down the new drug policy at the tapings, but, come on, let's be serious.
– Turns out that Curt Hennig did not shoot vignettes with WCW after all, and in fact the reports were a case of an Atlanta newspaper reporter confusing the original ones shot by the WWF with new ones shot by WCW.  (That's one hell of a thing to confuse!) 
– Hulk Hogan and his cronies were hanging around the tapings at various times while shooting "Thunder in Paradise" across the street, and Gene did some interviews with Hogan about the show, during which the possibility of a match with Flair was brought up.  WCW is making a big play for Hogan, but nothing has been signed yet.  Hogan is still talking about touring Germany with his own promotion, for what it's worth.
– There was a lengthy piece on the WWF's legal troubles in the New York Daily News, mostly rehashing the previous scandals.  As it turns out, the grand jury heard testimony attempting to charge people in the company with violations of the Mann Act due to the accusations of mistreatment of minors, but in the end it was only steroids that were part of the charges.
– Sabu might be headed to Japan for the all-star junior heavyweight tournament in April.
– Besides Akira Hokuto, also rumored to be retiring on the 11/10 AJW show later this year is Bull Nakano, who will be making some stops in the WWF to challenge Alundra Blayze before that happens.
– Royce Gracie is getting mad offers from every wrestling promotion in Japan after winning the "Ultimate Fight PPV", but his asking price is said to be too high for any of them. (Oh come on, I bet Inoki would have thrown at least a few hundred thousand at him to go over!) 
– Ironically, Atsushi Onita is doing PSAs on Japanese TV about living a reckless lifestyle.  Dave wonders if it's more reckless to have unprotected sex, or slice open your body in death matches and then jump into a polluted river and nearly die from infection?  (Man, Dave is just never gonna let that one go, is he?  The man jumped off a bridge into a polluted river with open wounds ONE TIME…) 
– Akira Maeda put out an open challenge to rival shooters Takada, Funaki and Minoru Suzuki, which resulted in UWFI and Pancrase simply ignoring him and moving on with their lives.  Maeda has essentially ostracized himself from anything but his own RINGS promotion at this point by constantly claiming not to be a pro wrestler while engaging in fake pro wrestling matches, thus annoying both sides of the argument.
– After Jerry Lawler regained the USWA title, "Lord of the Ring" ring and "Sam Bass" jacket from Eddie Gilbert, Eddie responded by putting up his car for their next rematch in Memphis.
– New England wrestler Perry Saturn is headed into the USWA.
– A promotion in England is running shows with a guy dressing like Hawk, calling himself "The Legend of Doom".  Plus there's also Dunk the Clown.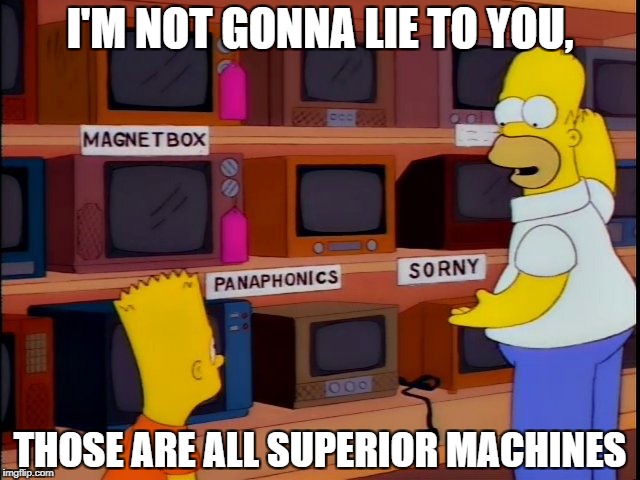 – Both Davey Boy Smith and Dynamite Kid are working for British indies and calling themselves "The British Bulldog", and apparently the heat between them is a LOT worse than even previous reports had let on.  (I don't think Kid even let it go when Davey died, in fact.  He's an angry, angry man.) 
– The Bushwackers make an appearance on ABC's "Family Matters" show on 2/18, and the network is reportedly trying to find a Saturday morning TV show with them as regulars.
– The tag title match for Mania was announced as MOM v. Quebecers, with the Steiners suddenly off the card completely.
– Ted Dibiase is trying to get a job as a manager now, since he won't be wrestling until at least 1995.  (Or, you know, ever.)
– A house show in New Brunswick had to be cancelled when the ring was accidently sent to Nova Scotia instead.  (Lord tunder and jaysus!) 
– Jim Ross had a bout of Bell's Palsy, so Gorilla & Stan Lane are doing the syndicated shows.  (Hopefully Vince will be understanding and compassionate about JR's medical issues.) 
– WCW tried to get Elizabeth, but her WWF release stipulated a no-compete until 1995, so it won't be happening.  (How the hell did this company get away with s--- like that?) 
– And finally, there's some question as to the future of the former Hollywood Blonds, since their contracts expire shortly and the WWF REALLY wants Austin.  Plus they'll probably try to lowball Pillman. (I dunno, Steve Austin in the WWF…I just don't see it.)