The teaser for this one promises "the sleaziest PPV ever".  Man, if he's only talking about the Rumble, I'm gonna be disappointed.
BUT FIRST!  It's a day ending in "y", so it's time for WCW to change bookers again.
– Yes, after three years of declining house shows and ratings, Dusty Rhodes was fired again as booker, although officially he quit before they could fire him.  Apparently all his ideas were being overturned anyway, which kind of rendered his job pointless.  For the moment, they're going back to good old committee booking, this time comprised of Bill Shaw, Eric Bischoff, Mike Graham, Greg Gagne, Col. Robert Parker, and Ric Flair.  This generally results in even more chaos, but an official booker will be chosen eventually.  Dusty is being moved back into the "talent" side, whatever that might entail.
– So the Royal Rumble happened, and people who hated it, HATED it, to the point where they called in thinking that it was going to be a 100% thumbs down show and contender for the worst PPV of all time.  (I mean, I'm not super fond of it, but even I thought it was pretty decent for the most part.)  Dave that notes at the very least, you can't say the show wasn't creative.
– Dave notes that the idea that something wacky or surrealistic like the "Undertaker is dead LOL" stuff could kill the business is ridiculous.  (As ridiculous as Undertaker levitating to the rafters after dying in a casket and speaking from beyond the grave?)  Dave thinks we should let it play out and see where it goes.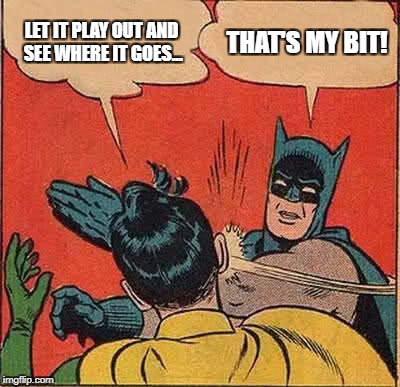 (Man, I would never stoop to stealing someone else's material.  OK, back to this recap of the Wrestling Observer on my unrelated website.) 
– Now, onto the "Sleaziest PPV in history" designation.  (Did he not SEE "Heroes of Wrestling."?  Oh, yeah, I guess not yet.  Well, it's coming, Dave, so be warned!)  Specifically, Dave is bugged by the 900 line scam running through the show, where you had to pay to call and hear medical updates on the condition of Bret Hart and then pay to vote for who "won" the Rumble, even though they've already decided.  It's likely going to be Bret Hart being awarded the win, before he pulls out and lets Luger have it.  I mean, OBVIOUSLY.
– The bigger problem is that despite all the time and money and money and money being spent on making Lex Luger into the next Hulk Hogan, it's just not working.  While the ability to maintain heat through a match does not mean someone isn't a draw, the fact is that Luger is absolutely not a draw.  Dave is quick to point out that Bret is hardly any bigger of a draw and business would likely be the same with either guy on top in 1994 (So there you go, whiners), but deep down people buy Bret as a top guy and they don't buy Lex.  And unless something drastic happens, Wrestlemania is not going to be headlined by a match that people want to see.  The idea after Summerslam was supposed to be that everyone would be clamoring for Luger v. Yokozuna, and it's just not going to happen.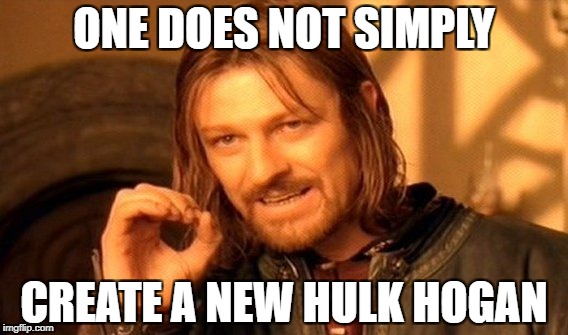 (I've been looking for an opportunity to use the Boromir meme for a while now!) 
– Even if they do stubbornly persist and put the title on Luger at Wrestlemania, which still seems likely, he'll just be a transitional champion to Bret by the end of 1994 anyway.  And when they were spending millions on the Lex Express, they sure as s--- weren't trying to create a transitional champion back to Bret.
– OK, finally onto the Rumble show, which did a legit 14500 sellout in Providence, RI, and drew a better buyrate than the 93 show, somewhere in the 1.0 range.
0. Brooklyn Brawler pinned Jim Powers in the dark match.
1. Tatanka pinned Bam Bam Bigelow with a flying bodypress at 8:12.  Tatanka has gotten rid of the red stripe in his hair because it was causing hair loss.  *3/4
2. The Quebecers beat the Hart Brothers to retain the tag titles in 16:48.  This was all about Bret selling the knee, including one sequence where he was outside the ring for 3:00 with the count being interrupted each time.  Finally the ref stopped the match, ruling that Bret couldn't continue, and Owen freaked out afterwards and kicked the bad knee.  Dave notes that Owen is going to need a good manager to get over as a heel if he's facing anyone but Bret.  (Well, Jim Cornette is pretty good, but Owen really was a great heel on his own.)  ***1/4
3. Razor Ramon pinned IRS to retain the IC title in 11:30.  Mainly restholds, until the screwjob finish with IRS apparently winning the title after Shawn's interference, and the original referee coming out to restart the match so that Razor could win.  *1/2
4. Yokozuna beat Undertaker in a casket match to retain the WWF title.  Basically every heel in the promotion came out to help Yoko and Mr. Fuji somehow got the urn from Paul Bearer.  "I think Jim Cornette was somewhere vomiting during all this" notes Dave.  He also would like to know if all the babyfaces were locked in their dressing room while Undertaker made a 10-on-1 comeback alone?  Yoko got the urn, knocked out Undertaker, and green smoke came out, and then the heels put Taker in the casket and wheeled him off.  Then Undertaker raised to the heavens because he was dead.  *
5. Bret Hart and Lex Luger tied in the Royal Rumble at 55:08.  Times were cut down to 1:30 this year because of the show running long.  Dave notes that while WCW might f--- up a lot of things, at least they don't let the undercard run long and then shave the main event of Wrestlemania from 23 minutes down to 8, which is exactly what happened last year.  (And then the same thing happened again later at Wrestlemania X!)  Scott Steiner started with Samu and was in trouble, and Rick was #3, but he realized that it wasn't Japan and "effort wasn't desired, required, or going to happen" and so he walked out slowly and slapped hands on the way to the ring instead of showing concern for his brother.  (Later it came out that this was his own form of personal protest against Vince wanting to break them up.)  Kwang debuted in the match, subbing for Ludvig Borga, who is out "for a few weeks with a bad ankle."  (In fact, that was the end of Halme's career, as he became what can laughably be termed an MMA fighter when he returned.)  Diesel was the story of the match, running roughshod and turning himself babyface to a percentage of the audience.  Dave notes that they were planting the seeds for the Shawn-Diesel breakup already, since Shawn didn't help his buddy when he was in trouble.  And of course, Bret and Luger eliminated everyone and then went out at the same time for the shitty finish.  **1/2
– Dave notes that the 1/10 RAW drew a 3.6 rating, which made it the highest rated show on cable for the week, the first time that had ever happened.  More and more, RAW is becoming the show that people who only watch one show a week will choose to watch.  (So I guess Vince wasn't full of s--- after all!) 
– Arn Anderson filed civil suit against Sid in North Carolina, seeking punitive damages of "more than $10,000" for assault and battery.  Dave should have a copy of the complaint next week.
– So let's rehash the fight again because god knows everyone isn't sick of hearing about it yet.  Sid did an interview with a newsletter before the suit came out, detailing how they were both drinking in the bar and Arn was getting agitated with the line of questions that Sid was asking.  So Sid backed off and went to the bar, and Arn followed and got in Sid's face, telling him "I'll cut your guts out with a beer bottle."  (Man, when was the last time you got a heel threatening to cut someone's guts out with a beer bottle on RAW?  I can't even remember the last time.  It's been too long, is what I'm saying.)  Sid claims that he got tired of waiting for his sandwich and went back to the hotel room, which contradicts every other report where Doug Dillinger had to send them both back because they were screaming obscenities at each other.
– Sid then claims he broke off a chair leg for protection and went knocking on Arn's door, and admits that he was pretty drunk so he doesn't really remember what Arn was yelling at him.  So then he realized how stupid they were being and turned around to leave, and at that point Arn appeared with scissors in hand and viciously attacked Sid.  (I'm assuming in Sid's version he was wearing his crucifix and tired out from a long night of campaigning for local charities.)  Sid says he doesn't remember anything about the fight, but remembers finding the scissors on the floor, and doesn't remember stabbing Arn.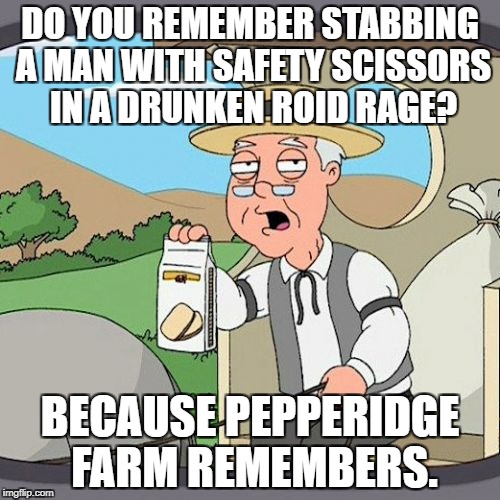 – Corazon De Leon, EMLL's second biggest babyface behind Vampiro, suddenly left the promotion and is headed to SMW, it appears.  (You know…Lionheart.) 
– Koji Kitao's new "Kitao Dojo" promotion debuted with Kitao unsurprisingly triumphant over Koki Kitahara from WAR.  It appears the plan is for Haku and Earthquake to be his next victims, and the Quake match will likely do good business based on their "shoot" a few years back.
– The WWF announced a Japanese tour for May, but the Sumo Association is likely going to throw a fit over the use of the word "Yokozuna", because only 60 men in history were allowed to call themselves that name, and Rodney ain't one of them.
– Pancrase drew a huge crowd of 5600 with a main event that saw Minoru Suzuki submit Ken Shamrock, and this is making people question the legitimacy of the promotion, since there shouldn't be any chance that "any Japanese could handle Shamrock" in a real fight.
– W*ING was down to 400 people for their latest freakshow, which is hardly a good sign for them.
– The Moondogs quit USWA, and were replaced by the Moondogs.  You know, the other version running around in SMW.  (You need a goddamned scorecard to keep track of all the Moondogs these days!)
– As noted, Chris "Corazon de Leon" Jericho and his partner Lance Storm are headed into SMW, although there's some immigration paperwork that still needs to be done.
– Tom "Dynamite Kid" Billington did an interview with "News of the World" in London and did his first of many burials of Davey Boy Smith, blaming Davey for abandoning him for the WWF when they came calling.  Kid even blamed Smith for the famous fight with the Rougeaus where Kid got his teeth punched out by Jacques.  Kid is currently destitute, but admitted that he blew all his money on drugs and then stupidly turned all of his assets over to his wife to avoid the IRS. Of course, she promptly left him and took all his money, leaving him with nothing but a ticket back to England.
– Gorilla Monsoon and Sean Mooney are currently doing a complete trainwreck of a show in Baltimore called "Bingo Break", the brainchild of former WWF producer Nelson Sweglar. The idea is that it's a combination of bingo and the old TNT show, featuring bingo psychics and hillbilly characters.  It's been described as the worst television show in history.  (Someone's gotta ask Sean about that on Twitter.) 
– UFC will be running a second PPV on 3/11, so the first one must have done decent business.
– Barry Darsow and Del Wilkes debuted at the latest WCW TV tapings, with word that Darsow would form a new Minnesota Wrecking Crew with Arn Anderson.  (Yeah, I remember hearing that at the time as well.  Did anything ever come of that?) 
– The deal with Undertaker's death is that he asked for time off to spend time with his new baby, so he'll be off the road for a few months.
– And finally, it appears that Titan is 50% owner of the new World Martial Arts Federation, which is planned for syndication starting in September.  It's supposed to be a kick boxing version of the WWF, with Summit Media owning the other half.  (Sadly, it sounds like they divested themselves of that disaster before it could sink their year any lower.  One of the few positives on the year for Vince.)