It's time for the 1993 Observer Awards! Since this is all awards rundown and listing of major shows for the year, it's might be REALLY short. So don't say I didn't warn you.
– The big winner was Vader, named Wrestler of the Year in a landslide win over Kobashi. Kobashi did win "Most Outstanding", at least.
– Best babyface was Atsushi Onita, best heel was Vader.
– The Hollywood Blonds won tag team of the year despite self-destructing midway through the year.
– Most improved was Tracy Smothers, most Unimproved was Rick Rude. (I'd agree with that one, dude was SLEEPWALKING through 1993. Sadly, 1994 ended his career before he could wake up.)
– Vince McMahon squeaked by Eric Bischoff win Most Obnoxious.
– Cactus Jack won Best Brawler, Jushin Liger was Best Flyer.
– Best Promotion was All Japan, as well as Best TV Show.
– Jun Akiyama won Rookie of the Year, with the Smoking Gunns placing third. (I thought they had been around longer in Florida, but I guess not. They were pretty good workers for rookies!)
– Jim Ross won Best Announcer, Gorilla won Worst.
– Amazingly, Wrestlemania IX did not win Worst Major Wrestling Card, finishing third behind Fall Brawl and Battlebowl.
– WCW of course won Worst Promotion, with the amnesia angle winning Most Disgusting Promotional Tactic, and Shock Master winning Worst Gimmick.
– Onto the actual news, as Jerry Lawler's court date on 1/7 did not in fact result in charges being dropped, as he had been confidently predicting for weeks. However, it was made clear that the "victim" was lying about the whole thing and recanted the entire statement via a five page affidavit. Lawler has one more chance to have the charges thrown out, with a hearing on 3/24, before trial on 4/5. The WWF has openly said that he's welcome back once he's exonerated.
– Lawler claimed that the ordeal hadn't actually hurt his wrestler career, which is nuts to even say, because he got yanked off PPV before the biggest national exposure of his entire career during a time when he was a bigger national drawing card than ever before. Plus the WWF basically ended their relationship with USWA over the scandal.
– However, Detective Dave points out that it wasn't like the police just heard the false story and then arrested Lawler without evidence. The grand jury heard from 17 witnesses before voting to proceed with the case, and Lawler was also facing charges for stuff like harassing a witness. If it was just the girl lying about the rape and then changing her story, charges would have been dropped long ago. So there's clearly a missing piece of the puzzle here.
– Meanwhile, Davey Boy Smith is in some pretty serious hot water after an alleged bar fight on 7/25 left a victim with serious injuries. Smith will be voluntarily returning to Calgary to deal with the charges. Smith is alleged to have fractured the man's skull and caused him loss of hearing and memory loss. (The truth came out on that one eventually after a media circus where Davey "exposed the business" in court and it turned out that the guy was an A-level asshole who basically initiated everything.)
– The Nasty Boys and Rick Rude were named in a lawsuit in Charlotte, with a pair of residents alleging that the trio were harassing a patron in a nightclub, and when they stepped in to defend him, the wrestlers beat them up. The nightclub owners spoke to the papers and basically said it's a frivolous lawsuit over a minor incident.
– John Nord is apparently fitting in nicely as Stan Hansen's partner in All Japan, although they are taking pains to avoid any comparisons to Bruiser Brody, despite John Nord basically being Brody Jr.
– Meanwhile, Ted Dibiase is getting neck surgery and will be out for at least one year. He might transition to managing while he collects Lloyds of London insurance policy. (I always find it fascinating to go back and discover what someone's retirement match turned out to be.)
– Despite the high profile Inoki v. Tenryu match headlining the Dome, it will never air on TV because Asahi wants nothing to do with Inoki due to the scandals.
– New to the USWA is Skull Von Crush, doing a Baron Von Raschke ripoff. (He would later be Big Vito, dress-wearing weirdo in WWE.)
– The big angle in SMW at the moment is Ricky Morton's father Paul (who was "a former referee in USWA for at least a century", to quote Dave) getting assaulted by the Heavenly Bodies and blinded with Drano during a locker room attack. It should be noted that since Paul Morton is roughly 1000 years old, they used Mark Curtis to portray the lifeless body of Morton on TV.
– During an interview for later in the taping cycle, Jim Cornette was doing a promo where the Bodies were laughing about the loser geeks they were facing in a squash match, calling them "Dave Meltzer and Wade Keller", but the Rock N Rolls ran out and attacked them before we could meet those particular phantom jobbers.
– ECW is facing some major flak for headlining their upcoming show on 2/5 with a "triangular match" for the ECW title with Sabu defending against both Terry Funk and Shane Douglas. Dave, however, feels like the wacky triangle match concept has gotten over big in Mexico, so maybe it'll work in America, too?
– GWF is trying once again to eliminate all the comp tickets, which would literally just leave the 70 people in the front row who are dumb enough to pay because they want to maintain their ringside position. Dave doesn't think this one is gonna work out for them.
– Speaking of not working out well, WCW turned Ron Simmons heel and put him in a program against Ice Train, and it's already a bust.
– Jungle Jim Steele debuted after what looked like a week of training and was a complete embarrassment. (He was a guy who looked kinda like Warrior and got a push because of it, but never got much better. He kicked around as Wolf Hawkfield in Japan years later and then I think retired due to injury. He was most notable for going to ECW and getting massacred by the crowd.)
– Bobby Heenan comes in at the Clash, although it's not clear if he's going to be a color commentator or the new commissioner role. Nick Bockwinkel is also in the running for the latter role.
– Don't expect any changes with regards to the booker position.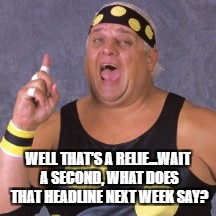 – The Clash match between the Nasties and Jack/Payne was changed to a non-title match, which appears to set up the Superbrawl title match where Dave is still sure that the titles are changing.
– Speaking of titles changing, 1-2-3 Kid and Marty Jannetty won the WWF tag titles from the Quebecers on RAW in a ***1/2 match. Expect this to be a short reign.
– WWF hired a new VP of Media Relations, which Dave notes isn't exactly the best job for those trying to avoid stress these days.
– The talent was rumored to be confronting Vince about payoffs at the TV tapings this week, and about the company removing the "talent gets the frequent flyer miles when they fly" rule to save money. (Talk about a first world problem.)
– More info on the martial arts casting call, as Titan is supposed to be co-producing a worked MMA promotion with Leisure Concepts, to be syndicated weekly as World Martial Arts Federation. The idea is to present it as a real sport, but not use real athletes to star on the show. (I have no idea why that concept might have failed…)
– The Howard Stern PPV is listed as being the "highest rated entertainment event in PPV history", with a 1.7 buyrate, which Dave notes is ludicrous because even the least-bought Wrestlemania was still way above that number, but apparently if WWF can call themselves entertainment to avoid comparisons to sport, then other people can call them sports in return to avoid comparisons to entertainment shows.
– And finally, after a TV taping in Carbondale, PA on 11/9, the WWF is in a lot of hot water with the school where the show was taped. The school board sent a nasty letter to the WWF legal department, describing the horrible condition that the locker room was left in, including "whiskey bottles in the cafeteria, chicken bones thrown all over the locker room, a broken door, broken toilet paper racks, and human feces found on the floor."