So Dave skipped a week for personal reasons, and he immediately apologizes for this being a "sub par" issue, but he just wanted to hit all the giant news stories before they went cold.  Is this gonna be like where he talks about a "slow news week" and then I'm left with a 30 page recap?
– The biggest news of the week was Larry Cameron dying of a heart attack in Germany, during a match with Tony St. Clair.  He had been working exclusively for Otto Wanz in Europe and was half of the CWA tag champions with Mad Bull Buster when he died.  His longtime heart troubles have been blamed on steroids, and in fact a few years back he was stopped from working an indie show in Jersey due to an irregular heartbeat.  Before the fourth round of his final match, he took a stool and "knew he was in trouble".  He was taken to the back, but was dead before the ambulance got there.  The show was immediately stopped and Wanz came to the ring and cried.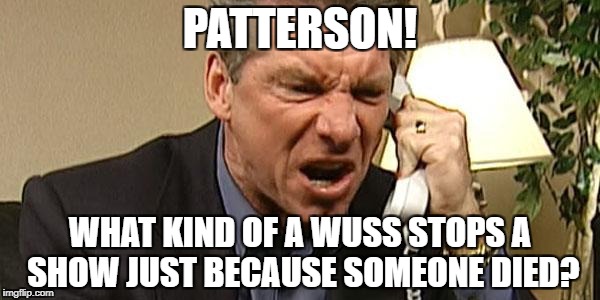 – Cameron's biggest run came as the last North American champion for Stampede Wrestling, although ironically he got that run because he resembled Bad News Allen and then failed to get a run in the WWF because they thought he looked too much like Bad News Allen.
– Akira Hokuto announced her retirement from wrestling on 12/10 at Korakuen Hall.  (This one ended up being pretty minor since she returned soon after.) 
– The Supreme Court had a landmark ruling this week, where it was determined that the government does not in fact have the right to seize property associated with drug cases, which means that if Vince is convicted of steroid distribution he probably won't lose Titan Towers after all.
– Davey Boy Smith and Sid Vicious were both officially fired by WCW, although Sid technically wasn't fired for the fight in England but for "overall volatile behavior".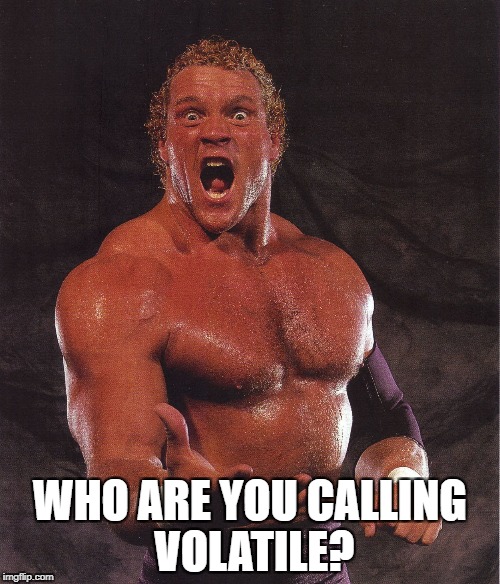 – Indeed.
– Davey Boy was also fired, reportedly for too many no-shows.  Despite rumors to the contrary, WCW is not getting out of the house show business, although that's only based on who's in charge THIS week, so obviously card subject to change.  Smith has already sent out feelers to the WWF about going back there, and WCW began the burial process in earnest, editing a segment with Rick Rude on WCW Saturday Night to make it seem like Rude challenged Smith and then he chickened out.
– Taking Smith's place in the feud with Rude is The Boss, who beat Rude in a non-title match to set up a showdown at Starrcade for "whatever Rude's title is called this week".  Bossman was actually still under WWF contract at the point when he showed up and was scheduled to return around Royal Rumble, so obviously lawsuits are about to start flying over this.
– Another departure, as Bobby Heenan left the WWF as of the 12/6 RAW, and he'll be starting with WCW in January.  This will also signal the end for Jesse Ventura in WCW, because it's unlikely that WCW will continue to pay him $500,000 a year.
– Also leaving the WWF is Mr. Perfect, and combined with the departure of Heenan this really makes the WWF look shaky from the POV of the public.  Although Jim Cornette filled in well for Heenan on the 12/13 RAW, ultimately he's not the answer because he's not going to move to Connecticut either.
– The Takada v. Vader match at Jingu Stadium in Japan drew a gigantic crowd of 46,000 despite freezing weather conditions, with Takada winning in 14:23 with a short-arm scissors after delivering brutal kicks to the arm for the entire match.  There was a lot of hurt feelings in WCW over this result, "apparently by those who don't realize this business is a work", because they didn't think their champion should be doing a job to another champion.  However, given Vader's future with UWFI is in question right now, he was probably going to job there no matter what.
– Misawa & Kobashi won the annual All Japan tag tournament, giving them the tag team titles as a result.  They beat Kawada & Taue in the finals in what some are calling the best tag team match of the year.
– The Royal Rumble appears to be Undertaker v. Yokozuna in a casket match in Undertaker's "only" title shot, Razor Ramon v. IRS for the IC title (because the Shawn matches are being saved for the house shows) and Quebecers v. Bret & Owen, which would leave Lex Luger winning the Rumble itself.  This is something of a surprise because Luger has widely been acknowledged internally as a huge flop, although Bret Hart has already been promised the World title at Summerslam.
– Jim Cornette managed to trigger a riot at an SMW show in Wise, VA on 12/10, as he was doing the bit where he hid behind a security guard to get away from the babyfaces.  A second guard tried to pull him away while Cornette and Jimmy Del Ray delicately attempted to explain to him that it was all part of the act, but instead a huge brawl erupted.  And then later, the guard returned with six of his friends and went after Del Ray, which triggered another giant fight.  The guard, who happened to be black, angered a group of fans in the bleachers who used some not-very-nice language about him and the papers blew it up into a "race riot".  (Geez, New Jack hadn't even debuted yet at that point.) 
– Sandy Barr, who had been promoting shows without a license in Oregon, got sucked into bizarre hearings with the state commission where he tried to claim that he wasn't actually promoting shows because he wasn't paying the guys to work and was only paying "expenses".  Then the story got more bizarre when Barr started claiming that there was a stooge in his locker room who was tipping off the government, which led to a match between Art Barr and John Rambo where Barr suddenly decided to shoot on Rambo, punching him in the nose and apparently breaking it, then accusing him of being that stooge in front of a confused crowd.
– Buddy Landel got fired from the USWA and they returned his USWA title to Brian Christopher, for those keeping track of Buddy.
– Technically charges haven't been dropped against Jerry Lawler yet, but it'll likely happen by 1/7.
– Madusa's WWF name should be Alundra Blayze, but that could change.
– Shanghai Pierce will likely lose his mask to Johnny B. Badd soon.
– Jeff Jarrett is not getting over at all with his "Honky Tonk Man gimmick".
– And finally,  here's what was up with Dave that he missed last week's issue. He was supposed to leave for Japan on 12/1 and stay until 12/11, but he got really sick and apparently his appendix burst and he didn't know it. So he thought he might as well go to Japan because he could just as well have a mild flu there as he could in the US.  But he had a fever of 102 and went to the hospital, where they told him that he should probably go to emergency right away because he had a severe infection spreading through his entire body that kept him in the hospital for two weeks and caused him to lose 15 pounds while they drained his stomach.  (Dave downplays it a lot here, but in more recent years when he talks about it, he basically admits that he nearly died, and almost certainly would have died had he gotten on the plane to Japan instead of going to the doctor.)