Oh hey, remember how in the last issue there was a mysterious unnamed wrestler who was part of the investigation of Vince?  Well, he's not unnamed for long, brother.
– Yes, the government revealed this week that Hulk Hogan was indeed the wrestler who was supposedly given steroids by Titan Sports.  (Perhaps it was actually an evil twin?)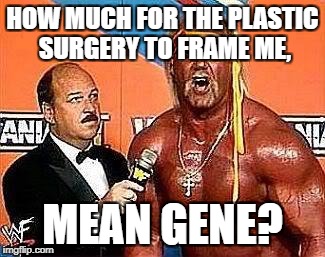 (I know, right?) 
– Both Hogan and McMahon declined to comment, although Vince did admit to "sharing" steroids with a friend who happened to be a wrestler.  But nothing illegal.  Dave thinks that it might be best for Hogan to just call a press conference and come clean with everything before he gets dragged through the mud in court and stuff comes out that he doesn't necessarily want to.
– This also seems to explain why Randy Savage went on Radio WWF, at the behest of Vince, and completely did a hatchet job on Hogan's credibility by calling him a liar and a steroid user.  Hogan being named as a user here of course completely contradicts everything he's been saying since the infamous Arsenio Hall interview in 1991.
– Vince, it should be noted, did admit to using them during the original Zahorian trial, although his own personal use of them is really irrelevant to the case against him.
– OK, onto wrestling:  Both Battlebowl and Survivor Series managed to do the lowest buyrates in the history of the promotions, so way to go!  In fact, Battlebowl (already getting consideration as the worst PPV ever) actually was such a bomb (estimated at 60,000 buys) that it might be the first major PPV not to even show a profit.  (Later on, we learned that the rough estimate for a break-even show was 100,000 buys, so yeah, this one was actually a money-loser).  Survivor Series, meanwhile, did better in the sense that it was bought by 185000 people, but that's still only a 0.82 buyrate.  The previous record low was a 1.0 buyrate.  Basically, Dave thinks, the roster is so brutally thin right now on both sides, that presenting a show filled with tag matches is only going to expose how little talent there really is at the moment.
– Survivor Series sold out with 15,000 people in Boston, but the crowd was a major disappointment and ended up coming off flat.  Dave thinks it's overall a thumbs down show, but not a dramatic thumbs down or anything.
0.  Billy Gunn pinned Brooklyn Brawler in 7:46 with a top rope sunset flip.
1.  Marty Jannetty & 1-2-3 Kid & Razor Ramon & Randy Savage beat IRS & Diesel & Rick Martel & Adam Bomb in 26:58.  Basically a good match.  **3/4
2. The Harts beat Shawn Michaels & his Knights (Jeff Gaylord, Greg Valentine & Barry Horowitz) in 30:57.  Way too long and it just didn't work. Total disaster, with the "Shawn Michaels has been insulting the Harts all along" retcon coming off as totally insulting, and Ray Combs completely burying Keith and Bruce Hart as non-wrestlers.  The Red Knight was scheduled to be Terry Funk, but he backed out at the last minute.  (Wise man.)  Owen argued with Bret after taking the only pinfall on his side of the team, to begin his heel turn.  *1/2
3. The Heavenly Bodies won the SMW tag titles from the Rock N Roll Express in 13:43.  It was a really good match but the Boston crowd was like "What is this, a Beverly Hillbillies movie?"  The crowd was literally half-empty as everyone used the match to go get popcorn.   (There's a historic first – Boston thinking of themselves as too sophisticated.)  ***1/4
4. The Four Doinks (MOM & Bushwackers) beat Bam Bam Bigelow & Bastion Booger & The Headshrinkers in 10:58. Bunch of b------- and then all the Doinks pinned Bam Bam.  DUD
5. The All Americans beat the Foreign Fanatics in 27:59.  Lex Luger and Borga are just not working in these roles, like at all.  Undertaker and Yoko had the hottest sequence of the match, but they were promptly both counted out.  Luger pinned Borga with the forearm to win it.  Not bad, but hardly memorable.  **1/2
– The biggest news of the show is that this will be Bobby Heenan's final WWF PPV, as his contract expires next month and there doesn't appear to be much of a chance of him making a deal to stay.
Reo Rogers was already fired from Superstars and replaced with Stan Lane, after only one week, so he's not the long-term replacement.  Vince wants everyone to move to Connecticut to save costs, and doesn't want to fly Bobby in from Florida every week, so that's the big stumbling block.  Bobby doesn't want to leave his family, which is the same reason why Gene Okerlund left for WCW.  (Vince McMahon is such a caring soul.) 
– To Japan, where Funaki of Pancrase submitted Maurice Smith with a sleeper in an All Japan Kickboxing Assocation show, which is revenge for Smith knocking out Minoru Suzuki on 11/8 in a similar kickboxing match.  This is leading to rumors of some kind of Pancrase v. Gracies shootfighting show at the Tokyo Dome next year, with Royce Gracie facing Funaki in the main event.
– W*ING is in complete disarray at the moment, stemming from a tag match where Eddie Gilbert worked under a mask as Boogie Man and his brother Doug worked under a mask as Freddy Kruger, and they did a shoot finish where Boogie immediately laid down for Freddy 13 seconds in, before both men unmasked and buried the promotion.  Dave THINKS they're trying to get a job with All Japan, but Baba is unlikely to touch either one with a 10 foot pole. The Gilberts were immediately fired, as were the Moondogs, and this all seems to be stemming from the promotion bringing back the original Jason the Terrible (Roberto Rodriguez) who was fired a year previous for being a locker room cancer.
– To Mexico, where a very morbid match aired on the weekend's Los Angeles EMLL TV show.  (Haven't they changed to CMLL at this point yet?  That titles are all CMLL but Dave keeps calling them EMLL.)  Oro was wrestling Kahos I, and missed a dropkick, then took a weird bump off a chop.  Turns out that either the missed dropkick or the chop caused an aneurism in his brain to burst, and he was essentially dead before he finished falling into the corner.  Although he was a "daredevil" worker, the death wasn't related to any kind of dangerous bumps he took.
– Vampiro is once again talking retirement, this time due to recurring asthma problems, and EMLL announced that he's officially no longer with the promotion anymore, for real.  Vampiro was reportedly hospitalized for both asthma and epilepsy on 11/13.  (This guy retires a LOT.  Obviously it was yet another negotiating ploy.) 
– The All Japan tag team tournament has been a complete nothing this year, with Misawa & Kobashi being the obvious and only choice to win as things stand.  (Yup.) 
– To Memphis, where Jerry Lawler is turning the USWA TV show into …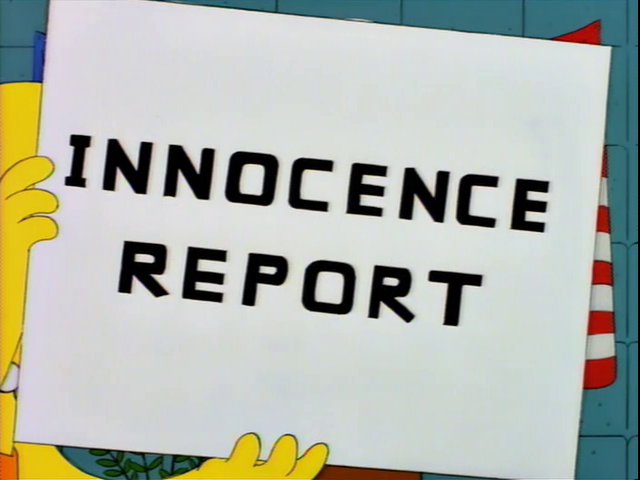 …basically calling witnesses and personal friends to come onto the show and talk about what a great guy that he is.
– Vince has decreed that no more WWF wrestlers shall work Memphis, which resulted in Crush and Randy Savage being stripped of their respective titles, since they wouldn't be able to drop them.
– Atsushi Onita has already cancelled his Royal Rumble appearance, sadly.
– Grey Pierson (described by Dave as "supposed GWF promoter") is trying a new deal where he brings a decibel meter to ringside and will push talent based on the noise level they achieve.  (Maybe that's why Roman keep getting pushed?) 
– To WCW, where Vader was out with a back injury, so Ric Flair wrestled Harley Race in the main event of of a house show.  It was noted that "it wasn't exactly 1983 all over again."
– Still not official word on the Sid/Arn situation, because behind the scenes it's actually a very complicated issue.  Regardless, it'll end with Sid gone for good.
– Tully Blanchard went on TV to talk about the Vince situation and said he "prayed to God every night that someone takes the business down."  (No wonder Jim Herd didn't want to bring him back…) 
– Mr. Perfect isn't coming back any time in the near future.  The issue was that he wanted the IC title back and Vince wouldn't give in.  He's got an offer from WCW, but no word on it yet.
– The Steiners seem to be sticking around, but they've got an offer on the table from New Japan after January and they'll probably take it.
– And finally, Madusa will likely "win" the Women's title via a fictitious title tournament in Memphis.  (I guess fake flights to Rio De Janeiro were too expensive for the WWF at that point.)