I won't bore you with details, but I screwed up and posted the 10/11 issue first because I had been working on this one during all the website problems with F4WOnline.com and never got a chance to finish it.  So I had to go back last night and redo the 10/4 issue to prevent any further rips in the space-time continuum.
Previously on the Flashback… https://blogofdoom.com/index.php/2017/08/18/wrestling-observer-flashback-09-27-93/
– In the top story, Razor Ramon won a battle royale and then beat Rick Martel on 9/27 in New Haven to win the vacant Intercontinental title.  Rumors persist as to the reasons behind Shawn's departure, but nothing has been confirmed yet.  The storyline is that Shawn was stripped for not fulfilling his contractual obligations, which is actually pretty honest of them.
– The battle royal went 19:24 and was rated as being a bit better than a typical one, ending with Ramon dumping the Quebecers to leave him and Martel as the final two.  He then beat Martel a few hours later in the main event of the show, winning with a Razor's Edge in a *1/2 match at 12:29.
– The Steiners are apparently NOT suspended, as reported last week, but Dave doesn't know the actual reason they're not making house show appearances.
– New Japan had a monster week, drawing a total of 54,000 people over five nights, with the big angle being a setup for Hulk Hogan v. Antonio Inoki later in the year.  The main event on the show featured Tatsumi Fujinami beating Tenryu in their first ever match, and the Hell Raisers did a clean job to Hogan & Muta in the semi-main.  And then Muta of course did the job for Hogan a couple of nights later.
– The NOW promotion in Japan is in dire trouble and will be closing their doors after 10/3.  They were yet another splinter group that formed in the wake of SWS folding, using a brawling style of wrestling that largely didn't work.
– And now it's time for the…
– Speaking of obscure concepts that didn't work, director John Milius (of "Conan the Barbarian") is running a PPV from Denver on 11/12, with a bizarre idea of mixing together pro wrestlers, sumo, karate fighters and judo in a one-night tournament with the idea being to cash in on the popularity of martial arts movies.  Apparently Ken Wayne Shamrock from Pancrase will be involved in the show.  Matches will be fought in some kind of "circular pit" with no ropes, and wins coming via knockout or submission.  This oddball idea, for those of you who want to Google it and see if anything came of it, will be called "The Ultimate Fighting Championship."
– Man, if only Dave knew in 1993 how drastically that thing would change his professional life, maybe he would have paid more attention to it.
– Speaking of which, Pancrase debuted in Japan on 9/21 with a sellout of 7000 at Tokyo Bay Hall, with a very "unique" show that featured real winners and only 13 minutes of wrestling total due to a bunch of quick stoppages.  The main event saw Ken Shamrock beat Masakatsu Funaki with a sleeper in 6:15.  Dave notes that fans probably weren't happy about paying $135 for 13 minutes of action.
– In Memphis, they did a clever finish for a Tommy Rich v. Jeff Jarrett cage match, as former referee Paul Neighbors got into the cage to interfere for the controversial finish.  How did he get the key to the cage?  They actually explained it on TV:  When he was a referee, he had a copy of it for use on the road, and when they fired him as referee, they forgot to ask for it back.
– Dave would like us to know that indeed he received a bunch of letters letting him know that Del Wilkes is not in fact the Spellbinder.
– GWF has already lost their TV slot on channel 11 in Dallas, which is all the more humiliating because they were PAYING $5000 a week to air it.  Ratings were not a factor, apparently.
– With "Mr. Nanny" coming out on 10/8, expect to see a whole lot of Hulk Hogan in the media.
– The WWN people are disputing claims that there's disagreement between the factions involved, and also are saying that the Eddie Gilbert split with Tod Gordon was "largely amicable".  Heyman's first ECW show aired this past Tuesday.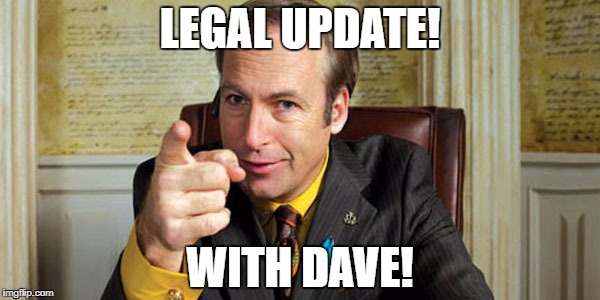 – Steve Keirn incurred the wrath of the WWF legal-talking guys by doing a bunch of indy shows as "Doink II".  So instead he'll be known as "The Evil Clown".  (I feel like that's basically the same thing, no?) 
– Vampire Warrior (Dave Heath) got into a wild altercation with Tyree Pride at an indy show in Miami on 9/24, as they stopped selling for each other during their match and Pride started throwing shoot punches at Warrior to make him sell.  Pride finally just walked out on the match and the timekeeper rang the bell and declared it a draw to save face for Pride.  Later, Heath threw the timekeeper's bags out of the locker room, and Pride came at him with a screwdriver in retaliation, resulting in police coming and detaining both men.
– Lex Luger returned to the WWF for the 9/27 tapings in New Haven, but didn't do anything beyond punching and kicking due to his back problems.  He only got the third-best reaction behind Undertaker and Ramon.
– The Monday Night RAW headlined by Scott Steiner v. Pierre did a 2.1 rating, which is the second-lowest in history.
– Jeff Jarrett is headed in.
– Bret Hart will be taking three months off after Survivor Series, so expect some kind of big angle.
– To WCW, where Fall Brawl ended up doing about 90,000 buys, or a 0.45 buyrate, which is neither good nor bad.
– House show main events have featured Ric Flair beating Rick Rude clean, but they don't make any announcement about the "World" title being on the line, so fans leave pissed off after assuming they saw a title switch.
– The next Disney tapings are 11/11 to 11/14 in Orlando.
– Gabe Sapolsky of Media, PA 19063 is putting out a monthly newsletter called ECW Action Wire for $1.50 per issue.
– And finally, WCW is running the Crystal Chandelier bar in Kennesaw, GA, starting on 9/21 and going every week moving forward as a way to give the training school guys some experience.  Their debut outing drew 42 people.  (Still 7 better than their cancelled Texas Stadium show from a couple of weeks ago!)