And it's the Observer from my 19th birthday! 
Not such a great day for Terry Gordy, sadly.
– In the top story, the wrestling business appears to be recovering somewhat after a solid few weeks at the box office.  The biggest sign of an impending turnaround is that Clash drew a pretty huge rating on 8/18, with a 3.8, which makes it the highest rating for any wrestling show this year.  This in fact saved the Clash as a series, since TBS was on the verge of cancelling it after the disaster that was the Blonds v. Horsemen show.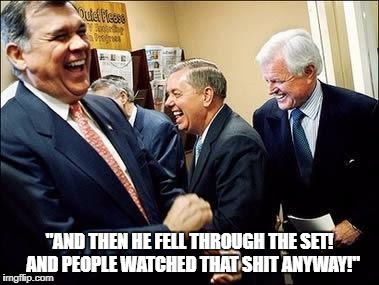 – Meanwhile, the WWF drew their own monster number with a house show in Anaheim, doing 15,000 people with the Bret Hart v. Yokozuna cage match on top.  It was reported by Dave's minions as ****1/2.  (I've seen the matches, they're not.) 
– Smoky Mountain also drew their largest gate in history with "K-Town Showdown" on 8/20, drawing 2780 paying $18,000 with Bob Armstrong v. Jim Cornette in a lumberjack match on top. 
– Meanwhile, USWA did 3567 paying $23826 to see the Yokozuna v. Lex Luger dry run and Jerry Lawler v. referee Paul Neighbors, with Vince McMahon in the heel corner. 
– Unfortunately, Terry Gordy apparently passed out on a plane going to Japan on 8/20.  Gordy was announced as being hospitalized, but no other details were released.  (Well, there would certainly be details later.) 
– In another big story in a series this week, Mean Gene appears to be done with the WWF after 10 years (off again and on again).  He will finish up with the WWF at Summerslam and move to WCW in September, apparently taking over the 900 line at that point.  (Call his hotline for more!)  Bobby Heenan was also trying to escape at the same time, but backed out before any serious negotiations could occur. 
– Back to Memphis, where Vince McMahon got to live out his lifelong fantasy of being a heel at the Mid-South Coliseum on 8/23.  Vince came out with Neighbors, and brought Pat Patterson with him, cutting a big-time anti-Southern promo about how much nicer people in New York are, and how you didn't have to lock the doors in New York like you do in Memphis.  Apparently Vince was AMAZING in the role, which should be a surprise to no one that has met him in real life.  
(Let's GO TO THE YOUTUBES!)
https://youtu.be/pV0fiknn6ws?list=PLED2fOPlTuwdvYw_ioMFYhr6L0XSx4Tz_
– Also on the show, Lex Luger beat Yokozuna in a shitty non-title match where they couldn't get any heat and most of the crowd left before the match.
– And then FMW drew an announced 36,000 fans for their stadium show, although the actual number was closer to 15,000 and a bunch of those were freebies.  In the opener, rookie Masato Tanaka pinned the 60 year old Mr. Chin.  (I have a hard time picturing Tanaka as a rookie.)  Onita beat Mr. Pogo in the explosive barbed wire finale and once again dove on top of his opponent to protect him. 
– New Japan is running expensive shows at Yokohama Arena on 9/23 and then on 9/26 at Osaka Castle Hall, with Hogan & Muta v. Hell Raisers headlining the 9/23 show, plus Tenryu v. Hase for the first time ever on top.  9/26 will have Tenryu v. Fujinami, plus Hogan v. Muto.  Also, Dave has finally learned that Black Tiger is Eddy Guerrero from Mexico.
– Dave notes that although Konnan would have returned from "retirement" at TripleMania by now, the Mexican athletic commission is actually ENFORCING THE STIPS and thus he can't get licensed in the country at the moment.  Dave is pretty sure someone is gonna have to be paid off.
– Meanwhile, Eddy Guerrero & Love Machine are now a rudo tag team, wearing identical USA-themed outfits with do-rags while Eddy does the work and Barr works the crowd like an American heel.  (I feel like that act might have some legs.) 
– Back to the USWA, where the Dog Catchers beat the Moondogs on 8/16 to win the tag titles.  Dave's guess as to their identities:  "One of the Dog Catchers is probably Jeff Sword, but the other probably isn't Doug Vines."  (Well that clears it right up.  Also, it absolutely was Jeff Sword and Doug Vines.)
– Betting line backstage in Memphis is that Vince McMahon ends up working a match against Jerry Lawler when everything shakes down.  (Smart money must not have been in at that point.) 
– Dave's question of the week:  Who are the 70 people who pay for Global tickets every week when there are legitimately 200,000 freebies circulating in the city?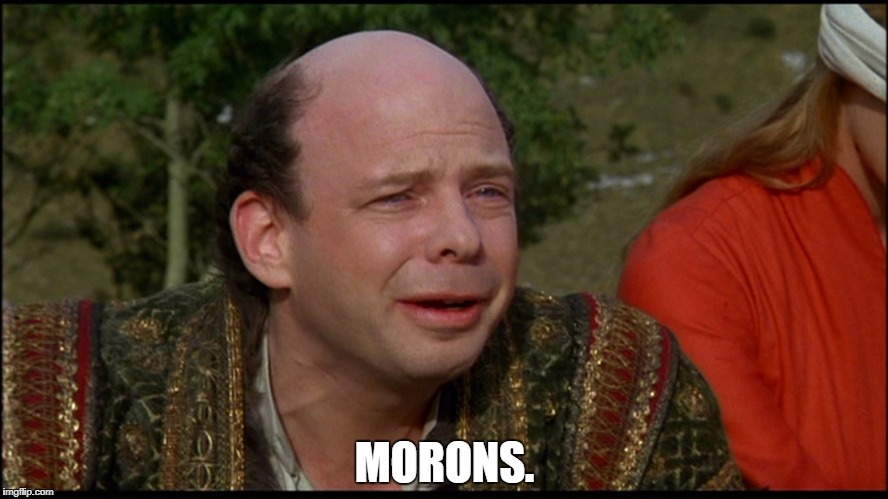 – (Exactly.) 
– More GWF wackiness as Mike Davis returned to do a run-in for a John Hawk v. Scott Putski match, but unfortunately Davis and promoter Grey Pierson neglected to mention that fact to the guys in the match or booker Skandor Akbar.  So Davis stayed under the ring for SIX HOURS and did a run-in, at which point Hawk punched him in the face because he thought it was a fan charging the ring. 
– But wait, there's more!  Also on the show, it's time for…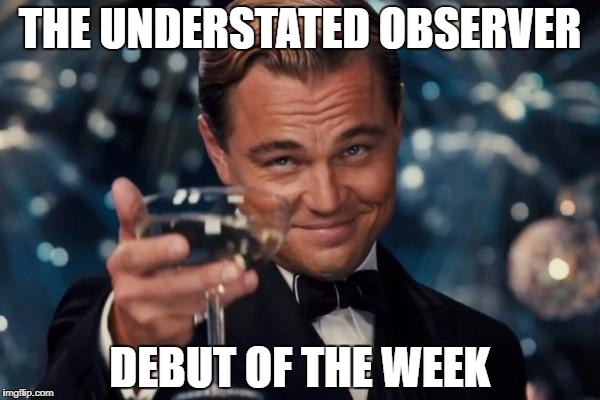 – The highlight of the GWF show was said to be Iceman Parsons v. Action Jackson, which ended when a huge muscular wrestler from the Houston indies named Moadib hit the ring and destroyed Jackson, sending him out in an ambulance.  (And that little boy who nobody liked grew up to be…Ahmed Johnson.  I was wondering when we were gonna get to him, because he and John Hawk have a pretty legendary match later in the year.) 
– Finally, to end the GWF portion of our recap, after Jackson was taken out on said ambulance in the opening match, some late arriving fans got to watch the ambulance drive a block away and Jackson get out and leave with his girlfriend instead.
–  Jake Roberts v. Eddie Gilbert was scheduled as the main event of an indy show on 8/19 in Jersey, but both guys no-showed, and the snake took a s--- in the ring for good measure.  "That's the danger of using animals that haven't been smartened up to the business", notes Dave.  (Dave's snark is ON FLEEK this issue.) 
– ECW is threatening legal action against tape traders who sell copies of their TV show.  (Has anyone told them about Rob Feinstein yet?  Also, Paul Heyman was MUCH less uptight about that aspect once he took over, since that's pretty much what built their business around the country.) 
– To WCW, where Hawk is claiming that he doesn't have a deal with WCW, and only agreed to do the Disney tapings for Ole Anderson.  Animal can't work until 1994 at the earliest, so no Road Warrior reunion is forthcoming. 
– Sadly, the Alamodome stadium show has been called off with only 400 of 45,000 tickets sold, which means that WCW forfeits their $50,000 advance.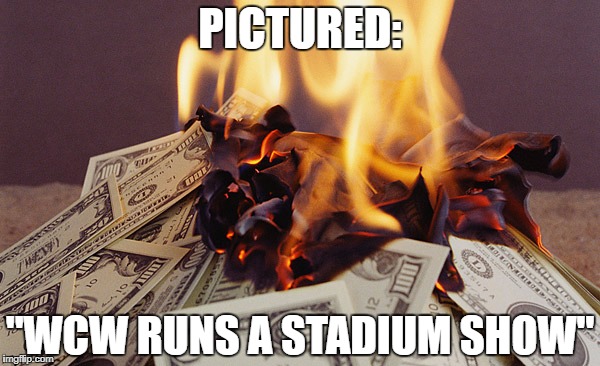 – Steve Keirn supposedly has a $500/night guarantee to work as Skinner. 
– The Mark Madden v. Ole Anderson feud continues, with WCW lawyer Michael Shapiro writing a letter to Madden claiming that Ole's challenge "wasn't given to a specific group and thus wasn't valid."  Madden countered that calling out "rag writers" was a pretty specific group.
– Rick Rude and Dustin Rhodes had 2/3 falls matches to settle the held-up US title situation on the weekend, but they ended with double DQ finishes, so the title is still held up.  (They took f------ FOREVER to end that stupid storyline and no one cared in the least when they finally put it on Rhodes for good.) 
– 1994 will apparently see all TV tapings moved to Orlando with massive bi-monthly tapings.
– Barry Windham was linked with Pam Seals, who was the other woman in the Burt Reynolds-Loni Anderson breakup, in the latest issue of the Star.  (And it turned out that his motivation went to s--- completely afterwards since he was a kept man.) 
– Moving to the WWF, Dave thinks that Summerslam looks like the strongest WWF PPV in a long time.  (I mean, it was certainly the best WWF PPV of 1993 by default, but that's not saying a lot.) 
– And finally, Jim Herd was deposed by the Grand Jury investigating Vince McMahon, largely asking questions about the Tully Blanchard situation in 1989 when Herd pulled Tully's contract offer due to not wanting to associate with someone who just failed a cocaine test.  They were hoping for some kind of link between Herd and Vince to dig into, but nothing was forthcoming from the interviews.  Apparently whatever is going to happen with this Vince thing is going to happen soon, like October.