Hey y'all, I'm testing a new version of the Disqus plugin to hopefully head off some of the complaints about freezing and glitching and such. 
Previously on the Flashback… https://blogofdoom.com/index.php/2017/08/07/wrestling-observer-flashback-08-16-93/
It's the SHOCKMASTER issue.
But first, Dave attends a Smoky Mountain Wrestling fan convention.
– Dave has an overview of SMW to start, talking about how much it's improved since they debuted in 1992, using a talent budget that in total doesn't even approach the contract of one WCW top star.  Dave actually gets a very prescient line here about WCW:  "Any traditional analysis of this company looks worse than bleak, but it, too, can't be judged by traditional wrestling standards. As long as TBS wishes to support the company, it can ride out any financial storm" 
– The positives for SMW:  Nobody else has such a high percentage of good workers, the TV is good despite no budget, interviews are great, house show quality is great, and the ring is built to have BIG noise whenever guys bump, which is a great idea.  On the bad side, Cornette books too many angles during the TV tapings, and there's more groin shots per capita than any other wrestling promotion Dave's ever seen.  (Obviously ECW had not yet come into prominence.) 
– Lex Luger will be having a trial run match with Yokozuna on 8/23 in Memphis during a USWA show, so they have a week to practice and work things out before Summerslam.  The WWF actually has really good momentum at the moment, with a big rating for the 8/9 RAW, plus Bret v. Yokozuna at MSG drawing 13,000 for a cage match, but Dave isn't sure if they maintain this.  (Nope.  That MSG show was a big favorite among tape traders, by the way, with some people giving it a very inflated ***** rating.) 
– Dave doesn't have much to say about the Clash on 8/18.  The show drew 2400 paid to Daytona Beach, but there were 9000 in the building because lots of people actually wanted to use the free tickets floating around.  Most of the matches were short due to time constraints, so nothing dragged.  Dave actually thinks that the SHOCKMASTER was enough to make the show a thumbs down.  (He kind of undersells the whole deal, which ended up being the biggest blooper in wrestling history.  I mean, yes, he points out that it's the biggest blooper in recent history, but this was a moment that turned Fred Ottman into the punchline for a GENERATION of wrestling fans!) 
– Hawk showing up was actually a big surprise, because the deal had fallen through the week before, which is why Animal was there.  Animal is actually unable to work until February due to the insurance deal, but supposedly the team will reunite at that point, to the shock of many.
1. Arn Anderson & Paul Roma defeated the Hollywood Blonds to win the WCW tag titles in 9:52, with Steven Regal taking the place of Brian Pillman.  ***
2. Too Cold Scorpio pinned Bobby Eaton in 5:26 with the Scorpio Splash.  Very good, but the finish was weak because Eaton had to lay there forever off one kick.  **1/2
3. Johnny B. Badd pinned Maxx Payne in 2:41 after a missed splash.  Too short to amount to anything.  1/2*
4. Rick Steamboat pinned Paul Orndorff to win the TV title in 8:31.  Sluggish to start, but it built to a good finish, with Steamboat getting the pin with a small package.  ***
5. Ric Flair & Sting beat the Kongs in 2:14 when Sting pinned Awesome with a splash off the top.  Total squash.  *
6. Dustin Rhodes & Hawk beat Rick Rude & Equalizer in 7:41 when Rhodes pinned Equalizer.  The tease of the Road Warriors reuniting popped the crowd, but Equalizer was to terrible that he killed the match.  1/2* 
7.  Big Van Vader pinned Davey Boy Smith to retain the WCW title in 11:11.  Vader saved the show again, taking big bumps and doing big moves.  It was a very good match, ending with Race tripping Davey Boy to give Vader the win.  ***1/2 
– Moving on to Mexico, where Eddy Guerrero is going a "pro-USA" gimmick in AAA, which makes him a heel.  (The pieces are starting to fall into place!) 
– Billy Black lost his job with All Japan for unexplained reasons, so Tracy Smothers will become Joel Deaton's regular partner in the lower-midcard role.  (Billy Black was a weird case, as he seemingly had a position in Japan sewn up for the long-term, did something to screw it up, and then disappeared from the business for good.) 
– Ted Dibiase returns to All Japan on 9/3 for their show at Budokan Hall, where he and Stan Hansen will likely win the tag titles from Taue & Kawada in their first match together again.  (Yup, and then he held it for three months before getting forced into retirement and vacating it.) 
– All Japan Women return to Budokan on 8/25, but arena officials imposed a curfew on the show of 10pm, because the last show there ran until 12:30pm and the trains only run until midnight, which meant 16,000 people were stranded an hour away from Tokyo.  This time the show will start at 5:00pm to accommodate the usual 5 hour runtime, which means everyone will start be at work when the show starts. 
– And now, it's time for your Japan Splinter Promotion of the week!  This time, with Universal going out of business after their 8/14 show, the promoter announced that yet another promotion would replace them, called Federation of Universal Lucha Libre or FULL for short, starting in December.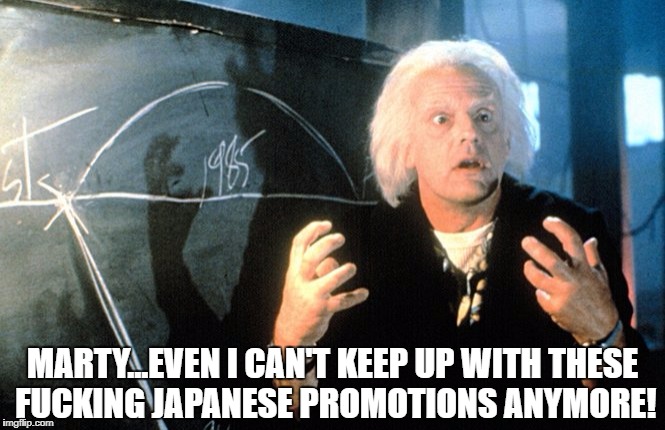 – USWA saw the debut of Super Mario, who Dave was told "is the all-time worst".  (I quickly looked him up to verify this, but it appears he's nobody.) 
– Jerry Lawler v. Mr. Perfect actually drew a big house on 8/9, which was then beat by $1000 on 8/16 by Bret & Owen Hart v. Jeff Jarrett & Jerry Lawler.  (THAT sounds like a hell of a match!) 
–  An indy wrestler named Mustafa Ali debuted on 8/16 in Memphis as well.  (I'm assuming that's the guy who hooks up with New Jack as Mustafa Said in the Gangstas.) 
– Vince himself taped an interview for the Memphis market while they were doing TV in Lowell, MA, where he promised to show up for the 8/23 Memphis show where the Luger v. Yoko dry run is taking place.  He'll be getting involved in the Lawler v. Bret feud down there somehow.  (Oh, he'd be involved all right…we'll get there soon!) 
– The Oregon state legislature actually passed a bill keeping the commission alive, with taxes on WWF and WCW events in the state funding their "regulation" of local shows.  (Hey, wrestling, government, it's all a con.) 
– To the WWF, where Survivor Series will be headlined by an All-American team of Lex Luger's guy against a foreign menace team led by Yokozuna.
– Rio Lord of the Jungle got a tryout on 8/18 and did a job for Brooklyn Brawler.  (Perhaps if they would have tried dressing him up like Ultimate Warrior he would have gotten over better?) 
– Diesel is getting put over big in the six-man elimination tags around the horn.
– The Texas Hangmen will be getting a WWF tryout soon.
–  WCW is pushing their "Great American Bash" Alamo Dome show pretty heavily in the local market, with Hector Guerrero coming in for the show and Sid Vicious doing heavy racial interviews against the Hispanic market.  (And yet the show was still canned at the last minute, go figure.) 
– Expect Terry Taylor to be introduced as the fourth Horsemen soon.  (Or they could just quietly break up the group and forget about them for two years.) 
– And finally, when the Erik Watts heel turn aired on TV, it turned out that Erik actually forgot to kick his partner's foot off the ropes while he was being pinned, so announcers Tony & Jesse were put in the embarrassing position of having to sell a storyline that didn't exist.  (Because WCW!)