Previously on the Flashback… https://blogofdoom.com/index.php/2017/08/03/wrestling-observer-flashback-08-09-93/
OK, we're back on track after doubling back to the 08/02 issue.  And this week, New Japan gets ambitious!
– In a first for the company, NJPW ran seven straight major shows in Sumo Hall, trying for a record-breaking seven straight sellouts of the 11,000 seat arena.  Unfortunately that proved not to be the case, but they did sell out 4 out of 7 shows for a total of 71,000 tickets sold over the course of the week.  They considered the show a success and will try it again in 1994.  (WWE pulled off a similar attempt with the Brooklyn Summerslam tour, selling out for NXT Takeover, then Summerslam, RAW and Smackdown on successive nights.) 
– The main event of the tour was Tatsumi Fujinami winning the G1 Tournament, beating Hiroshi Hase in the finals on 8/7.  Fujinami actually beat IWGP champion Muto in the semi-finals in something of an upset.  The tournament was considered a letdown overall compared to the previous two years, with a weak lineup due to injuries and political stuff. 
– The three primary focus points for the seven night tour were the G1 Tournament, seven matches in seven nights for Tiger Mask, and STOP THE HELL RAISERS.  Finally, on 8/7, the Jurassic Powers accomplished the last goal, with Norton pinning Hawk with a powerslam to capture the IWGP tag titles, which was Hawk's first pinfall loss in Japan in nine years. 
– Correction from last week:  Chris Benoit will be known as "Wild Pegasus" with the new mask, not "The White Kid".  Although after introducing his new identity, he immediately removed the mask and wrestled as Chris Benoit, which everyone knew anyway, so Dave is like "Whatever." 
– Also showing up was the new rival of Tiger Mask, called Black Tiger.  The original one was Mark "Rollerball" Rocco of England, but Dave does not know the identity of this new Black Tiger, unfortunately.  He made an immediate impact, as Jushin Liger pinned Chris Benoit to defend his IWGP title and then this mysterious "Black Tiger" hit the ring and destroyed Liger in an American-style angle, with Tiger and Benoit leaving him laid out and unmasked.   (Hopefully we learn the person under the mask of Black Tiger someday!)   
– On the opposite end of the spectrum, Verne Gagne very publically filed for bankruptcy thanks to a $2 million real estate debt.  Verne had fallen eight months behind in rent for his Minneapolis Boxing & Wrestling Club and had $2 million in lawsuits against him as a result, which forced him to file for protection against the debt.  Although this isn't the same thing as not having any money, Verne's only significant asset is his house, which is worth $300,000.  (Christ, housing prices have sure shot up since 1993, clearly!  A quick Google shows that amount of money would equal $500,000 today with inflation, which still seems low for someone of Gagne's stature.) 
– Carlos Colon had what was advertised as his "retirement" match on 8/8, although Dave appears to be skeptical.  He actually retired as the Universal champion, with a tournament on the same night ending with Greg Valentine beating Invader #1 to win the belt. 
– WCW's first problem due to the Disney tapings popped up when Hawk pulled out of his deal to be Dustin Rhodes' mystery partner at the Clash on 8/18 and work the Wargames match at the PPV as well.  Given that the mystery partner angle has been the focal point of the whole storyline, they're going to do a desperation negotiation with Hawk to try to save the Clash appearance, but he's definitely not working the PPV due to Japan commitments, so they'll need to find someone else.  And luckily, Dave already knows the answer:  Fred "Typhoon" Ottman, who will be using another name.  Some people, CRAZY people, have questioned the wisdom of advertising and scripting appearances by Hawk months in advance when he HASN'T EVEN SIGNED A DEAL.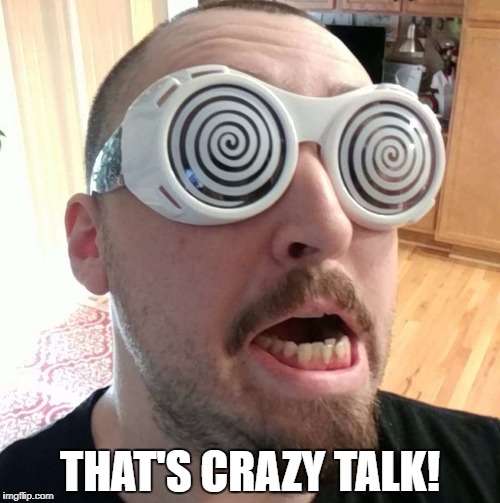 – I know, right?  Anyway, I'm sure this Fred Ottman thing will work out just fine for them.
– Back to Japan, where Antonio Inoki has suddenly developed a leg injury that will prevent him from wrestling yet another comeback tour, which by a staggering coincidence will keep him out of the spotlight until his ugly political troubles blow over.
– NJPW prelim guy Osamu Nishimura is moving to the US for a while to tour various promotions, and "gain 45 pounds before he returns."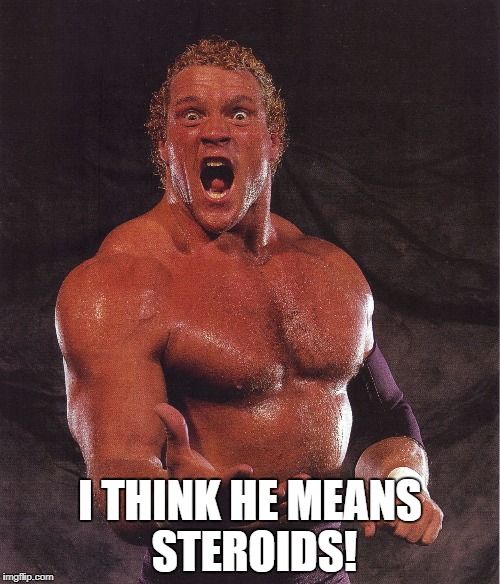 [
(Nishimura was actually quite successful on his tour, becoming the final Global North American champion, and turned into a hell of a wrestler when he returned to Japan.) 
– More information on the wacky New Japan dinner show, which will feature a four-match card (Satoshi Kojima vs. Shinjiro Otani, Yuji Nagata vs. Manabu Nakanishi, Jushin Liger & Keiji Muto vs. El Samurai & Hiroshi Hase and Masa Chono & Shinya Hashimoto vs. Akira Nogami & Takayuki Iizuka) and an open bar, plus a "wedding attire exhibition" by All Japan Women wrestlers Takako Inoue and Manami Toyota.  Tickets are 45,000 yen, which translates to $429, aka the most expensive wrestling tickets in history.  (Clearly Wrestlemania had not become the thing it is today, because $429 barely gets you a nosebleed seat at this point.) 
– Jim Cornette easily earns Burn of the Week on SMW TV, running down Bob Armstrong with the Armstrong Family Tree.  Bob's relatives included Benedict Armstrong and General George Custer Armstrong.  Bob's father was the first member of the family to hold a job (a shoe salesman) and they named a shoe after him (black loafers).  Bob's mother was allegedly "in more men's laps than a napkin", and Bob's daughter was voted "Most Likely to Conceive" in high school.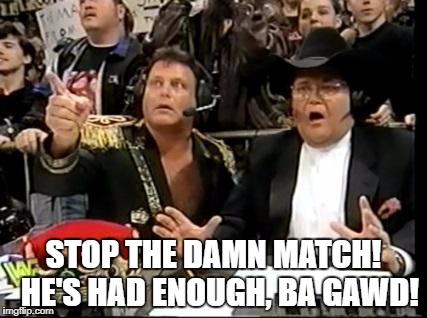 – Jake Roberts showed up for Big D in Dallas this week, drawing the biggest paid crowd in the history of the promotion on 8/8:  361 people!  He beat Gary Young in the main event by countout. 
– The Chris Adams v. Iceman Parsons feud in GWF continues to burn up the ticket windows, with Parsons supposedly living with Toni Adams and stealing Chris Adams Jr. and naming him "Leroy Adams" now.  They're up to 81 paid for the latest show with this cutting-edge racial drama, but sadly Toni Adams is permanently leaving for the classier pastures of Memphis, where she's shacking up in storyline with Brian Christopher and actually drawing crowds as a result.
– The ECW TV tapings on 8/7 and 8/8 drew the biggest response of the week with WWF and WCW being silent, as Stan Hansen and Tito Santana debuted as babyfaces (with Tito winning the ECW title) and Shane Douglas debuting as a heel lackey for Eddie Gilbert.  Most impressive workers were said to be the Headhunters from W*ING. 
– Tod Gordon is attempting to get NWA membership for ECW, which is going to become a major fight when we get to the NWA convention on 9/3. 
– WCW taped at Center Stage and once again had to confiscate a bunch of Tex Slazenger signs from smart-ass fans.  They also brought in literal models to act like front row fans for the cameras, plus some well-dressed people in suits, because "those in charge don't like the idea of the show airing with so many black children's faces on camera".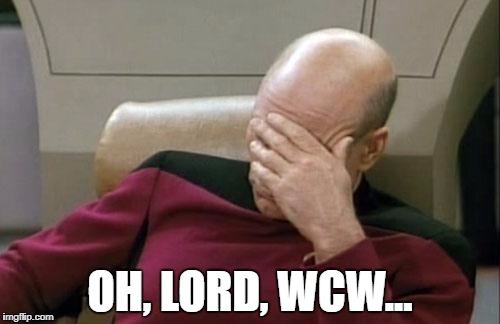 – Oh hey, another potential disaster via the Disney tapings, as Brian Pillman blew out his ankle during a squash win for the Blonds, and will be unable to work the Clash.  You know, where the Blonds are dropping the tag titles to Roma & Anderson because months of TV has already been taped?  They actually taped footage with the Blonds still holding the tag titles for shows that air after the Clash, but that's just WCW being tricky.
– Ole Anderson continues to make friends, as Mark Madden actually called his bluff about the "$10,000 challenge" on the WCW hotline and asked WCW's head offices for the money in exchange for setting up the "match", and Ole went back on the hotline, called Madden "fatter than Haystacks Calhoun" and said the whole thing was actually just meant in fun. 
– The first tapes from Disney aired on 8/7's WCW Saturday Night, and Dave was unimpressed.  Although it looked good visually, like better than RAW's production values, it was downright embarrassing to see the crowd cheering for Rick Rude's entrance and watch the production guy actually signal "thumbs down" and have everyone boo him as a result.  The crowd was enthusiastic, but they were equally enthused about armdrags and finishing holds, so really it's all a wash in the end.
– Hulk Hogan ended his WWF career on 8/6 in Sheffield, England, beating Yokozuna by DQ in the title match in a horrible match. 
– Lex Luger has been drawing good crowds to his public appearances, but he's been 45 minutes late to most of them due to bad scheduling.  Luger's been doing a lot of anti-steroid interviews with the press, emphasizing the comprehensive WWF testing.  Dave basically shoots all his claims down right after.
– Joey Marella might not be fired after all.
– Titan is in heavy cost-cutting mode again and wants everyone to move to the Northeast to save travel costs, since RAW is generally taped up there.
– Randy Savage is not taking a booking position, as previously reported, and Pat Patterson is not retiring from that position, either.  Savage did move to Connecticut, however, as "an example" to the boys about cutting travel expenses.
– And finally…eh, I've got nothing this time around. 
Enjoy your holiday Monday, Canadians!