Ok, this isn't another "pick on Jinder" thing but yeah, it kinda is. My biggest issue with Mahal now is that he's literally the least interesting/exciting thing on the show he's the champion of. Cena came back, AJ won the US title at a house show, Nakamura is there, Corbin is Mr. MITB, Rusev just returned, plus you have New Day/Usos in a hot tag feud, the women's MITB created controversy, and Breezango stealing the show with the Fashion Files sketches. It doesn't help that he's feuding with "Bore-ton".
He can talk about India but no needles are moving here for him. What do you think the endgame is here; jobs to Cena at SummerSlam, or holds it god forbid to Survivor Series/Rumble? And who do you think takes it from him if not Cena?

​Honestly, I think they know at this point that the needle isn't moving and the Jinder thing isn't working. I'm pretty sure Orton's getting it back in the Punjabi Prison, but if not then we're probably in for the long haul with Jinder. I don't there's an "endgame", either, they're just gonna try this until it either works or fails horribly. Plus, on the bright side, they've got Corbin's briefcase in their back pocket, so if Vince wakes up one Tuesday and he's like…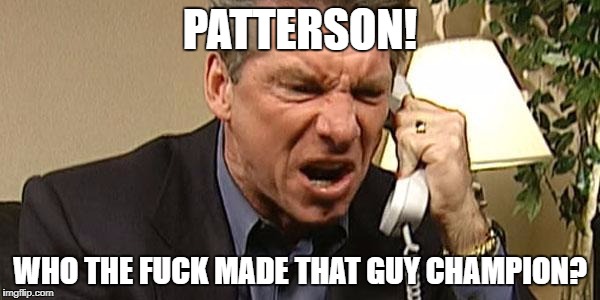 ​
​…then they can instantly do a title change and get it on someone with much meatier thighs.​