Hope everyone had a great Canada Day and stopped on Saturday to remember all the things you love about Canada and Canadians in general.  Hope you're also looking forward to celebrating the fourth of July and remember who your President is.
For those wondering, I'm doing this while multitasking with the New Japan US title tournament show in another window, so yes, I'm watching it mostly, but I'm not doing a rant. 
Previously on the Flashback, like six weeks ago… https://blogofdoom.com/index.php/2017/06/27/wrestling-observer-flashback-05-10-93/
Oh, that wacky Onita!
– In the top story of the week, Atsushi Onita and Terry Funk literally BLEW UP THE RING in the main event of the FMW stadium show on 5/5, as the promotion has probably set a standard for craziness that it's going to be hard to top.  The show was a packed 41,000 person house paying $1.8 million, which is crazy successful. 
– On the bright side, no one was hurt.  Well, no one was hurt badly.  Regardless, this one is going to cement Onita's place in wrestling history as one of the top drawing cards of all time.  In fact, the show's ticket sales had been weak leading up to 5/5, but Onita did tons of mainstream appearances and press and they drew incredible walkup business on the day of the show as a result. 
– The show was a complete one-match affair, with a ring surrounded by barbed wire and minor explosions every time the wrestlers touched it.  After 15:00, the ring would blow up, but Onita pinned Funk with a DDT in 12:14.  But then, with Funk unconscious in the ring and the explosion about to go off, Onita returned and dove onto Funk to protect him from the explosion as it went off. 
– Meanwhile, Vader debuted for the UWFI on 5/6 at Budokan Hall, squashing Tatsuo Nakano in 3:35.  He was introduced as "Super Vader" and wore the WCW World title to the ring, which really didn't help UWFI's case against New Japan. 
– Meanwhile, in SMW, they had their first ***** match, with "Rage in the Cage", pitting the Rock N Roll Express & Robert Fuller & Jimmy Golden & Brian Lee against Tazmaniac & Stan Lane & Tom Prichard & Kevin Sullivan & Killer Kyle.  It was essentially a WarGames match, but with guys getting handcuffed to the cage to eliminate them.  Unfortunately, the post-match angle with the 6-on-1 heel beatdown of Bob Armstrong proved to be too effective, as Bob legit ended up in the hospital due to a stray shot from the heels. 
– Jim Cornette is also promising a new mystery heel tag team soon.  (That would be the Heavenly Bodies 2.0) 
– The GWF (not to be confused with hot new promotion GFW from Jeff Jarrett) returned to ESPN as a temporary fill-in until David McLane's Roller Hockey takes over the timeslot, and the production was so amazing that at one point there was a graphic on the screen that said "Coming up next: CALVIN KNAPP vs. JOBBER".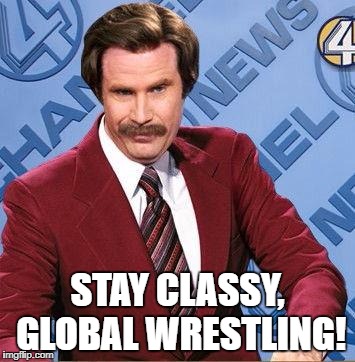 – Hulk Hogan did an English version of his interview for New Japan last week, and this time he definitely called the WWF World title a "stepping stone to the IWGP title", no translation needed.  Dave:  "It's really hard to figure out what's going on here other than something is going on."  (Now there's an understatement.) 
– Crazy times for All Japan Women, as they did their usual 2200 sellout of Korakuen for the latest show, but the amazing thing is that they brought 200 copies of Dream Slam I on VHS and sold them at $180 a piece.  They were all gone INSTANTLY, grossing $36,000 in the process. 
– Despite weak business in Memphis, Papa Shango won the USWA title from Jerry Lawler, no-selling the fireball and then using his magic stick to spray sparks in Lawler's eyes for the win.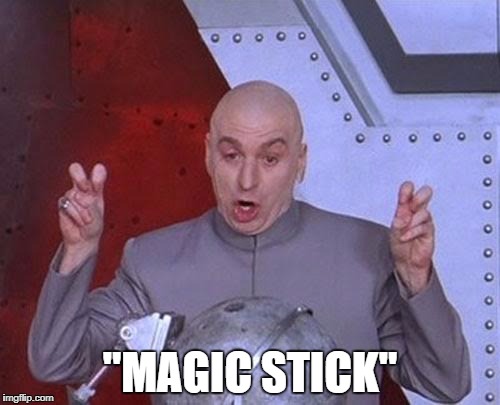 – Meanwhile, Scotty Flamingo did a mid-show character change in Memphis, coming out in a polo outfit and revealing that his "real name" is Johnny Polo of the California Polos.  The announcers still called him Scotty Flamingo regardless.
– Tammy Fytch still can't find someone to manage in SMW, with Dixie Dynamite turning her down because he'd have to "give up the silly Southern stuff".  Meanwhile, in unrelated news, Chris Candido debuted on TV as himself, claiming to be WWA heavyweight champion.
– A new group called International Wrestling Alliance ran the Cowtown Coliseum in Fort Worth, drawing 300 fans, all freebies.  The main event saw Mil Mascaras pin Black Bart, the top heel in the area, in a complete squash.  "Perhaps this explains why Mil is one of the most beloved legends in the sport by the wrestlers both in his native land, and those who have had the "pleasure" of working with him in the U.S.", Dave notes.
– ECW out of Philly has added Eddie Gilbert as the booker, and he has moved to the city as well.
– To WCW, where the original main event of Beach Blast on 7/11 was scheduled to be Sting & Ultimate Warrior v. Sid & Vader, but negotiations with Warrior fell through and it'll be Bulldog taking his place instead.
– Robert Fuller was brought in as the request of Sid, and Sid also wants the Ebony Experience from Dallas brought in.  (Now that's a winding career path for Booker T that you don't often hear!) 
– A new record for WCW, with the recent house show swing hitting new lows, like 300 people for an "A" level show.  (Never let it be said that WCW couldn't find a lower level than rock bottom.) 
– More praise from Dave for the Hollywood Blondes, who are the "best tag team in the world" when it comes to both work and personality, and Steve Austin in particular is tremendously improved.
– Dave is completely unsurprised that they would stumble into something great like the Cactus Jack angle, which had legit buzz around it and seemed poised to make Jack into a superstar, and then completely drop it with no follow-up. 
– To the WWF, where Johnny Polo showed up as the newest manager, with his man "Atom Bomb". 
– Also getting tryouts were the Tazmaniac and the Harlem Knights, and the Knights were pushed as a babyface rapper team and were treated like they were already hired.
– Friar Ferguson has been scrapped but Mike Shaw will be recycled into a new gimmick. 
– The Nasty Boys are on some kind of mysterious suspension but they'll be back.  (Spoiler:  They wouldn't.) 
– Hulk Hogan's house show schedule for June has suddenly been cut in half, now reduced to 6 shows.
– And finally, The Lightning Kid did another job on RAW on 5/10, this time to Mr. Hughes as "The Cannonball Kid".  (Not looking promising for young Sean Waltman!)