Previously on the Flashback… https://blogofdoom.com/index.php/2017/06/21/wrestling-observer-flashback-04-26-93/
Congratulations to our own Brian Bayless!  Hopefully he's not the one who hijacked the blog last night, in an effort to pay for the baby's delivery bills.  DAMN YOU TRUMP, LOOK WHAT YOU'VE DRIVEN THIS POOR MAN TO DO!
– In the top story, AAA has a good chance of drawing the biggest crowd in North America since WM6, with their "Triple Mania" show on 4/30 in Mexico City.  They're expecting 50,000 paid, which is pretty crazy for a promotion that's only a year old.  Dave goes into a brief history of the promotion here and how the new breed of Mexican wrestlers like Konnan, Rey Mysterio, Psicosis, and La Parka are revolutionizing the business in Mexico, contributing to the rise of the promotion even against the combined efforts of EMLL and UWA. 
– As well, the weekly AAA show from the 10,000 seat Juan de la Barrera Gym features state of the art TV production values, with elaborate entrances for the wrestlers and crossover celebrity appearances from actors and models, giving the show a mainstream cool factor kind of like what Vince Jr. did with the WWF during the initial expansion stage in 1984. 
– Dave does note that the main event of Triple Mania is a "loser must retire" match between Konnan and Cien Caras, where the loser almost certainly will not retire, so that might affect their reputation moving forward.  However, talk is that there's going to be an angle coming off the main event that will necessitate running a followup show at the 130,000 seat Azteca Stadium months later.  Dave isn't sure if the angle is going to happen due to problems with it, however.  (Sounds juicy, now I'm kind of curious what it was supposed to be, since they certainly didn't run a 100,000 seat stadium that I'm aware of.) 
– FMW previewed the Onita v. Funk explosive barbed wire death match upcoming on the 5/5 stadium show, bringing reporters to Kawasaki Baseball Stadium to test the explosions, resulting in magazines getting shots like looked "war photos" according to Dave.  Apparently it's the most powerful explosives ever used for this type of match.  Ticket sales are not going that great, unfortunately. 
– WCW managed to accidentally produce their best angle in years on the 4/24 Saturday Night show, with the brutal rematch of the 4/17 Cactus Jack v. Vader match that headlined the show.  Jack shouldn't even have been working the show, but that's Foley for ya.  The memorable finish saw Harley Race pull up the mats on the floor, allowing Vader to powerbomb him on the concrete with a sickening thud to the back of his head.  The idea was supposed to be for Jack to take four months off and heal up his various injuries, but he was rushed to the hospital with apparent lack of feeling in his extremities and now the whole thing appears to be a career-threatening shoot.  At the very least he suffered a second concussion on top of the first one two weeks earlier, but there were no broken bones.  (RSPW was FREAKING THE F--- OUT about this at the time, with one person even calling his house to make sure he was alive and that it wasn't a legit career-ending injury.) 
– Ironically, they have been now handed a main event for their Slamboree PPV that they can't and won't use, instead going with the much duller Vader v. British Bulldog match that no one cares about.  Advance sales for the show are really shitty, with only about 400 tickets sold thus far in Atlanta, even with all the legends and such announced. 
– Stan Hansen pinned Mitsuharu Misawa to win the Champion's Carnival tournament and set up a title match on 5/21, to which Dave is like…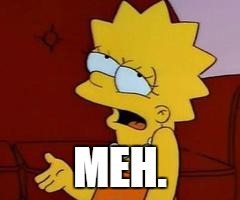 – It's really just more of the same from All Japan, although the matches are still great. 
– At this point Dave goes on a rant about how the dangerous gimmick matches are getting so extreme that business is going down a dangerous road.  In particular, guys like Cactus Jack killing himself to get over and the game of "can you top this?" in AAA with all the dives might lead to younger guys setting impossible standards for themselves and getting seriously injured a young age. FMW already had a "ring of fire" match where they nearly burned down the arena.  "And what are the ramifications going to be before somebody tries to go one gimmick too far and goes over the edge in an attempt to draw money?"  (Wow, quite the choice of words there!) 
– Vampiro is suddenly getting booed out of the building in Mexico City, so EMLL isn't even booking him at the moment until things settle down.  (Or, if you're Vince McMahon, you put him on TV every week and pretend people are cheering for him.) 
– Chris Jericho from Calgary debuted for EMLL as Corazon de Leon, which translates to "Lion Hearted".  He looked great.
– Giant Baba announced that longtime rivals Akira Taue & Toshiaki Kawada will be forming a tag team, which is pretty much an admission that, yeah, Jumbo Tsuruta is probably done and Taue will be taking his place. (That Kawada & Taue team worked out pretty well, though.)   
– New Japan had a one night shoot arm wrestling tournament at Korakuen Hall, won by Riki Choshu in the finals over Kensuke Sasaki.  Young Hiroyoshi Yamamoto (Tenzan) took third place, which is impressive for someone so tall and skinny.
– New Japan is threatening to sue UWFI over using Vader, since they claim he's still under contract to them.  Although UWFI is using the name Vader, they won't be using the costume due to other legal threats from New Japan.
– All Japan was negotiating to run the Tokyo Dome this year, but they'd need 30,000 people just to break even, so it's not worth the risk.
– To the USWA, with another quality burn from Jerry Lawler on Sherri Martel:  "She's so ugly she couldn't even get a date for her tombstone".  (Less funny now of course.) 
– The Harlem Knights abruptly quit Memphis, although Dave isn't sure what the reason is exactly.  (Oh, we'd find out soon enough, god help us all.) 
– USWA is bringing in some smaller teams to work with PG-13, so expect them to get a bigger push now.
– Stan Lane missed a bunch of SMW house shows, so Jim Cornette took his place as a member of the Heavenly Bodies.  Dave feels like that's false advertising.
– In a totally unrelated note, Jimmy Backlund from Florida is coming into SMW soon.
– Congratulations to the GWF, who ran their first TV taping in months.  They don't actually have a TV deal announced yet or a station to air it on, though.
– Mike Davis had fire thrown in his face by Akbar at the show last week and did the TV taping with makeup to simulate a burn, but Black Bart forgot about the gimmick and threw a drink in his face as a part of an angle, causing the makeup to wash off.  Oops.
– Jim Hellwig, now wrestling as "The Warrior", did some shows in Germany for promoter Bob Ury and drew 8000 people in Munich for a main event against Hercules. 
– Paul E. Dangerously is talking about running a new promotion with Jim Hudson out of Austin, TX, looking to tape TV shows for the new "High Density" TV technology that's currently being experimented with in Japan.  (We'll get into this later, but this was actually Paul and Jim Crockett working together as the World Wrestling Network later on, and indeed they were going to be the first promotion ever to shoot in HD, 15 years before WWE made the switch!  In fact, there weren't even any TVs on the market that could accept an HD signal until many years later, but if they managed to get that production up and running, WWE could put it on the Network today and it would be MIND-BLOWING to watch.) 
– To WCW, where Eric Bischoff has started hiring scriptwriters for TV, so expect more cute puns and less "I hate your guts" type of interviews.  (Oh, how sadly right that Dave would prove to be.) 
– Sid hasn't officially signed yet but is definitely coming soon.
– They're also talking about bringing Warrior in to work PPV, but no idea if that's going anywhere.
– Greg Gagne did a deal on World Wide where he announced that "the computer" will pick title matches during sweeps period.  In the first one, the computer has apparently selected Kensuke Sasaki as the #1 contender to Dustin Rhodes' US title.  Dave notes that even given the "broad latitude" of wrestling generally making no sense, this makes no sense.
– A team called Dos Hombres are working the TV tapings this week.  Dave is pretty sure it's just Steamboat & Douglas under masks.
– World Wide is apparently going to be taped weekly at the MGM-Disney Studios in Orlando.  (That's a newsbite that ended up biting them in the ass all over the place by the end of the year.) 
– The Time-Warner buyout of TBS appears to be a dead issue.
– Kevin Nash did an interview with a paper from his hometown, and said that WCW started testing for steroids last year.  Dave thinks that's news to everyone else in the company.
– Ron & Don Harris failed their WWF tryout and WCW no longer has interest due to them walking out on their tryout there, so they're kind of screwed now.
– Lightning Kid passed his tryout and got a contract, but debuts against Doink on RAW by getting completely squashed with no offense.  Dave says don't worry, he's getting pushed.
– The Smoking Gunns also debuted.
– Jim Ross is seemingly gaining huge influence already.  Everyone thought Vince would change JR's announcing style, but it's seemingly the opposite effect, with Vince talking up the Steiners' college background.  Also, the King of the Ring tournament qualifiers on TV is completely Jim's baby.  Also, there's one upcoming angle that "has Ross' fingerprints all over it."  (Maybe even one, two, three angles?) 
– Mr. Hughes is doing the deal where all the managers are fighting over him, which usually leads to a new manager getting the contract.  (Nope.  The payoff was somehow even lamer.) 
– Bobby Heenan has permanently replaced Rob Bartlett on RAW. 
– And finally, Observer reader Paul Sosnowski was the featured guy on RAW on 4/26, asking his girlfriend to marry him in a bit that ran through the entire show.  Dave is just relieved she said yes.  Paul set up the deal through Bruce Prichard, and got to meet Vince McMahon as a part of it.  Paul's reaction to meeting him:  "He wasn't anything like a expected, but that's what I expected."  Dave thinks that quote will be attributed to Yogi Berra a few years from now.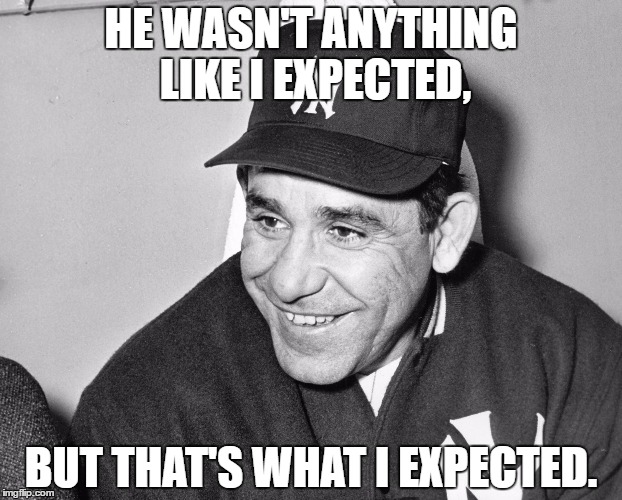 – There we go, now Yogi can get the credit he deserves.