Wow, 16-1, huh?  Real original.  Maybe if they'd gone 16-0 I'd be impressed.
Don't forget to check out my new column at the Sporting News, which is once again one of the most read articles on the entire SITE:
http://www.sportingnews.com/wwe/news/ric-flair-jerry-lawler-wcw-awa-dusty-rhodes-wwf-championship-belts-angles/11bdxqfafxoit1vxub9gip0mm5
OK, so last week Hulk Hogan won the World title at Wrestlemania 9.  Again. Dave thought that for short-term business, it might have been the best move.
And then the buyrate came in.
But first, more fallout from the Kerry Von Erich suicide…
– The New York Daily News did a 5 page feature on the Von Erich family, called "An American Tragedy", although the quotes given by Fritz and Kevin for the story have to be taken with several grains of salt.  Overall Dave thought it was shoddily researched and read more like another chapter in their endless mythology.
– Yeah, you tell 'em, Bart.
– Unfortunately the article's research seemed to be mostly focused on talking to the surviving Von Erichs, giving us gems like Kevin's collapse in the ring in 1987 now being from "getting his head run into the ringpost" as opposed to Brian Adidas using the "oriental tool punch" on him.  And of course neither of these kayfabe explanations is the real one.  And the article still clings to the "intestinal issues" being the reason for David's death.  Also it perpetuates the ridiculous myth of Kerry Von Erich being an Olympic level discus thrower who only was robbed of his dream by Jimmy Carter pulling the US out of the games in 1980.  Kerry was nowhere near that level in reality.  In fact, the mythology comes from a wrestling angle, where 20-year old Kerry had his shoulder "injured" by the heels in Texas and had to "pull out" of the Olympic trials as a result.
– Also in the story, Fritz swears that he never wanted his sons to follow him into the wrestling world.  Dave notes that Fritz was talking about his sons being future World champions on TV while they were still in HIGH SCHOOL.  Fritz's side:
"Man, I did everything in the world to keep my kids out of this damn business," he said. "But it was all they knew. A lot of boys don't want to follow in their father's footsteps. But there are those who do. Everybody likes recognition. They saw me getting a lot of it. They idolized me. I trained, was on television, a big name, why wouldn't they want the same thing? It was as natural as anything in the world.  If somebody has the gall to say that I forced my kids and I'm responsible for their deaths in any way, shape or form, it makes me want to get a .45 and shoot somebody right in the ass. It burns me up."
– To the WWF, where it was announced that Hulk Hogan's title victory over Yokozuna would stand, and he'll work a few house shows in May, but won't defend the title until the new "King of the Ring" PPV in June.  He's booked to go back on the road in June on a semi-regular basis, working 3 days a week with Yokozuna in between filming "Thunder in Paradise".
– Speaking of Hogan, the Wrestlemania buyrate appears to be about 430,000 buys, or 2.1%, making it by far the least-bought Wrestlemania ever.  However, in the biggest stretch I've heard from Dave in quite some time, he declares that because PPV is dying in general and the show only dropped by a small percentage compared to the mammoth drops of other PPV shows, and likely would have died even more without Hogan, it's a success.  (Obviously we weren't able to get enough data to really figure out how much drawing power Hulk still had left and it was a moot point soon anyway, but just speaking anecdotally I sure as hell didn't buy the show to watch Hogan and the people in my circle of friends didn't either.) 
– It also turns out that reports of a complete sellout of Caesar's Palace were nowhere near the truth, with reports of ticket blocks of close to 400 ringside-area tickets being given out to fill up the arena hours before showtime.  Although even with the freebies and smaller crowd, the WWF still made more money from this show than they did from having 60,000 people in the Hoosierdome, thanks to higher ticket prices.
– It appears that the post-WM house shows will be Bret v. Lex / Duggan v. Yoko / Shawn v. Perfect on one show and Undertaker v. Giant / Crush v. Doink / Steiners v. Money Inc on the other.  (Wow those both sound horrendous from a drawing standpoint. In fact, they were down to a few thousand per show in Edmonton by that point and for a while actually had to switch to the smaller adjacent arenas because they couldn't justify the rent of the Northlands Coliseum.  It really wasn't until the Attitude Era that things picked up again and they started selling out.  I still went to every show, though, because, you know, wrestling.) 
– FMW has a big stadium show scheduled for 5/5, and Dave keeps slipping in high praise for this kid Eiji Ezaki, who has quietly become the best worker in the promotion.  He would soon be repackaged into the masked Hayabusa.  The main event of the show will indeed be a death match between Atsushi Onita and Terry Funk, and Funk made sure to clear it with Baba before accepting.  Also, it's fitting, because Onita looks like death.
– The AJW Dream Slam collection is coming out on VHS on 4/25 for the low price of $180 and even Dave is like "WUT?" to that.  He wonders how many people would even pay those kinds of prices.  (Clearly they didn't have Ebay in 1993.  And no one appears to be selling those tapes today, but here's the DVD release for a cool $80 US if you're in the market:
http://www.ebay.ca/itm/New-DVD-Akira-Hokuto-ALL-STAR-DREAMSLAM-all-Japan-woman-dream-F-S-/322534731052?hash=item4b18916d2c:g:ZQoAAOSwcB5ZK-Jy
– Jake Roberts debuted for AAA, calling Konnan a "Mickey Mouse wrestler wearing a Mickey Mouse shirt" and triggering a pull-apart brawl.  (Jake drew a shocking amount of money in that gig.) 
– Turns out that the new group in Mexico that no one's heard of today, PREDESA, is probably just an angle to set up a promotion v. promotion feud with EMLL.  (Pff, fake invaders drawing money?  That'll be the day.) 
– In other insulting news from EMLL, they did a 50th anniversary show headlined by a unique tournament idea.  They brought in 18 legends of Mexican wrestling, then drew 16 names at "random" for the tournament and each round featured the losers advancing, until the finals where the ultimate loser would have to unmask and thus fans were guaranteed to see someone big lose their mask.  Well, as it turned out, they raised ticket prices to triple the normal amount, hyped the big names for weeks, and then a bunch of people no-showed.  So the "winner" of the tournament was some no-name jobber named Ray Barbaro, who no one had heard of, and he unmasked and was unsurprisingly some guy no one had heard of either. Papers ripped the show apart the next day, calling it a complete fraud.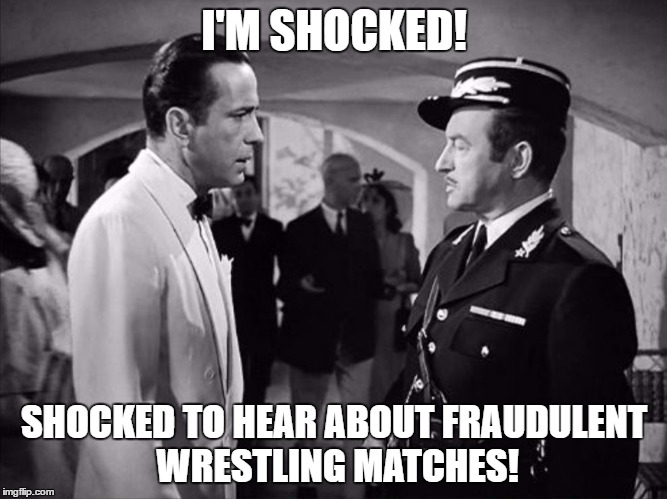 – Oh, Casablanca, source of so much quality snark in my life.
– Apparently people are already sick of Vampiro, as his mammoth popularity has suddenly shifted to people booing him despite still being a babyface.
– The GWF is claiming to have an announcement of a new TV deal any day now.
– In the big news for WCW, Tully Blanchard has once again agreed to return to the fold, and will debut at Slamboree as a part of the new Horsemen and reform his tag team with Arn Anderson as babyfaces.
– Cactus Jack went a bit too far for his artform on the 4/17 edition of WCW Saturday Night, as he let Vader beat the living s--- out of him and suffered a concussion, broken nose, dislocated jaw and 17 stitches.  (And that wasn't even the most brutal match they'd have in 1993!)
– Speculation abounds in the trade papers that Turner's empire will be sold to Time-Warner shortly.
– Shane Douglas has a bad shoulder injury right now, so they're just working around him in the tag title matches every night, and sadly they're only ***1/2 instead of ****+ as a result.  (REFUND!) 
– The Beverly Brothers appeared to be turning babyface on the 4/12 Monday Night RAW show.  DAve's not really sure what's up with that.
– Mike Shaw has already switched gimmicks, going from the Mad Monk to Friar Ferguson because they were worried about backlash from religious groups.
– Dave is impressed with the Double Doink deal in that they can now book the clown in multiple places at once.
– Butch Masters, aka Butch Beardon, was so impressive in his WWF tryout last week that he got "a one way ticket back to where he came".  Steve Ray (Wild Thing, not Harlem Heat) also got a tryout and also got punted.  (Given the state of their talent roster at the time, you REALLY had to stink up the ring not to get a job.) 
– Given that Jim Ross's hotline for WCW grossed something like $600,000 in 1992, don't be surprised to see one done in the WWF as well.
– Rumor killer:  There's lots of speculation of Hogan's black eye, but it really was a boating accident.
– Hey now, it's that kind of irresponsible talk that got us into this mess, 1987 Randy.
– And finally, irate wrestling fans stormed the cable offices in Branford, CT, because a computer malfunction meant no Wrestlemania on the cable systems there.  Police had to be called because fans were so angry about missing the show that they pounded on the doors and windows.  (Source:  "V.K. McMahon".)