It's a few days before Wrestlemania 9, and there's weird, wild stuff going on backstage.
TO THE OBSERVER!
– Jim Ross pretty much pulled off a invasion angle on his own, hijacking the WSB radio show that he was still being allowed to produce, and bringing on Vince, Brain and Shawn Michaels as guests after announcing on the air that he's joining the WWF broadcast team.  In addition, he announced that the show would simulcast the last hour of Wrestlemania.  Vince, on the show, was the one who made the announcement of JR jumping ship, comparing it to John Madden switching from CBS to NBC.  Ross has been denying the signing for weeks now, because he didn't receive his release from WCW, but apparently Vince has found a legal loophole strong enough that he felt comfortable with burying WCW before the contract was signed.
– Dave expects major fireworks to come out of this situation.
– Wally Karbo, one of the founding members of the AWA and NWA, died at the age of 77 after suffering a heart attack during lunch in Bloomington.  He was most well-known as the figurehead promoter for the AWA in Minneapolis and Winnipeg.
– Wrestlemania has about 13,000 tickets sold at press time, and it should be an easy sellout.  They're not even blacking out the show in Las Vegas!  Razor Ramon has a wicked staph infection in his knee, but he'll be working the Backlund match regardless.  Dave is betting on the lowest ever Wrestlemania buyrate (Well, until 11 and then 13, at least.  But his guess here of a 2.0% buyrate was exactly correct, in fact.) 
– Meanwhile, in Japan, the largest gate in the history of women's wrestling will take place with All Japan Women's Dream Slam at Yokohama Arena, with 17,000 tickets sold.  It's actually a mixed show, with various women's promotions all running the show together.  (And it proved to be a hot ticket for tape traders afterwards.) 
– GWF announced the complete lineup for the Lacey Von Erich benefit show, including a Dingo Warrior v. Black Bart match that won't be happening because Warrior says no one ever called him to actually get him to come.  Sid is also advertised, and the main event is listed as Kevin Von Erich & Chris Adams v. Michael Hayes & Buddy Roberts, but otherwise the rest of the show is just the usual GWF guys. 
– The US Justice Department continues to investigate the WWF, although no one knows what exactly they're looking for or where the extensive questioning sessions are leading.  Even more wrestlers were brought in for questions in New York, in addition to the dozens that have already been interviewed.  The only thing that Dave knows for sure at this point is that it has to do with drugs.
– Dave would like to once again point out to the many wrestlers reading that "It was legal when I did it" is not only a weak defense, but very untrue.  Steroids prescribed by a doctor for specific medical conditions might have been legal, but buying them via Fed-Ex from a fake doctor without a prescription has always been illegal.  Plus possessing and/or transporting drug paraphernalia (ie, needles) has always been illegal.  So, no, it wasn't "legal back in the 80s" and never was.
– Congratulations to Atsushi Onita, who finally made it out of the hospital on 3/25 after spending weeks there for a horrible infection caused by jumping into a polluted river with an open wound.  Doctors have ordered him to stay out of the ring for three months, so he likely will just show up for the 5/5 stadium show anyway.
– The Oregon government is trying to pass a new bill that would eliminate the state athletic commission but also ban wrestling and boxing because they'd be no longer regulated.  An alternate bill was seeking a tax on PPV events to fund the commission, so that they could continue their (*cough*) "hard work" and not have to use taxpayer money.  (And they say wrestlers are a bunch of con artists.) 
– The mysterious new Mexican wrestling promotion is expected to be announced on 4/2, with the catchy name of "Promotora Del Espactaculos Deportivos y Aristicos," or PREDESA for short. (I'm assuming this never happened because I've never heard of it before and couldn't even dig up info on Google.)  Promoter Juan Herrera is promising "a new concept in wrestling".  (Clearly that new concept is not "announcing a new wrestling promotion that never happens" because we've heard that one a million times before.) 
– Hiroyoshi Yamamoto (Tenzan) won the New Japan Young Lions cup, beating Osamu Nishimura in the finals.  Other young boys looking strong in the tournament included Manabu Nakanishi, Shinjiro Otani, and Satoshi Kojima.  (Pretty good success rate in that bunch!) 
– The Hell Raisers did an American-style f--- finish against the new team of Scott Norton & Hercules, with two referees involved and the match restarting due to one of them not seeing a foot on the ropes and other nonsense.  With Muta injured, the Hell Raisers need a strong new team to feud with.  (They did at least end up with the most bad-ass name in Japan:  The Jurassic Powers.) 
– Meanwhile, Dave thinks that rookie Toshimitsu Ishizawa, a former amateur star, will be on the level of Muto and Chono within five years. 
(Hold on, let me make a basketsball reference…)
– See, Ishizawa never amounted to anything in the business, so that was a missed shot by Dave.
– BUDDY LANDEL UPDATE:  He was booked for a NOW show at Korakuen Hall on 3/15, and no-showed.  Nice to see some concepts still need no translation.
– To the USWA, where the lack of Jerry Lawler dropped the Monday night show to "normal" levels again, with Big Bossman & Jeff Jarrett v. Harlem Knights on top.
– Shawn Michaels will actually be defending the IC title against Jeff Jarrett on 3/29 to warm up for Wrestlemania and test his injured shoulder, marking the first time that a WWF title has been defended in the USWA.
– Eddie Gilbert has definitely quit the company and now wants out of wrestling altogether.
– In SMW, Bobby Eaton won the TV title, but Bob Armstrong found a clause in his contract that stated he was still a WCW employee.  Thus, the minute he loses the TV title, he gets shipped back to WCW.  Jim Cornette freaked out on TV about the situation, calling working for WCW "a fate worse than death". 
– Kevin Sullivan is claiming that people without faces are following him around in a brown LTD with Missouri license plates.  (And you wonder why the Justice Department thinks people in wrestling might be on drugs?) 
– The Harris Brothers, who had no-showed the USWA shows and did a tryout with WCW, then jumped to the GWF for a week, and no-showed those dates because now they have a tryout with the WWF.
– Eric Embry returned to the ring on 3/28 for Big D Wrestling in Dallas, but the car accident months back left him with such a bad limp that it was painful watching him try to work, and now it's questionable whether he can even continue.  (Short answer:  No, he couldn't.) 
– To the WWF, where the Harris Brothers have in fact signed a contract with the WWF, as did Mike Shaw because there was no other place for him to go.
– Repo Man is done as of this weekend, and he'll move onto selling car alarms.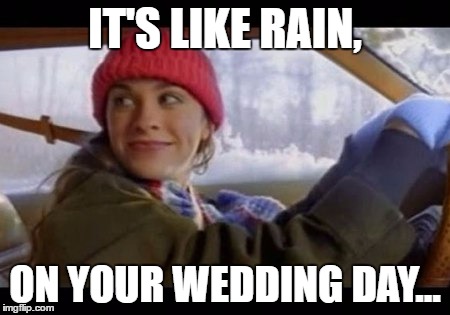 – Scott Norton debuted for WCW in Monroe, LA, but no one knew who he was or whether they were supposed to cheer or boo.  So they did nothing.
– Dutch Mantell was supposed to be coming into WCW as a commentator as a part of the Bruise Brothers team, but once they jumped to the WWF, the anti-Dutch forces decided to deny him a job. 
– Uh, different Dutch.
– They've already broken up the Van Hammer-Chris Walker team, as Walker is now teaming with Mustapha Saed as a jobber team.
– In a uniquely WCW moment, they taped a match with the Wrecking Crew v. Brad Armstrong & Erik Watts that was so boring, four people in the front row actually fell asleep on camera and they had to send security over to wake them up.  (Frankly I'm shocked we haven't seen that at Wrestlemania the past few years.) 
– Flair will likely be put with Arn Anderson as a team when he returns, to feud with the Hollywood Blondes.
– Johnny B. Badd's contract expires at the end of the month and he's still talking with the WWF.
– And finally, Tully Blanchard wants to return to WCW, and the plan at the moment is to reunite the Four Horsemen at Slamboree.  (This week in "Things that turned out badly for WCW…)