Previously on the Flashback… https://blogofdoom.com/index.php/2017/05/30/wrestling-observer-flashback-03-15-93/
I know Dino Bravo isn't the most popular guy on the blog, but it turns out that other people REALLY hate him…
– Adolfo Bresciano, better known as Dino Bravo, was murdered at age 44 on 3/10 in his home of Lavel, Quebec.  He was shot seven times, at least twice in the head, in a brutal gangland style killing, although there were no signs of struggle so he likely knew his attackers.  None of the neighbors heard the gunshots, so they were likely professionals using silencers, and there was also a "large sum" of money in his home.  (Couldn't have belonged to Bravo, because he never drew money.  Because he was the worst.) 
– The Montreal newspaper that announced his death ran with a headline of "Dino Bravo executed for trafficking in tobacco", although police refuse to confirm the story.  However, they did bust a large contraband cigarette ring worth $400,000, and commented that an amount of money that large might be worth an assassination, so there you go.  The RCMP did confirm that Bravo was "significantly involved" in the whole thing, and that he had been involved for years. 
– Bravo started in Montreal in 1970, after studying law in college.  He was trained by Gino Brito and Eduardo Carpentier and quickly became a top babyface tag team with Brito, quickly rising to main event star in Grand Prix Wrestling and even teaming with Andre the Giant from time to time. 
– Bravo toured the US during the 70s and won tag titles all over as half of an Italian team with whoever the babyface of that ethnicity was at the time.  Soon after, Bravo ended up in the WWWF, winning the tag titles with Dominic DeNucci in 1978 before losing them to the Lumberjacks. 
– Bravo returned to Montreal in 1981 and the decision was made to go with him as the top star, along with Rick Martel, and Bravo ended up as the booker as well.  They frequently drew in excess of 10,000 people to the Montreal Forum with top guys challenging for Bravo's International title.  And then the WWF stormed in and the promotion folded, leaving the Rougeau Brothers, Dino Bravo and Rick Martel as the newest WWF signees. 
– Bravo actually left in 1986 after a weird incident in Montreal, where Hulk Hogan was scheduled to defend the WWF title against Bravo at the Forum, which resulted in a 20,000+ sellout of the arena.  But the night of the show, the card was rearranged at the last minute and Hogan defended against someone else instead, due to fears that Bravo would be cheered as a babyface over him.  (According to Cawthon's site, the main event was changed to Hogan v. Orton and Bravo v. John Studd.) 
– Bravo returned in 1987 as a bleached-blond heel, teaming with Greg Valentine and then Earthquake as a top guy in what Dave calls "one of the most curious main event pushes in wrestling".  (Because Bravo was the worst.) 
– Bravo is likely best remembered for his "farcical" attempt to break the world bench press record at the Royal Rumble in 1988, where he needed help from Jesse Ventura to press "710 pounds" although he could legit press 575 in real life. 
– Bravo left after doing the job to Kerry Von Erich at Wrestlemania VII, and his final WWF tour was the April 1992 European swing.  He was supposed to work a retirement match in December of 1992 on a WWF show in Montreal, but was mysteriously pulled the card several weeks beforehand.  There was speculation that it had to do with Gino Brito's arrest, but no reason was confirmed and no one from the office ever contacted him again.
– Bravo's funeral was 3/15 in Montreal, although no one from the wrestling business showed up.  
– In happier news, Sting won the WCW World title from Vader in London on 3/11 (the title reign that EVERYONE forgets about!)  by catching him with a powerslam in 16:00 of a ****1/2 match.  It was the largest gate in company history and one of the largest WCW crowds in history, with 11,500.  Dave is pretty sure this is a short-term title switch.
– Poor weather caused the cancellation of several WWF shows in the South, and WCW and SMW also cancelled a few as well.  However, even though weather in Canada was poor, none of the Canadian WWF shows were cancelled.  (That's because Canada is awesome. It was always confusing for kids in Canada to watch shows from the US where kids would stay home from school because of "snow days", because that s--- would NOT fly up here.  If they had to cancel school every time there was a blizzard or –30C weather in Edmonton or Saskatoon or Winnipeg, the school year would end up being 3 weeks long.) 
– The WWF has added a PPV show on 6/13 from Dayton, OH, billed as a King of the Ring tournament.  Traditionally tournaments don't do well on PPV, but maybe it'll be a vehicle for Jerry Lawler?
– Jim Hellwig dropped his extensive lawsuit against the WWF just hours before Titan was supposed to respond to it, with Hellwig claiming that "he's changing lawyers", and no one on either side will offer any other details. 
– Meanwhile, Vince's lawsuits against Geraldo Rivera and the New York Post continue to make headlines in the New York area, with Jerry McDevitt claiming that the damage caused by all the libelous things being said against them will cost the company "millions".  Oddly, despite the millions in damages caused by Phil Mushnick's campaign of terror against the WWF in New York, that remained one of the few markets that didn't see a plummet in gate totals in 1992. 
– Also, apparently the Murray Hodgson lawsuit is still a thing that exists.  However, the charges about being fired for rejecting a homosexual advance were dropped due to a technicality regarding procedures in Connecticut. 
– Phil Mushnick also commented on the suit in the newspaper story:  "The suit is full of s--- and I'm waiting for my chance to prove it in court." 
– Apparently there's ALSO a pending lawsuit in New Haven, from Bill Eadie and Randy Colley, who claim that they were never paid for creating Demolition.
– Jim Ross was backstage at the WWF TV taping in Augusta, GA on 3/9 and was introduced to everyone there as though he was joining.  His tentative start date is Wrestlemania, although his severance deal with WCW called for him not to work for any competitors (ie, Titan Sports) until August.  Legally speaking, the WWF can't even offer him a job until he gets a release from WCW, although from the sounds of it Bob Dhue would be amenable if he gives up his WSB radio show gig. 
– Also, Sean Mooney is leaving the WWF announce team, and there's been talk of him signing with WCW.  (Oh man, had they got both Sean and Ian Mooney, it would have turned the tide 3 years before the nWo!) 
– New Japan is running tours with Hercules and Axe Boulder (the future Horace Hogan) as the main foreigners, with the Boulder signing being 100% a favor to Hulk since he's an FMW guy and normally the Big Two won't touch anyone from those groups with a 10 foot pole.
– Masakatsu Funaki is now talking about starting yet another UWF style promotion in the fall with Minoru Suzuki.  (This again would be Pancrase.) 
– UWFI held a press conference to announce the signing of Big Van Vader, but New Japan kind of cock-blocked them by announcing that they own all the worldwide rights to the Vader gimmick.  So he'll probably just be Bull Power or Leon White instead, no big deal.
– The USWA decided to deal with the Harris Brothers leaving for WCW by just retroactively making their title match against the Moondogs into a non-title match.  And then the Moondogs dropped the tag titles to Brian Christopher and Big Black Dog on 3/8 anyway.
– Jerry Lawler v. Randy Savage drew 3000 people to Louisville for their match on 3/9, a town that normally does 500 on a big night.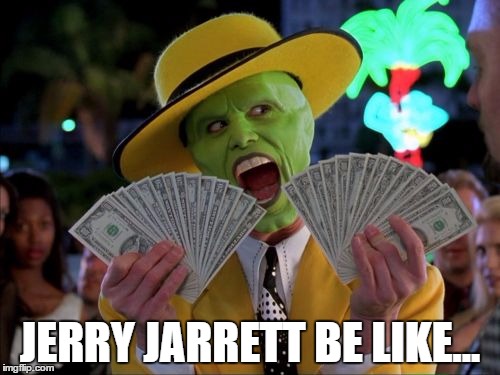 – Now, time for a new tradition in the Observer to replace Kerry Von Erich, which we'll be workshopping for the next little while.  I'd like to call it…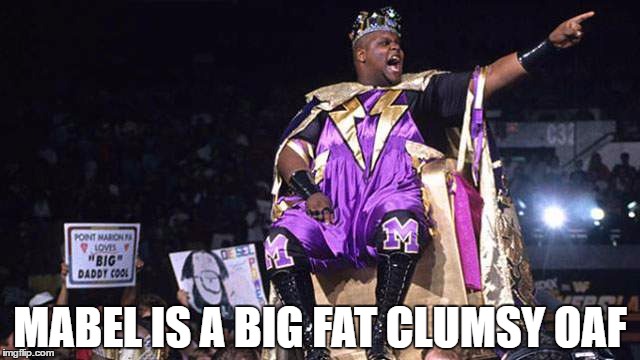 – Brian Christopher teamed with the new tag team in Memphis, the Harlem Knights, destroying a trio of jobbers.  More accurately, he hung out at the desk while the Knights destroyed the jobbers.  The big member of the Knights is being billed at 6-10 and 525 pounds, although in reality he's 6-7 and maybe 450.  However, he nearly broke his ankle when he stood on the middle rope and it broke, and then nearly killed the jobbers by continuing to whip them into the broken ropes for clotheslines. 
– Arn Anderson made his SMW debut on TV as the mystery partner for the Rock n Roll Express, coming out with a white sheet on, causing Jim Cornette to quip that it's either Casper the Friendly Ghost or David Duke.  Arn then did a great interview saying that Cornette would need a "gynecologist" when Arn was done shoving the tennis racket into certain parts of his anatomy. (I'm assuming Arn actually said "proctologist" and Dave just blew the joke, but Arn is also the guy who famously said "Marquee on the wrestling", so it's a 50/50 shot.) 
https://www.youtube.com/watch?v=J6kNcoM1qOQ
– Holy s--- that's a great angle.  And it was Arn who screwed up the joke.
– The Dirty White Boy and Ron Wright are now claiming to be from New York and wearing Yankees outfits to the ring.
– In Texas, a small local wrestler named Todd Hecht is working as "Dink the Clown", claiming to be the nephew of Doink.  (Wonder if he got any royalties from that?) 
– To the WWF, where Luna Vachon will start as a valet for Shawn Michaels at Wrestlemania. 
– Bryan "Night Stalker" Clark was offered a job after his tryout last week.
– Apparently there's a new cowboy tag team starting after Wrestlemania, Kip Sopp and Mike Polchlopec.  (I'm assuming they'll get better ring names than that.  Maybe they can be brothers!) 
– Mr. Hughes got a tryout in the sunglasses and suit on 3/9, as did Mike Shaw again.  Plus a "boxing Turtles tag team".  (I don't even wanna know what THAT was.  Actually, I kinda do, so I checked and it was just Duane Gill and Barry Hardy working as "Timmy and Tommy Turtle."  Not gonna lie, I'm a bit disappointed.) 
– The 3/15 episode of RAW had a video featuring all the charity work and good things that Vince does in his role as President and CEO of Titan Sports, trying to turn him babyface after all the lawsuits and controversy.  Dave notes that there's no crime in doing PR work, but when you use it as a promotional tool, it's not actually charity work. 
– And finally, the reason that Vince wasn't at RAW on 3/15 is that he was being honored by the Michael Landon Foundation for being a philanthropist.  Hulk Hogan presented the award to him, and said that Vince used to be his friend, but now he's his HERO. 
Hang on…
– There we go, now I feel better.