Oh yay, Penguins back in the finals again, that's about as exciting as another Warriors v. Cavs final.
Previously on the Flashback… https://blogofdoom.com/index.php/2017/05/23/wrestling-observer-flashback-03-01-93/
Thankfully no one dies this week.
But things aren't great for Jim Ross…
– In the story before the top story, WCW Superbrawl appears to have done between 0.4 and 0.5 percent buyrate, which would put it, at best, #3 all time!  Of the lowest buyrates in history, that is. 
– Also, one guy gave the show a thumbs down, breaking up the perfect feedback record.  Probably the same guy who gave Bash '91 a thumbs UP two years ago.
– Jim Ross, after five years as the face of WCW, officially resigned on 2/25 because the writing was pretty clearly on the wall.   He had been completely removed from TV and assigned to "salesman for the syndicated TV division" instead.  Artist's rendition: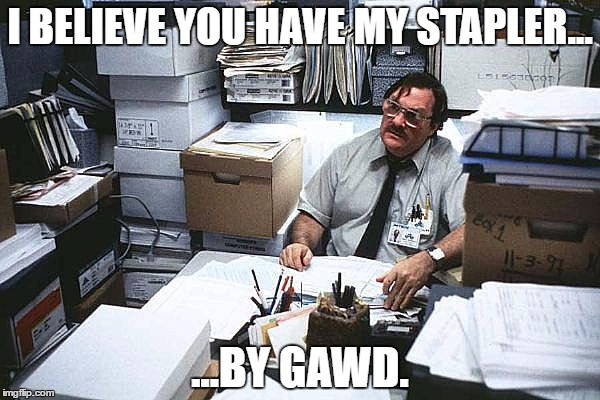 – Basically he asked to get out of his contract so he could go continue his broadcasting career elsewhere, but the deal may include a no-compete so don't look for him to show up in the WWF any time soon.  In fact, he's probably just moving back to Tulsa and working in radio for the time being.  The parting was said to be amicable with Bill Shaw and Bob Dhue.  The other reason behind him getting out now is that the Bill Watts contracts had a clause in them that basically allowed upper management to cut any contract they wanted with 90 days notice for "poor performance", and there's no poorer performing division than syndication at the moment, so it was pretty much doom for JR either way.
– Dennis Brent, head of the WCW magazine and noted Bill Watts enthusiast, was also let go as the new regime lines up the old guard against the wall and opens fire.
– Andre the Giant was laid to rest on his farm this week, although getting him there was yet another colorful story to add to his legend.  He wanted to be cremated, but there was no crematorium in Paris that could accommodate his 550 pound frame.  So they made a custom casket for him, but most of the cargo holds on the planes leaving France weren't big enough to hold it.  And then the coffin wouldn't fit into a hearse once they got into the Charlotte airport.  And then they needed a FORKLIFT to pick up the coffin, and then to remove the body and prepare it for cremation.  Finally, he was entombed in a special mahogany case that weighed 19 pounds. 
– Global (still alive, apparently) will be holding a benefit show for Kerry Von Erich's daughters on 4/2, with the promoters kicking in $1500 to start.  Kevin will work the show after all, with Fritz in his corner.  They're hoping for cooperation from WWF and WCW to get talent for the show.  (Good luck there.) 
– There were some angry wrestling fans in Dallas, as Judge Larry Baraka, who was the one who was going to sentence Kerry, spoke to the Dallas Morning News the morning after Kerry's suicide and was quoted as saying "he took the coward's way out". 
– So then Skandor Akbar went on TV after THAT, said that he agreed with Baraka, and proclaimed himself the "real king of Dallas", as opposed to Fritz.  Dave says on the bright side, Kerry probably would have wanted his death to at least inspire something like that.
– Hulk Hogan returned to the WWF with a live interview on RAW, setting up a tag title match against Money Inc for Wrestlemania, although Dave is, like, 100% sure they're dropping the titles before then.  He'll end up in Japan as a tag partner for Inoki in May, and then head back to the US to work with Yokozuna at house shows.  They're even adding a fourth PPV show in June to cash in on all the money that Hogan will doubtless be drawing.
– Hulk will also be filming a pilot for "Thunder in Paradise", which will guarantee he disappears again should it get picked up.
– Ric Flair is also back, in WCW, and will be doing an interview segment called "A Flair for the Gold" for the time being, with the 6/15 Clash being his scheduled return to the ring.  (And if it bombs, just blame Steve Austin.) 
– Sid Vicious was talking business with Ole Anderson this week, and he's expected to sign an old-style WCW guaranteed money, no cut, do whatever the f--- you want, all medical expenses paid, contract any day now. 
– Jumbo Tsuruta's kidney problems are getting worse, as he's been out since October and was admitted to the hospital with kidney failure now.  In tribute, Toshiaki Kawada has announced that he's no longer teaming with Misawa, and will instead fight as an independent in Jumbo's name.
– And now…
– Formerly Known As Ultimate Warrior is suing the WWF for the very specific amount of $5,819,500, with a 19 page suit backing it up.  Let me just copy and paste the crazy from the suit, and you might wanna go get a snack or something first…
*Hellwig claims to have created the name and image of Dingo Warrior while in Texas, which included the unique pattern of face-paint and brightly colored strings wrapped around his biceps
*Hellwig signed a two-year contract with Titan on September 23, 1987, which provided for automatic one-year renewal upon conclusion
*Hellwig was re-named Ultimate Warrior, but the paint pattern on his face and bicep strings were remained and were largely unchanged from his pre-WWF sting as Dingo Warrior
*The original contract was automatically renewed on September 23, 1989 and September 23, 1990
*Hellwig claimed he began to experience illegal and unfair treatment by the defendants, claiming he was overworked and underpaid in comparison with other wrestlers of his acclaim, skill (I don't know why I found that word in this context so humorous) and status
*On July 13, 1991, Vince McMahon agreed to increase Hellwig's compensation and lessen his workload in a novation. The novation, written by McMahon, which was introduced as part of the suit, had 1) McMahon agreeing to pay Hellwig $550,000 for his participation in Wrestlemania VII (The semi-main event on the card against Randy Savage at the Los Angeles Sports Arena); 2) Agreeing that with the exception of special events, Hellwig would receive four days off every other time off period; 3) His pay on house shows would increase to four to five percent of net, effective immediately, with the understanding that no other WWF athlete would be paid at a higher rate and that no other WWF athlete would be paid at a higher rate than him on pay-per-view events (keep in mind this includes Hogan); 4) His royalty rate on merchandise would be increased; 5) His compensation from the Warrior 900 line would be identical to Hogan's from his 900 line.
*On August 26, 1991, the defendants refused to honor the terms of the written novation
*Hellwig was then suspended without cause by the defendants for 90 days. Although the parties later renewed their professional relationship, defendants illegal and unfair treatment of plaintiff continued
*On or about March 31, 1992, Hellwig and Titan entered into a second booking contract, a two-year deal to last until March 31, 1994
*On October 28, 1992 and October 30, 1992, Hellwig and McMahon had discussions regarding Hellwig's desire to pursue commercial activity in which the promoter is not otherwise engaged. Those included opening a gym, making a workout video, and releasing a poster. Verbal agreement to be able to use the name Ultimate Warrior on these projects was obtained by McMahon
*On November 6, 1992, Hellwig's attorney, John Goodson of Phoenix, sent a letter to McMahon memorializing these conversations. McMahon never signed the letter
*On November 9, 1992, McMahon terminated Hellwig's contract immediately. The basis of the termination, according to McMahon, was Hellwig's alleged involvement in a scheme to import Human Growth Hormones. Hellwig claims McMahon knew these allegations were false
*Hellwig said he began using anabolic steroids in 1982 as a bodybuilder and continued to use them as a wrestler. The use of steroids was commonplace among the other wrestlers and employees of the defendants including Vince McMahon
*The defendants acquiesced and encouraged the wrestlers to use anabolic steroids in order to improve their appearances. Often McMahon discussed his own use of steroids with Hellwig and with other wrestlers
*After the Zahorian trial, Titan instituted an anti-steroid policy and drug testing for both steroids and other illicit drugs. However, after this policy was instituted, steroid use continued with both the knowledge and acquiescence of the defendants
*McMahon continued to use anabolic steroids and other controlled substances in violation of his own drug policy
*Titan discriminately imposed the so-called drug policy by punishing certain wrestlers for testing positive for the use of anabolic steroids while allowing others to go unpunished
*At the time the defendants anti-steroid policy went into effect, Hellwig ceased the use of anabolic steroids
*Certain wrestlers and other Titan employees then began using Human Growth Hormone (HGH) to circumvent the drug policy without detection
*At certain times during Hellwig's employment, McMahon asked him if he knew of any source to obtain HGH. Hellwig replied that he didn't
*In May 1992, Hellwig inquired into securing HGH for his own personal use. He was not successful and never attempted to obtain HGH again. At no time did Hellwig ever use HGH
*On or about October 10, 1992, Hellwig told McMahon of his unsuccessful attempt to obtain HGH
*In Hellwig's contract, the only guidance to how much he was to be paid was a phrase stating "An amount equal to such percentage of the gate receipts for such event as is consistent with the nature of the match in which wrestler appears ie. preliminary bout, main event, etc.; the prevailing practice of the United States professional wrestling community; and any standards promoter or others establish specifically for such event."
*Wrestlers under contract to Titan were never told by the company and/or its agents of the amount of compensation or the percentage of the gate they were to receive for participation in exhibitions. The wrestlers learned of the amount of their payment on receipt of the checks
*On August 29, 1992, Hellwig was booked by Titan as a headline attraction in the Summer Slam PPV show. Despite Hellwig appearing (and in the main event against Savage), Titan never paid Hellwig his percentage of the total receipts for this event. Hellwig claims he is entitled to $1 million for this event
*Hellwig is also asking for the following amount for matches he has yet to be paid for: October 16 Nassau Coliseum ($2,000); October 23 Denver ($1,200); October 25 Peoria ($850); October 26 Springfield, IL ($1,200); October 27 Terre Haute, IN ($1,200); October 28 Louisville ($1,500); November 5 San Antonio ($1,250); November 6 Minneapolis ($1,200); November 7 Cincinnati ($800); November 8 West Palm Beach ($850); November 8 Orlando ($850)
*Hellwig's booking contract states that he "shall receive 25 percent of licensed products net receipts
*Hellwig received in royalties, about $150,000 for the last quarter of 1991, $99,392.99 for the first quarter of 1992 (at which time he wasn't even an active wrestler), $50,113.66 for the second quarter of 1992 (at which time he was working). The lawsuit contends the defendants purposely withheld monies owed to Hellwig according to the contract under the section regarding merchandise royalties
*Hellwig asks that an accounting be ordered by the court from Titan Sports in the areas of domestic concession sales, mail order sales, licensees, toys, domestic Coliseum and Canadian Coliseum for the period starting with the third quarter of 1991 through the second quarter of 1992
*During a phone conversation between McMahon and Hellwig, McMahon stated his reason for termination was that his attorneys had advised him to terminate the contract because of some alleged intent on behalf of Hellwig to distribute anabolic agents. Defendants knew this allegation was false
*At no time has McMahon provided any reason in writing as to why Hellwig's contract was terminated
*With no cause for termination, Hellwig is claiming wrongful breaching of contract
*For the terms of the contract, Hellwig would have been a headline attraction in one more PPV show in 1992, four in 1993 and two in 1994
*Plaintiff is asking for $1 million for his participation in each Survivor Series 1992 and 1993, $400,000 for each Royal Rumble 1993 and $1 million each for the 1993 Wrestlemania and Summer Slam
*The contract also stipulates an obligation to book at least ten bookings per year, so based on the full year of 1993 and the first quarter of 1994 that is 13 bookings and they are asking $1,500 per booking
*Hellwig claims he began his pro wrestling career in Texas in 1984 as Dingo Warrior. Dingo Warrior garnered some national recognition and eventually became noticed by Titan Sports
*Hellwig's initial booking contract along with his second contract contain a section regarding trademarks. This section attempts to differentiate between pre-developed intellectual property of Hellwig and of intellectual property developed during the course of being under contract to Titan Sports
*Section 3.1 of Hellwig's second contract states that "intellectual property" belongs exclusively to Titan Sports for the term of the contract. This includes all names, trademarks and identifying indicia
*Section 3.2 of Hellwig's second contract lists items that make up name and likeness and provides these items belong to Titan Sports forever. The contract states "If promoter develops such service marks…and distinctive and identifying indicia for wrestler, they shall belong to promoter in perpetuity
*Therefore, Hellwig contends, since Dingo Warrior, the pattern of the face paint and strings around the biceps were not developed by Titan Sports and the contract has now been breached by Titan Sports, Hellwig owns and is entitled to use, for purposes of commercial exploitation, the name Dingo Warrior, the face-paint pattern and the strings
*Titan Sports promoted Summer Slam '92 on November 25, 1992. Hellwig was to be a headline attraction in most of the promotion for this event. Employees of Titan Sports indicated on WWF television shows that Ultimate Warrior "quit the Survivor Series."
*Hellwig contends he didn't choose to quit the Survivor Series. Hellwig contends he has been, and will continue to be irreparably harmed if Titan or Titan employees continue to state Ultimate Warrior dropped out of his own accord from Survivor Series
*Hellwig is asking that Titan Sports be permanently enjoined from using or exploiting the name Dingo Warrior and/or its likeness for any purpose and that Titan Sports be permanently enjoined from making any public statements that either imply or directly state that Ultimate Warrior left Titan Sports either on his own volition or due to an act of cowardice
(HE OWNS THE STRINGS, DAMMIT!  This one didn't really end up going well for Warrior) 
– Anyway, so at this point, the story now comes out that Warrior left at Summerslam 91 because he was holding up Vince for a $500,000 payoff from Wrestlemania due to promises, in writing, that he would be the highest paid guy in the company, including Hulk Hogan.  Vince then turned around and ignored his original agreement and fired Warrior instead. 
– It also came out that Vince wanted to turn him heel and have him face Hogan at Wrestlemania 9, but Warrior turned it down because of fears that it would harm his character, and he had what you could describe as "reasonable creative control" written into his contract.  (Is this where the "Warrior was supposed to go heel at Summerslam" rumor came from, I wonder?)  Anyway, Vince allegedly agreed to these changes, sent a letter to his lawyer confirming it, and then went ahead and fired Warrior again for a drug test failure. 
– Also, Vince is suing the New York Post, and specifically Phil Mushnick, for "character assassination" and a variety of other ugly accusations.  My favorite claim:
*Defendants have repeatedly and viciously defamed McMahon by direct statement or provable innuendo, Mushnick has written or orally stated McMahon was a child abuser, a child molester, homosexual criminal sexual offender, a liar in general, a man practiced in the art of deception, cold-blooded, devoid of honor and propriety, a member of organized crime and worse than the fictional character Hannibal Lecter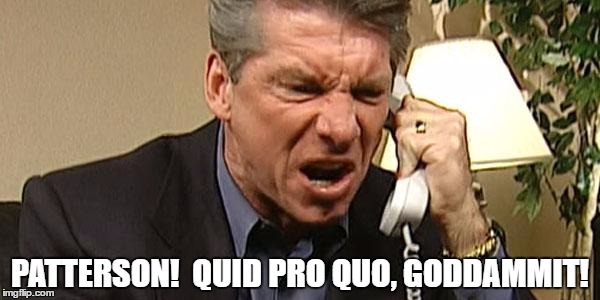 (I mean, I wouldn't say WORSE…)
– Mushnick's response to the suit:  "Vince McMahon is a well known liar.  I am not." 
– Hiroshi Hase is coaching "Kazuhiko Fujita", an aspiring Olympic wrestler.  (That's of course Kazuyuki Fujita he's talking about, future all around super duper badass MMA pioneer and IWGP champion.) 
– Vader will starting with UWFI on 4/10, and they're also trying to bring in Animal as well.  Dave is confused because he literally can't think of one move that Animal could do in a UWFI match without completely exposing them.  Original plans were that New Japan was going to bring him in with a partner to oppose the Hell Raisers in main events, but Animal is collecting the magic Lloyd's of London insurance policy anyway so he has little incentive to go anywhere.
– Memphis continues to bring in more WWF talent, including Randy Savage, Lex Luger and Giant Gonzalez for programs with Jerry Lawler.
– Over to SMW, as a very famous incident saw WING Kanemura come in for a tour and Kevin Sullivan absolutely MASSACRED him at the TV tapings.  Kanemura ended up drenched in blood from head to toe, including a gash described as "five inches long and one-and-a-half inches thick" in his arm.  He would have needed 10 stitches to the head to close the gash given to him, but refused the stiches and only allowed the arm to be closed up.  (I know this'll come as a shock, but SMW nearly got thrown off TV early in their existence as a result of this.) 
– Arn Anderson also came in as a mystery partner of the Rock N Roll Express, setting up a six-man feud against the Heavenly Bodies and Bobby Eaton.  (I HAVE to have a tape of that somewhere in my library.) 
– Congratulations to Stevie Ray, who ended up with the Global North American title at some point, although Dave has no idea when that happened.  (02/05, according to Wikipedia.) 
– To WCW, where Rick Rude may have returned at the 3/2 tapings.
– Eric Bischoff is mostly taking himself off TV to do his new duties as Executive Producer, although now they're going to need to hire someone.
– The plan for Slamboree is to carny it up good by bringing in all the old-timers for what will be billed as a house show at the Omni, and then push it so hard on TV that they have no choice but to make it available on PPV because of all the ticket sales and fan interest.  (Spoiler:  It drew 7000 people to the Omni with a 0.5 buyrate, so I guess those fans were the "silent minority" type.) 
– Chris Benoit has left for Japan and Australia already and there's no timetable on his return.
– Berzerker is gone from the WWF and has cut his hair and returned to selling cars.
– The aborted Saturday Night's Main Event will now be a 2 hour pre-Wrestlemania special on USA. 
– And finally, Robert Burke of Boston, who must be a real hoot at parties, filed a petition in US District Court against the WWF, Yokozuna, Mr. Fuji, Jim Duggan and Vince McMahon stemming from the Yokozuna angle with Jim Duggan. He's demanding a televised apology for "mistreating the flag", saying that the WWF violated federal law by allowing the flag to used in a manner that could damage it or touch the floor.  A WWF lawyer has already stated that there will be no apology.  (Also, coincidentally the following was installed in all Titan bathrooms the next day…)
Nothing says softness like FREEDOM!