Previously on the Flashback…  https://blogofdoom.com/index.php/2017/05/12/wrestling-observer-flashback-02-01-93/
I've been putting this one off for a few days, because we all knew it was coming and no one wants to be sad.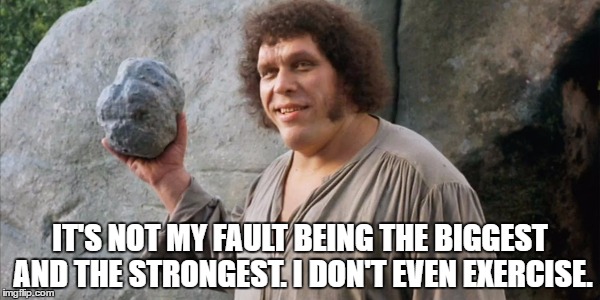 So yeah, time for what was probably the first of what we'd now consider to be the famous Observer obituaries.
– Andre "The Giant" Rousimoff died in his sleep on 01/27, apparently of a heart attack.  He was 46 and probably the second most famous pro wrestler in history.  He worked for 28 years and was the biggest name in the business during the 70s, the biggest international attraction, and the highest paid performer in the world.  He headlined Wrestlemania III, which was the largest paid crowd in history and the first million dollar gate in history, the largest closed circuit gate in history and a PPV buyrate record that's never been approached again in wrestling.  His match with Hulk Hogan on NBC was the most viewed match in history, with 33 million viewers, which will never be beaten.
– Andre was born on 05/19/46 with a rare disease called acromegaly, which caused his body oversecrete Human Growth Hormone and grow to become one of the most powerful men around.  However, once his body stopped being able to grow in height, the continued hormones started to destroy his body, causing all his other body parts to continue growing to oversized proportions and causing him to age rapidly.  However, he used his curse to the fullest advantage, travelling the world and transfixing audiences even as he spent his adult years in constant pain.  It was well known in the business that "you don't f--- with the Giant."  It's hard to say how strong he was, but no one wanted to challenge him and discover for themselves.
– Andre heard that his father, Boris, was on his deathbed on 01/09 and flew to France to see him.  His father died on 01/15, and Andre decided to stay with his family for two weeks before returning home.  The day before he was scheduled to fly back, he went to sleep in his hotel room and never woke up.  He was actually too large to be cremated in France, which had been his request, but once it's done his ashes will be scattered on his farm in North Carolina.
– Andre's beginnings in the sport are something of a mystery.  Lots of people have claimed to have discovered him, for example.  Andre started in the sport at the age of 12, already 6'3", and fell in with a crowd of wrestlers.  His first pro match was in France, at age 18.  He was actually "only" 6'7" and 245 at that point, which was big, but not legendarily huge.
– The myth of being 7'4" and 520 pounds was created in Montreal in 1970, because Kareem Abdul-Jabbar was 7'2" and they wanted to have someone bigger.  It was more likely that 6'10" was his tallest height.  In fact, a famous photo with Andre, Kareem and Arnold Schwarzenegger from 1984 shows that Jabbar had about 3" on Andre.
– He began in the mid-60s as Andre "The Butcher" Rousimoff in France, and wrestled for six years before anyone in North America ever heard of him.  This leads into the various people claiming to have discovered the giant, like Frank Valois (his first manager) and Edouardo Carpentier.  In Japan, the story is that Isao Yoshihara went to Europe to scout talent and found Andre there, bringing him into the IWE as Monster Rousimoff.  Verne Gagne was there on a tour as champion, and immediately tried to sign Andre to a US contract…as a boxer.  Andre said no.
– Andre was an immediate sensation when he moved to Montreal, as Jean Ferre, the smiling giant and "Eighth Wonder of the World".  To get him over, Carpentier came up with a backstory where he was driving around the French Alps when a huge tree fell in the road.  Carpentier was unable to move the tree himself, but out of the woods came the largest man he'd ever seen, who moved the tree like it was a twig, and Carpentier brought him to Montreal as his running buddy.  Andre started making huge money as a result of his association with Carpentier, and was spending it just as fast.  Andre's feeling was that he was doomed to a short life anyway, so why not live fast?
– Andre was usually booked in handicap matches, but he got his first main event against Don Leo Jonathan in the Montreal Forum, setting a Canadian attendance and gate record with 20,000 people filling the arena.  Andre was DQ'd for losing his temper, and ended up beating up every wrestler in the roster who tried to stop him.  This began the character he would maintain for the rest of his life:  The gentle giant who was the nicest guy in the world…until you got him mad.
– Andre was so impressive in Montreal that by 1973 the promoters knew they had to get rid of him.  No heel could pose a serious threat to him and no one could get heat on him as a result.  And his drawing power was gone because he was on the shows every week.  So Frank Valois set up a meeting with Vince Sr., who changed his name from Jean Ferre to Andre the Giant.  Most importantly, after he debuted in MSG and became an immediate sensation, Vince sent him on the road and never let him stay in a territory for more than a week or two, renting him out to every promoter that was affiliated with the WWWF, AWA or NWA in exchange for a cut.
– His first run through the territories would inevitably be a midcard handicap match against Valois and a local jobber, or winning a battle royal main event.  He would sell out every show and made the Guinness Book of World Records as highest paid wrestler ever, with earnings of $400,000 in 1974.  (Adjusting for inflation, that's a little over $2,000,000 in today's money.  Amazing for the time, but consider how much John Cena or Steve Austin made at their peak, reportedly in the tens of millions per year, and it shows that things were not always better in the "good old days".  Back to the story, as I'm gonna try to keep interruptions to a minimum here.) 
– Wrestling legend said that Andre was undefeated in his entire career, but that's of course not accurate.  It is true that he did almost no jobs in his career, although he did countout losses in Japan and to Jerry Lawler in the 70s. Inoki pinned him on at least two occasions.  The Sheik beat him in Detroit during Andre's early tours. Harley Race beat him in 2/3 falls matches to retain the NWA title at least once.  Stan Hansen beat him by countout once in Japan. Canek pinned him with a bodyslam in a famous match in Mexico in the early 80s. And of course there was the famous loss to Hogan and then the one-minute squash losses to Ultimate Warrior in his last days with the WWF.
– Once people had tired of Andre winning comedy squashes in the 70s, promoters started booking him as a main eventer against the top heels, like John Studd, Hulk Hogan, Blackjack Mulligan and Killer Khan. His biggest opponent was probably Ernie Ladd, who was ironically billed at 6'9" because he was famous for football and everyone knew his real height, but was actually a bit taller than Andre.
– There's tons of stories about Andre drinking, but almost none about him fighting. This is because most Andre fight stories go "A fight was about to break out, but then Andre showed up and everyone got the hell out of there before a punch was thrown."  There's a few stories about promoters who tried to test Andre, like Jan Wilkens out of South Africa, who threw a punch at him and then woke up three days later.
– What there are, however, is stories about his drinking.  One story says that he drank 119 bottles of beer in one sitting and and passed out in the hotel lobby, and the staff put a piano cover over him and let him sleep it off.  Vince Sr. actually built him a custom trailer so that Andre could travel in comfort and drink all he wanted between towns.  His weight ballooned over the years, however, as he never touched a weight in his life because his fate was sealed the moment he was born anyway.  Had he eaten better, drank less, and gone to the gym, he would have been the greatest physical specimen ever, but it just didn't interest him.
– One day in 1981, Andre woke up and got out of bed, and collapsed on the floor.  His ankle had literally snapped under his own weight, which is where the famous angle with Killer Khan came from. This feud actually made Khan into a huge star in his own right.
– Andre and Hogan wrestled for the first time in Dothan, AL, in 1978, and then two years later Andre made Hogan into a star with a famous angle in the WWF where Hogan busted Andre open with a loaded armpad at a TV taping, and then slammed him. They took the feud all around the world and drew huge with it.
– So this leads to Akira Maeda in 1986. Maeda was disdainful towards all American wrestlers, considering only the Japanese wrestlers to be the "real" ones worthy of his time, and this just annoyed Andre when they were matched up against each other in Japan. Andre refused to sell any of his submission attempts and was pretty much mocking his "shooter" gimmick. So Maeda started firing hard kicks at Andre's legs, and Andre just acted like it was nothing. Finally Andre went down, but Maeda wisely didn't shoot in on him because Andre would handle him like a child on the mat, so they just kept repeating that pattern until Inoki jumped into the ring to end the match.
– Although Andre's first heel turn in the US was the 1987 match with Hogan, he had been playing the role for 14 years in Japan and was better at it than his role as smiling babyface in the US.  The Silverdome sold out weeks in advance, and they probably could have put 125,000 people in there if the building was big enough. Andre switched to longer tights to hide a backbrace, and he was completely unable to move and allegedly had total numbness from the knees down.  He only walked in the ring, and spent much of the time backstage sitting for his last years in the business.  He was often wheeled to his car and into the hotel after the shows.  He had a major back surgery in 1986, which required special oversized surgical equipment to accommodate him, and then knee surgery in 1991 that was supposed to lead to a final comeback against Earthquake. That never happened.
– Giant Baba "bought" the rights to Andre from New Japan in 1990, because NJ used a very serious and hard style and there was no place for Andre at that point.  Baba would book him in a comedy match and pay him $15,000 per show out of respect, but the matches were not a pretty sight.  Andre's last match came on 12/04/92, a six man with Baba and Rusher Kimura.
– Andre never married, but had one daughter, who he only saw once or twice.
(I only saw Andre live a few times, but sadly it was the broken-down Andre of the late 80s, as I saw him headline in Vancouver in 1988 against Jim Duggan and Jake Roberts.)
– And now the news.
– Ric Flair signed his WCW contract and will debut at SuperBrawl, along with Davey Boy Smith.
– Hulk Hogan, meanwhile, just HAPPENED to be eating at a restaurant on the bottom floor of CNN Center, although there's still no official talks between him and WCW.  Meanwhile, Brutus Beefcake was on RAW on 2/1 doing an interview that was intended to make you think Hulk is coming back.  The crowd didn't exactly sound thrilled about the idea.  Apparently the Royal Rumble's buyrate made it much more lucrative for Hulk to sign with the WWF again, if you smell what the Rock is cookin'.
– Beefcake actually worked a match with IRS for the 2/15 RAW show, where the briefcase was used for the DQ, resulting in Jimmy Hart turning babyface because he wanted them to stop beating on the helpless Beefcake.  The crowd loudly chanted "We Want Flair" at various points during the taping.
– Kerry Von Erich's mystery substance was discovered to be cocaine and he's got a court date on 2/1.
– The Crush/Doink angle was toned down significantly after it made all kinds of bad press in the New York media, and now Crush has been upgraded to "pretty much fine and he'll be back in a couple of weeks."
– The Bret Hart v. Doink series has been changed to Bret v. Bam Bam instead.
– Formerly Known As Ultimate Warrior is now telling people that he's done with wrestling and is working on martial arts and horseback riding so he can break into action movies.  His asking price for autograph signings is $5000 plus air fare.
– Johnny B. Badd's WCW contract expires in a few weeks, and odds are good he'll be in the WWF soon after with a new name given Bill Watts' negotiation techniques.  He actually came close to going last year.
– DDP's contract also expired and he was offered the same shitty Watts deal, so he's staying away due to injuries and will probably end up in Smoky Mountain.
– WCW higher-ups Bob Dhue and Bill Shaw are taking a more hands-on approach with WCW, and you can expect some big changes over the next few weeks.  (That's an understatement.) 
– Brian Pillman and Steve Austin will likely be "The Hollywood Blondes".
– Flair v. Perfect drew a 2.6 rating, which was a major disappointment. Dave gave the match ****.
– Ron Simmons is probably going to take time off to heal up a rotator cuff injury.
– Honky Tonk Man was supposed to start with Memphis on the 1/30 TV taping, but quit before he even got there.
– Buddy Landel is now telling people that he's going to retire and enter the ministry.  (He'd probably get kicked out for no-showing church on Sunday.) 
– The GWF held their final TV taping at the Sportatorium on 1/29, with Ian & Axl Rotten winning the tag titles from Bobby Duncam & John Hawk.  Global will supposedly be replaced by WAW out of Florida next month.
– Vampiro won his first major title, beating Canek to win the UWA World title on the UWA's 18th anniversary show.  Afterwards in the dressing room, he broke down and cried because he was so excited about winning his first World title.  Vamp is earning about $7000 per week at this point, and with cost of living in Mexico factored in, this makes him comparatively one of the highest paid wrestlers in the world.
– And now, a very minor Understated Observer Debut of the Week:  "UWA newcomer Goliath el Gigante is not Greg Rollins, but a 6-9, 280ish Canadian who I believe worked the Maritimes as Acadian Giant. He's 23 years old and is said to be the fastest moving giant this business has ever seen and those who have seen him tell me he's got legit potential."  (That guy with potential is the future Kurrgan, who had no potential in reality, but actually makes a decent living as an actor these days.) 
– And finally, Baba had wanted to bring back Ted Dibiase for one more tour, but changed his mind because he's happy with the crew he's got now.  (Too bad, because he wouldn't get another chance to do so.)