I know there's some schadenfreude involved because I'm an embittered Canucks fan and all, but really I'm hoping for Senators v. Predators in the finals because my first preference is always for someone new to win the Cup.  Also, preferably not the Oilers.  Because screw them.
Previously on the Flashback… https://blogofdoom.com/index.php/2017/05/09/wrestling-observer-flashback-01-20-93/
Oh, WCW.  Things start crumbling down again this week.
– The Clash delivered yet another thud in the ratings, drawing the second lowest rating ever for the show and only barely beating out a 4 year old replay of Flair v. Steamboat on the Main Event on a Sunday afternoon.  So, not good.
– Ric Flair still hasn't signed his WCW contract and it's still not even 100% a done deal at this time.  Flair lost a loser-leaves-town match to Mr. Perfect on what will be the 1/25 episode of RAW.  The match was said to be excellent and blood is apparently a thing again now.  Dave is mighty impressed with how the WWF handled it, treating the Monday Night RAW show like it's some kind of episodic deal by running the angle on the 1/18 show and then blowing it off on the 1/25 show.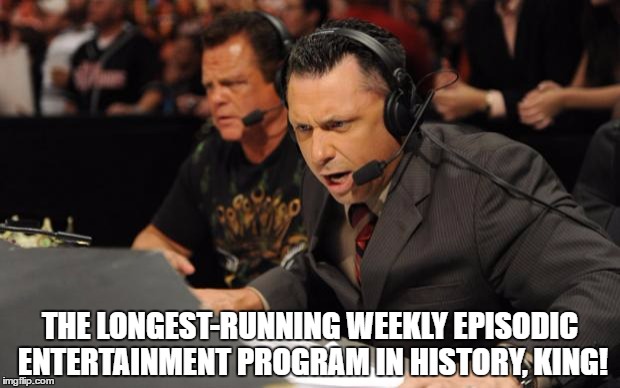 – Yeah, that's nice.
– Anyway, not only will this theoretically draw a big rating, but it has the bonus secondary benefit of making Flair look like a chump who lost his last match and went crawling back to the second-rate idiot competition.  (Dave's not wrong, and neither were they.)  Give Flair credit because even in a scenario where he's being set up to fail, he still delivered.
– And now, the Paul Heyman saga!  Heyman was officially fired from WCW on 1/15, due to an investigation from Bill Watts that uncovered falsified expense reports from the Ramada Hotel in Atlanta.  Basically Heyman allegedly expensed $1200 for nights where he was staying somewhere other than the Ramada.  When Dave contacted the hotel, they contradicted Watts' report and noted that Heyman definitely did stay there.
– Paul of course was quick to issue a statement to the newspaper in Charleston:
"They made that allegation (of falsified expense reports). It is 100 percent untrue. It is false, and it is a lie. The only discrepancy at all on my expense reports is the fact that for several years, several members of the organization have stayed at a particular motel in Atlanta, never got receipts, and that was the maximum amount the company would pay us to stay at the motel anyway. They asked for further documentation, and I got from the hotel itself a letter acknowledging I had been there on the dates in question, and all of a sudden even that is not good enough for WCW. This has been a witch hunt for five months because I refused to renegotiate a contract I signed with that company because I refused to take less pay when I had already committed myself for two years under an agreement. I had no problem renegotiating this deal on April 1, 1994, when this contract expires. It would have been stupid to renegotiate a contract that had already been signed by both parties in good faith.
"In my contract, there is a buyout clause in which they have to buy me out at a certain price even if there is just cause, which there isn't. They have to pay me six months severance (in excess of $100,000) up front. In an attempt to get me to lie down like a dog so that I don't chase after even that, this company is holding the treat of criminal prosecution to make me go away. I am going to seek all legal recourse, not only to enforce the stipulations and provisions of my contract, but for damages to my professional standing and reputation for this blatant attempt to blackmail me and ruin my career because I wouldn't buckle under Bill Watts' pressure. We're going to litigate."
(Oh, Paul litigated the FUCK out of this one!) 
– The manager of the hotel contacted Dave and thinks it all might be a misunderstanding because wrestlers often check in under false names to preserve their privacy.  Basically if someone paid cash under a pseudonym, there's no way to trace their stays at the hotel.  But she remembered checking in Heyman personally on several occasions.
– Hey, back to Rick Rude.  Now there's contract problems because the details of the deal he signed under Kip Frey called for WCW to take care of any insurance premiums that needed to be paid while he's injured, but he won't be out long enough to collect anything and WCW isn't paying him any money while he's on the shelf.  So now the lawyers are haggling over the wording of the contract and whether they're supposed to be paying him while he waits for his $20,000 a week insurance policy to kick in.  (Seriously, what the FUCK is Bill Watts' problem at this point?  Your top heel injures himself in the ring and you won't even pay him while he recovers?!  But he's got no problem spending thousands of dollars filming a video where Erik Watts beats up Arn Anderson at a damn gas station.)
– As per the New York Post, Global appears to have finally been mercy-killed by ESPN and replaced by, I shit you not, "tapes of a sports trivia game show".  (Sadly the promotion limped along for another year yet.) 
– Davey Boy Smith was scheduled to start with All Japan this week, but tried to play hardball and get a raise from their offer of $6000 per week and Baba shot him down because he's a "worse wrestler" than he was when he last worked there.  (True dat.)  So he's going to try his luck with UWFI instead, and Dave is skeptical of that career move panning out for him.
– Dave declares that the last show for PWFG on 1/16 was probably the LAST show.  The Megane Super Opticals corporation pulled out of backing them and everyone left except for Fujiwara himself.  (The splinter group, BattlArts, was much more successful)
– Michinoku Pro will be touring the small towns of Japan, flying in a lot of guys for a tournament to crown trios champions, so Dave hopes they've got some big money behind them.  (Honestly I don't even remember if MPro ever bothered with titles as a focal point.  Mostly I remember it being various combinations of Kaientai taking on the babyfaces with nothing in particular at stake.) 
– In year-end awards voting in Japan, Great Muta and Keiji Muto finished #8 and #9 respectively for Wrestler of the Year.  In the Most Improved category, Kensuke Sasaki was #6 and Power Warrior was #10.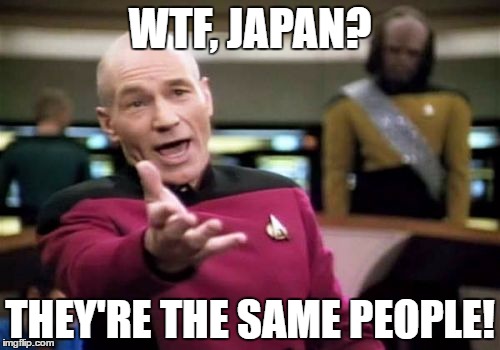 – So, Memphis.  Oh, Memphis, you so Memphis.  Anyway, Bert Prentice has been harassing Miss Texas (Jackie), claiming she was a former man named Bubba Johnson who had a sex change.  So this week he brings out Juanita Wright, aka the former Sapphire.  Bert questions if she had been married to a Bubba Johnson in the past, and Sapphire said she was, and then Prentice brought out Miss Texas and introduced her as Bubba Johnson and Sapphire freaked out and started punching Prentice, saying "I wasn't married to no woman, I'm not gay!"  Prentice's goons attacked Sapphire, but Miss Texas made the save for her, and that's where we stand with that.
– Again with Jim Cornette and the line of the week on SMW TV.  There had been accusations levied against Dr. Tom of having a loaded boot, so Bob Armstrong cut a promo and said "I'm keeping my eyes on his feet at all times."  Jim Cornette quickly responded to that one, and do I really need to fill in the punchline for you?  Actually, take it away, Jim…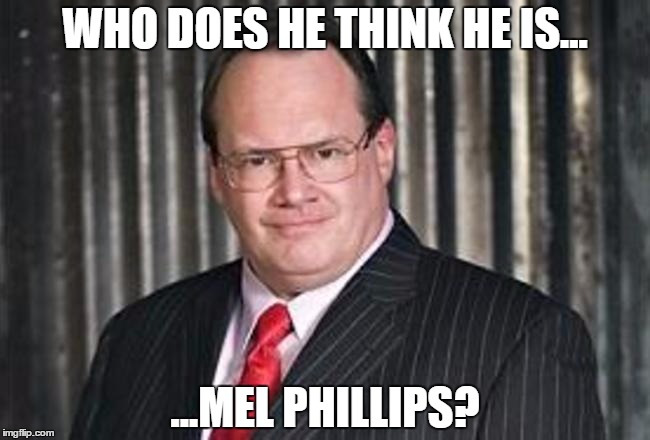 – And yet WCW didn't think he was worth $200,000 a year for some stupid reason.
– Bobby Eaton is also working SMW shows as a six-man with the Heavenly Bodies, and they're heavily teasing dumping Dr. Tom and going with Lane/Eaton as a tag team.  (And yet ironically they went the complete opposite way with it.) 
– Big D Wrestling in Dallas, which is still alive against all odds and reports, normally would run a show on 1/31, but they'd be up against the Super Bowl with the Cowboys involved.  So instead, they're renting a big screen TV and showing the game, then starting the wrestling after it's done.
– Verne Gagne is promoting some kind of freakshow bullshit called "AWA American Sumo" which promises a series of house shows starting 1/29 in LA and finishing with the finals on PPV in April and a $1 million purse.
– WCW has fallen ass-backwards into a big tour of Europe, doing strong advances on just about every show, even before Flair and Bulldog have been announced.
– Cactus Jack is getting over huge as a babyface at the houses.
– Reports from the house shows also say that Steamboat & Douglas v. Austin & Pillman is a 30:00 ****12 classic night after night.
– Dave saw the gas station angle and it was terrible, but on the bright side it got Arn over huge as a babyface.
– In addition to the US title tournament, they will also be doing a tournament for the TV title, which Dave thinks is a huge waste of time for everyone.
– Davey Boy Smith will debut on 2/26, but the WWF is now insisting that he can't be either British Bulldog or Davey Boy Smith until October.
– Bill Watts sent out a five page letter to talent detailing all the ways that guaranteed contracts are bad and how football, baseball and basketball are "all entering a crisis situation" due to those contract problems.  Because, you know, the 90s were well known for the NBA decline in TV ratings.
– Razor Ramon's knee was blown out on the weekend and missed most of the house show matches against Mr. Perfect, but they'll likely have him work Royal Rumble even if they need to amputate his leg and put a prosthesis on it.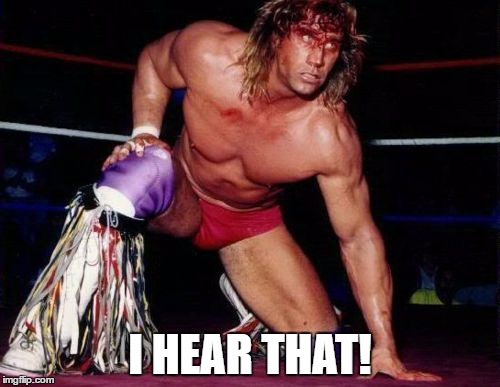 – Harvey Wippleman is talking about a "big surprise" for Kamala, which is probably El Gigante.
– Lance Cassidy was going nowhere in the WWF, so he quit.
– Tatanka will likely be getting the IC title this summer.
– Monday Night RAW was a better show this week because they toned down Rob Bartlett, and the Flair-Perfect brawls were tremendous.
– Slick is doing 5:00 sermons at house shows now, which correspondents describe as "the worst thing they've ever seen at a house show."  That covers a lot of ground, notes Dave.
– Max Moon was in fact brought back in to take over Lance Cassidy's dates, but he's already doing jobs to Skinner every night.
– And finally, Hulk Hogan continued his press tour, with a paper quoting him as saying "I just don't want to go wrestle. I want to win the belt back. I want to be the champion. They've got a guy named Bret "The Hit Man" Hart who's champion now. I could beat him with my eyes closed. He couldn't even lace my boots up."  Dave notes that the part about him wanting to be champion again appears to be a shoot.