Previously on the Flashback… https://blogofdoom.com/index.php/2017/04/28/wrestling-observer-flashback-12-28-92/
Oh hey guys, we made it through the turbulent waters of 1992 together!  I've got a good feeling about 1993.  Bill Watts seems to be getting a handle on running WCW, Vince McMahon appears to be free and clear from his legal troubles, and Kerry Von Erich is finding steady employment again in Texas.
Yup, the future looks bright for 1993.
– Dave reminisces about the past to start.  Remember when Starrcade made the best card of the year?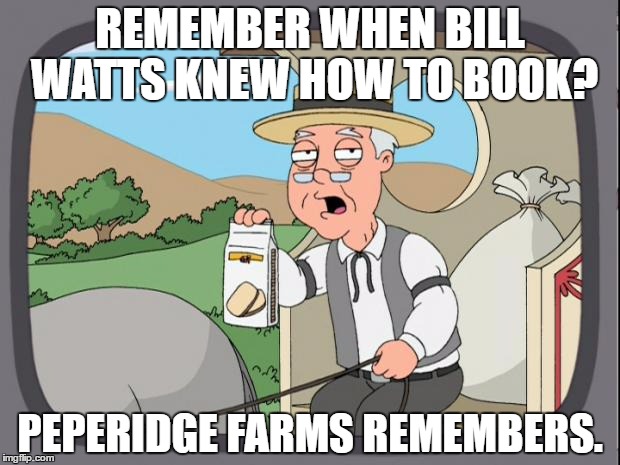 – Well, it certainly wasn't the best show of the year, but it was a pretty solid thumbs up.  Halfway into the show, it was in the toilet and racing with Halloween Havoc for Worst of the Year honors, but two excellent matches saved the show.  Judging by recently lowered standards, two excellent matches and a whole lot of crap means a thumbs up, so there you are.
– The Rude neck injury was a legit story, as he's suffering from a bulging disc in his neck (To go along with his bulging biceps, HUBBA HUBBA!  Wait, did I think that or type it?)  Rude suffered the injury on 12/9, but WCW officials didn't know he was unable to work until 12/26, which wasn't enough time to change the card being advertised.
– Just to squash something going around (and which ended up going around for the next decade following), Rick Rude was NOT booked to win the title at Starrcade.  This was actually rumored and even reported as fact in other newsletters and hotlines, but is not the case.
– The US title will be vacated, with the tournament coming down to Dustin Rhodes v. Ricky Steamboat, and since Steamboat is already half of the tag champs you can pretty much figure out the winner.  (I know!  Erik Watts!) 
– Dave notes that nothing happens until it happens, but Vader should have the World title back by the time the issue is out.  Simmons is a complete flop and Sting v. Vader is the best chance to draw at the moment.
– Also, Dave uses his prognosticative powers to predict that Great Muta will be winning the NWA title from Masa Chono on 1/4 at the Tokyo Dome.
– Titan is going to hold a press conference on 12/29 where they will announce that they're donating the proceeds from their 1/29 MSG show to relief in Somalia.
– So Ric Flair's future in the WWF is very much up in the air, with some reports even stating that he's worked out a release already that will allow him to return to WCW.  While he will be moved down from headline status into a midcard role doing jobs for Tatanka, he's still under contract until September and nothing has been signed yet. Plus, Dave would like to stress that if he's actually been in contact with WCW, that would be ILLEGAL and no one would want that.
– And now, STARRCADE 92!
– The show drew 6500 paid in a building set up for 15,000, so it's not a FAILURE, but it's hard to call $5 upper deck tickets for Starrcade a rousing success at the same time.
– Hank Aaron presented Sting with the 1991 Battlebowl ring to start the show, and Dave notes that the irony of Aaron and Watts standing together was probably lost on everyone.  (NOT FOR LONG!)  Dave notes that trying to equate the Battlebowl ring with a Super Bowl ring just downgrades the World title even more, as if defending two different World titles in the middle of the show didn't already do a good enough job of that.  (Could be worse, they could put one of them on Randy Orton as a reward for getting a concussion.) 
1.  Van Hammer & Dan Spivey beat Cactus Jack & Johnny B. Badd in 6:51.  Everyone was uncomfortable working together and it hurt the match.  Hammer rolled up Jack for the pin.  1/2*
2.  Dustin Rhodes & Big Van Vader beat Kensuke Sasaki & Barbarian in 6:56.  Barbarian was bad here, and they did another rollup finish, with Dustin pinning Sasaki.  *
3.  Barry Windham & Great Muta beat Brian Pillman & 2 Cold Scorpio in 6:59.  Match looked really interesting on paper.  Work was good, but not a lot of heat.  Scorpio pulled out all kinds of crazy new moves, but Windham hit the DDT and Muta pinned him with a moonsault, which was a shock given how early into Scorpio's WCW push this was.  ***1/4
4.  Sting & Steve Williams beat Jushin Liger & Erik Watts in 9:08.  Total waste of Liger.  Williams sold nothing for him the entire match.  Watts looked bad, and Doc "mercifully ended it" by hot-shotting him for the pin.  *3/4
5.  Masa Chono submitted Muta in 14:29 to retain the NWA title.  It was OK technically, but filled with moves that mean nothing in the US.  Dave can't figure out why they worked the match this way, especially since Muta should know better.  Maybe someone told them to work this way?  Chono avoided the moonsault and used the STF for the win.  *
6.  Ron Simmons beat Steve Williams by DQ to retain the WCW World title in 15:12.  They tried, but it never got out of the blocks.  They originally brawled to a double countout, but Williams attacked him after the bell and came off the top rope, which resulted in a reversed decision DQ.  This made the WCW World title look pathetic and also made it apparent how much of a failure that Simmons is.  *1/4
7.  Rick Steamboat & Shane Douglas retained the NWA/WCW tag titles over Pillman & Windham in 20:02.  Good from bell to bell.  Pillman has come a long way as a heel in a short time.  Windham was the best performer on the entire show in his new role as a heel.  Tons of heat on Douglas, and then on Steamboat, before Douglas pinned Pillman with the belly to belly.  ****1/4
8.  Sting pinned Big Van Vader to win the King of Cable in 16:50.  You couldn't ask for a better match!  Hot moves, focused storyline, great planning.  The storyline was that Sting needed to weather the storm and take Vader into a long match so he could wear him out, and eventually Sting used the rope-a-dope on him and Vader punched himself out.  (That really needs to be a storyline with Brock Lesnar one of these days, where some freak just takes all the suplexes until Brock burns himself out.)  Sting caught him with a powerslam for the pin.  ****1/2
9.  Muta won the Battle Bowl in 14:01.  Totally anti-climactic, and nothing memorable occurred.  *1/2
– Jim Ross & Jesse Ventura did a great job during the Sting-Vader match, but it's becoming obvious that they don't work very well together.  (To say the least.) 
– Mike Tenay interviewed Jesse Ventura on a variety of fascinating topics.  Here's the details on his contract, for example:
Really, I have no contracts with them other than the one in 1984 that I was forced to sign with them as a wrestler. When Vince went across the country and plucked the talent from the AWA and the different portions of the old NWA, he never told us out front when he brought us in that at some point he would want to sign us to exclusive contracts. Up until that time there had been no contracts in wrestling. If there had been, I had never been involved in any. All of a sudden, as Titan and the WWF started to grow, Vince all of a sudden came out with these bogus one-sided contracts that give the wrestler nothing and give Titan Sports everything. They had given me three or four of them and I had refused to sign them. I kept putting it off and putting it off until one night at the Mecca Arena in Milwaukee, Gorilla Monsoon comes up to me two minutes before I'm due to go into the ring and puts it in front of me, and says "This is straight from the old man," meaning Vince, "If you don't sign this, you don't wrestle." I looked at Monsoon and said, "You mean to tell me if I don't sign that I don't go to the ring right now?" He said, "Nope, you're done." I looked at Gorilla and said, "Okay Gorilla, I'm signing this under duress and I'm signing out of my free will." I scribbled my name on it. It isn't my normal signature but I did sign it because I was forced to sign it essentially. At that point in my career I couldn't say no. I'd already burned my bridge with the AWA with the help of Vince McMahon. So there was no real places for we as talent in the WWF would have been accepted because that was at the height of the war. That contract expired after two years. After that point I was never signed to anything ever again. That doesn't cover my broadcasting which I fell into a little later. It's a whole different deal. It's not wrestling.
– In Mexico, the intriguing Losers Tournament lived up to its name, drawing 200 people to a 17000 seat building.
– In Japan, Jumbo Tsuruta is still out with liver problems and will be out for the foreseeable future.
– Memphis update:  The Christmas Creature is not Brian Lee, as speculated by Dave last week.  Instead, it's some rookie named Glenn Jacobs, who was unmasked against Lawler and had makeup on his face to make people think he was Sid Vicious.
– The Harris Brothers debuted and won the USWA tag titles from the Moondogs on 12/28.  (I can't even imagine how shitty that match would have been.) 
– Bert Prentice is doing a feud against Miss Texas, with his claim being that she was actually a man named "Bubba Johnson" who had a sex change and is currently having an affair with Eddie Marlin.
– Bobby Eaton is going to be hanging out in SMW for a few months before he heads back to WCW.
– The SMW TV shows continue to be great.  The main angle is Tim Horner stealing the SMW title belt from Dirty White Boy, then constantly "forgetting" where he put it.  Finally after two weeks, he sent in a video showing him giving the belt to a kid who just had undergone spinal surgery, because he was a real champion.  This was followed by White Boy's manager Ron Wright cutting a promo about how the theft made him so upset that he developed gout as a result.
– World Class is back!  Sort of, as Chris Adams is now running shows in Texas using that name, with Kevin Von Erich and Iceman Parsons among other washed up talents.
– To the WWF, where the Nailz plot thickens.  Phil Mushnick actually wrote a story for the New York Post about the situation, attributing another sex lawsuit to Vince McMahon.  Dave has done some digging and the supposed $150,000 that he was trying to "extort" according to the WWF PR team was in fact money that he wanted to be paid in advance for putting over Undertaker every night at house shows.  And the Summerslam payoff he was so upset about was $8000.  (He should have been ECSTATIC to get a cheque for $8000 with that shitty gimmick.)  Finally, his case might be somewhat undercut by testimony from another wrestler, who went on the record under condition of anonymity stating that Wacholz was complaining about drug testing and said that "the only way to make money in this company is to claim that someone grabbed your dick."
– The new Saturday morning show will now be called "WWF Mania" to avoid legal entanglements with WCW's Slam Jam album.
– Prime Time's final episode aired on 12/28.
– Max Moon was fired, but Dave's not sure if he's contractually prohibited from working elsewhere.  (Well, he'd be back for the debut of RAW, so that firing sure didn't stick.) 
– Doink the Clown will be headlining house shows against Bret Hart for the title leading up to Wrestlemania, and Dave swears he's not making that up.  (That must have changed.) 
– Randy Savage is being phased into color commentary and will no longer be working full-time. As a result, the Savage-Michaels matches at house shows have been disappointing, as Savage seems to have lost his motivation.
– To WCW, where they shot an angle on 12/27 involving Erik Watts getting into a fight with Arn Anderson in a 7-11 parking lot, resulting in Erik getting "arrested".  (Oh F---, that angle SUCKED.)  Arn will stay home collecting $1500 a week to sell the angle.
(OK, let's go to the YouTubes…)
https://www.youtube.com/watch?v=VC1ShQGAetE
– Steve Austin's contract issues have been settled and he'll be pushed again as a regular tag team with Brian Pillman.
– Sting actually missed a few house show dates because WCW used too many of his dates and he's only contractually obligated to work a certain number.  (This actually happened with Lex Luger in 1991 and was a major cause of house show attendance drops, since he was pretty much done working by October and they couldn't get him to go to the house shows.)  Dave sides squarely with Sting on this one:  If Bill Watts is going to be such a hard-ass about contracts and following them to the letter, then it's WCW's responsibility to make sure that they don't book their top star for more dates than he agreed to.
– And finally, in a huge shocker, someone said something mean about Bill Watts in a newsletter and he freaked the f--- out.  Specifically, Mark Madden wrote a parody piece in the Torch where Watts booked Erik to be crucified on live TV, with the slogan "Erik Watts: Arising on the third day at an arena near you."  Dave's take:  If you can't take it, don't dish it out.  (Amen.  Also, the relationship between Mark Madden and Bill Watts was about to become a LOT more contentious, but we'll get there soon enough.)