Previously on the Flashback… https://blogofdoom.com/index.php/2017/03/10/wrestling-observer-flashback-06-22-92/
We've got Beach Blast AND Clash of the Champions, so it's a packed week of mid-level WCW goodness.  But first, Summerslam tickets are doing pretty good.
(Minor note about the posting time, since it's become a thing lately:  We don't celebrate Daylight Savings Time here in Saskatchewan, so it'll be either an hour later or earlier depending on where you are, because I can never keep track.  Regardless, I'll continue posting at 6:00 AM my time.  Except for this morning, because it's Sunday and I felt like sleeping in.)
– So Summerslam sold, as the British say, TONNES of tickets, setting a record for first day ticket sales with a reported 83,000 sold in the first six hours.  (That would still be a record today if true.)  They had actually already taped an Event Center with Sean Mooney, announcing a sellout even before tickets went on sale.  However, by Monday, the number had been revised downwards to 65,000 sold in six hours, which is still bloody impressive, as the British say.  But not a sellout, so it's a bit sketchy for them to announce a sellout.  However, the idea is that they announce it's a sellout and make it seem like such a hot ticket that people will have to run to buy closed circuit tickets instead.  (Solid plan, actually.)  Even the mighty Wrestlemania III only sold 23,000 tickets in the first day, on the way to…you know…whatever.
– Lex Luger's motorcycle accident doesn't appear to have ended his career, although for a while there it was touch and go.  As noted last week, Luger got hit-and-run by a car and was thrown from the bike, suffering torn knee ligaments, a crushed elbow, torn groin and torn ab muscles.  (If it was Rick Rude, the car would have bounced off his abs instead.)  Dr. Andrews, who performed three different operations on the arm to save it, told Luger that he almost lost the use of it completely.  And hey, on the bright side, he can't legally wrestle until March anyway, so he's got plenty of time to heal up.
– WCW Beach Blast '92, a wacky experiment whereby WCW does 3 PPVs in 3 months, was generally considered to be pretty good.  The building was half-full with 3200 people and set another record for Worst Buyrate Ever judging by early estimates.  (It did a 0.4, which is about 80,000 buys according to my quick math.)
1.  Scotty Flamingo won the WCW lightheavyweight title from Brian Pillman in 17:29.  The match started slow and wasn't as fast-paced as you'd think. They've pretty much ditched the differences between the lighter weights and the usual heavyweights, in fact.  (Which quickly killed off that title and entire division.)  Pillman's bumps would have been the highlight of the show, had Cactus Jack not completely stolen the show later.  Flamingo won with a weak kneedrop.  **3/4
2.  Ron Simmons pinned Terry Taylor in 7;09.  Taylor pretty much carried it to a decent match.  Dave is also annoyed by the fast stopwatch of the timekeeper on this show, much like I was in my rant on the show.  Simmons won with a powerslam.  **
3.  Greg Valentine submitted Marcus Bagwell with the figure-four in 7:15.  Bagwell was trying hard and the match was fine.  *3/4
4.  Sting pinned Cactus Jack in a "falls count anywhere on the Gulf Coast" match in 11:26.  They never made it to the beach, but it was a hell of a deal.  Cactus delivered one of the most insane performances that Dave has ever seen, with Sting kicking out of a double arm DDT on the ramp, and finishing Jack with a top rope clothesline since it was no-DQ.  ****1/2  Dave once again notes that Jack isn't going to have a long career at this rate.
5.  Ricky Steamboat beat Rick Rude 4-3 in a 30:00 Iron Man match.  This was announced as a non-title match well in advance, so the result was obvious.  Dave was offended by Steamboat pushing off the top rope to reverse a sleeper for the final pinfall, since that should have been a DQ.  ***1/2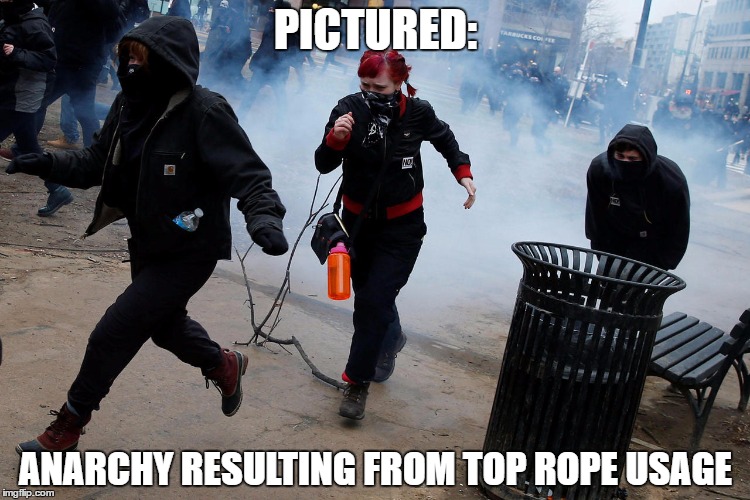 (Back in the day, with "the day" being mid-2000 or so in this case, the Death Valley Driver crew spearheaded a campaign to get people to rate this match higher and put it on the "Best of the 90s list" and it became a big thing for a while.  And yeah, when I finally did the rant on the show in 2001, I gave it ****1/2.) 
6.  Dustin Rhodes & Barry Windham & NIkita Koloff beat Steve Austin & Bobby Eaton & Arn Anderson in 15:30 when troubleshooting referee Ole Anderson DQ'd Arn for coming off the top.  This was done pretty much just to get over the stupid top rope rule again.  Eaton is pretty much working with one arm at this point and still is better than most guys in the ring.  Nothing spectacular.  **3/4
7.  Rick & Steiner drew with Terry Gordy & Steve Williams to retain the WCW tag titles in 28:22 (or 30:00 in WCW land).  It was both good and bad.  For hardcore fans, it was pretty watchable.  For everyone else, it was boring as fuck.  Also, Gordy & Williams have no character besides the weird Japanese costumes, which means nothing.  (Thank you!  I came to love the MVC after years of perspective and tons of Japanese tape trading, but Bill Watts was completely out of touch with the audience, and I didn't get their monster push at the time either.  I was just like "Uh, it's Steve Williams and Terry Gordy, big deal." because it's not like I'd have access to All Japan tapes while in high school.  Well I guess technically I graduated high school the week of this show.  YES I'M OLD I GET IT.) 
– Also, the bikini contest between Madusa and Missy fell completely flat.  (Well, not everything was flat.  As in their BOOBIES.) 
– Dave does note that most people are saying Cactus v. Sting should have gone last, but they couldn't have it based on how the match was ending, since it needed to end with Cactus brawling with him instead of laying on his back.  (Given how pointless the rest of his year was, he might as well have.) 
– Next up, Clash XIX, which was taped 6/16 and aired 6/21, this one drawing about 4600, but with dirt cheap tickets.
1.  Steamboat & Koloff beat the Malenkos in 9:50.  As expected, the Malenko brothers looked great with Steamboat, but couldn't do much with Koloff.  Koloff pinned Dean with a sickle.  *3/4
2.  Rick Rude & Steve Austin beat Marcus Bagwell & Tom Zenk in 7:54.  No heat for this one.  Everything was decent, and Rude pinned Bagwell with the Rude Awakening in what was basically a squash.  **
3.  Steve Williams & Terry Gordy beat Jeff & Larry O'Day in 2:35.  Another squash.  1/4*
4.  Dustin Rhodes & Barry Windham beat Arn Anderson & Bobby Eaton in 10:23.  This was good, and the top rope was legal "under NWA rules" for this show only.  Eaton missed the legdrop and Dustin pinned him with a bulldog.  ***1/4
5.  The Freebirds beat the Silver Kings in 6:28.  This was a mess, with a total style clash that killed the match.  The Freebirds can't even work their OWN style, let alone anyone else's.  This was supposed to be the Silver Kings going over, but Bill Watts changed the result to swerve his own magazine.  Hayes pinned a King with small package.  1/2*
6.  Jushin Liger & Brian PIllman beat Chris Benoit & Biff Wellington in 11:30.  Good, not great, match.  Fans didn't know how to react early but got into the match, which is more than can be said for for the rest of the show.  Lots of hot moves, but Wellington had nerves and missed a bunch of stuff, eventually getting pinned with a moonsault.  ***3/4
7.  Hiro Hase & Akira Nogami beat the "Headhunters" (Bob Cook & Joe Cruze under masks) in 5:10, because the real team no-showed.  It was supposedly a political deal where the WING team didn't want to job to the New Japan team.  Crowd wasn't into it at all.  (Also, I thought it was established that it was Arn Anderson and not Cruze under the mask?)  The Japanese team did "simultaneous german suplexes" which in reality were not at all, to pin the masked guys.  3/4*
8.  Gordy & Williams beat the Steiner Brothers in a second round match in 15:01.  They did some gymnastics with the bracketing at the last minute to set this up, thanks to confusing storyline where Bill Watts alluded to the MVC mugging the Puerto Rican team in the parking lot.  (I mean, I got the storyline when I was originally watching it.  It wasn't a very GOOD payoff, but I didn't find it confusing.) They had an inside "joke" where they said the President of the NWA may resign over the situation, which was supposed to funny because Jim Herd was the last President.  Har har.  Anyway, the match was much better than the PPV match, filled with amateur wrestling submissions.  Scott got clipped by Gordy and Doc fell on top for the pin, and the crowd was PISSED at seeing the Steiners go out like that.  ****
– Overall, it's a thumbs in the middle from Dave.  You had the greatest talent in the world but couldn't utilize them better than THAT?  (WCW in a nutshell.)  Everything on the show was pretty much decent TV matches, and none of the foreign talent got over.
– The Bash will likely come down to Gordy & Williams v. Windham & Rhodes in the finals, so Dave expects WCW to change that just to screw with people.  Plus they have to get the Steiners onto the show somehow, you'd think.
– Murray Hodgson gave his deposition at Titan's offices on Thursday, and now Vince is counter-suing HIM for "damaging the reputation of Titan Sports".  (I think Vince has been doing a good job of that on his own.)  Dave thinks that it's just a tactic to drive up Hodgson's legal costs and win by attrition.
– Titan also had meetings with Antonio Pena of AAA about doing talent exchanges, since the WWF wants to get into Mexico City so badly.  Plus Pena wants to expand into the US. Also, and this is 100% confirmed this time, Konnan will finally debut as a masked wrestler for the WWF at the 7/20 and 7/21 TV tapings, no messing around this time, honest.
– Dave does the big business recap for the year and I'm gonna distill it down a lot because we're already running long:
WWF:  House shows down 36% this year, mostly due to Hogan being gone.  TV ratings down 16%.  However, they're doing OK thanks to an incredible European tour, but it's not realistic to assume those numbers can hold all year and it'll likely get worse after the summer.  Thankfully they can always go overseas when and if things get dire in the states.
WCW:  1991 was dismal for them, and they're down 6% from THAT already at the house shows.  They've been trying the wacky new strategy of not booking shows where they don't have TV, so that eliminates the crowds of 300 people they were drawing all the time, but even Atlanta has been declining in attendance.  As well, even with an expanded PPV universe, buyrates are…how shall we put this…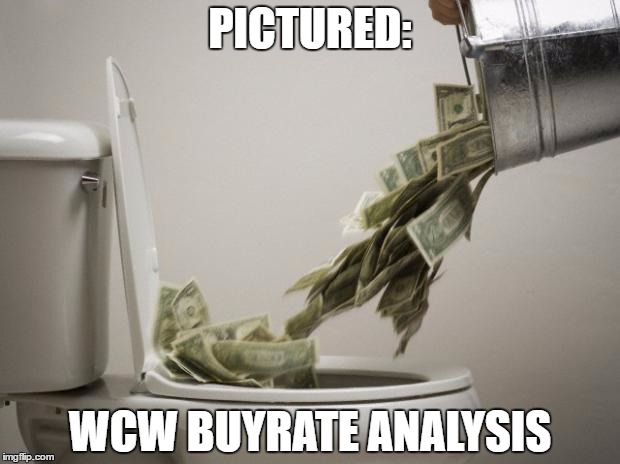 Yeah, like that.  And since WCW basically derives most of its revenue from PPV, this is not good.  It looks like Kip Frey's plan of dropping PPV prices was a HUGE mistake, because interest levels are about the same and now they're making less money.  For example, SuperBrawl was $24.95 and WrestleWar was $19.95, and SuperBrawl made almost $1 million more in ONE SHOW.  Price tag isn't the issue, it's fan apathy towards the shitty product.
New Japan:  About the same.  Business is still good.
All Japan:  I heard Baba was going on a ski trip soon.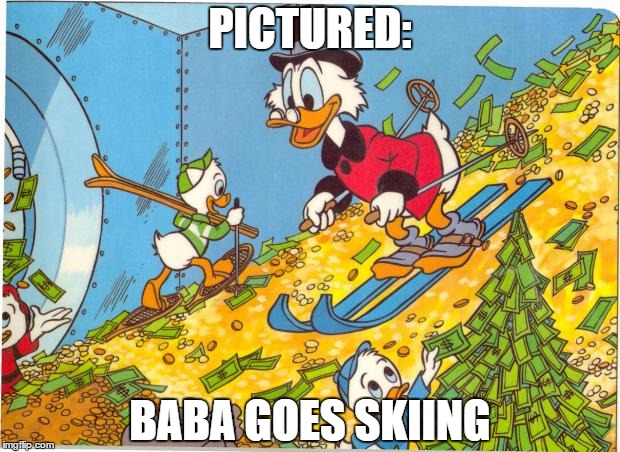 See, because he's got a lot of money coming in.  That's where I was going with that one.
– Dave is running a "Question of the Week" as an experiment.  He does like his polls.
– To Mexico, where Konnan was EXPELLED from the country.  Turns out that he's an American citizen born in Cuba, and EMLL promoter Paco Alonso managed to get his work visa revoked behind Pena's back, resulting in Konnan being arrested and sent home before Pena could fix things.  So Konnan will be forced to work in the US for a while before he can go back to AAA.  (Holy shit, that's NASTY.  I wonder if Vince ever sunk to screwing with people's work visas?) 
– AAA has begun pushing a new masked guy as top heel named "La Parca" who Dave has never seen before, but he's hears he's a great worker. In fact, AAA is open to marketing heels to fans, unlike most of the other promoters who just ignore the "heel fans".
– SWS did their final show on 6/19, with Tenryu's team beating Kabuki's team in a six-man main event.
– The split begins on a 7/14, with one group called "Revolution" led by Tenryu, and the other (formerly "Palestra") will now be called Network of Wrestling, or "NOW".  And in fact Naoki Sano, who was supposed to be NOW's big star, is already jumping to PWF, so they're pretty hooped right away.
– Eddie Gilbert won the "unified" World title from Jerry Lawler, as they're now playing up the aspect of all the titles (AWA, World Class, Global, USWA) being a part of it.  (I supposed there's SOME logic to that, since AWA and World Class are long gone now anyway.) 
– Dennis Coraluzzo is playing heel again on Memphis TV, showing up with Fred the Elephant Boy from Howard Stern and Fred's brother, claiming that Lawler has illegitimate children in New Jersey and these are "Jerry's kids".  They were called "Brian and Kevin" on TV as a huge inside rib.
– Dave adds an SMW section at this point, and got to see some TV shows, calling them an enjoyable change of pace.  They're sadly lacking a top star with charisma, unfortunately.  (That would not really ever change.)  Cornette had a funny promo video for the Heavenly Bodies on the show, where his limo driver accidentally took him to a Hooters night club while searching for the Bodies, and Cornette ended up berating the idiot driver, who was named "Jim Herd".
– Meanwhile, GWF has been relegated to the "Here and There" section as the attendance drops further to 185 people at the Sportatorium.  I don't think they ever made it back out of that section.
– There is no longer any talk of Jake Roberts coming into WCW.
– El Gigante, however, is trying to get his job back.
– Mr. Hughes is apparently dying his hair and beard blond for a new push and gimmick.  (Did this actually happen?  Because that sounds AWFUL.)
– So the WBF PPV did 3000 buys nationally, or a 0.02% buyrate. Dave calls that "shockingly weak", and in the same range as the Beach Brawl PPV from Herb Abrams.  (Holy shit, I know the show bombed, but given the hype on WWF TV for that shit show, you'd think they'd draw at least 10,000 out of Pavlovian dedication from WWF fans.) 
– Although Nailz flopped on TV, he's over HUGE on the house shows as a monster.
– Val & Tony Puccio, the guys who got a settlement for being the original Undertakers on the indy scene, worked some more house shows as Double Trouble and lost to the Bushwackers.
– The New York Daily News leaked a rumor that Ric Flair would be regaining the title from Savage at the Nassau show on 6/19, and they did 11,000 as a result.  He didn't win, by the way.
– Bob Backlund will not be taking the WWF's offer to return.
– And finally, Dr. Zahorian will be talking to youths about the dangerous effects of steroids as a part of his punishment.  Dave notes that the worst effect is that you can get jail time for distributing them if you're caught.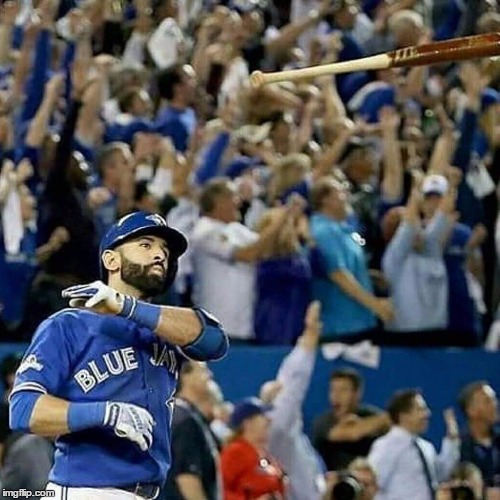 – And on that note, enjoy your Sunday!