Previously on the Flashback… https://blogofdoom.com/index.php/2017/02/26/wrestling-observer-flashback-04-20-92/
People are still touchy about the whole 93,173 thing, huh?
– In a positive business note to start, the WWF is selling a shitload of tickets overseas right now, selling out two shows per week in Europe from Milan to Minsk on the "Rochelle, Rochelle" tour.  (OK, I made that part up.)  The first WWF show ever in Munich drew 12345 and sold over $200,000 in merch, so that's pretty good.  Which once again proves my theory…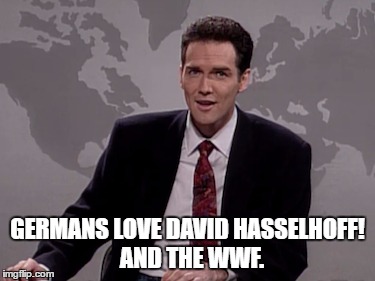 – Even more impressive is the total lack of star power on the shows, with one tour headlined by Undertaker v. Sid Justice and the other by Randy Savage v. Shawn Michaels.  (One of those matches was significantly better than the other.) 
– WCW will be announcing the brackets for the NWA World tag team title tournament this weekend, with the first round taking place at the Clash of Champions on 6/16.  The finals will take place at the Bash PPV on 7/12, plus Sting v. Vader for the WCW title.  It should be eight WCW teams and eight international teams.  They're going to be playing up the history of the NWA on the various TV shows this week and doing interviews with former champions.  Also, the tournament will be specifically used as a tryout for Chris Benoit.  (To say that he passed with flying colors would be an understatement.) 
– Update on the Global situation:  There's no issue with ESPN because they largely don't give a shit about the quality of the shows week-to-week anyway.  In fact, Dave notes, they specifically turned down Bill Watts' Mid South years ago because AWA had Sgt. Slaughter and they liked him better.  Anyway, Eddie Gilbert is no longer booker nor part of the long-term plans, and Doug Gilbert has actually retired and is working construction in Tennessee.
– The 20/20 steroid episode finally aired, but they had to cut a lot of complex issues down to 15 minutes and it didn't really work.
– Back to Murray Hodgson, as depositions in his case are scheduled to be taken this week.  This one is gonna be tricky for him to prove anything, and it's largely going to come down to his word against Vince's.  And the two different stories are so far apart that "one of these sides is on Fantasy Island".  And since one of the sides is well-known for frequently being on Fantasy Island with many other controversial topics and lying to the media in just about every situation, it makes it easy to believe the other side.
(Dave goes into more detail on the supposed deals offered Hodgson, but I'm not sure if and when we get the surprise twist payoff in these, so I'll just spoil it for you here:  Murray Hodgson was outed as a con-artist during the trial who had tried the same tactic with multiple victims, and the whole thing was quietly dropped soon afterward. Yes, this was actually one of the very rare times where VINCE MCMAHON TOLD THE TRUTH.  I know, I'm as shocked as you.  Hodgson disappeared from the business and never returned.) 
– Dave watched week #3 of WCW Saturday Night and the consensus is that it's a major flop, with the third episode being the worst yet thanks to Dusty Rhodes hosting for two hours and being completely unprepared.  Also, mid-carders going nowhere against each other for 30 minutes is NOT good television.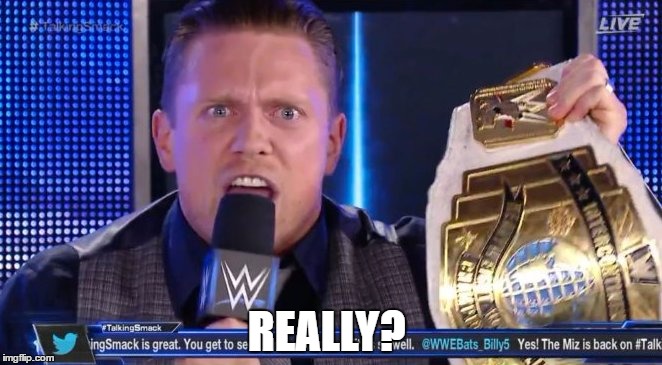 – Yes, Miz.  Especially YOU.
– Dave points out that Jim Herd's philosophy was "Nothing over 14 minutes on TV", even when you had Ric Flair trying to work classic matches, and now Frey's philosophy is apparently the exact opposite.  It's too early to judge based on ratings, but they're hardly a vote of confidence at the moment.  And Dave is pretty sure that no one wants to hear the Freebirds sing their stupid song again.
– So the Funaki v. Duran match actually happened on the weekend, and it turned out to be a whole lot of attention for basically nothing.  Duran submitted to an armlock in the third round after showing up completely out of shape and clearly not giving a shit.  (PLEASE tell me he said "No Mas!") Even Funaki was disappointed, saying it was like showing up for a scary movie that not only wasn't scary, but was terrible.
– Speaking of terrible, the Flair v. Tenryu match for SWS was a bit of a flop, only drawing 9000 to the Tokyo Coliseum, and half of that was paper.  The match was also disappointing, with Tenryu winning 2/3 falls from Flair.
– At the same time, Stan Hansen won the All Japan Champion Carnival tournament, beating Misawa in the finals.  This of course makes no sense because Hansen is already the Triple Crown champion and you'd think that Misawa winning would have created a logical contender for him.
– Dave interviewed another steroid expert, who basically tore apart the credibility of the WWF steroid testing program and pretty much called it a joke.  Hot take, I know.
COMPLETE LISTING OF 1991 WRESTLING OBSERVER AWARD WINNERS

WRESTLER OF THE YEAR – 'La La Land'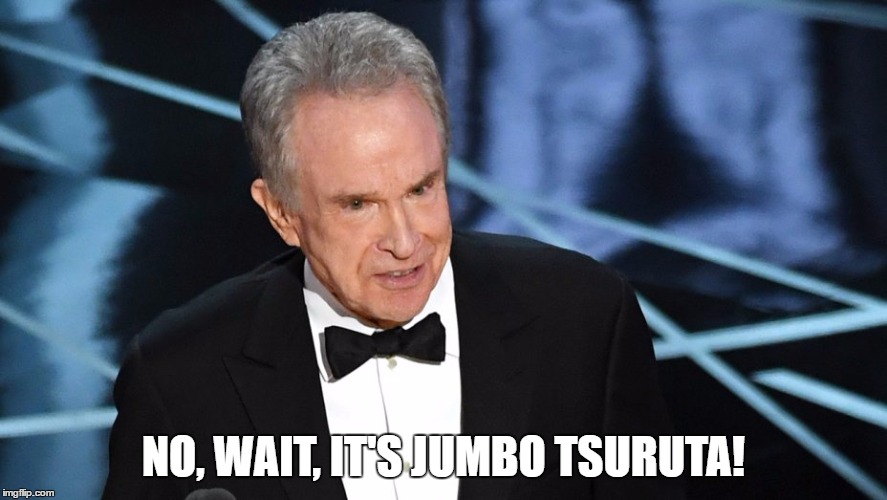 (Goddammit, Beatty, not again!)
MOST OUTSTANDING WRESTLER – Jushin Liger (New Japan Pro Wrestling)*

BEST BABYFACE – Hulk Hogan (World Wrestling Federation)*

BEST HEEL – The Undertaker (WWF)

FEUD OF THE YEAR – Mitsuharu Misawa and co. vs. Jumbo Tsuruta and co. (AJPW)*

TAG TEAM OF THE YEAR – Mitsuharu Misawa & Toshiaki Kawada (AJPW)

MOST IMPROVED – Dustin Rhodes (World Championship Wrestling)

MOST UNIMPROVED – British Bulldog (WWF)

MOST OBNOXIOUS – Herb Abrams (Universal Wrestling Federation)

BEST ON INTERVIEWS – Ric Flair (WCW/WWF)

MOST CHARISMATIC – Hulk Hogan (WWF)*

BEST TECHNICAL WRESTLER – Jushin Liger (NJPW)*

BRUISER BRODY MEMORIAL AWARD – Cactus Jack (Tri States Wrestling/Global Wrestling Federation/WCW)

BEST FLYING WRESTLER – Jushin Liger (NJPW)*

MOST OVERRATED WRESTLER – Sid Justice (WCW/WWF)

MOST UNDERRATED WRESTLER – Terrence Taylor (WCW)

BEST WRESTLING PROMOTION – All Japan Pro Wrestling*

BEST WEEKLY TELEVISION SHOW – All Japan Pro Wrestling*

MATCH OF THE YEAR – Rick & Scott Steiner vs. Hiroshi Hase & Kensuke Sasaki 3/21 Tokyo Egg Dome (WCW/NJPW)

MANAGER OF THE YEAR – Sensational Sherri (WWF)

ROOKIE OF THE YEAR – Johnny B. Badd (WCW)

BEST ANNOUNCER OF THE YEAR – Jim Ross (WCW)*

WORST ANNOUNCER OF THE YEAR – Gorilla Monsoon (WWF)

BEST MAJOR WRESTLING CARD – WCW Wrestle War '91 2-24 Phoenix

WORST MAJOR WRESTLING CARD – WCW Great American Bash 7-14 Baltimore

BEST WRESTLING MANEUVER – Masao Orihara's moonsault off top rope to floor (Super World Sports)

MOST DISGUSTING PROMOTIONAL TACTIC – WWF's exploitation of Persian Gulf War

BEST COLOR COMMENTATOR – Paul E. Dangerously (WCW)

READERS FAVORITE WRESTLER – Ric Flair (WCW/WWF)*

READERS MOST HATED WRESTLER – Hulk Hogan (WWF)

WORST WRESTLER – Andre the Giant (AJPW)

WORST TAG TEAM – Andre the Giant & Giant Baba (AJPW)*

WORST TELEVISION SHOW – Universal Wrestling Federation

WORST MANAGER – Mr. Fuji (WWF)*

WORST MATCH OF THE YEAR – P.N. News & Bobby Eaton vs. Terrence Taylor & Steve Austin scaffold match 7-14 Baltimore (WCW)

WORST FEUD OF THE YEAR – Hulk Hogan vs. Sgt. Slaughter (WWF)

WORST ON INTERVIEWS – Ultimate Warrior (WWF)*

WORST PROMOTION – Universal Wrestling Federation

BEST BOOKER – Shohei Baba (AJPW)*

BEST PROMOTER – Shohei Baba (AJPW)*

BEST GIMMICK – The Undertaker (WWF)*

WORST GIMMICK – Oz (WCW)

MOST EMBARRASSING WRESTLER – Van Hammer (WCW)
– After reading the results of the Champion Carnival, Dave is of the opinion that "if you eat steak seven nights a week, steak tastes pretty bland" is the adage that applies best to All Japan.  It's the same matches with the same people over and over, and he wonders how longer Hansen and Jumbo can win all the time while Misawa and Kawada and Kobashi lose all the big matches before someone scores an upset.  (August and the next several years following must have been a very happy time for Dave.  Actually, we know for a fact that they WERE, so there you go.) 
– The SWS tour with Flair actually saw the new SWS tag team titles change hands three times in as many days, with George & Shunji Takano winning them from The Natural Powers (Haku & Yoshi Yatsu) on the first show, followed by the Natural Disasters winning them on 4/17, then finally the Natural Powers regaining them on 4/18 on the big Tokyo show underneath Flair/Tenryu.  The tour was a huge disappointment overall on every level, drawing half-full houses and the matches were pretty bad.  (The Natural Powers were the final champions, as the promotion only has about two months left at this point.) 
– Also, just to put the screws to fans, they did a NWA Junior title match where El Satanico defended against Ultimo Dragon in what was presumed to be the title change, but they went with a double-pin finish instead.  Then they immediately restarted the match for the big payoff…which was Satanico winning by countout.  So two screwjobs in the same match!  Fans were of course pretty pissed about that one.
– To Memphis, where the latest Moondog replacement is Lenny Kean, working as Moondog Cujo.  Ironically, he was best known as being a replacement Hillbilly in the WWF, where he worked as Cousin Junior. The latest "most Memphis thing ever" angle saw them throwing BATTERY ACID at Jeff Jarrett, only for Eric Embry to leap in front of him like a Secret Service agent and take the bullet.  Fans at ringside were freaking out and giving their drinks to security so that they could flush out Embry's eyes and save his vision.  (Holy fuck I fucking love Memphis.) 
– Also debuting in Memphis are a 400 pound babyface named The Moondog Hunter, plus…and Dave isn't making this up…the Easter Bunny.
– The GWF tapings (down to 400 people now) saw the debut of that team from Houston, the Ebony Experience, who are said to be quite good.
– Angel of Death is working these shows after being retired for nearly a year due to PN News being a big lummox who destroyed his knee accidentally, but he can't technically work without a doctor's release.  So he's doing a gimmick where he's Eddie Gilbert's tag team partner but never tags in.  (He would never really wrestle again, in fact.  So THANKS to PN News for that one!) 
– Buck Robley did a show on 4/13 in New Orleans, but the most interesting thing came before the show, as Cowboy Bob Orton did an open challenge gimmick with the boys where he took on all comers in a grappling exhibition one by one.  And he basically tied up everyone without breaking a sweat, including supposed tough guy amateur wrestler Manny Fernandez, in fact handling him without even bothering to take his watch off.
– Whereas business for the WWF is strong overseas, advances in the US are weak for Flair v. Savage rematches.
– Warlord has been suspended for 60 days for "unannounced reasons."  (Wink wink)
– PN News showed up at the latest TV tapings looking for a job, as part of a tag team with "a guy who looked just like him."  (I'm assuming the other guy was Bruiser Mastino, the wrestler who eventually became Mantaur and was rumored to be Paul Neu's cousin or brother.  Thank god News didn't get that job.) 
– Vince doesn't want any more "Funeral Parlor" or "Barber Shop" interview segments on the shows, and everything will now just be filmed in the ring.  (I hadn't thought about it, but yeah, I guess this was around the time where stuff like "The Heartbreak Hotel" and "The King's Court" moved to in-ring sets.) 
– Kip Frey is hoping for some major improvements in the ratings by July when they get to the Beach Blast/Bash PPV double shot.  (Well, pretty soon it won't be his problem anyway.) 
– Still nothing on Jake Roberts, but people are betting he'll be in WCW as soon as he's contractually allowed.  Vince is just burying Jake on TV, so that's another sign he'll be signing with the enemy.
– They're teasing a Larry Zbyszko turn, but in classic Because WCW manner, they aired a backstage segment where he argued with Paul E. in the hallway after a loss, but then "replayed" the segment later and accidentally showed an alternate take with different lines!
– Steve Austin cut his hair to look like Brian Bosworth.  (Perhaps he should cut it even shorter.) 
– House shows are down, so Dusty Rhode is booking CAGE MATCHES FOR EVERYONE on the circuit out of desperation.  And of course the May PPV is headlined by the WarGames.  (Again, pretty soon it would cease to be his problem.) 
– And finally, WCW is already killing the 2/3 falls gimmick by doing a match with Steve Austin defending against Barry Windham, where Windham won the only fall before time expired.  However, since he didn't win two falls, Austin kept the title.  Dave is like "Yeah, cute, whatever."  (WCW botches an idea and gets bored with it after a few weeks, film at 11.)