Just about time for Summerslam next week, but first another obit to open the issue…
– In the lead story, Pat O'Connor died due to liver cancer at the age of 65 after a 32 year career in wrestling, including a famous NWA World title run.
– Summerslam is on Monday night, and looks to be the one bright spot in a summer full of depressingly terrible house show numbers on both sides.  The WWF taped a preview show on 8/15 from Utica, and it was a good show but the matches themselves were bad.  But it did a good job of hyping the show, which is the important point.  In fact, you could skip all of the TV shows leading up to Summerslam and learn everything you needed from this one.  Show was a bunch of terrible squashes with a main event of Jim Duggan v. Earthquake.
– Dave thinks that Tornado and Warrior are the "Bobsey Twins" now, since they both have the same hair and unintelligible interviews now.  He also thinks that's part of the problem, since Vince would normally never allow two of his top babyfaces to be so similar.
– Irony strikes again, as the day before Jesse Ventura was set to leave the WWF to be a TV star, ABC pulled the plug on the "Tag Team" pilot and the show is dead.  The problems appeared to stem from a fight between the network and the producers of the show over the direction, and that's that.  The pilot will air as a TV movie and then go away.
– Details should be emerging soon about the new promotions about to hit the US, with Herb Abrams launching the new UWF with a press conference on Saturday, and Joe Pedicino about to announce his new group that's financed by Nigerian investors.  (That doesn't sound shady at all.) 
– Koji Kitao is still nowhere to be found in Japan.  Dave thinks most of the controversy is just part of an elaborate angle for hardcore fans.
– Misawa and Tsuruta did a "worked shoot" on the last All Japan show, with Misawa accidentally throwing a "real" kick to Jumbo, causing Tsuruta to push Misawa off the top rope and to the floor with a sick flat back bump ala Dynamite Kid.  Then he destroyed Misawa with suplexes while Misawa's partner Kobashi won the match for his team.  This sets up a rematch of the famous Misawa v. Tsuruta match, with the winner getting a Triple Crown shot at the next big show.
– Keiji Muto will be changing permanently back to the Great Muta in Japan, because he and Chono want New Japan to become more US style.  Muta's first opponent is rumored to be Ricky Steamboat, which is significant because he was going to be one of Tenryu's first signees for SWS.
– Masa Saito is coming to the US for Summerslam, and he's going to meet with Ole Anderson about maybe borrowing Scott Steiner for some shows.
– Since his coma scare three weeks ago, Terry Gordy is "100% on the wagon" and has dropped 25 pounds.  (I think young Gordy has really turned his life around for real this time.) 
– Turns out that Atsushi Onita really is going to Puerto Rico to do an angle with Mr. Pogo.
– In the USWA, Brian Lee was awarded the USWA Title because Snowman no-showed AGAIN.
– Eddie Gilbert wins line of the week while explaining John Tatum's no-show to the TV audience, as he noted that Tatum is away at the moment, but he'll be back on Tuesday…of 1995.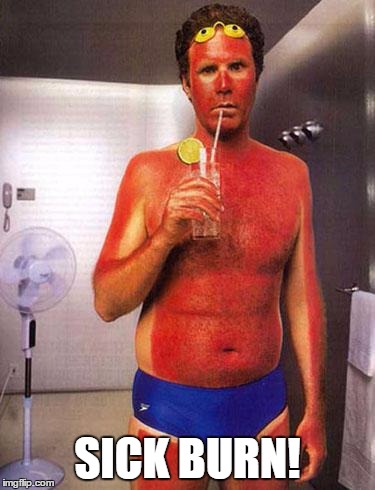 – Dave on this rookie Steve Austin thus far:  "Austin is doing a good job when you consider how little experience he has, but he is working with his trainer so that does make it easier, but he's got potential to be a star in the not too distant future if he continues to improve at this rate."  (Really going out on a limb with that one, Dave.) 
– Although Austin is improving, the promotion is on borrowed time at this point, and once the show is officially cancelled that will pretty much signal the end for them.  (Which it did.) 
– Dave did some digging on the Snowman situation and it turns out that they were going to have a tournament to crown a new champion, which would have been Eddie Gilbert, but Snowman made up with them and he's still champ, but legitimately hurt.  (Sure he is.) 
– Boris Malenko is apparently training the first cousin of Hulk Hogan, who will be billed as Horace Boulder.
– At the tapings for the Summerslam preview in Utica, Power & Glory were cheered wildly by the crowd, so they had to change the reaction to boos in post-production.
– And now, Dave presents the story on Tugboat:  Although it was seemingly all an angle to remove him from the show, everyone he talked to who works in the publicity department had no knowledge of it until shortly before it happened.  So it wasn't a long-term thing.  The word from the dressing room is that Tugboat's quick rise to stardom gave him a big ego, and this is Vince's way of giving him an attitude adjustment.
– Not like THAT.  Besides, everyone knows that's an FU.
– With Piper's TV show dead in the water, expect him to make yet another comeback to wrestling with a big program at Wrestlemania.
– Speaking of Wrestlemania, the Perfect-Kerry feud is scheduled to last until then, "which gives everyone plenty of time to get sick of it."
– Dave runs down the Edmonton show I listed last time, which apparently drew 5,000 people and sucked badly.  Sounds about right, actually.
– They used Dino Bravo as a main eventer against Hulk Hogan and all the shows BOMBED, as Dave notes that "a tree with some charisma would have drawn better".  More evidence that Dino Bravo is the worst.
– Speaking of the worst, Kerry Von Erich is flopping so badly as a top babyface that even WARRIOR is getting bigger reactions than him in their tag team matches…IN TEXAS.   Ouch.  Kerry was supposed to be the big acquisition that pulled them out of their current funk.  (Really?  Had Vince been paying attention to World Class AT ALL in the past four years?  Wait, never mind, I just answered my own question.) 
– Brutus Beefcake was on the road with Hogan this week, and all things considered he looks pretty decent for a guy who just had his entire face smashed in.
– The WWF actually made a play for Big Van Vader to use him between Japan stints, which is weird because they almost never let someone do temporary status like that.  Shows how desperate they are right now.
– To the NWA, where it turns out that this Black Scorpion thing will continue through September, as Sting will be facing him at all the house shows instead of Barry Windham.  Dave has no idea what the play is here.  Apparently neither does the office, as Ole seems to be trying to kayfabe Jim Herd in their bizarre power struggle.
– Art Barr starts with the company in September doing the Beetlejuice gimmick.  (Yeah, sure, hire a recently convicted rapist on probation who's doing a gimmick that's infringing on a pretty major copyright, that's a GREAT idea.) 
– They asked Ricky Rice to shave his head into a mohawk so he can be a Master Blaster and partner with this mysterious bouncer from Atlanta who they're so high on, but he refused.  (And when was the last time you heard the name "Ricky Rice" in wrestling?) 
– Tom Zenk's apparent no-shows last week were because he was a guest at Johnny Ace's wedding, which had been cleared with the office months earlier.  In addition, Ricky Morton, Ron Simmons and Doug Furnas were all booked on shows as well and "no-showed" for the same wedding that they had all received clearance to attend months in advance.  (Do we even need to say it?)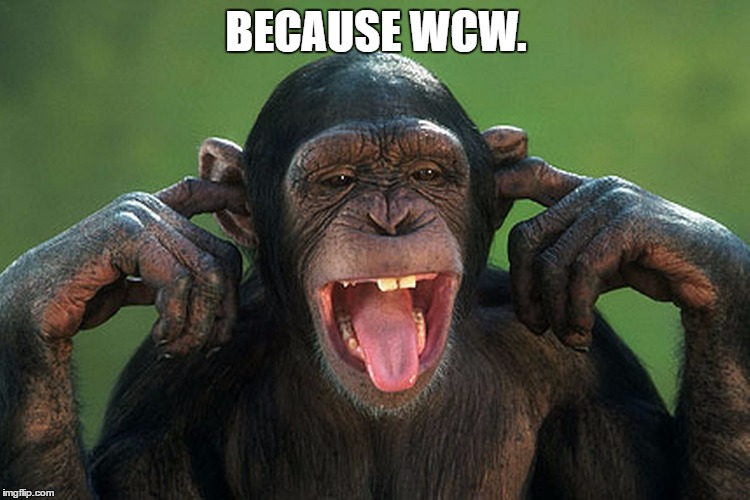 – Oh, hey, speaking of "Because WCW", they did some newspaper ads with Sting, but didn't like his body, so they hired a bodybuilder and pasted Sting's head on top of it.
– Paul Orndorff quit already and finishes up 9/18, so that whole heel turn idea is out the window.  He was tired of the travel already.
– And finally, Dave thinks that maybe they should give a gimmick to this Bob Holly kid from Alabama who did a tryout match against Jackie Fulton, although he's not sure if he's Bret Hart or Shawn Michaels at this point.  But at least he's ripping off top level workers.  He could be a star with a good gimmick, Dave feels, instead of just pulling guys off the street like that bouncer they're gonna push so hard sight unseen.   (Perhaps he could be a race car driver of some sort?)