Sweet Christmas, Luke Cage was pretty good.  Slow start, but it picked up by the end and it was a pretty fun ride.  But now I have another four months to wait until Iron Fist!
If only Brutus Beefcake had been indestructible…
– Dave has no real update on the condition of Mr. Beefcake, who got a knee right in the face from a parasailer and literally broke every bone in his skull.  Thankfully, Beefcake didn't sustain any brain damage (aside from severe multiple gimmick disorder) or eyesight damage.  And they managed to camouflage all the scarring during the surgery to fix his face. Doctors are cautiously optimistic that he'll be able to return to wrestling in a year or so.
– Replacing Beefcake will indeed be Kerry Von Erich, who did in fact debut on the 7/16 TV tapings after a tense couple of weeks where he waffled back and forth between staying or leaving Dallas.  Kerry had been telling his family, and the family had in turn been telling talent in Dallas, that he would be staying in Dallas after all.  But then when all was said and done, he went to the WWF and will be wrestling Perfect at Summerslam for the IC title.
– Onto other things, as Dave takes a look at the comparisons between Sting and Warrior, since they started together and such.  Whereas Warrior isn't really the face of the company right now, despite being World champion, Sting is absolutely the guy that they're building the NWA around come hell or high water.  Dave calls him "the best of a bad situation", since it was clearly time for Flair to lose the title and get moved down, and really it had to be either Sting or Luger and either way the goods were damaged.
– Speaking of damaged goods, Tully Blanchard has found God.  He's going on the church circuit preaching to teenagers about drug abuse and how cocaine ruined his life.  He said he's currently unemployed, and they took up a collection to help him while he's injured with a torn achilles tendon.  (Thankfully, Tully was indeed one of the few who wasn't completely full of s--- and did in fact turn his life around.  He has said in shoot interviews since then that he needed to hit rock bottom to realize what was happening to him, and he certainly did that.  Now, by the same token, he only hit that point because he was being greedy and wouldn't take a lowballed offer from Jim Herd earlier in the year, and had he done so he likely would have continued trucking along in his usual ways. So it's hard to feel TOO badly for him at the same time.) 
– Eddie Gilbert, who never met a bridge he couldn't burn, starts wrestling for Memphis this week against Jerry Lawler, just DAYS after he petitioned Jim Herd to let him out of his NWA contract because his shoulder injury was so crippling that he wasn't likely to work for the NWA for months. Needless to say, there's lots of heat on him in Atlanta now.  (The man is like a Vince Russo swerve come to life.  I'm shocked he didn't tear up his NWA contract on live TV while yelling at Herd "You should have read the fine print!") 
– Also this week, Eddie was taking a picture with a "visiting fan from Philly" and ended up slapping him around over some transgression.  Turns out the guy was Brian Hildebrand, aka Mark Curtis, working an angle with him.
– Chris Von Erich made his in-ring debut in a tag match with Kerry against Percy Pringle & Terrance Garvin, but the kid has chronic asthma and was blown up and gasping for air within a few seconds.  Dave thinks it's a sad story waiting to happen.
– Rod Price returned as a "fan" to attack Kerry out of the audience, this time injuring him and costing him the Texas title to Angel of Death. Dave shares an interesting story about Price, as the WWF actually wanted to sign him, and brought him to San Diego for a TV taping where they wanted to see him in a tryout against Demolition.  Price refused because he didn't want to lose to anyone smaller than him, and they immediately fired him and sent him home.  On the bright side, they still paid him for the taping. This stuff is supposed to be building to Kerry v. Price on 7/20, but Kerry is starting with the WWF on 7/16, so you can do the math.
– Killer Brooks was trying to run an indy promotion in Texas, but the bar he uses for shows got torn up by a 2 Live Crew concert because fans rioted and destroyed the place.  So he still did the show anyway and only drew 60 people to the trashed bar, and then couldn't pay any of the talent and was left with only a few rookie trainees for the card.
– Don Owen's promotion in Portland is running on fumes at the moment.  Owen even called Scott Peterson about coming back, but Peterson had a full time job at a local mill and Don basically told him not to quit his day job because it wouldn't be worth it.  The roster is essentially down to seven people thanks to raids from the Big Two.  (Tick tock, tick tock) 
– The Italian Stallion branched out into winning a spaghetti eating contest in Virginia, setting a Guinness World record for fastest eating of a large plate of spaghetti.  Thankfully his World record attempt was better than Homer's.
– Jerry Lynn and the Lightning Kid have been doing awesome matches in the Minnesota area.  Kid has potential to be a big star, if he can gain some weight.
– Sgt. Slaughter is going to be getting a big push as a heel in the fall, although he might come in as a babyface and then turn.
– Nord the Barbarian is still coming into the WWF soon, probably as babyface star Yukon John.  He actually was offered the Brian Adams spot in Demolition when Barry Darsow was asked to pick whoever he wanted as the new Demo and he chose Nord. But he turned it down and recommended Adams for the spot instead.  (Ax, Smash and Huss?) 
– Bodybuilders are all a-buzz over Vince's potential entry into the bodybuilding world, as they think he might give them TV exposure or even put a bodybuilding show on PPV!  (That's about as likely as the Cubs making it to the World Series!) 
– The door is CLOSED to Ric Flair now, as they really wanted him and he couldn't get out of the contract.  So expect to never see Flair in the WWF.  (Just like you'll never see the Cubs in the World Series!) 
– Haku is being punished for something and did a clean job to Pete Doherty in Boston.  Perhaps not coincidentally, this show only drew 3500, one of the lowest gates in the long history of the building with Perfect v. Santana as the main event.
– Rick Martel is missing all his dates lately and Dave is unsure as to the reason.
– Hogan did his un-retirement interview this week and Dave thought it was the best promo he's ever done, and now Summerslam might do business because the Hogan thing is the ONLY thing with any fan interest right now.
– Meanwhile the Great American Bash was fairly successful on PPV, probably somewhere between a 1.7 and 1.8 buyrate.  Given that would be about a $3 million total gate for the show, Dave wonders how they can manage to be LOSING money on this promotion?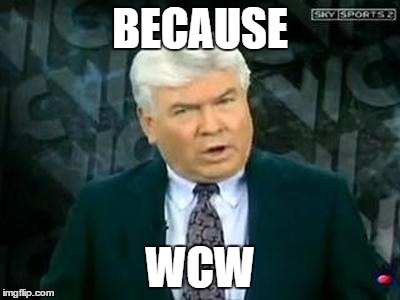 – Speaking of Jim, he doesn't want a Sting-Flair rematch on PPV because reasons, but that doesn't really leave anyone.  Sting-Sid would be death on PPV and it would kill off Sid completely if he had to job and it would piss off fans if they did a screwy finish.  The other option is Vader, but he literally couldn't put Sting over if he wanted to, because New Japan controls all his bookings and won't let their World champion lose on American TV.
– TV ratings after the title switch have been…not good.
– Fun fact:  The gas used for Vader's gimmick helmet in Japan isn't available in the US, so they have to use a substitute and it's not working very well so far.
– They're already building towards Orndorff turning on Sting for a feud.  (I guess Paul really has it in for guys from Venice Beach.) 
– Tugboat got punked out by Earthquake & Bravo at the 7/16 tapings where Hogan returned, and Bossman made the save and will be worked into the angle for some reason.
– And finally, Luger and JYD got into a backstage fight after a show in Canada, as Dog accidentally tripped while going for a hot tag from Luger, and fans all laughed at him…and so did Luger.  Afterwards they had a skirmish and Luger got beat up pretty good.
– Wait, Luger was a cop?  You learn something new every day.