It's the Great American Bash review!  Plus a valuable life lesson for all you kids out there:  If Brutus Beefcake offers to go parasailing with you…
– Our lead story is Brutus Beefcake going on a boating trip with friends on July 4, and getting smashed in the face by someone's knees, resulting in 10 hours of surgery to reconstruct his skull from pieces of his hip.  (Now, I've always heard it was specifically B. Brian Blair who was the guy doing the knee smash, but Dave just says it was some girl who hit him on the way up.)  Apparently the damage was so severe that the paramedic had to stick his hand into Beefcake's mouth to keep the roof of his mouth from collapsing and suffocating him on his own skull fragments.  (Dude, that's pretty messed up.  I've never actually heard the gory details like that before.) 
– Doctors are estimating that he'll be out at least 18 months, and it might even be the end of his career.  (He sure as hell was never the same after this.) 
– Onto more important matters, as Sting won the NWA World title from Ric Flair, and rumors are flying again that Flair is leaving as a result.  But, Dave notes, this is untrue, as Jim Herd refused to let Flair out of his contract, so if there's one thing Dave knows for sure, it's that Flair will be in the NWA in 1992.
– Great American Bash 1990!
– The poll is pretty much 100% thumbs up, based on Southern Boys v. Midnight Express being the best match Dave can remember seeing in the US all year.  He still hasn't seen the PPV version, so this is based off his live report.
– Overall, Dave thinks it was smart not to do any other title changes or big angles, so that everything was completely focused on the Sting-Flair title switch and it seemed more special.
– Now for the buzzkill:  While the Baltimore arena had 10,000 people in it (which is great by current NWA standards) the show didn't sell out.  That's a bad sign for Sting.  Because really, what can you do to top this?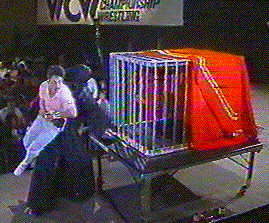 – Besides that.
1.  David Sierra pinned Mr. X (Randy Culley) in 10:06 in a dark match.  -*
2.  Brian Pillman pinned Buddy Landel in 9:32 with a flying bodypress.  Dave thinks Buddy can get over this time.  (Spoiler:  He didn't.)  Decent pace, good opener, not great.  **3/4
3.  Captain Mike Rotunda pinned Iron Sheik with a backslide in 6:51.  It was originally supposed to be Harley Race doing the job here, but Rotunda wanted the match switched because he didn't want to work with anyone who doesn't practice boating safety.
Dave notes that the Sheik looks like he's about to give birth.  Match wasn't quite as bad as it sounds, at least.  3/4*
4. Doug Furnas pinned Dutch Mantell with a belly to belly in 11:18.  Furnas has some great high spots, but still has trouble holding a whole match together.  *1/2
5.  Harley Race pinned Tommy Rich by reversing a flying bodypress in 6:29.  Race looked fine.  Match was slow but fine.  Fan didn't really care but popped for Race winning.  **1/2
6.  The Midnight Express retained the US tag titles over the Southern Boys in a match of the year candidate at 18:14.  Although everyone hated the Boys coming in, this got them over as babyfaces, specifically the martial arts battle between Smothers and Lane.  (Oh, damn, I LOVED that spot!)  Tons of highspots and near-falls at the finish, ending with Smothers eating an enzuigiri from Lane into an Eaton rollup for the pin.  ****3/4
7.  Big Van Vader squashed Tom Zenk in 2:16 with the big splash.  Fans couldn't figure out Vader's deal, but he got over OK.  1/2*
8.  The Steiners beat the Freebirds in 13:46.  They started fast and had a lot of heat.  Scott pinned Hayes after Rick did an overhead belly to belly on him.  ***1/4
9.  JYD & El Gigante & Paul Orndorff beat Barry Windham & Arn Anderson & Sid Vicious by DQ in 8:33.  If there's one thing Dave can say with certainty, it's that El Gigante will make this company lots of money someday.  Assuming they don't push him too fast and burn him out before he actually learns to work.  (But what are the chances of THAT?)  In some ways this was the worst match on the show.  Dave thinks the Sid – Gigante program can draw one huge house somewhere down the road, assuming they wait a long time for it.  (Or they can do a rush job in a few months and job Sid out on the way to the WWF.  Whichever.)  Ending was a letdown, but Gigante has better facial expressions than before.  (There was a point when he was WORSE?!?) 
10.  Lex Luger pinned Mean Mark to retain the US title in 12:07.  Mark looked green, but once again Dave thinks he's got lots of potential due to his size and athletic ability.  Dave also really liked the finish with the ref bump and near fall for Mean Mark, before Lex clotheslined him and pinned him.  ***
11.  Doom beat the Rock N Roll Express to retain the NWA World tag titles in 15:14.  Crowd didn't get into it at all due to too many matches on the show and being in the death slot before Sting-Flair.  **1/4  (This was pretty much the end of the Rock N Roll Express as a top team until they somewhat revived their career in SMW.) 
12.  Sting pinned Ric Flair with an inside cradle to win the NWA World title in 16:05.  Typical Flair match, which makes it hard to judge where Sting is at right now.  Big pop and very good match, but people were expecting a lot more out of it.  ***3/4  (Me too.  Given the 40 minute classic Luger did with Flair, and all the months of build to this, it was a huge disappointment because everyone was expecting a blowaway, five-star match and we got a basic Flair match.  And really, we never did get that ultimate classic Flair-Sting match, as they could work a **** match in their sleep but just never had the chemistry to go higher with it.) 
– So, what's the fallout?  Well first of all, this didn't feel like the usual short-term title change with Flair.  They made a HUGE deal out of the change and Sting appears to be set up as the long-term guy on top, which also puts a huge amount of pressure on him.  And if he can't live up to Flair and have the same classic matches, then things are going to turn on him in a hurry.  And if Sting's big return didn't even pop house show attendance, well, it's going to scary over the summer.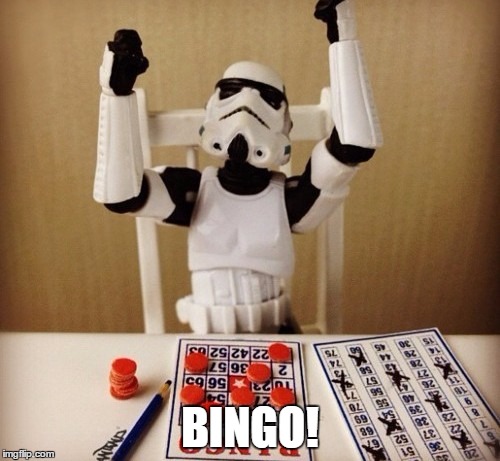 – In Japan, Atsushi Onita and Tarzan Goto had an empty arena match for FMW, as a tribute to Terry Funk, and ended up doing a 34 minute match that spilled out of the arena and into the bushes beside the arena (which is kind of a tribute to the jungle match).  The only people in attendance were a dozen newspaper reporters.  (Verne Gagne immediately called the office to ask how he could also get those kind of improvements in his attendance.) 
– Steve Austin v. Chris Adams in the crazy mixed feud continues to catch fire in the USWA.
– Since the Snowman worked shoot was so successful, they tried the same thing in Dallas with Iceman Parsons and you can imagine how well that went over.  Billy Travis also brought the class level up a notch by saying to JJ, on camera while Parsons was getting dragged off, "Hey man, don't worry about that n—-r"  (Dave decided to print the whole word, which is a line I try not to cross.  That, and another word I'm sure you can guess, are the two I tend to never use.) 
– Chris Von Erich is getting physically involved in a feud with Percy Pringle.
– Kerry Von Erich, soon to be departing the promotion, was attacked by indy wrestler The California Kid in an angle were it was supposed to be a "fan" heckling him and getting out of control.  (I think Dave means the California Stud here, because that would be noted roid monkey Rod Price, who earned the most fame in the sport by getting his hair extensions ripped out by Chris Adams in a quasi-shoot shortly after this.) 
– Eddie Gilbert was finally released from his WCW prison this past week, and immediately showed up in Memphis to feud with Jerry Lawler again.
– Tully Blanchard's comeback tour on the indies was cut short by an achilles tendon injury that needs major surgery.  (This was another factor in his departure from the sport for good.) 
– The Halloween Havoc is in danger of moving from Chicago because the city has issues with "certain aspects" of the show. It might need to be moved to Savannah, GA. (Is that like Bautista's "circumstances" around the strike zone?) 
– The NWA is still claiming that they start on WGN on 9/15 but the station is still denying everything.  (Maybe they heard Dixie Carter was in charge?) 
– Sgt. Slaughter is now for sure coming into the WWF as a heel in the fall.
– Dave thinks they might use Kerry Von Erich to replace Brutus Beefcake at Summerslam.
– And finally, WWF officials were talking like Flair coming in was a done deal after he lost the title, and that he had already signed with the WWF.  From their perspective, they've been saying that if Flair doesn't come in now, then he might as well never come.  "Never" normally meaning two or three weeks in wrestling.
And that's it for another week of Observer wackiness!