Although this one is dated after the Bash '90 PPV, the issue is written before.  So don't be disappointed at the lack of a review here.
I must now face the eternal dilemma of sports fan who has lost their team in the playoffs:  Do you cheer for the bastards that eliminated them because they earned it, or do you cheer for whatever team opposes them out of spite?  I guess it would be cool for the Cubs to finally win after 100 years or whatever it's been, but the Indians DID sweep out the Red Sox so that makes them kind of awesome too.
Oh wait, hockey's back on.  What's baseball?
– The top story, in as much as it's a story, is that Ric Flair REALLY wants out of his contract to jump to the WWF and face Hulk Hogan at Wrestlemania.  And if it's going to happen, it's going to need to happen soon so they can start promoting it.  Hey, some people think that the match could destroy all PPV and gate records if they do it!
– Really, the whole thing is in the hands of Jim Herd.  On one hand, Ric Flair is synonymous with the NWA, but on the other hand, he makes the most money in the whole promotion and they already let the Road Warriors go months early to unload their big money contract.  So there is a precedent here.  And losing the Road Warriors hasn't hurt gates at all.
– Flair's contract is reportedly between $550,000 and $750,000 per year, and right or wrong, they no longer want him as the top guy in the company and that's a lot of money to be paying for someone who you want in the midcard.  It's nice to have the best wrestler in the world on your show to have great matches, but if you're not drawing, is it worth half a million per year?  Especially if Sting is the guy who's supposed to be carrying the shows.
– The other side of the coin is that the Road Warriors estimate that getting out of their lucrative NWA contract will cost them $100,000 this year, but they had so much heat with Herd that they had to make the jump to keep from getting stale.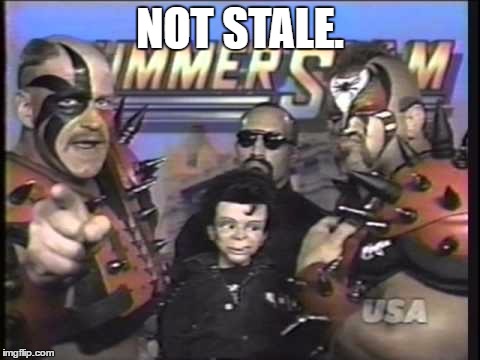 – Also, the NWA money is guaranteed, and the WWF money is not.  Case in point, Rick Rude, who tore his tricep but came back two weeks later because Vince wouldn't pay for him while he was gone.  (Not only that, Vince advertised him as appearing while he was gone and made money off his name, which proved to the catalyst for him leaving the company on bad terms.)  And while Paul Orndorff might have been making $20,000 per week in 1986 working with Hogan, that was when Hogan was willing to work a full schedule and even do double-shots to make as money as possible.  Now, Hogan is set for life (or until he gets divorced) and contemplating retirement, and he's not likely to go on the road with Flair 5 days a week.  And Warrior ain't drawing $20,000 a week with Flair.  Hey, Dave notes, who knows how much longer Hogan is even gonna be around?  He might even decide to get out of the business by the time he's 40, way down the line in 1993.  If Flair's gonna go to the WWF, it's probably going to have to be now.
– Dave went to a "C team" WWF house show in San Jose, with a main event of Mr. Perfect v. Brutus Beefcake, and he though the whole show sucked.  The highlight of the review was his description of the Hercules v. Genius match, which he sums up "the thing to make you nostalgic for having mono."
– Hogan will be making some sort of "commando action flick" in November, which isn't great news for the WWF's house show receipts in the fall.
– Jesse Ventura went on a sports radio show this week and pretty much said outright that his contract expires soon and negotiations weren't going well with the WWF, and he expected to be out of the announce position soon.  (To say that relationship ended badly would be an understatement.) 
– To Japan, where New Japan headlined with a Steve Williams v. Bam Bam Bigelow match on 6/26, but neither guy would agree to job so they just lifted the Hogan/Warrior clothesline spot and did a double knockdown "finish" instead. And then afterwards they shook hands and decided to team up, so it won't lead to any kind of blowoff.
– Also, Chris Benoit beat Owen Hart in a match that was actually so perfectly executed and smooth that it ended up looking fake because no human beings should have been able to do what they did.  (Is that a compliment or a knock, I wonder?) 
– More politics with the Road Warriors, as they had agreed to work a bunch of dates for both groups in Japan before signing the WWF deal, and ended up being allowed 6 dates by the WWF.  So Baba met with Sakaguchi and worked a deal where New Japan could have them exclusively for those 6 shows, but they wouldn't be allowed to air the matches on TV. This was apparently a concession as a result of a similar deal the other way for a Stan Hansen match.  Hawk was actually going to skip the tour, but then New Japan told him that they'd put Animal together in a new super-team with Big Van Vader and suddenly Hawk decided to come for the tour after all.
– Koji Kitao is making friends all over, as he feels that since he's the celebrity (which, Dave notes, he is) that he shouldn't be doing jobs.  Like, at all.  Also, he feels that he should only be wrestling Americans, because then fans won't care if he has a shitty match because they'll be expecting it.  (Get this man a WCW contract!) 
– Tenryu opened up the SWS gym for business, but none of the guys he raided from All Japan and New Japan can appear, because there's still oodles of legal action pending with everyone who "signed".  In fact, some of the guys, like Noaki Sano, have actually gone into hiding to avoid litigation.
– To the USWA, where it appears that Kerry Von Erich will indeed finish up his dates and then start with the WWF on 7/17 at a TV taping.
– They're just letting Toni Adams and Jeannie Clark go crazy with shoot comments on each other, which is giving the Chris Adams v. Steve Austin feud mad heat.
– Dave is rather saddened that we've come to the point where the only July 4 "spectacular" is a USWA show in Dallas with Kerry v. Matt Borne on top in what will likely be Kerry's exit from the promotion.  In years past, all the big promotions used to hold a supercard on that date.  This year, the WWF has the night off and the NWA has a PPV a few nights later.
– Bruce Hart has given up on Stampede Wrestling again, and will be restarting the promotion in August under a different name.  (Yeah, he just kept picking at that scab for years and years afterwards, sadly.) 
– Apparently Chris Champion has retired from wrestling and now works kids' birthday parties and the occasional indy show as Cowabunga the Ninja Turtle.  (Wasn't that Brian Hildebrand's deal?  Or was that later?) 
– To the WWF, where Freddie Blassie was in intensive care all last week after a heart attack, but he managed to recover and Vince held a big party for him at WWF HQ when he returned.  (Awwww.) 
– Ted Dibiase did a series of skits in Cobb County, GA, to build up the Bossman feud, and all the people he talked with were legit friends or relatives of Ray Traylor.
– John Nord is still 99% assured of starting on the same TV tapings as Kerry Von Erich.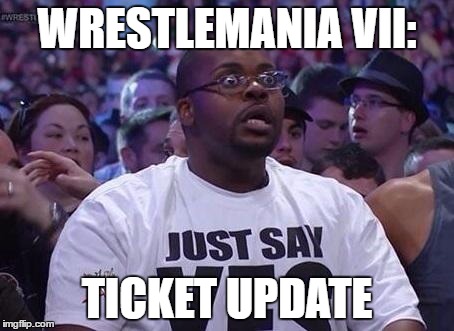 – As if Summerslam already nearing a $320,000 sellout isn't shocking enough, Wrestlemania VII's advance now sits at a whopping $800,000!  They're gonna sell out that LA Coliseum with no problems!
– WWF is still advertising for a new TV announcer and apparently having no luck finding one.
– At the TV tapings on 6/29, the new team of Power & Glory did their heel turn on the Rockers, as Paul Roma did a job for Dino Bravo and got "injured", resulting in the Rockers trying to make the save for him.  Roma got offended and shoved them away, and Hercules came out for the beatdown as his new partner.  (I remember that!  I was a big fan of P&G until they got neutered by the LOD.) 
– Warrior is losing steam by the day.  Fans at the San Jose show were really upset because they wanted to buy Hogan merch at the table, but the WWF only brought Warrior stuff.  Fan reaction to his name is pretty tepid when he's announced, as well.
– The Bash PPV card is being changed around the last minute, with Mike Rotunda now scheduled to face Iron Sheik.  Dave notes that Sheik is missing all his bookings thus far, which he takes as a good sign.
– The Samoans are booked for a program with the Steiners right away, but on the other hand they might be fired already.  (The answer was of course, yes, they were indeed fired.) 
– And now it's time for another new feature that's sadly becoming recurring: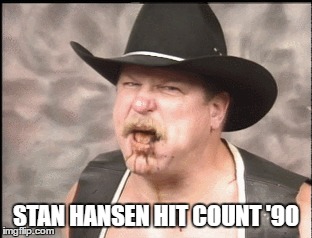 – So after splitting open the head of some poor bastard at the WCW TV tapings a couple of weeks back, Stan managed to fracture the skull of jobber David Riordan at this week's tapings.  (Do you think maybe someone should let him know he might wanna LOOSEN THE F--- UP?) 
– Despite trying to unload all the expensive contracts, Jim Herd still won't give Eddie Gilbert his release for whatever reason.
– Sting made his big returns at house shows in Detroit and a few other places, and immediately failed to move the needle whatsoever. Dave points out that really, he was never allowed to be "gone" in the first place, so what exactly is special about seeing him back again?
– Terry Gordy & Steve Williams are trying to get back into WCW as a team, but they're asking for $1000 per match.  Each.  Jim Herd isn't biting on that one because realistically, the audience they play to has already "forgotten" both guys and it would take weeks to get them over enough to justify that kind of money anyway.
– However, one guy who will take Herd's lowball money is Terry Taylor, and he'll start in September.
– Add to the list of non-title bait-and-switches by WCW:  The Steiners beat Doom clean at a house show in what was advertised as a tag title match, and then they simply announced afterwards that it was non-title.
– Norman was indeed reintroduced as Trucker Norman for TV in an oddly pointless repackaging.  (How can someone freshly released from a mental institute even get a Class A license?  THAT DOESN'T MAKE ANY SENSE!) 
– Ole desperately wants to fire Missy Hyatt, but Jim Herd wants her on the show for ratings, so she's still on the show.  (And guess who was still around long after Ole got fired, too?) 
– Back to Stan Hansen, who got "suspended" for abusing a ref and sent back to Japan for 30 days, as he did a classic nutso interview where he accidentally whacked himself in the shin with his own cowbell and then choked on his chewing tobacco but recovered and finished the interview.  They actually did let it air because it was still great.
– Future blog running gag Chris Walker got a tryout and looked predictably terrible.
– WCW debuted in Toronto on 6/27 with yet another "title match that wasn't a title match" in the main event, as Luger pinned Flair in 20 minutes, but the best part was the newspaper ads for the show, which Dave sadly doesn't scan here.  It was listed as "US champion Rick Flair v. World champion Lex Luger" with "Vicious Sid" in Luger's corner and Sting in Flair's corner.  Neither Sid nor Sting was at the show.  Also appearing, The Stiner Brothers taking on Doon1, "with manager Long", plus a match advertised as Johnny Ace v. Bam Bam Bigelow.  Both those guys were in Japan at the time.
– And finally, Jim Herd does another newspaper interview, this time about wrestlers who get into acting, and he sums up the differences between his guys and the WWF:  "NWA wrestlers have more athletic ability and work harder, and the only way they could hurt themselves is if they tripped over their tutus."  Well that hardly seems fair…
– Never mind.  You win again, Jim Herd, you magnificent bastard!