Congratulations to Anthony LaGoy, who won a Macho Man plush for his daughter in the Bleacher Creatures giveaway!  Another entrant came close, but finished the letter by saying that Dora the Explorer was the best and thus blew it at the last minute.  Dora is the WORST.  But fear not, if you'd like to try a Bleacher Creature of your own (WWE or otherwise!) just head over to www.bleachercreatures.com and use promo code CREATURE20 for 20% off this week only!  Also, to those getting butt-hurt about "stealing" the Bleacher Creatures name from the Yankees, it's your own damn fault for cheering for the Yankees.
Hey, Dave was on vacation to Japan for the past two weeks.  Wonder if anything happened to change the business while he was there?
– Dave covers some of the basics of the Japanese wrestling scene, and the differences with Japanese culture in general, including the fact that pro wrestling is covered by major papers there like any other sport.  However, baseball fever has swept Japan as of late and pushed wrestling to a secondary place in the news again.
– Dave's big show while he was in the country is the All Japan mega-show on 4/8 at Budokan Hall, which was supposed to draw only 10,000 because of the departure of Tenryu, but in fact was a packed house of 15,000 due to some shrewd promoting by Baba.  More on this in a bit.
– Amazingly, Dave notes, he saw 19 house shows and with the exception of 3 matches, ever finish was a clean pinfall or submission.  In fact, since the early part of 1989 when Baba enacted that philosophy, gate records have been shattered because fans know that they're not going to get a b------- double countout finish like before.  And when EVERYONE does clean jobs, then it doesn't hurt anyone to do those jobs.  (The fact that he could go to Japan and see 19 different shows in a 10 day period speaks volumes about the differences between the business then and now.) 
– Dave also discusses lucha libre, as he's very slowly coming around on the style in general after years of feeling like it was "a bunch of masked guys bouncing around the ring with no rhyme or reason".
– Dave runs down some of the top stars of the lucha scene, and interestingly he notes that Yoshihiro Asai (aka the future Ultimo Dragon) is actually in talks with New Japan at this point to take over the Tiger Mask gimmick.
– Newsbite in the midst of PAGES of Japan results:  Tenryu met with JJ Dillon this week, trying to set up a match with Hulk Hogan on 10/20 for the SWS debut show.  Meanwhile, they signed Shunji Takano away from All Japan because his back was wrecked and Baba wasn't using him anyway, but George Takano tried to jump as well and the promotion threatened to sue him and SWS if it happened.  So thus far, it's pretty much just Tenryu in this new group.
– OK, to the big show at Budokan after TEN PAGES.  Dave describes a fun comedy six-man with Baba teaming up with Kabuki, where the crowd decided to mess with them by chanting the name of whoever was doing a spot (Like the "shah shah shah" thing in ECW) , so the wrestlers started changing the spots on the fly to mess with the crowd, (Like where the crowd would start to say "Baba", but his opponent would reverse and do his own move while they're chanting, requiring a change mid-chant) and eventually everyone was just breaking up with laughter.
– This Kenta Kobashi guy got over HUGE against Steve Williams, even kicking out of the Oklahoma Stampede, but still lost.
– Stan Hansen pinned Terry Gordy to win the Triple Crown in a good match, and then Gordy & Williams double-teamed Hansen with no one making the save, and they drew NUCLEAR heat. The problem had been that Williams & Gordy were actually getting cheered by a large section of the Japanese fanbase, so this was the definitive heel turn for them and it worked amazingly well.
– And in the main event, Misawa pinned Tsuruta to create the new superstar in Japan in what Dave called the best match he's ever seen live.  People in the crowd were literally crying because the match was so good.  (I'm not sure if Dave relates the story in these right away, but Baba's original booking was for Tsuruta to win by countout after a hard-fought effort from Misawa, but when he got to the arena the place was going so APESHIT for Misawa that he called an audible and changed the finish.  Sometimes you just have to pull the trigger! And as alluded to, this kicked off the golden age for All Japan, with Misawa and Kobashi ruling the top of the card for years to come, with sellouts every night and clean finishes up and down the cards.)
– Finally we head to the WWF, where Bill Eadie reportedly has a heart valve issue that was through to end his career but now might be OK.  But to hedge their bets, WWF is bringing in Brian Adams from Oregon to play "B.A." and by the time he makes it to TV, his name will be Crush.  And the Demos will be full heels and a three-man team ala the Freebirds.  Original plan had been for the Road Warriors to come in as heels, but everyone has apparently come to their senses on that one.
– Hulk Hogan has signed a two picture deal with New Line to make movies, although thankfully he won't be playing a wrestler in either one.  However, with Warrior not drawing as champion thus far, it seems inevitable that Hogan is getting the belt back by Wrestlemania VII, so who knows what this means for his career.
– ABC has actually ordered 12 episodes of "Tag Team" after all, and will put it on the midseason replacement schedule in January.
– One reason why Warrior isn't drawing could be that every Rude match thus far has ended with Warrior winning clean with the big splash, with another two months still to go until Summerslam!
– Their first show in Toronto after Wrestlemania, with Warrior-Rude on top, drew 5000 people.  Dave notes that this is "quite the drop from 64,000."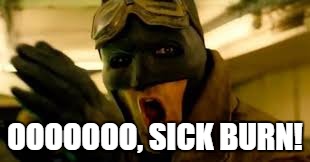 – Hercules and Paul Roma will be getting a push as a "low level babyface team".
– To WCW/NWA, where Cactus Jack gave notice and finished up this past Sunday in Florida.  Ole was apparently going to fire him anyway so he decided to leave and seek his fortune elsewhere.  Brian Pillman is also going to be phased down and out.  (Ole Anderson:  World class talent scout!) 
– Thunderbolt Patterson is coming in for a referee gig, but Dave's spider-sense is tingling on that one.  The world does not need T-Bolt back in the ring.
– Everyone that has seen the JYD-Flair matches around the horn is calling them the worst matches of Flair's career.
– Ole is trying to bring Austin Idol in, but Idol won't commit to a full schedule.
– More great press for WCW at a house show in Columbia, SC!  First up, the main event was supposed to be Flair v. JYD, but Dog already had an indy booking that night so they just let him out of the match and asked Lex Luger instead.  Luger had already been given the night off to watch his son's baseball game and he refused to do the show, so now there's heat on Luger for "not being dedicated enough".  Flair wrestled Ricky Morton after all was said and done.  And then the main event of the show saw The Midnights face Zenk & Pillman, during which a fan punches Jim Cornette in the nose and breaks it.  Cornette lashes out and hits the kid in the face with his tennis racket a bunch of times, and it turns out that the fan is "semi-retarded".  Needless to say, this one made the papers.
– On the bright side, TV tapings have been very smooth and organized since Ole took over.
– OK, back to the stupid Because WCW s---, as they ran a house show in NC and advertised a title match between Dog and Flair on top, plus a US tag title match with Midnights v. Rock N Rolls.  The babyfaces won both matches clean, and after both matches it was announced that, sorry, they were non-title matches after all.
– Sorry, romantics, Eddie Gilbert and Missy Hyatt just couldn't make it work and are in the process of getting divorced.
– Sting and Lex Luger did the Live with Sonya talk show on CNN this week and got roasted by her.  She kept asking Luger about his wife and kid and Lex kept ducking the question because he didn't want to admit it (Nor should he!)  so she doggedly went after him about that, and also asked about steroids.  Sting said he's never used them.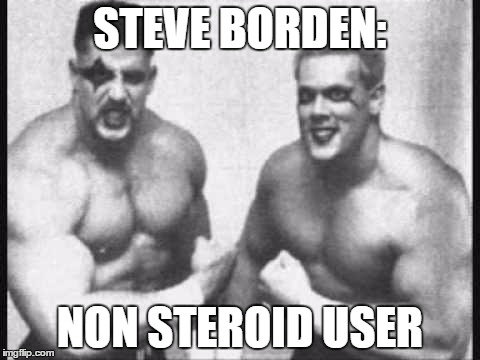 – I'd hate to see what he would look like if he DID use them!
– The AWA canceled a show in St. Paul on 6/23.  Dave jokingly notes that they didn't have enough wrestlers to actually run a show.
– And finally, since the rest of the issue is letter and an interview with Larry Malenko, the Lawler v. Snowman match drew the biggest house in Memphis in months, so apparently being a nutjob pays off sometimes.