It's been one of those weeks, says Dave.  The good news is that the NWA picked a new booker!
The bad news?  Well, where do we start…?
– Ole Anderson was announced to the boys as the new booker for the promotion this week, and he immediately brought in Stan Hansen for a feud with Lex Luger down the road.  It's kind of a coup since Hansen was heavily rumored to be headed to the WWF.  (Knowing Vince, he planted that rumor just to f--- with Jim Herd.)  Bill Watts had been considered the front-runner for the job, but he was insistent on not being accountable to Jim Herd and the deal fell through.  However, management insisted at the meeting where Ole was introduced that they would not interfere in any of his decisions.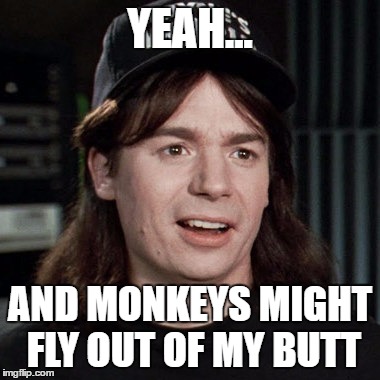 – Dave notes that no meeting was ever actually held with top candidate Dusty Rhodes, who coincidentally returned from his foot injury just after Ole was named booker. (I'd ask if he was being sarcastic, but Dave's sense of humor isn't usually that subtle so I assume it was really was a huge coincidence.) 
– A much larger story is that ComSat, a huge cable conglomerate, is interested in purchasing the company from Ted Turner, although everyone involved denies it.  The story was leaked by Joe Pedicino, and he would be in a position to know.
– Also bidding is Vince McMahon, which would be the final step in his total control of the wrestling scene in North America.  Vince actually made offers a few months back, when the company was in bad financial shape, but Turner turned him down due to bad blood over 1984 and has very publicly said that he would never sell to him even if the company was for sale.  (Now if Turner got ousted from power and the company was up for sale…)  The NWA is in rough shape, with losses reportedly as high as $1 million PER MONTH, although there's a lot of creative math involved in figuring out an exact number because of the vague "this money goes to the TV side and this money goes to the wrestling side" contract wackiness.  And in fact the PPV business is profitable, and the 900 line business is insanely profitable, but house shows are a giant money-losing drain on the company overall and make up almost all of the deficit.  If ComSat were to buy the company, speculation is that house shows would be eliminated and only the profitable TV business would remain.
– Another serious problem, although much less serious than the imminent bankruptcy of the company, is that the NWA name is becoming a bit of an issue to continue using.  The name is owned by the NWA organization, which is separate from Turner's wrestling company, and in fact no one on the NWA board is even involved in World Championship Wrestling so they're essentially paying out rights fees for absolutely nothing.  And then it turns out that no one from the NWA ever actually agreed to let them use the name once Turner bought the promotion, so what seems inevitable is World Championship Wrestling becoming the permanent name of the promotion to avoid the NWA seeking legal action against them.
– Dave notes that whether or not Ole as booker is a positive step or not, at least it's SOMETHING.  But performing miracles isn't one of Ole's talents.  (Now the Black Scorpion, there's the guy with the magic powers!)  In fact, he's got some pretty big hurdles to get over:
1)  Too much television, but not enough exposure, but the talent on all that TV is overexposed.  Basically there's hours and hours of NWA TV every week, so fans of the promotion are sick of the same guys over and over, but fans in general don't know who Sting and Luger and the Steiners are because the product is in its own bubble and they don't have the mainstream attention that the WWF does.
2)  Too much house shows, because guys are paid a weekly salary rather than on the house.  So they do a million house shows since they pay Ric Flair the same thing every week if he works 2 or 7 shows, and that way they can hopefully get 7x the gate.  But they're drawing flies right now and it's just losing money 7x over instead.
3)  A national TV product that is essentially geared to selling tickets for house shows in Atlanta and nowhere else.  They TV product should be 100% focused on selling PPV.  They just advertise "The NWA is coming to your town!" and advertise a half-dozen matches that more often than not don't even happen.  (Hence the recent WWE strategy of just saying "WWE is coming to your town!" and not even bothering to announce a main event.)  It's time for them to face facts:  House shows as a part of the TV cycle is a dead concept, and PPV is the future.
4)  Too many house shows = TOO MANY INJURIES.  (Sound familiar?)  Guys are doing too much, too frequently, and people are hurting themselves in the process.
– To Japan, where everyone involved with the UWF is denying that they have any interest in joining with Tenryu's new SWS super-promotion, because all of the wrestlers "are with the UWF forever."  And hey, with all those sellout crowds at Budokan, how could the group ever fail?
– Dave hears that new star Minami Toyoda is said to be a "hot worker" in her matches with Aja Kong.  (This mangled spelling brought to you by Dave Meltzer…) 
– FMW, which specializes in heavy juice and gimmick matches, is trying to position itself as the cheaper alternative for fans in Japan who can't afford to be involved in the wars between the expensive New Japan and All Japan shows.
– Tenryu has big plans for the new SWS promotion, and wants to get a "Hulk Hogan or Ric Flair" to work against him.  The group is claiming that they're going to the WWF of Japan, and they already have a deal in place to publish their own monthly magazine.
– In Memphis, they're trying to increase the child audience, so they brought in a magician in a gorilla suit to do bad tricks.  (And then Ole Anderson saw it and thought "Hey!") 
– And now, the continuing saga of…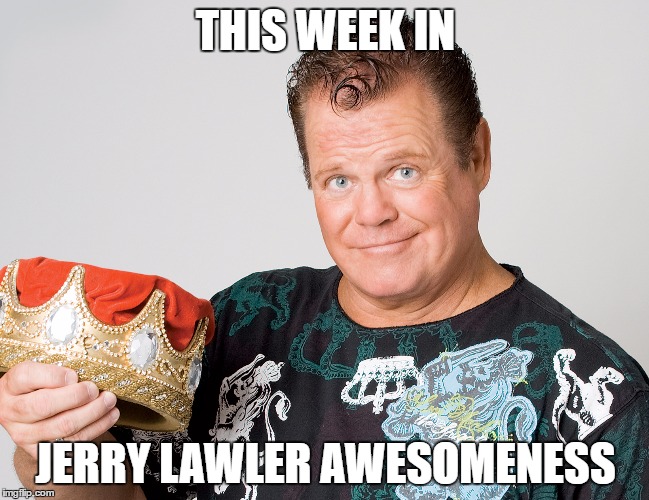 – So the big angle in Memphis saw Jerry showing up at a busted old house, where he was apparently going to wish Jimmy Valiant's mother a happy Mother's Day.  Nobody was home, so Jerry went to the laundromat to meet Valiant's mom, where she was doing laundry and opening Mother's Day presents from Jimmy.  She opened what she thought was jewelry, but turned out to be soap on a rope, and opened a box of soup that turned out to be dog food.  So they cut back to the studio and Valiant attacked Lawler with a garbage can because his mother had actually died years earlier.  (Now that is some classic Memphis heel shenanigans!)  The feud continues to draw surprisingly well.
– Sadly, Eric Embry was unable to adjust to life as a common wrestler in Dallas after months of being the boss, so he quit.
– In Dallas, the Saturday TV tapings might be free again, since they've dropped from 2000 or so for free shows to 100 people for $2 ticket shows.  Turns out that there's a homeless shelter down the street from the Sportatorium and hundreds of homeless are using the tapings as free entertainment.  (There you go, that's USWA in a nutshell for you:  A LITERAL CROWD FULL OF HOMELESS PEOPLE.) 
– Steve Williams is working indy shows in Mississippi and has trimmed down to 250 pounds with an all-tuna diet.  (What, is he trying to be Bruiser Brody?) 
– ABC hasn't announced their fall schedule quite yet, but it's "90% certain" that Tag Team is getting picked up for the fall season.
– Terry Funk is doing boxing choreography for the new Rocky movie, in addition to Dick Slater working as the stunt double for the guy that Rocky fights.  (I'm assuming he was doubling Tommy Gunn then?) 
– Larry Cameron, who never did lose the North American title when Stampede folded, is actually "defending" the belt on indy shows in the US.
– While Fatu & Tama are being the SST in the NWA, Samu is teaming with Kokina as the New Samoan Swat Team.  (As if you thought they couldn't make Samoans any more confusing…) 
– Stop me if you've heard this one before…like every week since 1984…but THE ROAD WARRIORS ARE COMING TO THE WWF.  Basically they were tired of all the b------- in the NWA and will be let out of their contract shortly.  And, if Dave can be serious for a moment, the NWA was equally sick of their b-------.  Plus the trio of Hawk/Animal/Ellering cost them $5100 every show, which is kind of ridiculous based on the paltry house show crowds.  Jim Herd actually pitched an idea to salvage the relationship, where the team would split up, feud with each other, and then get back together again.  AMAZINGLY, they didn't think this was a worthwhile plan.
– Due to Ultimate Warrior being on top, they'll have to change their team name to the Legion of Doom, and might be prevented from wearing face paint as well.  That had always been the hold up during previous negotiations with Vince, who always had an open contract for them, but only on the condition that they didn't have a guaranteed salary and would be open to changing their gimmick.
– Dave doesn't have an actual debut date, but it's "imminent".  Paul Ellering's last date is the PPV and it'll probably be the Warrior's last show as well.
– Hulk Hogan is leaving for the summer, but he'll apparently be shooting some kind of angle on the Brother Love show to explain his departure.
– Elizabeth is doing house shows for the WWF in hopes of boosting the gate, but numbers have been disappointing.
– TUGBOAT UPDATE:  He's back to doing house shows again, still Tugboat, not Bronto the Caveman.
– RIC FLAIR UPDATE:  Although it was reported a couple of weeks ago that he had signed a two year extension, the contract has not actually been signed as such.  (There's still hope for Wrestlemania VII!) 
– Main event of Clash XI is set to be The Steiner Brothers (with Sting) against Ric Flair & Barry Windham (with Sid Vicious), plus Luger v. Anderson and a few other matches.  (Man, did THAT card change for the worse!) 
– Ted Turner is set to personally do a press conference to announce the signing of El Gigante, and Gigante will likely debut at the PPV.
– In a very WCW problem, they were supposed to be touring Canada, but the card at the Lord Beaverbrook Ice Arena in New Brunswick had to be cancelled because the ammonia that's used to make the ice was leaking. (I'll take "sentences that I couldn't dream up in a million years" for $200…) 
– Lex Luger is no-showing all over the place, being that he's in the hospital with a life-threatening staph infection, but they're actually handling it well and offering refunds well in advance of the shows.
– Wahoo McDaniel was the first victim of the new Ole regime, as he was fired from his agent position.  Woman also looks to be history as well, and Ole himself will be phased out of the Horsemen.
– And finally, the Midnight Express had a surprisingly good match with the Southern Boys on TV this weekend.  The Boys aren't of the same level as workers as the Rock N Rolls or Fantastics, but Dave thinks that they can have a good program with the Midnights this summer.