It's like Wrestlemania, but for NEWS.  I'm giddy.  Are you giddy?  I bet there's a Foghorn Leghorn meme in here somewhere, too.
– Champions clashed this past Tuesday, and unfortunately Sting took his heel beatdown a little too seriously and suffered a knee injury that will keep him out for at least a few months.  Sting had been kicked out of the Four Horsemen earlier in the show, and Sting was supposed to run down to ringside during the bizarro main event (fans were cheering for the Japanese against the Horsemen) and climb the cage, but security accidentally pulled his leg too hard while trying to get him down and he ripped his knee up.  Original plan was Sting and Flair brawling to end the show while fans called the 1-900 line to hear what happened, but instead it was just Sting getting carried off.  Initial diagnosis is a torn patella tendon and more surgery on the way, which will probably lead to him being out for as much as six months.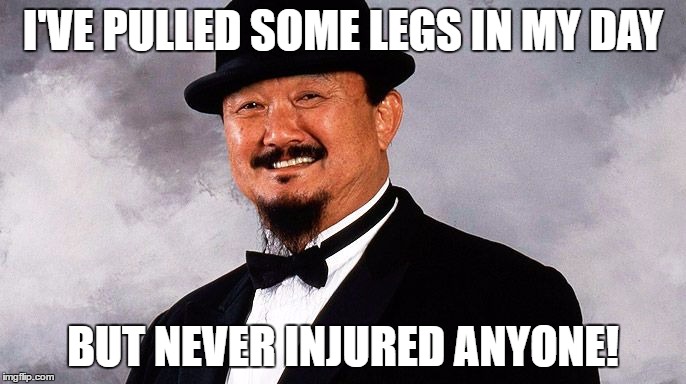 – Well said, Mr. Fuji.
– So this is kind of a big problem in that Sting was supposed to be challenging Flair for the World title in two weeks at WrestleWar 90, and he had been doing interviews on TV where he GUARANTEED a victory for the title.  Obviously, he was booked to win the belt, and now everyone is running around like the proverbial chicken with its head cut off trying to figure out how to fix it.
…
No Foghorn here?  OK, moving on.
– When times are tough, fingers are pointed, and the guy being blamed for everything from the Sting injury to the Hindenburg disaster right now is poor Ric Flair.  The plan at the moment is to turn Luger and run with Flair v. Luger at the PPV as an emergency fix.  It was just as well, because Steve Williams is gone as of this week when his contract expired, so that PPV match against Luger wasn't gonna happen anyway.  Regardless of everything else, the #1 rule of wrestling in situations like this is that you ALWAYS have the babyface's hand raised at the end of the show if you pull a major bait-and-switch like this one.  (And people wonder why 1990 was such a lousy year for the promotion.)  Dave has the ranting guns cocked and loaded, but he doesn't even have time right now, so he'll get to it later, because…
– Mike Tyson got KNOCKED THE F--- OUT by James "Buster" Douglas in the tenth round of a nothing fight in Tokyo and suddenly every plan that the WWF had has gone down the toilet.  Vince is panicking because they had already pledged anywhere from $500,000 to $1 million for Tyson to referee the match on the Main Event, and now Tyson is basically worthless as a draw at the moment because he's a laughingstock.  There's actually a movement from equally panicked boxing officials to somehow declare Tyson the World champion again and ignore the fight result, but that one's not going anywhere.  Tyson is still technically contracted for the appearance, but likely won't make it.
– Dave thinks that it might actually be a blessing in disguise for the WWF to use the disgraced Tyson, because his name will be all over the news and might actually help boost ratings. (Yeah, Vince's mind doesn't work that way.)  One bright spot is that the syndicated shows haven't really been pushing the Tyson appearance very hard because they don't want to interfere with the Warrior build, so it's not like they're reneging on any big advertising campaign if he doesn't show up.
– Although the ticket sales for Wrestlemania were a bit of a controversy last week, it's all a moot point now because within the week the WWF has sold out the entire 63,000 seat Skydome in record time. The advance for the show is already into the millions and by the time advertising for tickets hits the syndicated shows this weekend, they'll be all gone.  (Somewhat connected but still crazy additional point:  The Blue Jays basically sold out that building EVERY NIGHT for something like 6 years straight during that time, giving them one of the biggest revenue streams in baseball even factoring in the shitty Canadian dollar at the time.  It was a big reason why they were able to buy a World Series champion caliber team, and a big reason why the team wasn't able to rebuild as effectively once attendance started dropping with the inevitable slide downwards of the team.  It was a vicious cycle of people not going to the game because the team was bad, and the team not being able to spend money to improve because no one was going.) 
– Back to the NWA, as Tully Blanchard was backstage for the Clash, but obviously not on the show.  In fact he was booked for the show and was waiting for the cue to go on, but never actually signed the contract and so they just left him off.  Tully had agreed to the $156K offered by Jim Herd, working 170 dates, but when he got to the show they presented him with a contract for $156K for 300 dates, with the feeling from management being that he shouldn't be "above" Arn Anderson and so would get the same deal.  Tully refused to sign, and left the building.  (Never to return except for that one match in 94, it turns out.) 
– Also storming out of the building was Great Muta, after the promotion burned him on a bunch of promised merchandising deals that never happened.  He was supposed to turn babyface and be the star of a comic book, plus have a line of Roos shoes dedicated to him.  Steve Williams also quit, but he'll likely be back later because that's what he does.
– And then, the night before Tyson got knocked out, New Japan sold out the Tokyo Dome with a combined All Japan/New Japan show that set yet another gate record.  TAKE THAT, UWF!  It was a hot show from top to bottom, including Masa Saito winning the AWA title from Larry Zbyszko in the result that Dave had been promising wouldn't happen for two weeks.  Dave notes that it shows how little that the Japanese bookers regard the title, since it was given to a non-pushed 47 year old guy instead of a young lion that they want to establish.  On the other hand, 47 IS a young lion by AWA championship standards.  Also, a masked guy with blond hair debuted, called Pegasus Kid, and he got over huge working like Tiger Mask.  Dave suspects that it's Chris Benoit.  Also, Big Van Vader went to a double countout with Stan Hansen that Dave heard was really crazy.  That's an understatement.
– OK, after all that, it's time for CLASH OF CHAMPIONS X: TEXAS SHOOTOUT REVIEW!
(Minor note:  This is where Dave starts putting the poll results at the beginning of the show review.)
– The show drew a 4.5 rating, which is so-so, especially since TV ratings are really high for the promotion in general right now and this was supposed to continue that trend.
1.  Steve Williams pinned the Samoan Savage (Tama) with a backslide in 7:54.  They spent a few minutes doing a skit with Williams as a doctor, but that's wasted because he's already done.  Williams pressed and powerslammed Savage for the pin.  Solid but nothing special.  **1/2
1a.  The Horsemen came out with Sting for the big angle, where they just came right out and fired Sting and gave him until the end of the show to forfeit his title match with Flair, just sneering in classic Ole manner until Sting attacked and got laid out as a result.  Dave thought it was excellent, but it wasn't the time for it and in fact reeked of desperation booking, and he'll expand on that later.
2.  Pillman & Zenk beat the Mod Squad in 9:52 when Zenk pinned Basher with a flying bodypress.  Timing of the Mod Squad was terrible and they couldn't follow the Sting beatdown.  *
3.  Mil Mascaras pinned Cactus Jack in 4:51 with a flying bodypress.  Mil looked great for 51 years old, but the fans didn't care.  Jack appeared to knock himself silly doing the Nestea Plunge at one point.  ** for the bumps.
3a.  At this point, Jack gets into a brawl with the drummer of the house band ("The Tough Guys"), who is being called "Wolf Wild", and in reality is former AWA guy JT Southern.  Dave thinks this is incredibly stupid because Southern would be completely out of his league in this promotion and it just makes Cactus look like an even bigger jobber for not being able to take out a musician, let alone a senior citizen wrestler.  (Thankfully it went nowhere.  Although years later, Southern did return as Van Hammer's evil guitar playing nemesis, so at least he upgraded his status in the band!) 
4.  Norman the Lunatic beat Kevin Sullivan in a falls count anywhere match at 7:15 in a terrible brawl.  They went to the ladies' bathroom at one point and one of the WCW secretaries came running out screaming to get the angle over.  The finish was Norman going into the bathroom and emerging with a toilet seat around his neck for the phantom victory.  1/2*  for the sight gag.
4a.  Terry Funk interviews Lex Luger, who puts over all the "allocades" that he's received in his career as Dave screams in frustration at his typewriter.
5. The Road Warriors beat the Skyscrapers by DQ in 7:00.  Dave calls Mean Mark a "pleasant surprise" who has managed to make this version of the team much better than Sid's version.  He's got potential.  Spivey laid out the Warriors with a chair for the DQ.  Match was fine. **3/4
6.  The Steiners retained the NWA tag titles and unmasked Doom in 13:09.  You'll never guess who was under the masks.  Go ahead, take a shot, it's too shocking!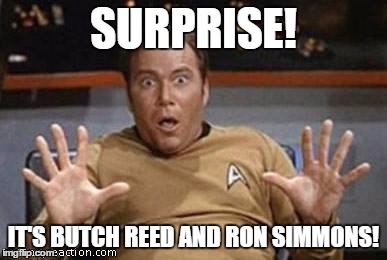 – Ha!  Bet you thought I was going somewhere else with that one.  Match started slow but ended up as the best of the show, and finished with Rick pulling the mask of Reed and pinning him while he was "stunned".  ***
7.  Flair & The Andersons beat Buzz Sawyer & Dragon Master & Great Muta at 6:10 in the cage match when Arn DDT'd Dragon Master for the win.  Muta and Sawyer were huge babyfaces here, but no one cheered Dragon Master.  The match was designed to set up an angle that they never got a chance to execute.  **  Sting was of course hurt in the post-match brawl, as was Brian Pillman, who got accidentally poked in the eye and juiced the hardway.
– The majority of voters actually gave the show a thumbs up, but Dave strongly disagrees and hated the wrestling action, despite the upgraded SNME-style graphics and production.
– Dave thinks that the Flair turn represents a major depth problem for them, as well as a total lack of long-term planning  because now with Sting out they have no real top level babyface superstar to push, and running months of Flair v. Luger at house shows isn't going to save their bacon while they wait for Sting to return.  Especially when it's turn, turn, turn at the top of the cards as it is.  Dave thinks that giving Scott Steiner a big push, regardless of whether he's "ready" at this point, would be a good first step.  He also thinks maybe they should try to get Buster Douglas to referee the Flair-Luger match, because hey, why not?
– New to the WWF will be Buddy Rose as a jobber, Akio Sato & Pat Tanaka as "The Orient Express", and possibly Terry Gordy.
– Hulk Hogan reportedly bought the rights to the "Hulk Hogan" name from the WWF, which is fueling more rumors of his retirement after Wrestlemania.  Dave insists there's nothing to it.
– Vince McMahon wants to get into the world of bodybuilding, as he plans to launch a new magazine called "Bodybuilding Lifestyles".  Dave notes that Vince's outside ventures haven't been particularly profitable.
– There was actually tons of pub coming from Don King about a potential Tyson v. Hogan match, all the way up until Tyson lost.  It appears that it was King's side that were really pushing for the match, not Vince.  King was publically saying that Tyson would take the fight for $50 million, which Dave thinks would be insanity, especially now.
– Regarding the JT Southern appearance at the Clash, it was a one time deal where Cactus was supposed to gain the advantage and pound on him until security dragged him off, to really sell him as a wild beast. Of course, they cut the cameras away before that happened, because WCW.  Southern isn't coming in as a wrestler or anything.
– Major front office shakeups are coming for the NWA soon.
– And finally, Dave updates us with WM at 34,000 tickets sold as of this writing, while the Detroit show with Tyson as referee is sitting at 15,000 of 20,000 sold, and still no indication that Tyson won't be there.
Barely even had time to hit the territories this issue or work in Foghorn, but I'm sure there's more going on next time!