Back to the trenches after taking Friday off!  And the big story this week is an abject lesson in John Lennon's famous saying, "Life is what happens to you when you're busy making other plans".
Also, ROYAL RUMBLE.
– Reportedly, World champion Mike Tyson has signed with the WWF to referee a match for the WWF. Tyson made the announcement from a press conference in Japan, where he's prepping for a fight at the Tokyo Dome in a couple of weeks against some guy.  Probably not important.  ANYWAY, what is important is that Tyson is going to make a shitload of money to referee the Hogan v. Savage match on the Main Event, which opens us speculation that Hogan wants Tyson at Wrestlemania.  The buyrate for that would be ASTRONOMICAL.  (As long as nothing happens to Tyson between now and the Main Event.  But what are the odds of THAT?)  In the event of a Hogan-Tyson match, Hulk is telling friends that he's pretty confident of his chances in a shoot.  If it's a work, then you've got a problem because neither guy will do a job and Hogan can't go 15 rounds.  Realistically, the WWF would be making $100 million in revenue from the match, so Dave is pretty sure he would lay down for that kind of payday.  If it happens, it'll be bigger than Ali v. Inoki.  Dave appears insanely jazzed for the possibilities.  (Well, I can't think of any hiccups that would prevent it.) 
– The WWF is actually playing coy with the NBC promotion locally in Detroit, basically doing a press conference in the city while avoiding all mention of the show being a live NBC special until the show sells out.  Which it has not done.  So you had a press conference announcing what they're treating as a house show, with Vince ducking all questions relating to the network aspect of it.  However, once the Tyson thing comes out, it's a guaranteed sellout!  (As long as nothing happens to Tyson before then.  But those would be some crazy long odds, like Ronda Rousey getting knocked out by Holly Holm on a random UFC show or something.)  As a bonus, the involvement of Mike Tyson guarantees perhaps the largest ever audience for pro wrestling watching that Hogan v. Savage match, and from there the biggest buyrate ever.
– The timing of this kind of screws the NWA, because they have their WrestleWar PPV two days later, with their big Flair v. Sting match on top.  (Well, as long as nothing happens to Sting before that match, I think they'll be fine.  But what are the odds of THAT?) 
– Ric Flair has been pushing for Tully Blanchard to come back and team with Arn Anderson against the Steiners, but there's still a lot of heat on Tully for whatever reason and management won't budge.
– In yet another huge story, All Japan and New Japan will be working together for the first time in forever, co-promoting at the Tokyo Dome on 2/10.  However, one of the main events, Flair v. Muta, fell apart when Flair canceled at the last minute due to what he claims was political pressure from TBS.  Also, there was a very real fear of a double-cross from the Japan side, weird as it sounds.  The debut of Koji Kitao should still juice ticket sales enough for a sellout, but Flair pulling out hurt enough that Saskaguchi went to Baba in order to save face and negotiated a bunch of All Japan talent to appear and make up for Flair's departure.  (The Japanese take that s--- SERIOUSLY.)  So now the new main event is Hansen v. Vader for the IWGP title, plus Larry Zbyszko defending the AWA title against Masa Saito instead of Fujinami.  Dave thinks that it's unlikely Saito gets the title because there doesn't appear to be any plans for him and it wouldn't be worth New Japan buying an AWA title reign for him.
– And after all THAT, it's time for the ROYAL RUMBLE REVIEW.
– The show was a legit sellout, but it appears that all the squabbling between the WWF and PPV distributors cost them quite a lot of money.
1.  The Bushwackers beat the Rougeaus in 13:34 in a terrible comedy match.  On the bright side, the crowd was into the Wackers and it wasn't on the level of the all-time worst matches they had together in the past.  Miscommunication with Jimmy Hart led to the Rougeaus doing the job.  1/4*
2.  Brutus Beefcake went to a double DQ with the Genius in 11:16.  Crowd was into it, but it was pretty terrible.  Beefcake somehow managed to miss the sleeper hold, and the ref got bumped, allowing Perfect to run in with a chair while Beefcake tried to cut Poffo's hair.  Fans were so irate with the heels that they were trying to jump the railing.  The ref revived and called for a double-DQ.  *
3.  Ron Garvin beat Greg Valentine in a submission match with a scorpion deathlock in 16:52.  Dave thinks it should have been called a Sudden Death match, because as soon as the match started, the crowd died.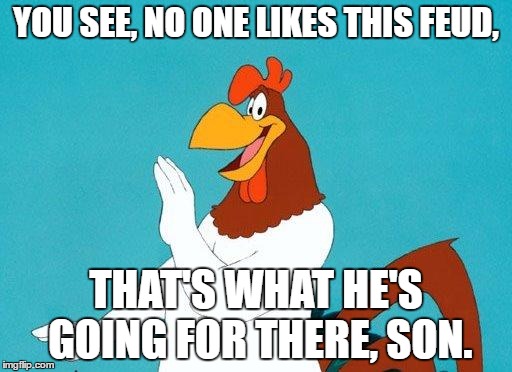 The main problem was that no one is into either guy, and then they worked a really slow pace on top of it.  They did some comedy spots where Valentine tries the figure-four, but Garvin has a leg-guard on and laughs at it.  Valentine was blown up after being forced to actually wrestle for 17 minutes, because his "40 minute match" rep is just Gorilla's hyperbole.  **
3a.  Brother Love interviewed Sapphire and Sherri, which was of course a setup for a brawl between Savage and Dusty, but the crowd liked it.
4. Jim Duggan beat Big Bossman by DQ in 10:24.  Although Dave is no lawyer, he's pretty sure that cruel and unusual punishment is outlawed by the Supreme Court, and watching Jim Duggan try to wrestle for 10 minutes falls into that territory.  Dave, however, is really impressed with Bossman's weight loss for the upcoming babyface run, as he's down to 270 or so and legit weighs less than Duggan at this point.  Slick through Bossman the nightstick and drew the DQ.  -**1/2
5. Hulk Hogan threw out Mr. Perfect to win the Royal Rumble in 58:46.  Barry Windham no-showed this one as well, even though he lives 30 minutes away and was advertised locally leading up to the show.  Piper and Bad News Brown brawling out of the ring to eliminate each other, setting up their new program to finally remove Piper from main event status.  It really dragged through the middle portion with Andre and Bravo and Earthquake all stinking up the joint.  Warrior managed to clear the ring but blew up in less than four minutes, setting the stage for Hulk Hogan to come out and have the big confrontation.  They clotheslined each other and laid there for 30 seconds and that was that. Warrior went out and the crowd died because they knew that was all they were getting from the angle.  Perfect came in late, took some bumps for Hogan, and went out to end it.  ***
Dave thought it was a decent show live, and the Hogan-Warrior stuff was done about as well as could be expected.  If you came in expecting the show to be loaded up with great matches, however, you'd be disappointed.
Now, with the big news done, we've got lots of time for Roller Games news…
– Boy, this guy is harsh.
– The NWA is talking like Eddie Gilbert is going to re-sign, but nothing has happened as of yet.
– Joe Pedicino was asked to turn heel, playing a lying preacher who is a parody of the Joe Isuzu TV commercial, so he quit because it would destroy his credibility outside of wrestling.  (I would think wrestling destroys his credibility outside of wrestling as it is, but I can see where he's coming from.  And for those who aren't old farts like me and most of my readership and the WWE audience, here's what we're talking about) 
– With Pedicino gone, the booking committee is down to Flair, Cornette, Sullivan, Funk and good ol' JR.  Both Ole Anderson and Jim Barnett have stepped back from taking an active role at the moment.
– Sid Vicious is scheduled to return from his lung injury in June, but that's when his contract expires and current thinking is that he'll be all like "SEEYA, BITCHES" and head for Titan.  So no one's making any firm plans for him.
– Steve Williams is also openly saying he'll leave when his contract expires, and go work Japan full-time between AJ and NJ.
– The US tag titles have been revived again and a tournament is currently in progress on the TV tapings.
– Ric Flair is still playing a babyface on TV, although he defended against Tom Zenk in a TV match and pulled the tights to get the win, so there's hints of something there.
– Back to the WWF, where it appears that the Hogan-Warrior match will be face v. face after all.  Dave was surrounded by kids in Orlando talking about how "Warrior is going to kick Hogan's butt".  Dave is like…
– I mean, it's no Sammartino v. Morales from 1972.  Kids today, huh?
– And finally, Dave is really late with this issue, so he'll be early with the next one and update all the territories.  And so we shall return, too.