Well, 1988, as much as I love and care about you, it's time our relationship came to an end again, just like James and Natalie on Big Brother last night.  So let's all pour one out for 1988 before we move on.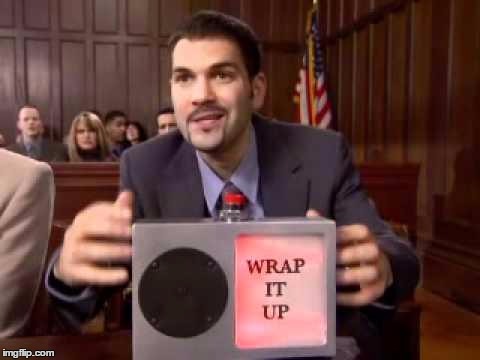 That's right, it is indeed time to wrap it up.
– The top story of this week, or of any other week, is that Dave's typewriter is fixed again.  No, just kidding, it's that the Midnight Rider has ridden into midnight for the last time, with the plug getting pulled on the angle after only two weeks of excruciating TV.  The reason, and this is going to sound shocking I know, is that the angle was a giant flop that wasn't working in the slightest.  Dave also notes that the booking has gone into panic overdrive lately with all the contracts and balloon payments coming due in about a month, so something very big and bad is going on behind the scenes to be causing all this.
– The next direction for Dusty is going to be a feud with Barry Windham, which Dave notes makes no sense since they just had their biggest angle in years with the Windham turn on Lex Luger, but then most of the TV shows contradict each other from week to week anyway.
– Things are quiet in the WWF, but Randy Savage is DRAWING as champion already, and Dave is impressed.
– In a story that seems small but kind of ended up heralding the end of an era in wrestling, the way syndicated ratings are tabulated changed this week.  Previously, WWF or NWA or AWA would group all their various shows together as one "package" and thus "WWF Wrestling" would be #2 or #3 in the syndicated ratings, ahead of even Oprah, because it included all the airings of Superstars, Challenge, Spotlight, and whatever other shows were floating around at the time.  Ditto for Crockett and his "Wrestling Network" that had the old UWF timeslots included.  Now, all the shows are rated separately, and SURPRISE, everything immediately plummeted out of the top 15.  (And pretty much never returned there, as the business suddenly shifted to cable TV and you wouldn't see all these guys paying for syndication deals any longer because the illusion was gone.)  Dave doesn't think it's a big deal in the short term since Vince has already sold all his ads for 1988, but TV industry nerds think it's going to cripple the business for Crockett and all these groups like GLOW who had ad rates artificially propped up by bundling the shows with AWA and Pro Wrestling This Week as one big set.  (Ding ding!)  The loophole has now been closed.
– Clash II (Miami Mayhem!) is 6/8 from Miami, and internal feeling is already that the show is gonna suck compared to the first one.  And really, they set up all this cool stuff on the first show, like the Flair-Sting feud, and then followed it up by doing the usual Flair-Sting series of matches around the horn with the usual over-the-top DQ finishes with no significant followup on TV.
– In a minor note, Dave has been informed by the WWF that word "Heavyweight" will no longer be used in reference to the champion, and it'll be strictly "the WWF champion" from here on.
– Speaking of the WWF champion, Randy Savage drew the second-biggest gate in the history of the Cow Palace on 4/30, so good for him! 
– With the sudden increase in business thanks to Macho Man, all that stuff about keeping managers off house shows and eliminating extra shows has already been forgotten and they're back on schedule of running a bazillion days a year again.
– Over to World Class, where Ken Mantell is now sending out letters to every other promotion he can think of, offering to rent out his guys to make up for all the decreases in shows being run.  Dave doesn't see any talent in World Class that's going to pop a territory anyway.
– Speaking of which, as noted Lawler and Jarrett brought in Kerry Von Erich and Iceman Parsons to have a World title match as the main event of their 5/2 show, with Lawler v. Eddie Gilbert underneath, and to no one's surprise the building emptied out after the Lawler match because everyone thought it was the main event. 
– Also speaking of Lawler, the gimmick in the Lawler-Hennig match for 5/9 is that fans get to call a 900 number and vote for referee between Larry Hennig and Jackie Fargo.  So in order to get the maximum money from the Memphis idiot fans, Lawler keeps going on TV and saying that Minnesota fans have been voting for Larry Hennig and he's solidly in the lead, so everyone needs to go to the phone NOW and vote for Fargo.  Finally, at the end of the TV show with the deadline, Lawler somberly announces that he's got bad news…for Curt Hennig, because Fargo is the winning ref.  Basically Hennig is getting all the profits from the 900 line as his bonus for coming into Memphis to drop the title.
– There's a new guy in Oregon, real name Steve Winters, who goes by Steve Austin and comes from the Bay Area.  (No, it's not THAT Austin, but I thought it was an odd coincidence that another one would pop up a year before the famous one.) 
– Due to the fact that the Oregon commission famously banned blading a few weeks ago, the main event of a cage match with the Southern Rockers v. Avalanche & Mike Golden turned UGLY when Don Owen demanded blood but no blading.  So Golden threw something like 14 or 15 hard potato shots at Peterson's head, failing miserably to draw blood but busting up his nose instead.  Dave calls it the most convincing argument FOR the blade he's ever heard.
– To Japan, where Fujinami might be making a play for Inoki's top spot now that the big guy is out with a broken foot.  Dave also suspects that it's just part of an angle.  Fujinami shaved his head to show that he's not just a young Inoki disciple any longer and he's now his own man.
– Owen Hart dropped the North American title after more than a year as champion, back to Makhan Singh, which seems to be an indication that he is indeed leaving for the WWF.  He had verbally agreed to come in as some sort of masked wrestler, like Tiger Mask or Mighty Mouse (Vince has been trying to get that one on TV for nearly THIRTY YEARS!) but he's having second thoughts because he wants a match with Ric Flair instead.
– Former WWF jobber Steve Blackman is coming into Stampede and he's pretty terrible.
– Due to a change in FCC regulations, Superstation TBS will likely revert to Regular Station TBS, along with all the other Superstations out there.  (Not sure what that was about, but it didn't happen.)  Also, Turner is pushing hard for a new cable station called TNT, where Crockett will likely end up.
And now, get the popcorn, because it's time for another…
– At a gym in Brooklyn for 175 fans, the main event of an indy show with Dominic DeNucci trainees saw Tommy Rich pin Dick Slater.  However, the best match of the show by far was a tag team match that hit **1/2, featuring Tom Brandi & George Skoaland losing by DQ to former WWF jobber Lou Fabiano and a DeNucci trainee named Cactus Jack.
– The Texas Stadium show drew 7000 people for World Class, as Kerry Von Erich regained the World title from Iceman Parsons to Dave's great relief, and Terry Gordy turned babyface and rejoined with Michael Hayes after a wacky misunderstanding with Buddy Roberts and Parsons.  The triple cage deal was a total dud.
– Dave's fears about the quality of Clash II have seemingly come true with the announcement of a brutal lineup for the show, with a main event of Tully & Arn defending the tag titles against Sting & Steve Williams, plus no Flair or Luger or Road Warriors.  (They changed the card around somewhat to make it marginally better, but it was still a waste.) 
– Dave notes that the total gate for Crockett Cup's two shows ALMOST equaled what the WWF made from merch alone at WM4.  Ouch.
– When the new Coliseum is built in Charlotte, Crockett might be kicked out of there as well because the new manager doesn't have the same longtime relationship with the Crockett family, and Vince has already been promised the first two dates.
– While on an overseas flight from South Africa back to Calgary, some guy went nuts and started threatening to kill people.  The stewardess saw Steve DiSalvo on board and asked for help, so DiSalvo held the guy in a front facelock until he stopped freaking out and stayed with him for the rest of the flight to keep him from getting loose.  (How many ways would THAT have gone differently today?  I feel like the story would go "Some guy started acting nuts and then the air marshal shot him in the face for suspected terrorism.") 
– Tiger Mask is getting married soon, and speculation is that he'll unmask after the wedding and wrestle as Mitsuhara Misawa again. 
– The main event of the Dome show on 5/7 for New Japan has changed again, with Inoki vacating the IWGP title, and it'll be Fujinami v. Big Van Vader to decide the champion.  It was originally Inoki v. Vader, then Choshu v. Vader, and now Fujinami gets the spot. 
– So, not to start any false rumors or anything, but Dave has heard that there's negotiations in place for something with Ted Turner and Jim Crockett.  Might be nothing.
– In order to entice cable systems to carry TNT, Turner is offering them a discounted rate on Bash '88 if they sign up.  Dave thinks it might also be the opposite (trying to boost business for the Bash by bundling it with TNT).  Either way, Bash better be a hot show, or they're dead.
– JERRY LAWLER PINNED CURT HENNIG TO WIN THE AWA TITLE IN FRONT OF 9500 FANS.  Match was "not great".  Reaction was crazy. 
MORE NEXT WEEK.