By popular demand, the Wrestlemania IV vs. Clash of Champions issue!  Now expanded and with added stuff that I didn't do the first time because I was still figuring out my voice for these and running jokes and such. 
– Dave starts out with Wrestlemania, which he calls a bomb in every sense of the word.  Preliminary estimates of the buyrate are sitting at about 6.0 (by comparison, Wrestlemania III did a 10.0, or in other words 1 in 10 households that had PPV available ordered that show!).  Now, as it turned out, that was about 450,000 buys or roughly triple what a normal B-PPV would do in the pre-Network days, but the WWF actually released projections beforehand pegging the show at a 12% buyrate, or nearly a MILLION buys.  In 1988!  Regardless, the show was still a financial success thanks to some payola from Donald Trump and big closed circuit numbers (Canada in particular accounted for millions of dollars, since that's the only way we could watch it).
– The quality of the shows was of course night and day, with Dave saying that Wrestlemania "made Starrcade 87 look like Starrcade 85".  I think that analogy would work better if those shows were fresher in my mind, but I'm assuming that means he really loved Starrcade 85 and hated 87. (And then shortly after this, I watched both shows and LOVED 85 and HATED 87, so there ya go.) 
– He goes into a funny thing about how they won't move Hogan aside for Savage, and Randy can't even hail a taxi without Liz getting permission from Hulk first.  He's not wrong.
– The WM crowd was dead for 3.5 hours because it was a paid crowd of casino high-rollers and not wrestling fans, but even more embarrassing was the out-of-control steroid abuse on the WWF side, with guys blowing up two minutes in (and I can think of about 6 examples off the top of my head).  Plus the tournament format was a complete flop and everyone apparently knew that Savage was winning because ABC News featured the magazine snafu the night before the show.  (Again, I would like to point out that everyone in my school and circle of friends was betting on Bam Bam Bigelow, not Savage, so I don't think it was as widespread as Dave thinks.)  He does think that in cases where the results are leaked, they should swerve fans by changing the finish.  (Obviously Vince has heeded that advice in recent years.) 
– Match ratings for Wrestlemania: What Put The World To Sleep
Battle royale – 1/2* for the Hart/Bad news angle, DUD for the match
Ted Dibiase d. Jim Duggan *1/2 "Shockingly little heat for this." notes Dave.  Better get used to reading that.
Don Muraco d. Dino Bravo 1/2*  Muraco was blown up 2 minutes in but tried to carry the match anyway.  It didn't work.
Greg Valentine d. Ricky Steamboat **1/4  "Steamboat deserves a lot better than this" for his sendoff, Dave notes.  Well, that's Vince for ya.  Dave calls Valentine a "tired old man" here, but in all fairness Valentine looked exactly the same for the next, what, 20 years in the ring?  He could probably do a Rumble tomorrow and go 25 minutes in there.
Randy Savage d. Butch Reed *  Another dead crowd.
One Man Gang d. Bam Bam Bigelow (DUD).  Dave notes that it's actually a negative star match, but he'll cut Bam Bam a break since he was obviously working on a ripped up knee and needed surgery right away.
Jake Roberts draw Rick Rude, –**.  A worst match of the year candidate according to Dave, although he did note that Rude has eye-catching tights.
Ultimate Warrior d. Hercules –*1/2  Warrior was blown up before he even got to the ring, and technically this was much worse than the last match but "at least it was over quick" so it gets a better rating.
Round two!
Hulk Hogan DDQ Andre the Giant DUD. Dave was going to go 1/2*, but dropped it down to DUD because of Hogan's posing.  That's fair.
Ted Dibiase d. Don Muraco in a decent match.  *1/2
Randy Savage d. Greg Valentine in another decent match.  **1/2
Brutus Beefcake d. Honky Tonk Man by DQ  DUD.  Dave notes that Brutus resembles Davey Boy Smith with his new haircut, but you can tell them apart once they start wrestling.  Even Honky couldn't get over with this crowd of corpses.
Randy Savage d. Gang by DQ 1/2*  Savage tried but the finish was terrible.
Demolition d. Strike Force for the tag titles **1/2  Would have been better if anyone in the crowd had reacted to anything.  The only reactions were from heel fans cheering Demolition.
Randy Savage d. Ted Dibiase to win the WWF title  **1/4  Both guys tried hard but they were fighting "Rigor Mortis Mania" in the crowd.
– Match ratings for the Clash of Champions:
Mike Rotundo d. Jimmy Garvin in an amateur wrestling style match, **1/4
Midnight Express d. The Fantastics by DQ "in what is known in the business as a classic Memphis brawl".  Thanks for that insight, Dave.  ****1/4
Dusty & The Road Warriors d. The Powers of Pain & Ivan Koloff in a barbed wire match, *.  Dave notes that Dusty looks shockingly like Dump Matsumoto in his street fight outfit.  Ouch.
Barry Windham & Lex Luger won the tag titles from Tully & Arn ***1/2  Dave totally ignores one of the loudest crowd pops in history for the win, but does note that Luger's new green tights are so bright that they make him look radioactive on TV.  I of course love this match to death, but this was a big moment for me as a kid who was into Barry & Lex bigtime at that point.
Sting drew Ric Flair in a match of the year candidate ****3/4.  In fact it won Match of the Year, period.
– The first Four Horsemen Vitamins commercial premiered during the Clash, although Dave notes that it's like an SNL spoof or something and probably won't sell many vitamins.  Very true.
– In a supposed major story that Dave was just waiting to break last week, Crockett was in negotiations to buy World Class.  Well, that one obviously fell through.  This would have resulted in a big push for Kerry and Kevin, but obviously nothing ever came of it.  Further, the idea wasn't supposed to be Crockett buying it and running it (like what Jerry Jarrett eventually did) but rather buying their valuable TV slots and standing over it like the benevolent dictator, ala Florida. 
– In another major title change, Kerry dropped the World Class title to Iceman Parsons (who Dave calls "one of the least-likely champs in the history of wrestling") in the famous "lights out" finish where Parsons ran away for the whole match and then the lights went out before Kerry was revealed to be knocked out in a pool of his own blood.  Dave feels like Parsons will just be a short-term transition to Michael Hayes, but he actually ended up holding that thing for a LONG time, relatively speaking, before dropping it back to Kerry again.  Two months for a guy who was basically at the same level as Sheamus is a pretty hefty reign.
– Eddie Gilbert is going to be booking Continental in an effort to pull them out of rock bottom.  It didn't work, but he did some interesting stuff down there.
(OK, I skipped a WHOLE bunch of shit at this point, so let's expand this one!  Expand it old school!) 
– OK, so the deal with the Bruno Sammartino legal threats last week is not that Linda told him he couldn't be "Bruno Sammartino", because that would be ridiculous even by Vince's standards, but rather that he can't be "The Living Legend".  Since that's an actual trademarked nickname. So there you go.
– Roddy Piper is doing a new movie called "They Live" with director John Carpenter.
– Another movie begins soon, depicting the life of Olympic wrestler Chris Taylor, to be called "Lean on Me".  Still no word from Hollywood on that Hogan bio-pic, however. 
– The episode of Pro Wrestling This Week where Paul E took over aired this week, and the show will be repackaged into a new format on 4/9, with a 30 minute show instead of a 60 minute one, with a new host.  (At this point, the show was dropped from the syndication package that aired on KCPQ at the time along with GLOW and POWW and the rest, so I assumed it was cancelled.  Apparently it ran for another year or so in the shortened format, albeit in a more limited market.) 
– Dave goes over the whole "Tully attacks crippled Magnum TA" angle that led to Dusty making the save and accidentally nailing Jim Crockett with a baseball bat.  It was tremendous, but Dusty's suspension obviously sets up the return of the Midnight Rider for a series of matches against Tully or Flair at the Bash.  (In fact, the Rider did return, but it flopped so badly that they scrapped the entire angle after about two weeks and just brought Dusty back to mercy-kill it.)  The US title will be vacated and put up in a tournament on 5/13 in Houston. 
– A rather interesting look at the Oregon commission hearings next, as the state sets up a regulation system that was intended to curb the bad tendencies of Don Owen's PNW promotion but actually ended up driving out the WWF for something like 20 years.  The commission wanted limits on things like steroids and blading, but the real scourge was actually scabies, which had become something of an epidemic among the promotion at that point.  They were forced to abide by a ruling that wrestlers who had active outbreaks of communicable diseases would not be able to work in Oregon.
– Down in Memphis, two new rookie babyfaces show up:  Scott Steiner and Tom Brandi.  Obviously one would be a bigger star. 
– Jerry Lawler and Eddie Gilbert are having ****1/4 matches around the horn in their feud, leading up to a TV angle where Gilbert threatened to throw fire at Lance Russell and Lawler came out for the save (after a month off TV to sell the burns), leading to a giant parking lot brawl with Eddie that ended with Lawler getting slammed through the windshield of a car.  
– Keiji Muto is currently kicking around Puerto Rico as Super Black Ninja, about a year before taking the NWA by storm.
– Verne Gagne took the AWA tag belts off the Rockers because they wanted a $500 per night guarantee to stay, and Verne was unwilling to pay that.  And then the Rockers stayed for another two months anyway.
– In the continuing saga of Larry Latham's attempts to fend off the Titan lawyers, he's gone from Moondog Spot to The Loondog and now finally just the Dog to play it safe. 
– Funny situation in World Class as Fritz keeps advertising "Fabulous" Lance Von Erich for shows, but Lance's agent doesn't want him to wrestle as a heel and thus jeopardize his modelling career, so he keeps no-showing.
– World Class is also cancelling a bunch of Fort Worth shows, cutting the circuit down to every fourth week instead of weekly in order to save money.  (That's probably not a good sign.)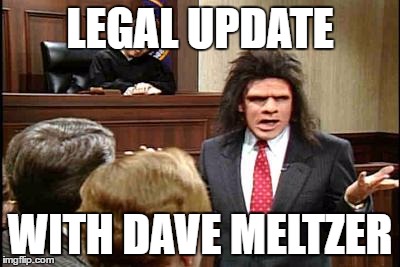 – Randy Savage is being sued by a fan (for $1 million!) who claimed that Savage "punched and bodyslammed him" in 1986 when he innocently stopped his car beside Savage's at a red light, got out, and asked Savage for an autograph.  (Totally reasonable!  Nothing that any one of us haven't done a few times in the past!)  The fan alleges that Savage and a bodyguard then got out of the car and attacked him, and also that Savage is 6'4" and weighs 280 pounds.  Dave's learned legal opinion:  He must be confused with another Randy Savage.
– Angelo Poffo actually had money riding on Wrestlemania, but bet on Ted Dibiase.  On the good side, it was only $1. 
– The Kentucky State Commission actually got a law on the books that says any wrestler who throws another man over the top rope can now be fined and/or suspended for doing so, and a referee who fails the stop the match once such a thing occurs will also be fined and/or suspended.  (Was the head of the commission Bill Watts?  Also, good to know Kentucky really was the last state to figure out wrestling is fake.  Really making yourselves look good there, Kentucky.  I do enjoy your chicken, at least, but now the recipe is out in the public you ain't got SHIT left.  Just sayin'.) 
– Tom Zenk has HEAT with the AWA over the Hennig angle because they said he was injured.  Let me reprint it again, in case you've forgotten the brilliance of what I wrote the first few times:
– But we're not done with the taping yet!  So the other colossal fuckup sees Hennig defending the title against Wahoo, who is subbing for Tom Zenk, who quit.  OK so far.  However, Zenk quit before the PREVIOUS tapings even…where they were supposed to shoot the angle to set up the Hennig v. Zenk match.  Which didn't happen.  However, at tapings before THOSE tapings (we're talking two months back now), they did a series of interviews with Zenk for future shows, where he talked about beating Hennig in a non-title match (which didn't end up happening), and then aired those interviews on TV anyway even though he quit.  And then here, the announcers for the Hennig-Wahoo match talked about a phantom TV angle that also never happened, where Hennig injured Zenk in retribution for the non-title loss that never happened in the first place!  I feel like I need Doc Brown to draw a timeline on the chalkboard to explain the AWA's booking logic sometimes.
(I'm especially proud of the Doc Brown joke.) 
– Dave only has very early numbers on the Clash, but it did monster ratings locally in Atlanta, drawing a 11.7 for the show and peaking with a 14.5 rating for the Sting-Flair match.  TBS wants to do more of these "Clashes of Champions" over the summer. 
– Davey Boy Smith stopped by Stampede for a cameo appearance to put over Johnny Smith, but Vince actually vetoed a planned tour with the group after Wrestlemania.  (Because they had what to do back in the WWF?  Putting over the Islanders every night while Dynamite sleepwalked through house shows?)  In fact, the Harts had negotiated a deal to send some guys to the Crockett Cup in April (I'm assuming that was Bad Company and maybe Benoit & Wellington?) but "political pressures" put an end to that plan as well.  (Fuckin' Vince, man.) 
And with an impressive THOUSAND WORD expansion, we're out for another week.  Don't say I never do nothin' for ya.