Can we possibly top the epic story of Big Ben Bader and the Japanese riots from part 1? 
CAPSLOCKMAN very politely asked in the comments if we could skip ahead to 1996 instead of 1990, since the other guy is currently doing 1991 on Reddit, and it doesn't really matter to me either way.  I will say that the Observer changes drastically from a content standpoint in 1991, so it's more feature articles and TV reviews rather than the oodles and oodles of newsbites and super-opinionated Dave like it is here.  Whatever the will of the blog is, is fine by me.
And let's start here with the NWA news.
– Ole Anderson drew the biggest crowd of his career, with 12000 on 1/1 at the Omni to watch him and Lex Luger take on Blanchard & Anderson in a non-title match that was said to be excellent thanks to the Horsemen.  They actually did the finish with the chair that ended up being the finish of the Luger-Windham title win at Clash #1.
– Hey, guess who won the five man last chance battle royale to get a spot in the Bunkhouse Stampede finals?  Go on, take a guess.  It's too shocking, you'll never get it.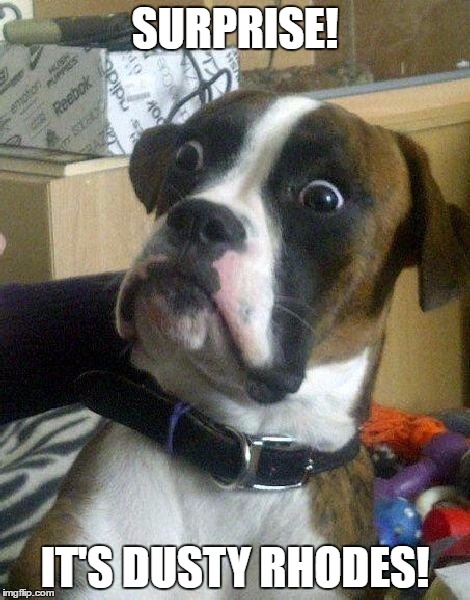 – Fans of Crockett were particularly unsurprised, because they f----- up and sent out results of the match on their syndicated package…which aired the day before the match took place!
– They're planning to run the tried-and-true weightlifting content angle between the Road Warriors and Powers of Pain on 1/30, although matches between them have already started, which Dave notes is kind of weird booking.
– Dick Murdoch got off a good line on the TBS show, telling David Crockett that "working for your family is like working for an unemployment agency." 
– Both members of the Rock N Roll Express are injured, Ricky with a broken nose and bad knee and Robert with a bad back, and Dave doesn't even know when they're coming back.  (Did they even come back?) 
– The New Breed was turned heel and was supposed to be feuding with the Lightning Express on house shows, but Sean Royal "went on Christmas vacation" and never returned.
– Hey, Crockett returned to Chicago for the first time since Starrcade, and how did they do?  3500, even with Flair and the Road Warriors on top.  Numbers don't lie.
– Kevin Sullivan's new stable will be called "The Varsity Club".
– Al Blake (aka Vladimir Petrov) was sentenced to six years in prison for drug trafficking, although he'll be out on parole in two years.  He won't be allowed to leave the state of Minnesota, though.
– In Memphis, Renegade Tobacco is now sponsoring all the CWA shows, with banners all over the ring and thus a big influx of cash for Jarrett and Lawler.  (I've long wondered why Vince doesn't go down that road, because he could make MILLIONS from that kind of ad revenue, and I'm not even being facetious.  Hell, we all know how shameless I am about that sort of thing!) 
– Rhonda Singh debuted in Stampede as a monster woman.  She would of course go onto greater fame as Bertha Faye.
– Also on the card, stuff that ends up bad later on, as Jason the Terrible dives outside the ring and knocks people out of their chairs, resulting in one of them getting taken out via ambulance.  Also, Bad News Allen elbowed a pregnant woman during a brawl in the crowd. 
– To Oregon, where a new state commission is ridiculously stringent.  So now they have to use boxing referees, four ropes instead of three, no blood and no drugs whatsoever.  One wrestler has already been suspended for pot.  Dave wonders if they'll be so mean when Titan comes through.  (Answer:  Yes.  And Vince didn't run there for years as a result.) 
– So a couple of weeks back, Dave reported that Paul Boesch would be coming out of retirement to promote in Houston again.  This was in fact an untruth reported by newspapers in the area, which Dave was passing along erroneously. 
– Although the bill to abolish the Pennsylvania athletic commission seemed like a slam dunk, it was actually put on hold for six months, during which time the commission will continue to operate as normal.  (So get your bribes in now!)  However, JJ Bins resigned over the initial bill, so people are free to slice open their foreheads at will for the time being. 
– New Japan booker Sakaguchi is coming to the US to poach some talent from Crockett, and apparently he's not even interested in the usual crew and wants Sting and Big Bubba instead.
– Dave gives some background on the very interesting life of Takeshi Kitano, as he was basically the Johnny Carson of Japan until a scandal in a Japanese magazine cost him his career.  He took some guys to the magazine office and beat up the reporter who wrote the story, and that proved to be an even bigger PR issue for some crazy reason. 
– Although there's a disappointing lack of full scale riots in the All Japan section, there is some big news that Dave passes along:  Sumo star Futahaguro was suspended for life for punching a sponsor and the wife of his teacher, and he's a big pro wrestling fan and will likely end up working for Baba as well.  He's better known today as Koji Kitao. 
– To the AWA, where Greg Gagne triumphed over Adrian Adonis to win the first AWA TV title.  By DQ.  And they forgot to buy a belt for him.  But yay!  Also, Madusa did indeed win the AWA Women's title over Candi Divine, and at least they already had THAT belt made.
– Dave mocks the new nickname of "Cool" Curt Hennig, and suggests they also start advertising "Groovy" Greg Gagne.  So that's where THAT Meltzer running gag originated from.
– Hey, finally we get to the WWF this issue.
– The WWF is running their own Bunkhouse matches around the horn, just to put the screws to Crockett even more.  (I think those were the "Lanny Poffo in a suit of armor" matches if I'm not mistaken.  Either that or the ones where Jimmy Hart hides under the ring the whole time.) 
– Paul Orndorff has given notice and will be opening up a chain of bowling alleys in the south.  (This actually led to MONTHS of rumors that he was dead, which Dave had to repeatedly debunk next year.) 
– Hogan will be taking a few months off after Wrestlemania to shoot his supposed biographical movie, and Dave notes that he's been doing lots of blading the past month so he probably wants his forehead to look good for the part.  Also, Linda Hogan will be expecting their first child in April.
– And finally, a new rule for the WWF is that you are no longer allowed to whip your opponent into the guard rail.  You can drop them on their throat or ram their head into it, but GOD HELP YOU if Vince catches you whipping someone into it.  (Good, I'm so tired of the endless wrestler deaths caused by needless guard rail irish whip tragedies!)