Woo!  Back to two columns again!  No Starrcade review in this issue, though, sorry.
– Dave expects BIG CHANGES to the Crockett product within the next month, as they need to spice up their anemic ratings.
– For the next year, Dave expects the wrestling business to go the way of boxing, with a bunch of PPV specials that kill the house show business as both promotions focus on making money other ways.  And the signs aren't there for any third promotion to rise up in the coming year.
– The business EXPOSED in Pennsylvania!  The state government voted to abolish the athletic commission, and in the process JJ Bins (head of the commission) made all kinds of kayfabe-shattering comments about how wrestlers use razor blades to cut themselves and draw blood and how wrestling is "pre-arranged".  If the law passes, then wrestling will be de-regulated and promoters will make a lot more money.
– Right, just like that.
– Quick ratings notes for those who have asked about them in the past:  The TBS Saturday night show is the #2 show on cable for the third quarter of 1987, averaging a 3.2 rating with 1.3 million homes.  By contrast, the AWA show on ESPN is around #20 with a 1.9 rating.
– The Crockett "wrestling network" syndicated package of WorldWide Wrestling and UWF remains out of the top 15, trailing behind the AWA/POWW syndicated package.  Currently the only syndicated package in the top 15 belongs to the WWF, unsurprisingly.  (Once again, direct result of Ron Garvin as World champion.  That decision dug them into a hole that they were never able to get out of again.) 
– The AWA returned to San Fran for a "$100,000" battle royale, drawing 800 people to the COW PALACE.  Just a total embarrassment, and a really bad show to boot.
– Speaking of which, Dave reports that Adrian Adonis will be the subject of the latest issue of Stretch Marks Quarterly.
– They're also in San Jose on 11/22, with advance ticket sales of 12.  No, that's not a typo.
– Austin Idol returned to Memphis on 11/22 and business picked up immediately with him on top again.
– Hector Guerrero and Dr. D (Carl Styles) already broke up, with Hector accidentally hitting Styles in the eyes with the magic hair cream and "blinding" him.  This seemed to set up a feud when he returned, but it turns out that it was just a way to write him out of the territory and he's gone.
– Cute angle in Stampede, as they ran a show on Friday the 13th and held a birthday celebration for Jason the Terrible, who shoved Hiro Hase into a cake and sent him back to Japan on a stretcher.
– Titan finally had enough of Corporal Kirschner using that gimmick in Calgary, so he was "stripped of his rank" on the same show in the angle that turned him into Colonel Kirschner.
– A running bit in the Observers comes to an end here, as Dave has been promising the imminent debut of Diamond Tim Flowers for weeks, before finally announcing here that he never showed up.
– In Japan, Jim Crockett is still hopeful of doing the Crockett Cup in Japan as a giant co-promotion with New Japan and All Japan.  Dave doesn't see how those three can pull it off, however.
– Crowds remain dismal on the current NWA tour, even with main events of Steve Williams & Ron Garvin v. Ric Flair & Lex Luger in elimination tag matches where no one wants to job.
– Apparently one of the plans after Starrcade is to hook up Kevin Sullivan as manager for Rick Steiner.
– On the current "Von Erichs Across America" tour for World Class, the local promoter in Florida got them lots of newspaper coverage by playing up the Von Erich's tireless efforts in combatting drug abuse.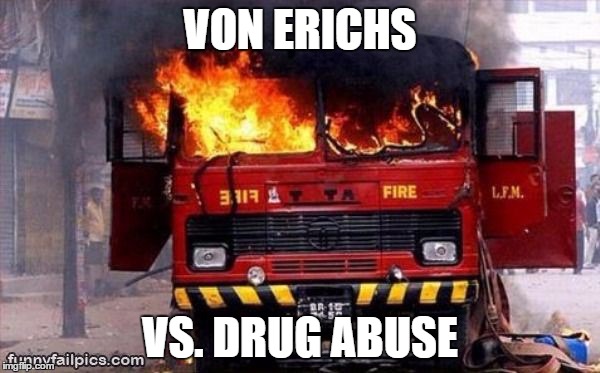 – Japanese newspapers are reporting the Road Warriors have signed a five-year contract with Crockett and will be second only to Hulk Hogan in the US for money.  (What's the Japanese word for "b-------"?)
– Both the WWF and AWA have pulled out of Denver completely, leaving the territory wide open for Crockett alone.
– Sgt. Slaughter is now trying to get back into the AWA after his attempts to get into the WWF didn't "go as well as he'd hoped for".
– Lots of interest in the Old Timer's Battle Royal show at the Meadowlands from readers, although the show itself was a flop with less than 5000 people, probably because most of the people there weren't even born when Lou Thesz was at his peak.  There was also a second battle royale as a co-main, which came down to Ted Dibiase, Dino Bravo, Hercules and Jake Roberts.  Dibiase offered both heels $10,000 each to throw themselves out because he didn't care about the money and just wanted the prestige.  So of course Herc and Bravo took the money and left, but Jake refused and eliminated Dibiase to win.
– Billy Jack Haynes had yet another health scare this past week, as he had heart problems on a flight and they had to land the plane, and he was diagnosed with a heart arrhythmia.
– Dave continues to be annoyed by the WWE trend of putting a horrible jobber match on before the Hogan main event as the "cool down" match.
– The Bob Orton disappearance is clarified here – he got arrested after causing a disturbance at a Calgary airport, and was fired as a result.  Dave then notes another midcarder was also arrested for drugs earlier this month, but didn't suffer any disciplinary action over it because it never made the papers.
– Shane Dougas was fired by Crockett again.  (Probably because of Flair.) 
– And finally, Kerry Von Erich actually returned to the ring early, doing a tag match with Kevin in Hollywood, FL, and he looked just fine.
NEXT WEEK:  SURVIVOR SERIES!  STARRCADE!  MORE MEMES!